Welsh Government urged to increase pay offer for NHS staff to stop further strike action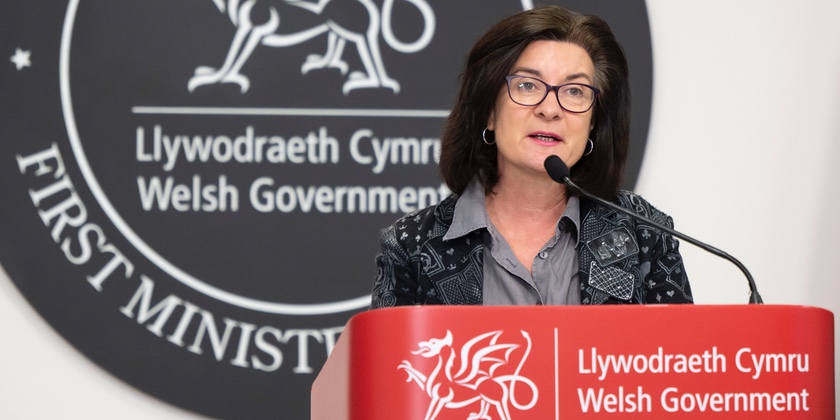 This article is old - Published: Wednesday, Jan 18th, 2023

Wales' health minister has been urged to continue negotiations with health unions and to increase their pay in a bid to stop further industrial action. ‌​‌‌‌​‌‌‍‌​‌‌‌​‌​‍‌​‌‌‌​‌​ ‌​‌‌‌​‌‌‍‌​‌‌‌​‌​‍‌​‌‌‌​‌​
It comes after the Welsh Government offer of a one off payment for NHS staff was rejected by union representatives last week. ‌​‌‌‌​‌‌‍‌​‌‌‌​‌​‍‌​‌‌‌​‌​ ‌​‌‌‌​‌‌‍‌​‌‌‌​‌​‍‌​‌‌‌​‌​
Over 1,000 Welsh Ambulance workers in Unite will stage the first of two 24 hour walkouts tomorrow (Thursday 19 January) and the Royal College of Nursing (RCN) have announced industrial action on both 6 and 7 February. ‌​‌‌‌​‌‌‍‌​‌‌‌​‌​‍‌​‌‌‌​‌​ ‌​‌‌‌​‌‌‍‌​‌‌‌​‌​‍‌​‌‌‌​‌​
Opposition parties yesterday urged Health Minister Eluned Morgan to re-enter negotiations with health unions and work to "stabilise" the NHS workforce in Wales. ‌​‌‌‌​‌‌‍‌​‌‌‌​‌​‍‌​‌‌‌​‌​ ‌​‌‌‌​‌‌‍‌​‌‌‌​‌​‍‌​‌‌‌​‌​
Plaid Cymru MS Rhun ap Iorwerth said the Welsh Government "cannot hide away from its own responsibilities to resolve the problem that we face currently." ‌​‌‌‌​‌‌‍‌​‌‌‌​‌​‍‌​‌‌‌​‌​ ‌​‌‌‌​‌‌‍‌​‌‌‌​‌​‍‌​‌‌‌​‌​
He said: "Government finances are tight. But the truth is that the finances of our health workers are tight too, and they've been getting tighter and tighter. ‌​‌‌‌​‌‌‍‌​‌‌‌​‌​‍‌​‌‌‌​‌​ ‌​‌‌‌​‌‌‍‌​‌‌‌​‌​‍‌​‌‌‌​‌​
"There was an opportunity in recent years to break that cycle when there was a little bit more flexibility in the system. ‌​‌‌‌​‌‌‍‌​‌‌‌​‌​‍‌​‌‌‌​‌​ ‌​‌‌‌​‌‌‍‌​‌‌‌​‌​‍‌​‌‌‌​‌​
"A few weeks ago, before Christmas, we were told there was no flexibility at all, no reserves, no unallocated money. ‌​‌‌‌​‌‌‍‌​‌‌‌​‌​‍‌​‌‌‌​‌​ ‌​‌‌‌​‌‌‍‌​‌‌‌​‌​‍‌​‌‌‌​‌​
"We know that's not true, and now we have an admission that there is an offer that can be made. But that offer has to be increased. That is the bottom line. ‌​‌‌‌​‌‌‍‌​‌‌‌​‌​‍‌​‌‌‌​‌​ ‌​‌‌‌​‌‌‍‌​‌‌‌​‌​‍‌​‌‌‌​‌​
"We, as a party, have spelt out how we believe it can be increased, and increased to a point where we believe a deal, hopefully, can be struck. ‌​‌‌‌​‌‌‍‌​‌‌‌​‌​‍‌​‌‌‌​‌​ ‌​‌‌‌​‌‌‍‌​‌‌‌​‌​‍‌​‌‌‌​‌​
"There's a feeling that I'm getting very clearly from the unions that Government isn't negotiating seriously enough." ‌​‌‌‌​‌‌‍‌​‌‌‌​‌​‍‌​‌‌‌​‌​ ‌​‌‌‌​‌‌‍‌​‌‌‌​‌​‍‌​‌‌‌​‌​
But the health minister hit back stating the only way to raise the money needed would be to increase the basic rate of tax for households across Wales. ‌​‌‌‌​‌‌‍‌​‌‌‌​‌​‍‌​‌‌‌​‌​ ‌​‌‌‌​‌‌‍‌​‌‌‌​‌​‍‌​‌‌‌​‌​
Eluned Morgan MS said: "If you want to increase the pay of NHS workers by 1 per cent, you have to find £55 million. ‌​‌‌‌​‌‌‍‌​‌‌‌​‌​‍‌​‌‌‌​‌​ ‌​‌‌‌​‌‌‍‌​‌‌‌​‌​‍‌​‌‌‌​‌​
"In Wales, the number of people who pay the additional rate is 9,000. It's 9,000 people. If you put that up by 1p, you'd make £3 million. That's how much you'd get. So, you're miles away from the £55 million that you would need to get to a 1 per cent increase. ‌​‌‌‌​‌‌‍‌​‌‌‌​‌​‍‌​‌‌‌​‌​ ‌​‌‌‌​‌‌‍‌​‌‌‌​‌​‍‌​‌‌‌​‌​
"If you look at the people who earn between £50,000 and £150,000, and you put their income tax up by 1p, you'd get to £33 million. ‌​‌‌‌​‌‌‍‌​‌‌‌​‌​‍‌​‌‌‌​‌​ ‌​‌‌‌​‌‌‍‌​‌‌‌​‌​‍‌​‌‌‌​‌​
"Again, miles away from the £55 million for 1 per cent. So the only place you've got to go to get anywhere near—anywhere near—the 1 per cent, let alone the 17 per cent that the RCN are asking for, is the basic rate taxpayers. ‌​‌‌‌​‌‌‍‌​‌‌‌​‌​‍‌​‌‌‌​‌​ ‌​‌‌‌​‌‌‍‌​‌‌‌​‌​‍‌​‌‌‌​‌​
"If you raised it by 1p, you'd get to £237 million, so that would be an increase of about 4.5 per cent. ‌​‌‌‌​‌‌‍‌​‌‌‌​‌​‍‌​‌‌‌​‌​ ‌​‌‌‌​‌‌‍‌​‌‌‌​‌​‍‌​‌‌‌​‌​
"Asking the poorest members in Wales, who are up against it at the moment. That's your approach; that's what you want to do. ‌​‌‌‌​‌‌‍‌​‌‌‌​‌​‍‌​‌‌‌​‌​ ‌​‌‌‌​‌‌‍‌​‌‌‌​‌​‍‌​‌‌‌​‌​
"And, yes, we are making some political decisions, because we think people are struggling with the cost of living crisis at the moment. ‌​‌‌‌​‌‌‍‌​‌‌‌​‌​‍‌​‌‌‌​‌​ ‌​‌‌‌​‌‌‍‌​‌‌‌​‌​‍‌​‌‌‌​‌​
"So, I think it's really important that people understand quite how difficult this is, because we have made a political decision, and we are not going to raise income tax for the poorest people in Wales at the moment." ‌​‌‌‌​‌‌‍‌​‌‌‌​‌​‍‌​‌‌‌​‌​ ‌​‌‌‌​‌‌‍‌​‌‌‌​‌​‍‌​‌‌‌​‌​
Spotted something? Got a story? Send a Facebook Message | A direct message on Twitter | Email: News@Deeside.com
---
Latest News
---