Welsh Ambulance Service faces largest coordinated strike action so far as GMB and Unite union members walk out today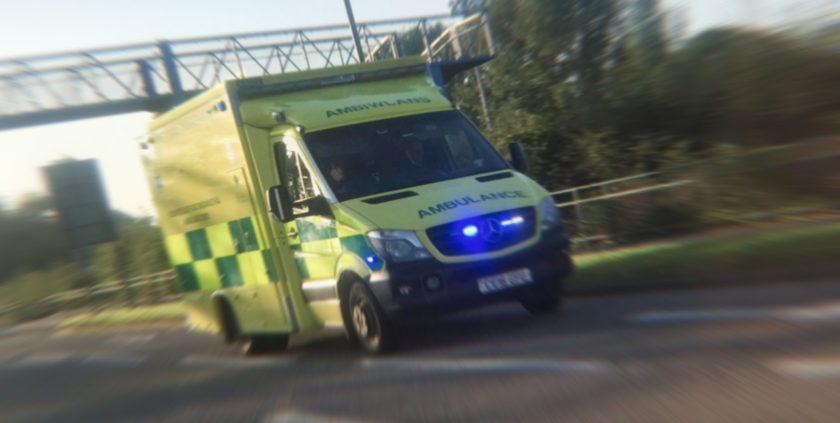 The Welsh Ambulance Service will face its largest day of coordinated strike action today as almost 1,500 ambulance workers who are members of the GMB union will join striking Unite union members. ‌​‌‌‌​‌‌‍‌​‌‌‌​‌​‍‌​‌‌‌​‌​
The GMB union has rejected a new pay offer from the Welsh Government and will join colleagues represented by the union Unite who are holding a three-day walkout in a long-running dispute over pay and conditions. ‌​‌‌‌​‌‌‍‌​‌‌‌​‌​‍‌​‌‌‌​‌​
The two unions had been previously taking action on separate days. ‌​‌‌‌​‌‌‍‌​‌‌‌​‌​‍‌​‌‌‌​‌​
Members of GMB and UNITE unions are on strike today, which is impacting our service. ‌​‌‌‌​‌‌‍‌​‌‌‌​‌​‍‌​‌‌‌​‌​

Keep 999 for life-threatening illness and injuries. ‌​‌‌‌​‌‌‍‌​‌‌‌​‌​‍‌​‌‌‌​‌​

Alternative support is available from @NHS111Wales, your local pharmacy, GP surgery and Minor Injury Unit. pic.twitter.com/CqYlIxT74b ‌​‌‌‌​‌‌‍‌​‌‌‌​‌​‍‌​‌‌‌​‌​

— Welsh Ambulance (@WelshAmbulance) February 20, 2023 ‌​‌‌‌​‌‌‍‌​‌‌‌​‌​‍‌​‌‌‌​‌​
‌​‌‌‌​‌‌‍‌​‌‌‌​‌​‍‌​‌‌‌​‌​
The rejected pay offer was equivalent to an average 5.5% pay rise and a 1.5% one-off bonus. ‌​‌‌‌​‌‌‍‌​‌‌‌​‌​‍‌​‌‌‌​‌​
However, around two-thirds of GMB members turned down the deal, which saw an extra 3% added to the existing pay packet. Only half of this would be consolidated into next year's discussions, meaning members would lose 1.5% of their pay for next year's talks. ‌​‌‌‌​‌‌‍‌​‌‌‌​‌​‍‌​‌‌‌​‌​
Emergency care remains a priority during any strike action, and emergency services will still be available. ‌​‌‌‌​‌‌‍‌​‌‌‌​‌​‍‌​‌‌‌​‌​
It is likely that only life-threatening illnesses or injuries will receive an emergency response. Other patients are likely to be asked to make their own way to the hospital. ‌​‌‌‌​‌‌‍‌​‌‌‌​‌​‍‌​‌‌‌​‌​
Nathan Holman, GMB Welsh NHS lead, said, "If this is their final offer, it's too low for our members." He called for a UK-wide solution to the issue of low pay affecting the NHS and ambulance services, urging Steve Barclay to "step up and talk pay now." ‌​‌‌‌​‌‌‍‌​‌‌‌​‌​‍‌​‌‌‌​‌​
The Welsh Government expressed disappointment over GMB's rejection of the revised pay offer, stating that it was the best offer it could make, with an extra 3% on top of the current 4.5% average salary increase. ‌​‌‌‌​‌‌‍‌​‌‌‌​‌​‍‌​‌‌‌​‌​
On Monday, approximately 10,000 ambulance workers across England will also go on strike, with several ambulance trusts affected by the industrial action, including the North West. ‌​‌‌‌​‌‌‍‌​‌‌‌​‌​‍‌​‌‌‌​‌​
The mass walkout is expected to have a significant impact on emergency services, and contingency plans have been put in place to minimize the impact on patients. ‌​‌‌‌​‌‌‍‌​‌‌‌​‌​‍‌​‌‌‌​‌​
The strike action follows months of negotiations between the Welsh Government and trade unions, with ambulance staff seeking better pay and working conditions. ‌​‌‌‌​‌‌‍‌​‌‌‌​‌​‍‌​‌‌‌​‌​
What if i need urgent or emergency care? ‌​‌‌‌​‌‌‍‌​‌‌‌​‌​‍‌​‌‌‌​‌​ ‌​‌‌‌​‌‌‍‌​‌‌‌​‌​‍‌​‌‌‌​‌​
If you need urgent care, you should contact your own GP during normal opening hours. If you're not sure what's wrong or are unsure what to do next, go to NHS 111 Wales online, which has lots of healthcare advice and a range of symptom checkers that can help you work out the best steps to take. ‌​‌‌‌​‌‌‍‌​‌‌‌​‌​‍‌​‌‌‌​‌​ ‌​‌‌‌​‌‌‍‌​‌‌‌​‌​‍‌​‌‌‌​‌​
During the industrial action, our 111 telephone service is also likely to be affected as many of our clinicians and call handlers may be members of striking unions. As a result, please only call 111 if it's absolutely necessary. ‌​‌‌‌​‌‌‍‌​‌‌‌​‌​‍‌​‌‌‌​‌​ ‌​‌‌‌​‌‌‍‌​‌‌‌​‌​‍‌​‌‌‌​‌​
When someone is seriously ill or injured and their life is at risk, you should seek emergency care in the normal way, by calling 999 or attending A&E. ‌​‌‌‌​‌‌‍‌​‌‌‌​‌​‍‌​‌‌‌​‌​ ‌​‌‌‌​‌‌‍‌​‌‌‌​‌​‍‌​‌‌‌​‌​
Emergency care is still a priority during any strike action, and emergency services will still be available. ‌​‌‌‌​‌‌‍‌​‌‌‌​‌​‍‌​‌‌‌​‌​
However, it is likely that only life threatening illnesses or injuries will receive an emergency response. ‌​‌‌‌​‌‌‍‌​‌‌‌​‌​‍‌​‌‌‌​‌​
Other patients are likely to be asked to make their own way to hospital. ‌​‌‌‌​‌‌‍‌​‌‌‌​‌​‍‌​‌‌‌​‌​ ‌​‌‌‌​‌‌‍‌​‌‌‌​‌​‍‌​‌‌‌​‌​
What should I do if I need an ambulance? ‌​‌‌‌​‌‌‍‌​‌‌‌​‌​‍‌​‌‌‌​‌​ ‌​‌‌‌​‌‌‍‌​‌‌‌​‌​‍‌​‌‌‌​‌​
On days where there is strike action, patients should call 999 only for very serious or life-threatening emergencies where there is a risk to life and an ambulance is the only appropriate choice. ‌​‌‌‌​‌‌‍‌​‌‌‌​‌​‍‌​‌‌‌​‌​ ‌​‌‌‌​‌‌‍‌​‌‌‌​‌​‍‌​‌‌‌​‌​
By its nature, strike action means that fewer ambulance crews will be available. We will still respond to emergency calls, but this may only be where there is an immediate risk to life. ‌​‌‌‌​‌‌‍‌​‌‌‌​‌​‍‌​‌‌‌​‌​ ‌​‌‌‌​‌‌‍‌​‌‌‌​‌​‍‌​‌‌‌​‌​
What if I need to contact 111? ‌​‌‌‌​‌‌‍‌​‌‌‌​‌​‍‌​‌‌‌​‌​ ‌​‌‌‌​‌‌‍‌​‌‌‌​‌​‍‌​‌‌‌​‌​
On strike days, there may be fewer clinicians available to triage patients as many of the NHS 111 Wales clinicians may be members of unions who are taking industrial action. This means that you may wait longer to be assessed and to receive a call back. ‌​‌‌‌​‌‌‍‌​‌‌‌​‌​‍‌​‌‌‌​‌​ ‌​‌‌‌​‌‌‍‌​‌‌‌​‌​‍‌​‌‌‌​‌​
If your call is not urgent, please go to the NHS 111 Wales website for help and advice. ‌​‌‌‌​‌‌‍‌​‌‌‌​‌​‍‌​‌‌‌​‌​ ‌​‌‌‌​‌‌‍‌​‌‌‌​‌​‍‌​‌‌‌​‌​
There, you'll find symptom checkers and a host of health information, as well as information on the current advice on Strep A, including when to seek medical help. ‌​‌‌‌​‌‌‍‌​‌‌‌​‌​‍‌​‌‌‌​‌​ ‌​‌‌‌​‌‌‍‌​‌‌‌​‌​‍‌​‌‌‌​‌​
What about non-emergency patient transport? ‌​‌‌‌​‌‌‍‌​‌‌‌​‌​‍‌​‌‌‌​‌​ ‌​‌‌‌​‌‌‍‌​‌‌‌​‌​‍‌​‌‌‌​‌​
While the NEPTS service is also likely to be affected by the GMB action, at this stage the trust is still working through with its TU partners what will happen. ‌​‌‌‌​‌‌‍‌​‌‌‌​‌​‍‌​‌‌‌​‌​ ‌​‌‌‌​‌‌‍‌​‌‌‌​‌​‍‌​‌‌‌​‌​
Any patient whose transport is affected by strike action will be contacted as soon as possible to let them know and to offer some advice on alternatives. In addition, WAST may not accept new bookings on days of action and refer you to alter your appointment with the health board. ‌​‌‌‌​‌‌‍‌​‌‌‌​‌​‍‌​‌‌‌​‌​ ‌​‌‌‌​‌‌‍‌​‌‌‌​‌​‍‌​‌‌‌​‌​
What can I do to keep WAST services running? ‌​‌‌‌​‌‌‍‌​‌‌‌​‌​‍‌​‌‌‌​‌​ ‌​‌‌‌​‌‌‍‌​‌‌‌​‌​‍‌​‌‌‌​‌​
Please only call 999 in a serious or life-threatening emergency to keep our precious resources for those who need us most. ‌​‌‌‌​‌‌‍‌​‌‌‌​‌​‍‌​‌‌‌​‌​ ‌​‌‌‌​‌‌‍‌​‌‌‌​‌​‍‌​‌‌‌​‌​
If you're ill or injured, consider alternatives to 999 like your GP, pharmacist, NHS 111 Wales online or Minor Injuries Unit, and stock up on prescription medications and over the counter remedies to reduce the risk of you falling ill on strike days. Please also take extra care during the cold spell to avoid slips, trips and falls, and accidents on the road. ‌​‌‌‌​‌‌‍‌​‌‌‌​‌​‍‌​‌‌‌​‌​ ‌​‌‌‌​‌‌‍‌​‌‌‌​‌​‍‌​‌‌‌​‌​
We know this is a very disruptive time for everyone and we thank you all for your help and support as we work hard to maintain services for those most in need of our life-saving care. ‌​‌‌‌​‌‌‍‌​‌‌‌​‌​‍‌​‌‌‌​‌​ ‌​‌‌‌​‌‌‍‌​‌‌‌​‌​‍‌​‌‌‌​‌​
More information can be found on the Welsh Ambulance Service website. ‌​‌‌‌​‌‌‍‌​‌‌‌​‌​‍‌​‌‌‌​‌​ ‌​‌‌‌​‌‌‍‌​‌‌‌​‌​‍‌​‌‌‌​‌​
‌​‌‌‌​‌‌‍‌​‌‌‌​‌​‍‌​‌‌‌​‌​
‌​‌‌‌​‌‌‍‌​‌‌‌​‌​‍‌​‌‌‌​‌​
Spotted something? Got a story? Send a Facebook Message | A direct message on Twitter | Email: News@Deeside.com
---
Latest News
---