Transport for Wales opens up on Wrexham Bidston service and when an hourly train service will resume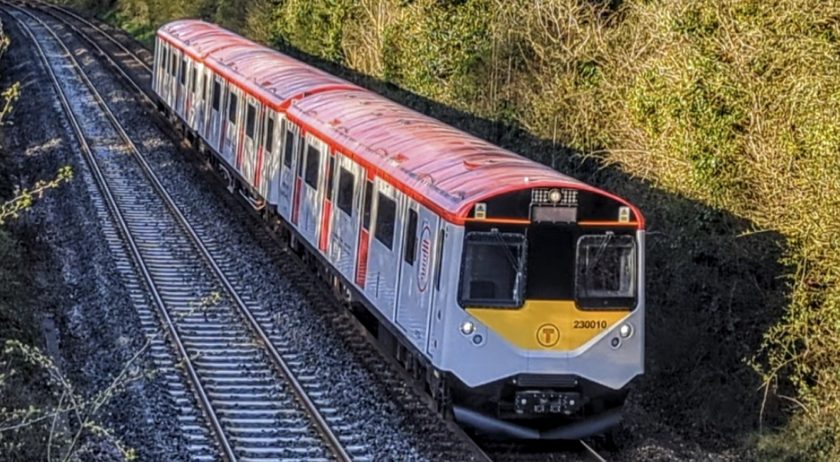 Transport for Wales (TfW) has said an hourly train service will return to the Wrexham Bidston line during the 'first part of the summer.' ‌​‌​‌​​​‍‌​‌​​‌‌‌‍‌​‌‌​​‌​‍‌​‌‌‌​‌‌‍‌​‌‌‌‌​​ ‌​‌‌‌​‌‌‍‌​‌‌‌​‌​‍‌​‌‌‌​‌​
The Welsh government-backed rail operator has provided an update on the challenges it has faced regarding the introduction of the new Class 230 trains, as well as the issues with service quality on the Wrexham to Bidston line. ‌​‌‌‌​‌‌‍‌​‌‌‌​‌​‍‌​‌‌‌​‌​
Over the past few weeks, rail commuters in Flintshire have had to endure intermittent train services and rail replacement buses for journeys to Wrexham and the Wirral. ‌​‌‌‌​‌‌‍‌​‌‌‌​‌​‍‌​‌‌‌​‌​
The disruption has been caused by TfW removing its Class 175 trains from service for additional maintenance checks after a series of fires. ‌​‌‌‌​‌‌‍‌​‌‌‌​‌​‍‌​‌‌‌​‌​
The trains mainly operate as express services throughout the Wales and Borders network. ‌​‌‌‌​‌‌‍‌​‌‌‌​‌​‍‌​‌‌‌​‌​
The fires have been attributed to a build-up of "debris, leaf litter, and other contaminants" in the units' under-floor engine bays. ‌​‌‌‌​‌‌‍‌​‌‌‌​‌​‍‌​‌‌‌​‌​
This resulted in the withdrawal of many 175s, which has left the rail operator facing a "shortage of rolling stock" which has affected the Wrexham to Bidston service. ‌​‌‌‌​‌‌‍‌​‌‌‌​‌​‍‌​‌‌‌​‌​
Alyn and Deeside MP said: "Class 150 units appear to have again been moved away from the Wrexham – Bidston line in order to provide services elsewhere, at the expense of this area, despite previous assurances that this process would end." ‌​‌‌‌​‌‌‍‌​‌‌‌​‌​‍‌​‌‌‌​‌​
"It appears that there is still a mentality that this part of North Wales is suitable for a second class service whenever there are any pressures on the network anywhere else in the country." ‌​‌‌‌​‌‌‍‌​‌‌‌​‌​‍‌​‌‌‌​‌​
The Office of Road and Rail – the UK government rail watchdog – subsequently issued an 'improvement notice' to TfW after the rail operator "failed to ensure passengers and employees are not exposed to the risk" following a series of fires on the 175s. ‌​‌‌‌​‌‌‍‌​‌‌‌​‌​‍‌​‌‌‌​‌​
In early April, in an effort to reinstate a train service on the Wrexham to Bidston line, TfW introduced its long-awaited Class 230 trains. ‌​‌‌‌​‌‌‍‌​‌‌‌​‌​‍‌​‌‌‌​‌​
The move was described as a 'soft launch', providing TfW "the flexibility to monitor the trains and make any alterations or changes if needed." ‌​‌‌‌​‌‌‍‌​‌‌‌​‌​‍‌​‌‌‌​‌​
TfW owns five of the hybrid diesel/battery Class 230 trains, which use the bogies and aluminium bodyshells of withdrawn London Underground trains. ‌​‌‌‌​‌‌‍‌​‌‌‌​‌​‍‌​‌‌‌​‌​
They were intended to come into service in 2019, but TfW only took delivery of units from Vivarail in July 2020. ‌​‌‌‌​‌‌‍‌​‌‌‌​‌​‍‌​‌‌‌​‌​
Staff training requirements were hampered by the pandemic, leading to further delays. Other delays have been caused by what TfW called "thermal incidents," including a small fire on one of the units due to overheating batteries. ‌​‌‌‌​‌‌‍‌​‌‌‌​‌​‍‌​‌‌‌​‌​
Vivarail then went into administration, causing a further headache for TfW. ‌​‌‌‌​‌‌‍‌​‌‌‌​‌​‍‌​‌‌‌​‌​
Following a period of fault-free testing, TfW finally decided to run the Class 230 passenger service on the Borderlands Line, initially with a 2-hourly service and rail replacement buses filling in the gaps. ‌​‌‌‌​‌‌‍‌​‌‌‌​‌​‍‌​‌‌‌​‌​
However, ongoing disruption and reliance on rail replacement buses have caused frustration among Flintshire commuters who are eager for a return to normal service. ‌​‌‌‌​‌‌‍‌​‌‌‌​‌​‍‌​‌‌‌​‌​
TfW faces pressure to ensure the reliable operation of Class 230 trains while minimising passenger inconvenience. ‌​‌‌‌​‌‌‍‌​‌‌‌​‌​‍‌​‌‌‌​‌​
However, these new trains do not run on weekends and have encountered a number of technical issues. ‌​‌‌‌​‌‌‍‌​‌‌‌​‌​‍‌​‌‌‌​‌​
Flintshire residents travelling to the Grand National last Saturday would have had to endure a slow and inconvenient rail replacement bus service to connect with Merseyrail trains at Bidston. ‌​‌‌‌​‌‌‍‌​‌‌‌​‌​‍‌​‌‌‌​‌​
On Sunday, a Class 150 unit operated on the line for the day after a prolonged absence, the Class 230 resumed service on Monday but on Tuesday there were no trains due to technical issues. ‌​‌‌‌​‌‌‍‌​‌‌‌​‌​‍‌​‌‌‌​‌​
Flintshire-based Wrexham fans planning to use public transport this Saturday for the club's most significant match in decades also faced a painfully slow rail replacement bus journey instead of the usual 30-minute train ride. ‌​‌‌‌​‌‌‍‌​‌‌‌​‌​‍‌​‌‌‌​‌​
Questions… ‌​‌‌‌​‌‌‍‌​‌‌‌​‌​‍‌​‌‌‌​‌​
Deeside.com has been asking TfW regularly for updates on the trains and the service levels on the Borderlands line for several weeks; the rail operator has now responded. ‌​‌‌‌​‌‌‍‌​‌‌‌​‌​‍‌​‌‌‌​‌​
TfW has said the Class 230s are not operating on the weekends because "we currently do not have the maintenance cover needed should there be an issue, but we are working to resolve this." ‌​‌‌‌​‌‌‍‌​‌‌‌​‌​‍‌​‌‌‌​‌​
"We're still experiencing a shortage of trains while the Class 175 maintenance work is on-going, but on Sundays when there are fewer services operating across the network, we've been able to use other trains (including the leased 150s from Northern) on the Wrexham – Bidston route." TfW said. ‌​‌‌‌​‌‌‍‌​‌‌‌​‌​‍‌​‌‌‌​‌​
We asked TfW about the disparity in service levels in the north versus the south when it comes to sporting events; regular weekend commuters using the Wrexham to Bidston line will be familiar with service disruptions during large sporting events in Cardiff. ‌​‌‌‌​‌‌‍‌​‌‌‌​‌​‍‌​‌‌‌​‌​
Trains have been regularly pulled from the line and deployed to South Wales during Six Nations Rugby internationals. ‌​‌‌‌​‌‌‍‌​‌‌‌​‌​‍‌​‌‌‌​‌​
TfW said: "With regards to services into Cardiff (on Saturday) we have five additional services in Cardiff, but for context, we're expecting up to 35,000 supporters for Judgement Day in the Principality Stadium and at the same time, Cardiff City are playing Stoke (attendance expected to be c20,000)." ‌​‌‌‌​‌‌‍‌​‌‌‌​‌​‍‌​‌‌‌​‌​
Deeside.com asked TfW: "What is the current availability of the Class 230s and when can passengers expect a return to an hourly service? ‌​‌‌‌​‌‌‍‌​‌‌‌​‌​‍‌​‌‌‌​‌​
TfW replied: "Availability of the Class 230 fleet has improved, with an additional unit now having completed works to make it ready for passenger service as of this week." ‌​‌‌‌​‌‌‍‌​‌‌‌​‌​‍‌​‌‌‌​‌​
"However, driver and conductor training is still ongoing and at the moment there are not enough crews trained to operate an hourly service with the Class 230s. ‌​‌‌‌​‌‌‍‌​‌‌‌​‌​‍‌​‌‌‌​‌​
"Current expectations are that we will be able to introduce the hourly Class 230 service sometime in the first part of the summer." ‌​‌‌‌​‌‌‍‌​‌‌‌​‌​‍‌​‌‌‌​‌​
Deeside.com asked: "Will Transport for Wales be transparent about the ongoing problems with the Class 230 units?" ‌​‌‌‌​‌‌‍‌​‌‌‌​‌​‍‌​‌‌‌​‌​
TfW said: "Yes. The Class 230 fleet has had significant testing to validate the modifications incorporated to fix the well-publicised thermal issues, and it is now considered that these problems are resolved; recent failures have been nothing to do with these issues." ‌​‌‌‌​‌‌‍‌​‌‌‌​‌​‍‌​‌‌‌​‌​
"However, despite rigorous testing, all new train fleets tend to experience reliability issues on entry into passenger service, and unfortunately, the Class 230 has been no exception to this." ‌​‌‌‌​‌‌‍‌​‌‌‌​‌​‍‌​‌‌‌​‌​
"Three separate technical issues have been experienced since the entry into service on 3rd March." ‌​‌‌‌​‌‌‍‌​‌‌‌​‌​‍‌​‌‌‌​‌​
"Two of these were very minor issues, and quick resolutions have already been put in place." ‌​‌‌‌​‌‌‍‌​‌‌‌​‌​‍‌​‌‌‌​‌​
"The third issue is understood, and short-term mitigations have been put in place while a long-term solution is progressed. We hope that the Class 230 reliability will now be improved as a result." ‌​‌‌‌​‌‌‍‌​‌‌‌​‌​‍‌​‌‌‌​‌​
Spotted something? Got a story? Send a Facebook Message | A direct message on Twitter | Email: News@Deeside.com
---
Latest News
Flintshire Councillor says therapy equipment under public ownership is being flogged at car boot sales and charity shops
---