Senedd drinking investigation finds "possible breach" of Covid rules but Welsh Conservatives back leader Paul Davies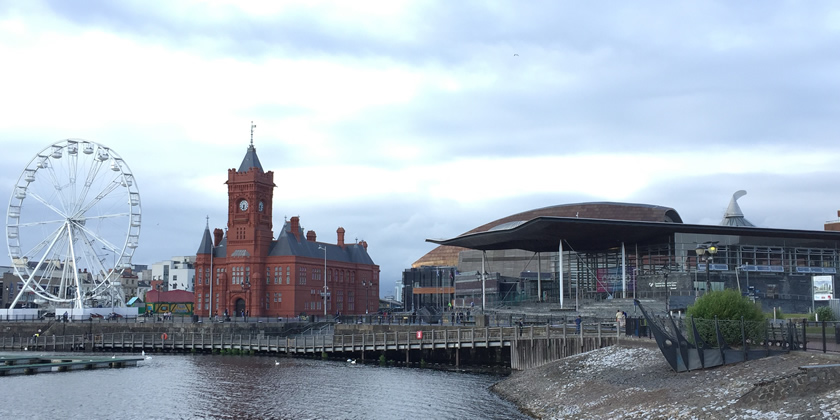 This article is old - Published: Friday, Jan 22nd, 2021
An investigation into alcohol being consumed on Senedd premises by politicians has found a "possible breach" of regulations occurred. ‌​‌‌‌​‌‌‍‌​‌‌‌​‌​‍‌​‌‌‌​‌​
However, the Welsh Conservatives have backed their leader Paul Davies MS over his alleged involvement in the face of calls for him to be suspended. ‌​‌‌‌​‌‌‍‌​‌‌‌​‌​‍‌​‌‌‌​‌​
On Monday BBC Wales named Conservative Senedd leader Paul Davies, Darren Millar MS and others who the BBC say "were seen drinking together" – along with stating Labour Senedd member Alun Davies "was also involved". All three deny breaking any rules. ‌​‌‌‌​‌‌‍‌​‌‌‌​‌​‍‌​‌‌‌​‌​
It's alleged that alcohol was consumed on the premises of the Welsh Parliament estate on the 8th of December. ‌​‌‌‌​‌‌‍‌​‌‌‌​‌​‍‌​‌‌‌​‌​
Covid restrictions on the serving of alcohol came into effect on the 4th of December. ‌​‌‌‌​‌‌‍‌​‌‌‌​‌​‍‌​‌‌‌​‌​
The unofficial 'meeting' took place in the Senedd tea room within the Ty Hywel building, which is behind and linked to the Senedd building. ‌​‌‌‌​‌‌‍‌​‌‌‌​‌​‍‌​‌‌‌​‌​
Following the allegations, Labour MS Alun Davies was suspended from the party pending an investigation, he issued an apology on Monday. ‌​‌‌‌​‌‌‍‌​‌‌‌​‌​‍‌​‌‌‌​‌​
The Conservative MS's also apologised saying, we're "profoundly sorry for our actions." ‌​‌‌‌​‌‌‍‌​‌‌‌​‌​‍‌​‌‌‌​‌​
The Welsh Conservative Group have since backed their leader Paul Smith. ‌​‌‌‌​‌‌‍‌​‌‌‌​‌​‍‌​‌‌‌​‌​
In a statement issued earlier today, Janet Finch-Saunders MS, Chair of the Welsh Conservative Group in the Welsh Parliament said: "The Welsh Conservative Group met today to discuss events involving three members of the Group on the 8th December." ‌​‌‌‌​‌‌‍‌​‌‌‌​‌​‍‌​‌‌‌​‌​
"The Group extended its unanimous support for Paul Davies to continue in his post as Leader of the Group." ‌​‌‌‌​‌‌‍‌​‌‌‌​‌​‍‌​‌‌‌​‌​
Shortly afterwards, Welsh Parliament presiding officer said in statement an internal investigation has concluded that there was a "possible breach" of Covid regulations and has referred the incident to the Standards Commissioner. ‌​‌‌‌​‌‌‍‌​‌‌‌​‌​‍‌​‌‌‌​‌​
Elin Jones MS said: "The Commission's internal investigation has established that alcohol was consumed by five individuals in the Senedd's licensed tearoom, four of whom are elected members." ‌​‌‌‌​‌‌‍‌​‌‌‌​‌​‍‌​‌‌‌​‌​
"The investigation has concluded that a possible breach of regulations occurred and therefore the Chief Executive of the Senedd Commission has referred the matter to Cardiff Council. ‌​‌‌‌​‌‌‍‌​‌‌‌​‌​‍‌​‌‌‌​‌​
"The Regulations in place at the time imposed strict restrictions on members of the public with regard to the consumption of alcohol. ‌​‌‌‌​‌‌‍‌​‌‌‌​‌​‍‌​‌‌‌​‌​
"Given that the possible breach in question occurred as a result of the consumption of alcohol by Members of the Senedd, I have also written to the Standards Commissioner to ask him to investigate whether these Members acted in accordance with the duty in the Code of Conduct to conduct themselves in a manner which maintains and strengthens the public's trust and confidence in the integrity of the Senedd." ‌​‌‌‌​‌‌‍‌​‌‌‌​‌​‍‌​‌‌‌​‌​
First Minister Mark Drakeford said he was made aware of the allegations on Monday evening, "At that point, I made the decision that the Labour member involved should be suspended to allow those investigations to continue." ‌​‌‌‌​‌‌‍‌​‌‌‌​‌​‍‌​‌‌‌​‌​
Questioned on the allegations during today's Welsh government press briefing Mr Drakeford said: "I'll just say two things that I think, in my mind that are very important, as I understand it, and the investigation will reveal this properly, there was a single member of staff on duty that evening." ‌​‌‌‌​‌‌‍‌​‌‌‌​‌​‍‌​‌‌‌​‌​
"I'm very anxious that this does not all result in that person carrying the can for what happened that evening." ‌​‌‌‌​‌‌‍‌​‌‌‌​‌​‍‌​‌‌‌​‌​
"That was a single female member of staff faced with a collection of senior senior members, the idea that the person, the staff member was to blame seems to be completely incredulous." ‌​‌‌‌​‌‌‍‌​‌‌‌​‌​‍‌​‌‌‌​‌​
"I very much hope that this does not head in that direction." ‌​‌‌‌​‌‌‍‌​‌‌‌​‌​‍‌​‌‌‌​‌​
"Then I think people will want to compare what people have said with what the investigation concludes, I saw the statement from the leader of the Welsh Conservatives and from Darren Millar, who was with him, that they had gone in for a drink after work." ‌​‌‌‌​‌‌‍‌​‌‌‌​‌​‍‌​‌‌‌​‌​
"I think the implication from that was clear to me that they called in, had a swift half and were on their way home again." ‌​‌‌‌​‌‌‍‌​‌‌‌​‌​‍‌​‌‌‌​‌​
"People will want to compare the explanations that people have given against what the investigation concludes." ‌​‌‌‌​‌‌‍‌​‌‌‌​‌​‍‌​‌‌‌​‌​
‌​‌‌‌​‌‌‍‌​‌‌‌​‌​‍‌​‌‌‌​‌​
‌​‌‌‌​‌‌‍‌​‌‌‌​‌​‍‌​‌‌‌​‌​
Spotted something? Got a story? Send a Facebook Message | A direct message on Twitter | Email: News@Deeside.com
---
Latest News
---