Operation Aztec: Meltdown for hundreds of guns handed in during firearms amnesty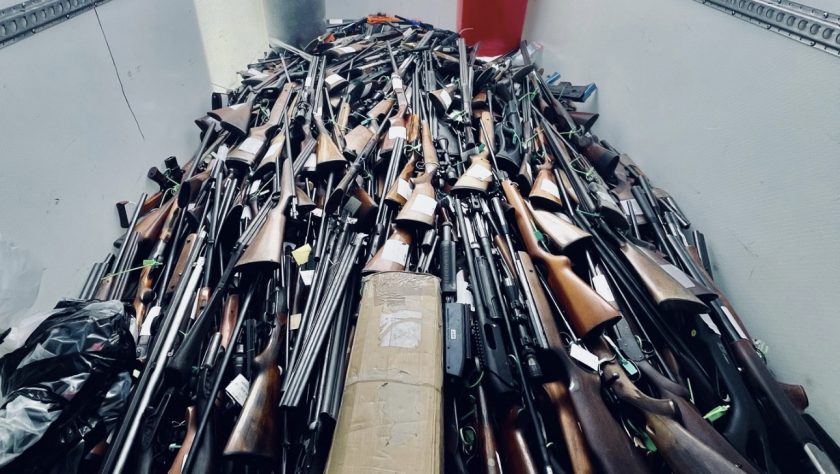 This article is old - Published: Wednesday, May 25th, 2022
A 'substantial' number of guns seized and surrendered to police during this month's firearms amnesty running have been destroyed. ‌​‌‌‌​‌‌‍‌​‌‌‌​‌​‍‌​‌‌‌​‌​
Officers for the Cheshire and North Wales Alliance Armed Policing Unit took the weapons to an undisclosed location where they were melted down in a furnace. ‌​‌‌‌​‌‌‍‌​‌‌‌​‌​‍‌​‌‌‌​‌​
Photographs posted on the armed unit's social media page show hundreds of rifles and shotguns waiting to be destroyed. ‌​‌‌‌​‌‌‍‌​‌‌‌​‌​‍‌​‌‌‌​‌​
One of the more unusual firearms to be handed in during the amnesty was an antique Browning type .50 calibre heavy machine gun. ‌​‌‌‌​‌‌‍‌​‌‌‌​‌​‍‌​‌‌‌​‌​
A Tweet by the armed unit reads: "Officers from the unit have taken a substantial amount of seized and surrendered weapons to be melted today as part of Operation Aztec." ‌​‌‌‌​‌‌‍‌​‌‌‌​‌​‍‌​‌‌‌​‌​
"We make sure they are never to used again and off our streets." ‌​‌‌‌​‌‌‍‌​‌‌‌​‌​‍‌​‌‌‌​‌​
People in North Wales have been urged to hand in unwanted guns as part of the two-week campaign to stop firearms falling into the wrong hands. ‌​‌‌‌​‌‌‍‌​‌‌‌​‌​‍‌​‌‌‌​‌​
Known as Operation Aztec, police forces have been appealing for people to hand in firearms and ammunition during the amnesty which started on 12th May and ends on May 29. ‌​‌‌‌​‌‌‍‌​‌‌‌​‌​‍‌​‌‌‌​‌​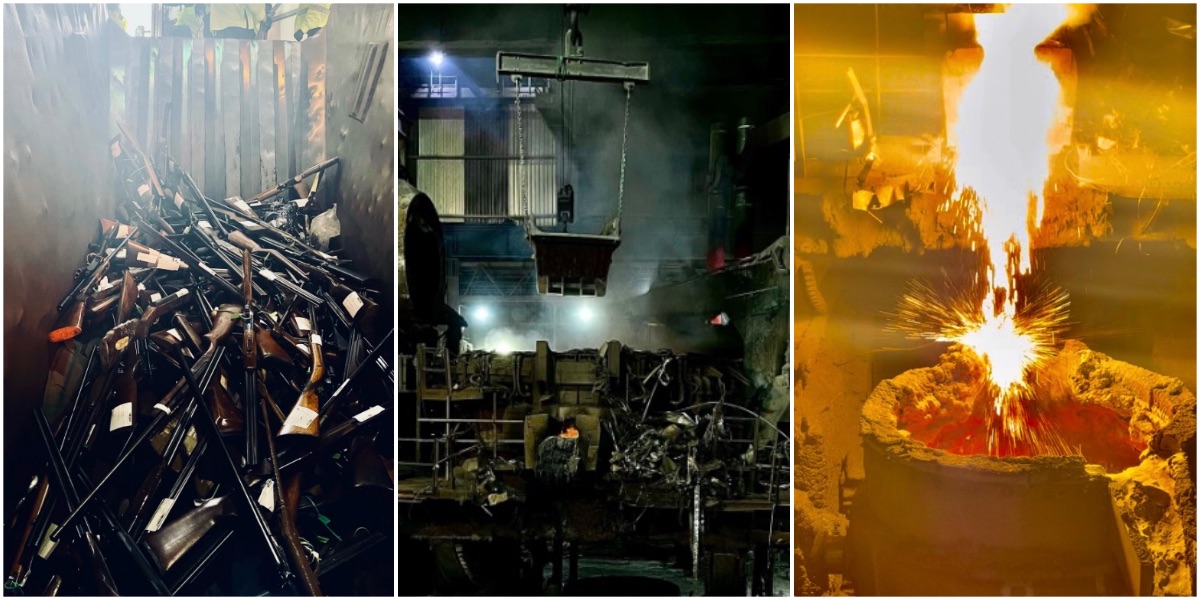 ‌​‌‌‌​‌‌‍‌​‌‌‌​‌​‍‌​‌‌‌​‌​
Many firearms are held in innocence and ignorance of their illegality or are overlooked and forgotten in people's homes. ‌​‌‌‌​‌‌‍‌​‌‌‌​‌​‍‌​‌‌‌​‌​
Some are held legally and are no longer required. ‌​‌‌‌​‌‌‍‌​‌‌‌​‌​‍‌​‌‌‌​‌​
Others are acquired and distributed by criminal networks to harm, threaten and intimidate their local communities. ‌​‌‌‌​‌‌‍‌​‌‌‌​‌​‍‌​‌‌‌​‌​
The surrender gives people the chance to dispose of firearms or ammunition by simply taking them to a local police station and handing them over. ‌​‌‌‌​‌‌‍‌​‌‌‌​‌​‍‌​‌‌‌​‌​
The surrender will run until 29th May 2022. Surrendering unwanted, unlicensed, and illegal weapons avoids the risk of them becoming involved in criminality and means that members of the community can dispose of firearms in a safe place. ‌​‌‌‌​‌‌‍‌​‌‌‌​‌​‍‌​‌‌‌​‌​
During that period, those surrendering firearms will not face prosecution for the illegal possession at the point of surrender and can remain anonymous. ‌​‌‌‌​‌‌‍‌​‌‌‌​‌​‍‌​‌‌‌​‌​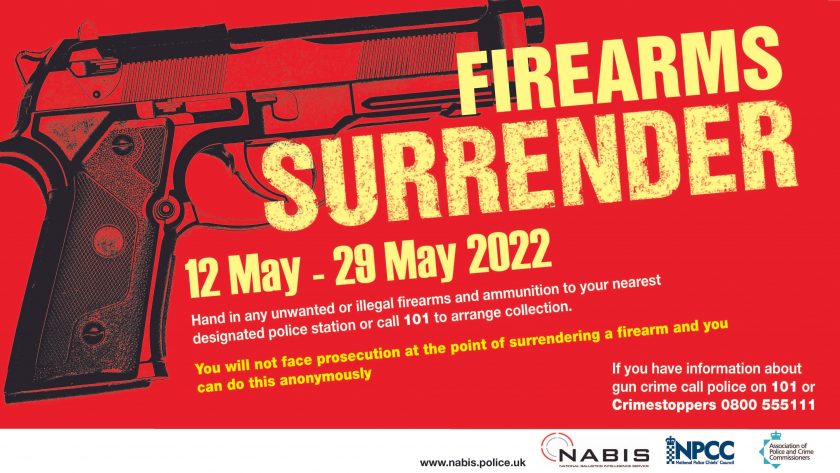 ‌​‌‌‌​‌‌‍‌​‌‌‌​‌​‍‌​‌‌‌​‌​
North Wales Police said the fight against gun crime is "stronger than ever and we are working with partners and our local communities to safeguard, educate and intervene at the earliest opportunity." ‌​‌‌‌​‌‌‍‌​‌‌‌​‌​‍‌​‌‌‌​‌​
"We use various tactics to locate weapons that have fallen into the wrong hands – but we need the public's help. We want as many firearms as possible and would encourage people to hand them in." ‌​‌‌‌​‌‌‍‌​‌‌‌​‌​‍‌​‌‌‌​‌​
"Nationally firearms crime remains low however there are still very serious incidents involving guns taking place." ‌​‌‌‌​‌‌‍‌​‌‌‌​‌​‍‌​‌‌‌​‌​
"The two-week surrender is a campaign to prevent firearms from falling into the pool of criminally used weapons." ‌​‌‌‌​‌‌‍‌​‌‌‌​‌​‍‌​‌‌‌​‌​
"Legislative changes also mean it is no longer legal in some cases to own specific firearms without a license, if at all." ‌​‌‌‌​‌‌‍‌​‌‌‌​‌​‍‌​‌‌‌​‌​
"It is the responsibility of the owner to ensure that they meet the relevant ownership requirements." ‌​‌‌‌​‌‌‍‌​‌‌‌​‌​‍‌​‌‌‌​‌​
"The surrender will allow people to hand in unwanted or illegal firearms and ammunition to the police." ‌​‌‌‌​‌‌‍‌​‌‌‌​‌​‍‌​‌‌‌​‌​
"It will avoid these weapons getting into the wrong hands and provide members of the community with a safe place to dispose of any firearms and ammunition they have, whether held lawfully or unlawfully." ‌​‌‌‌​‌‌‍‌​‌‌‌​‌​‍‌​‌‌‌​‌​
During the surrender members of the public are encouraged to take firearms into police stations and hand them over the front counter. ‌​‌‌‌​‌‌‍‌​‌‌‌​‌​‍‌​‌‌‌​‌​
The weapons will then be forensically examined, and information sent for forensic examination where appropriate. ‌​‌‌‌​‌‌‍‌​‌‌‌​‌​‍‌​‌‌‌​‌​
Detective Superintendent Mark Pierce, Head of the Force Major Incident Team and Serious & Organised Crime Unit said "In line with our vision to make North Wales the safest place in UK, we are keen to provide the general public with a quick and easy way to surrender firearms in their possession – for whatever the reason, such inheritance, or no longer required." ‌​‌‌‌​‌‌‍‌​‌‌‌​‌​‍‌​‌‌‌​‌​
"You can hand in firearms at identified police stations, or should you require assistance at your address, please call 101 to arrange a necessary appointment" ‌​‌‌‌​‌‌‍‌​‌‌‌​‌​‍‌​‌‌‌​‌​
"Firearms and ammunition can be surrendered at identified North Wales police stations listed below." ‌​‌‌‌​‌‌‍‌​‌‌‌​‌​‍‌​‌‌‌​‌​
"Anyone handing in a firearm, ammunition or any other weapon during the surrender is advised to check the opening times of their station beforehand." ‌​‌‌‌​‌‌‍‌​‌‌‌​‌​‍‌​‌‌‌​‌​
"If you know of people involved in illegal firearms call police on 101 or Crimestoppers on 0800 555 111. " ‌​‌‌‌​‌‌‍‌​‌‌‌​‌​‍‌​‌‌‌​‌​
‌​‌‌‌​‌‌‍‌​‌‌‌​‌​‍‌​‌‌‌​‌​
POLICE STATION ‌​‌‌‌​‌‌‍‌​‌‌‌​‌​‍‌​‌‌‌​‌​

ADDRESS

TELEPHONE NUMBER
OPENING TIMES
WREXHAM PS ‌​‌‌‌​‌‌‍‌​‌‌‌​‌​‍‌​‌‌‌​‌​

FORMER ORIEL GALLERY ‌​‌‌‌​‌‌‍‌​‌‌‌​‌​‍‌​‌‌‌​‌​

RHOSDDU ROAD ‌​‌‌‌​‌‌‍‌​‌‌‌​‌​‍‌​‌‌‌​‌​

WREXHAM ‌​‌‌‌​‌‌‍‌​‌‌‌​‌​‍‌​‌‌‌​‌​

LL11 1AU

‌​‌‌‌​‌‌‍‌​‌‌‌​‌​‍‌​‌‌‌​‌​

(01978) 834321 ‌​‌‌‌​‌‌‍‌​‌‌‌​‌​‍‌​‌‌‌​‌​

‌​‌‌‌​‌‌‍‌​‌‌‌​‌​‍‌​‌‌‌​‌​

EXT: 34321

‌​‌‌‌​‌‌‍‌​‌‌‌​‌​‍‌​‌‌‌​‌​

8.30am/7pm – Mon to Sat ‌​‌‌‌​‌‌‍‌​‌‌‌​‌​‍‌​‌‌‌​‌​

9am/6pm – Sundays ‌​‌‌‌​‌‌‍‌​‌‌‌​‌​‍‌​‌‌‌​‌​

‌​‌‌‌​‌‌‍‌​‌‌‌​‌​‍‌​‌‌‌​‌​

MOLD PS ‌​‌‌‌​‌‌‍‌​‌‌‌​‌​‍‌​‌‌‌​‌​

KING STREET ‌​‌‌‌​‌‌‍‌​‌‌‌​‌​‍‌​‌‌‌​‌​

MOLD ‌​‌‌‌​‌‌‍‌​‌‌‌​‌​‍‌​‌‌‌​‌​

FLINTSHIRE ‌​‌‌‌​‌‌‍‌​‌‌‌​‌​‍‌​‌‌‌​‌​

CH7 1EF

‌​‌‌‌​‌‌‍‌​‌‌‌​‌​‍‌​‌‌‌​‌​

(01352) 708405 ‌​‌‌‌​‌‌‍‌​‌‌‌​‌​‍‌​‌‌‌​‌​

‌​‌‌‌​‌‌‍‌​‌‌‌​‌​‍‌​‌‌‌​‌​

EXT: 08405 / 08425 ‌​‌‌‌​‌‌‍‌​‌‌‌​‌​‍‌​‌‌‌​‌​

‌​‌‌‌​‌‌‍‌​‌‌‌​‌​‍‌​‌‌‌​‌​

9am/1pm & 3pm/6pm ‌​‌‌‌​‌‌‍‌​‌‌‌​‌​‍‌​‌‌‌​‌​

Monday to Saturday ‌​‌‌‌​‌‌‍‌​‌‌‌​‌​‍‌​‌‌‌​‌​

RHYL PS ‌​‌‌‌​‌‌‍‌​‌‌‌​‌​‍‌​‌‌‌​‌​

WELLINGTON ROAD ‌​‌‌‌​‌‌‍‌​‌‌‌​‌​‍‌​‌‌‌​‌​

RHYL ‌​‌‌‌​‌‌‍‌​‌‌‌​‌​‍‌​‌‌‌​‌​

DENBIGHSHIRE ‌​‌‌‌​‌‌‍‌​‌‌‌​‌​‍‌​‌‌‌​‌​

LL18 1DA

‌​‌‌‌​‌‌‍‌​‌‌‌​‌​‍‌​‌‌‌​‌​

(01745) 539409 ‌​‌‌‌​‌‌‍‌​‌‌‌​‌​‍‌​‌‌‌​‌​

‌​‌‌‌​‌‌‍‌​‌‌‌​‌​‍‌​‌‌‌​‌​

EXT: 39409/39541

‌​‌‌‌​‌‌‍‌​‌‌‌​‌​‍‌​‌‌‌​‌​

8.30am/7pm – Mon to Sat ‌​‌‌‌​‌‌‍‌​‌‌‌​‌​‍‌​‌‌‌​‌​

9am/6pm – Sundays ‌​‌‌‌​‌‌‍‌​‌‌‌​‌​‍‌​‌‌‌​‌​

‌​‌‌‌​‌‌‍‌​‌‌‌​‌​‍‌​‌‌‌​‌​

LLANDUDNO PS ‌​‌‌‌​‌‌‍‌​‌‌‌​‌​‍‌​‌‌‌​‌​

OXFORD ROAD ‌​‌‌‌​‌‌‍‌​‌‌‌​‌​‍‌​‌‌‌​‌​

LLANDUDNO ‌​‌‌‌​‌‌‍‌​‌‌‌​‌​‍‌​‌‌‌​‌​

CONWY ‌​‌‌‌​‌‌‍‌​‌‌‌​‌​‍‌​‌‌‌​‌​

LL30 1DN

‌​‌‌‌​‌‌‍‌​‌‌‌​‌​‍‌​‌‌‌​‌​

(01492) 805037 ‌​‌‌‌​‌‌‍‌​‌‌‌​‌​‍‌​‌‌‌​‌​

‌​‌‌‌​‌‌‍‌​‌‌‌​‌​‍‌​‌‌‌​‌​

EXT: 05037

‌​‌‌‌​‌‌‍‌​‌‌‌​‌​‍‌​‌‌‌​‌​

9am/1pm & 3pm/6pm ‌​‌‌‌​‌‌‍‌​‌‌‌​‌​‍‌​‌‌‌​‌​

Tues, Wed, Thurs, Fri & Saturday ‌​‌‌‌​‌‌‍‌​‌‌‌​‌​‍‌​‌‌‌​‌​

COLWYN BAY PS ‌​‌‌‌​‌‌‍‌​‌‌‌​‌​‍‌​‌‌‌​‌​

RHIW ROAD ‌​‌‌‌​‌‌‍‌​‌‌‌​‌​‍‌​‌‌‌​‌​

COLWYN BAY ‌​‌‌‌​‌‌‍‌​‌‌‌​‌​‍‌​‌‌‌​‌​

CONWY ‌​‌‌‌​‌‌‍‌​‌‌‌​‌​‍‌​‌‌‌​‌​

LL28 7TE

‌​‌‌‌​‌‌‍‌​‌‌‌​‌​‍‌​‌‌‌​‌​

(01492) 805306 ‌​‌‌‌​‌‌‍‌​‌‌‌​‌​‍‌​‌‌‌​‌​

‌​‌‌‌​‌‌‍‌​‌‌‌​‌​‍‌​‌‌‌​‌​

EXT: 05306 ‌​‌‌‌​‌‌‍‌​‌‌‌​‌​‍‌​‌‌‌​‌​

‌​‌‌‌​‌‌‍‌​‌‌‌​‌​‍‌​‌‌‌​‌​

9am/1pm & 3pm/6pm ‌​‌‌‌​‌‌‍‌​‌‌‌​‌​‍‌​‌‌‌​‌​

Mondays ‌​‌‌‌​‌‌‍‌​‌‌‌​‌​‍‌​‌‌‌​‌​

‌​‌‌‌​‌‌‍‌​‌‌‌​‌​‍‌​‌‌‌​‌​

CAERNARFON PS ‌​‌‌‌​‌‌‍‌​‌‌‌​‌​‍‌​‌‌‌​‌​

MAESINCLA LANE ‌​‌‌‌​‌‌‍‌​‌‌‌​‌​‍‌​‌‌‌​‌​

CAERNARFON ‌​‌‌‌​‌‌‍‌​‌‌‌​‌​‍‌​‌‌‌​‌​

GWYNEDD ‌​‌‌‌​‌‌‍‌​‌‌‌​‌​‍‌​‌‌‌​‌​

LL55 1BU

‌​‌‌‌​‌‌‍‌​‌‌‌​‌​‍‌​‌‌‌​‌​

(01286) 670679 ‌​‌‌‌​‌‌‍‌​‌‌‌​‌​‍‌​‌‌‌​‌​

‌​‌‌‌​‌‌‍‌​‌‌‌​‌​‍‌​‌‌‌​‌​

EXT: 70679

‌​‌‌‌​‌‌‍‌​‌‌‌​‌​‍‌​‌‌‌​‌​

9am/1pm & 3pm/6pm ‌​‌‌‌​‌‌‍‌​‌‌‌​‌​‍‌​‌‌‌​‌​

Mon, Wed, Fri & Saturday ‌​‌‌‌​‌‌‍‌​‌‌‌​‌​‍‌​‌‌‌​‌​

‌​‌‌‌​‌‌‍‌​‌‌‌​‌​‍‌​‌‌‌​‌​

BANGOR PS ‌​‌‌‌​‌‌‍‌​‌‌‌​‌​‍‌​‌‌‌​‌​

FFORDD GWYNEDD ‌​‌‌‌​‌‌‍‌​‌‌‌​‌​‍‌​‌‌‌​‌​

BANGOR ‌​‌‌‌​‌‌‍‌​‌‌‌​‌​‍‌​‌‌‌​‌​

GWYNEDD ‌​‌‌‌​‌‌‍‌​‌‌‌​‌​‍‌​‌‌‌​‌​

LL57 1DT

‌​‌‌‌​‌‌‍‌​‌‌‌​‌​‍‌​‌‌‌​‌​

(01286) 670957 ‌​‌‌‌​‌‌‍‌​‌‌‌​‌​‍‌​‌‌‌​‌​

‌​‌‌‌​‌‌‍‌​‌‌‌​‌​‍‌​‌‌‌​‌​

EXT: 70957 ‌​‌‌‌​‌‌‍‌​‌‌‌​‌​‍‌​‌‌‌​‌​

‌​‌‌‌​‌‌‍‌​‌‌‌​‌​‍‌​‌‌‌​‌​

8.30am/7pm – Mon to Sat ‌​‌‌‌​‌‌‍‌​‌‌‌​‌​‍‌​‌‌‌​‌​

9am/6pm – Sundays ‌​‌‌‌​‌‌‍‌​‌‌‌​‌​‍‌​‌‌‌​‌​

HOLYHEAD PS ‌​‌‌‌​‌‌‍‌​‌‌‌​‌​‍‌​‌‌‌​‌​

1 STANLEY STREET ‌​‌‌‌​‌‌‍‌​‌‌‌​‌​‍‌​‌‌‌​‌​

HOLYHEAD ‌​‌‌‌​‌‌‍‌​‌‌‌​‌​‍‌​‌‌‌​‌​

ANGLESEY ‌​‌‌‌​‌‌‍‌​‌‌‌​‌​‍‌​‌‌‌​‌​

LL65 1HL

‌​‌‌‌​‌‌‍‌​‌‌‌​‌​‍‌​‌‌‌​‌​

(01407) 724090 ‌​‌‌‌​‌‌‍‌​‌‌‌​‌​‍‌​‌‌‌​‌​

‌​‌‌‌​‌‌‍‌​‌‌‌​‌​‍‌​‌‌‌​‌​

EXT: 24090
‌​‌‌‌​‌‌‍‌​‌‌‌​‌​‍‌​‌‌‌​‌​ Spotted something? Got a story? Send a Facebook Message | A direct message on Twitter | Email: News@Deeside.com
---
Latest News
---