North Wales AM raises concerns over council's rate hike for Flintshire scout groups in Welsh Assembly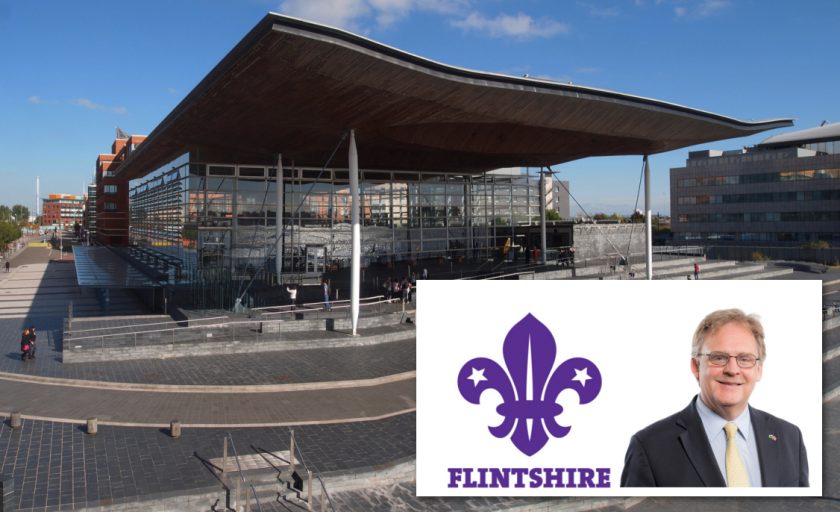 This article is old - Published: Thursday, Jan 11th, 2018
North Wales AM Mark Isherwood has raised concerns in the Welsh Assembly about Flintshire County Council's decision to charge Scout groups up to £570 in business rates each year.
Mr Isherwood says the decision could set a precedent across Wales following the council's decision to change its discretionary rate relief policy last April, affecting charities and voluntary groups, claiming that this would help with its own budget shortfall. ‌​‌‌‌​‌‌‍‌​‌‌‌​‌​‍‌​‌‌‌​‌​
More than 10,000 people have signed a petition calling on Flintshire Council to reverse its decision, with Chief Scout Bear Grylls having pledged support for the campaign. ‌​‌‌‌​‌‌‍‌​‌‌‌​‌​‍‌​‌‌‌​‌​
In the Assembly Chamber this week, Mr Isherwood called for a Welsh Government Statement on the matter, expressing concern that Flintshire's position could prompt other local authorities to follow suit. He said: ‌​‌‌‌​‌‌‍‌​‌‌‌​‌​‍‌​‌‌‌​‌​
"You might have seen in the last week widespread coverage of Bear Grylls's support, as the Chief Scout in the UK, of the petition in Flintshire, which by then had gathered 7,700 signatures, against Flintshire Council's unique proposal so far amongst Councils in Wales to remove discretionary rate relief from Scout groups where they have their own headquarter buildings. ‌​‌‌‌​‌‌‍‌​‌‌‌​‌​‍‌​‌‌‌​‌​
"This will affect 16 Scouting groups in Flintshire, but only raises for the Council somewhere around, at a maximum, £6,000 a year, at high cost given the social benefits that the Scouting groups are delivering in the communities in which they work. ‌​‌‌‌​‌‌‍‌​‌‌‌​‌​‍‌​‌‌‌​‌​
Now, you might state that this is a matter for the Council's budget, but the potential precedent this could set across Wales is concerning more widely. I therefore call for a Statement on the matter." ‌​‌‌‌​‌‌‍‌​‌‌‌​‌​‍‌​‌‌‌​‌​
Leader of the House, Julie James AM, replied:
"In terms of the Scouts decision in Flintshire, the Member is entirely right – it is a matter for the local authority. ‌​‌‌‌​‌‌‍‌​‌‌‌​‌​‍‌​‌‌‌​‌​
And whilst I understand the Member's understandable concerns about some of these decisions, it is a discretionary decision, and the whole point about a discretion is that it's exercised locally by local politicians who are seized of the matter." ‌​‌‌‌​‌‌‍‌​‌‌‌​‌​‍‌​‌‌‌​‌​
Mr Isherwood added: "It is disingenuous for Flintshire County Council to state that it contacted affected charities and voluntary groups, and signposted them to apply for hardship rate relief, when, as I stated in the Assembly Chamber last June, scout groups in Flintshire had already been refused access to Flintshire Council's hardship fund, and when local campaigners tell me that Charity Commission rules stop them from being eligible in the first place and that the hardship fund would only provide a one off payment anyhow. ‌​‌‌‌​‌‌‍‌​‌‌‌​‌​‍‌​‌‌‌​‌​
As they state 'Scout Groups should not pay business rates and a tax on children is wrong'. ‌​‌‌‌​‌‌‍‌​‌‌‌​‌​‍‌​‌‌‌​‌​
"The tiny cost saving involved is also a false economy, where Scout Groups are actually relieving cost pressures on Council Services. ‌​‌‌‌​‌‌‍‌​‌‌‌​‌​‍‌​‌‌‌​‌​
This Council should instead work smarter, acknowledging the independent research which has found that scouting helps young people build key skills, has a positive impact on mental well-being and helps with future employability." ‌​‌‌‌​‌‌‍‌​‌‌‌​‌​‍‌​‌‌‌​‌​
Bear Grylls support.
The petition which passed the 10,000 signature mark this week was boosted by Chief Scout Bear Grylls who threw his weight behind the Flintshire Scouts campaign, he said: ‌​‌‌‌​‌‌‍‌​‌‌‌​‌​‍‌​‌‌‌​‌​
Please help these great Scouts and sign this petition. I know councils are under pressure but it's not right that scout groups should be targeted by removing the 20% discretionary funding relief. People give time to support the development of young people and should be supported. ‌​‌‌‌​‌‌‍‌​‌‌‌​‌​‍‌​‌‌‌​‌​
The Scout Association which is a not for profit organisation is run by volunteers, it provides 'essential skills and opportunities for the young people of the local area.'  ‌​‌‌‌​‌‌‍‌​‌‌‌​‌​‍‌​‌‌‌​‌​
The groups automatically qualify for 80% mandatory rates relief due to their charitable status with the local authority giving a further 20% discretionary rate relief. ‌​‌‌‌​‌‌‍‌​‌‌‌​‌​‍‌​‌‌‌​‌​
The council decided to withdraw funding relief for charitable sector organisations from 2017 onwards in a bid to save money, the petition states. ‌​‌‌‌​‌‌‍‌​‌‌‌​‌​‍‌​‌‌‌​‌​
Flintshire district is made up of 16 Scout groups which over 900 youngsters from the county regularly attend, each group either owns or rents a building, they will now face a bill of between £300-£570 each in annual rates. ‌​‌‌‌​‌‌‍‌​‌‌‌​‌​‍‌​‌‌‌​‌​
The petition calls on the council to reconsider its decision, it states:
'This petition is to express deep concern at Flintshire County Council decision to charge business rates against the Scout groups in Flintshire and to ask them to reconsider that decision.' ‌​‌‌‌​‌‌‍‌​‌‌‌​‌​‍‌​‌‌‌​‌​
'It is a decision taken by Flintshire County Council in 2017 to charge business rates on the Scout groups in Flintshire even though their own publications on the matter state that they would ordinarily not do so as the Scout Groups meet the criteria for 100% discretionary rate relief.' ‌​‌‌‌​‌‌‍‌​‌‌‌​‌​‍‌​‌‌‌​‌​
'Scout groups are not businesses.  The Scout Association and Scout groups are registered as charitable organisations and are entirely run by local volunteers who give up their time and put energy into providing the adventure of Scouting to young people across Flintshire.' ‌​‌‌‌​‌‌‍‌​‌‌‌​‌​‍‌​‌‌‌​‌​
Speaking to Deeside.com, Richard Hebden, Flintshire Scouts District Commissioner said:
"The county's Scout groups are being penalised by the local authority, they should be supporting charities that give our youth a better future. ‌​‌‌‌​‌‌‍‌​‌‌‌​‌​‍‌​‌‌‌​‌​

Scouting is open to boys and girls, men and women from all backgrounds and financial positions, Flintshire Scout groups can't afford the additional charges and the impact could, in turn, mean an increase in subscription fees. ‌​‌‌‌​‌‌‍‌​‌‌‌​‌​‍‌​‌‌‌​‌​

We are asking Flintshire County Council to reconsider its decision on this matter as we are not a business and in recognition of the valuable contribution Scouting provides to our communities." ‌​‌‌‌​‌‌‍‌​‌‌‌​‌​‍‌​‌‌‌​‌​

The Welsh Government states that a property may qualify for 'relief of up to 100% at the discretion of the local authority if your property is occupied by a non-profit making body and used for purposes which are, charitable, philanthropic, religious, educational purposes.' ‌​‌‌‌​‌‌‍‌​‌‌‌​‌​‍‌​‌‌‌​‌​

The petition will be delivered to Cllr Hilary McGuill at the end of January – to read more: change.org/stop-flintshire-scout-groups-paying-business-rates-charges  ‌​‌‌‌​‌‌‍‌​‌‌‌​‌​‍‌​‌‌‌​‌​

‌​‌‌‌​‌‌‍‌​‌‌‌​‌​‍‌​‌‌‌​‌​
Spotted something? Got a story? Send a Facebook Message | A direct message on Twitter | Email: News@Deeside.com
---
Latest News
Five new industrial units will capitalise on the growing logistics sector and bring 1,000 new jobs to Deeside
---