North Wales man jailed for more than eight years following fatal collision on the M6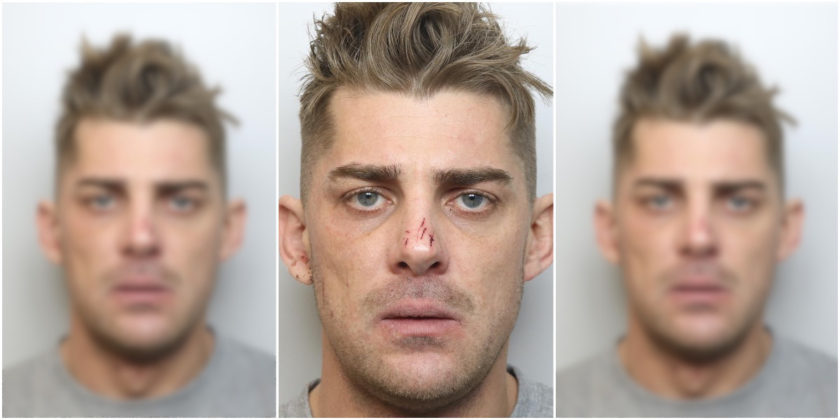 This article is old - Published: Friday, Jan 20th, 2023

A man who left another motorist to die following a 128mph collision on the M6 has been sent to prison. ‌​‌‌‌​‌‌‍‌​‌‌‌​‌​‍‌​‌‌‌​‌​
John Yates, 28, of no fixed abode but from north Wales, appeared at Chester Crown Court today, January 20, where he was sentenced for causing death by dangerous driving and failing to provide a specimen. ‌​‌‌‌​‌‌‍‌​‌‌‌​‌​‍‌​‌‌‌​‌​
The charges relate to a collision that occurred at around 12.30 am on Tuesday, November 15, 2022, on the M6 northbound between junctions 20, Lymm, and 21, Thelwall. ‌​‌‌‌​‌‌‍‌​‌‌‌​‌​‍‌​‌‌‌​‌​
Temporary roadworks were in place at the time, meaning that all vehicles were required to merge into lane four.


‌​‌‌‌​‌‌‍‌​‌‌‌​‌​‍‌​‌‌‌​‌​
An advisory speed limit of 50 mph was put in place, and other drivers were adhering to this reduced speed. ‌​‌‌‌​‌‌‍‌​‌‌‌​‌​‍‌​‌‌‌​‌​
Despite multiple signs warning of the roadworks ahead, Yates continued to travel at high speed and was seen undertaking a number of vehicles in order to skip the traffic. ‌​‌‌‌​‌‌‍‌​‌‌‌​‌​‍‌​‌‌‌​‌​
As he approached the area where the traffic was merging, Yates' white Volkswagen Scirocco collided with the side of a Peugeot 307 before hitting the back of a black Peugeot 107 at high speed. ‌​‌‌‌​‌‌‍‌​‌‌‌​‌​‍‌​‌‌‌​‌​
Following the crash, Yates was seen exiting his car and running off from the scene. ‌​‌‌‌​‌‌‍‌​‌‌‌​‌​‍‌​‌‌‌​‌​
Emergency services quickly attended, and after a search of the area, Yates was located and arrested at around 5.30 am, after he returned to the motorway. ‌​‌‌‌​‌‌‍‌​‌‌‌​‌​‍‌​‌‌‌​‌​
While police searched for Yates, paramedics treated the other motorists involved in the collision. ‌​‌‌‌​‌‌‍‌​‌‌‌​‌​‍‌​‌‌‌​‌​
The driver of the Peugeot 307, a 28-year-old woman from Preston, along with a 25-year-old passenger, both escaped with minor injuries. ‌​‌‌‌​‌‌‍‌​‌‌‌​‌​‍‌​‌‌‌​‌​
However, the driver of the Peugeot 107, Christopher Smith, 41, from St Helens, sustained life-threatening injuries and was taken to the Salford Royal hospital. ‌​‌‌‌​‌‌‍‌​‌‌‌​‌​‍‌​‌‌‌​‌​
Sadly, despite the best efforts of all those involved, Christopher passed away on Wednesday, November 16, as a result of the injuries he sustained in the collision. ‌​‌‌‌​‌‌‍‌​‌‌‌​‌​‍‌​‌‌‌​‌​


‌​‌‌‌​‌‌‍‌​‌‌‌​‌​‍‌​‌‌‌​‌​
The court heard that Yates had a history of reckless driving and had previously been convicted of dangerous driving. ‌​‌‌‌​‌‌‍‌​‌‌‌​‌​‍‌​‌‌‌​‌​
The judge, in passing the sentence, said that Yates had shown a "flagrant disregard for the law" and that his actions had caused "irreparable damage" to the Smith family. ‌​‌‌‌​‌‌‍‌​‌‌‌​‌​‍‌​‌‌‌​‌​
Yates has been sentenced to 11 years in prison, reduced to eight years and three months for an early guilty plea. ‌​‌‌‌​‌‌‍‌​‌‌‌​‌​‍‌​‌‌‌​‌​
Following the sentencing, Sergeant Simon Degg, of the Serious and Complex Collision Investigation Unit, said: ‌​‌‌‌​‌‌‍‌​‌‌‌​‌​‍‌​‌‌‌​‌​
"Yates cowardly left the scene. Rather than staying to try to help Christopher and face the consequences of his actions, he ran off and left him to die. ‌​‌‌‌​‌‌‍‌​‌‌‌​‌​‍‌​‌‌‌​‌​
"Even after he was located, he denied any involvement in the collision, and throughout questioning he declined to answer any questions and refused to provide samples of breath or blood." ‌​‌‌‌​‌‌‍‌​‌‌‌​‌​‍‌​‌‌‌​‌​
"His parting comments to investigators was that he puts all of his trust in those investigating the collision." ‌​‌‌‌​‌‌‍‌​‌‌‌​‌​‍‌​‌‌‌​‌​
"That investigation showed that Yates was travelling at 128mph when he collided unnecessarily with the rear of Christophers car." ‌​‌‌‌​‌‌‍‌​‌‌‌​‌​‍‌​‌‌‌​‌​
"Christopher was a true gentleman, he had left work early that day so that he could spend time with his heavily pregnant wife. He was excited at the prospect of becoming a dad and a gentleman who was doing nothing wrong whatsoever. ‌​‌‌‌​‌‌‍‌​‌‌‌​‌​‍‌​‌‌‌​‌​
"While Yates pleaded guilty, he had shown no remorse of his actions and he deserves to be behind bars for a substantial amount of time. ‌​‌‌‌​‌‌‍‌​‌‌‌​‌​‍‌​‌‌‌​‌​
"Because of the actions taken by Yates that day, Christopher will never get to meet his child and be the loving father that he would have been. ‌​‌‌‌​‌‌‍‌​‌‌‌​‌​‍‌​‌‌‌​‌​
"While no court result could ever make up for the loss or the pain that his family have endured, but I hope that the conclusion of this case will provide some closure. ‌​‌‌‌​‌‌‍‌​‌‌‌​‌​‍‌​‌‌‌​‌​
"Our thoughts remain with them at this difficult time." ‌​‌‌‌​‌‌‍‌​‌‌‌​‌​‍‌​‌‌‌​‌​
In addition to his prison sentence Yates was banned from driving for seven years, to commence once released from prison.


‌​‌‌‌​‌‌‍‌​‌‌‌​‌​‍‌​‌‌‌​‌​
Spotted something? Got a story? Send a Facebook Message | A direct message on Twitter | Email: News@Deeside.com
---
Latest News
---