North Wales health board must continue work to improve vascular services, report concludes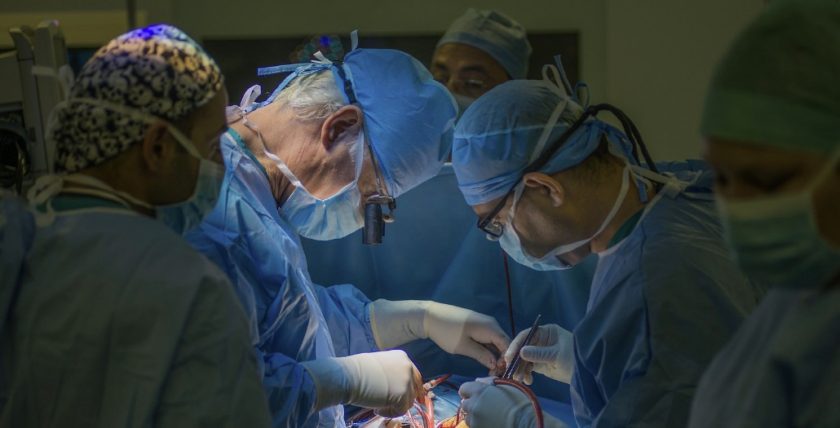 Betsi Cadwaladr University Health Board must continue work to improve its vascular services, a new report has concluded. ‌​‌‌‌​‌‌‍‌​‌‌‌​‌​‍‌​‌‌‌​‌​ ‌​‌‌‌​‌‌‍‌​‌‌‌​‌​‍‌​‌‌‌​‌​
The Vascular Quality Review Panel was commissioned by the North Wales health board following a series of failings around vascular patient care at at Ysbyty Glan Clwyd. ‌​‌‌‌​‌‌‍‌​‌‌‌​‌​‍‌​‌‌‌​‌​ ‌​‌‌‌​‌‌‍‌​‌‌‌​‌​‍‌​‌‌‌​‌​
In March 2022 complex cases requiring vascular services were temporarily relocated from North Wales to Liverpool after two concerning safety incidents were identified. ‌​‌​‌​​​‍‌​‌​​‌‌‌‍‌​‌‌​​‌​‍‌​‌‌‌​‌‌‍‌​‌‌‌‌​​ ‌​‌‌‌​‌‌‍‌​‌‌‌​‌​‍‌​‌‌‌​‌​ ‌​‌‌‌​‌‌‍‌​‌‌‌​‌​‍‌​‌‌‌​‌​
Last summer targeted intervention measures were enforced after "significant concerns" were identified at Ysbyty Glan Clwyd's vascular services and emergency department. ‌​‌‌‌​‌‌‍‌​‌‌‌​‌​‍‌​‌‌‌​‌​ ‌​‌‌‌​‌‌‍‌​‌‌‌​‌​‍‌​‌‌‌​‌​
A report released by the panel this yesterday (Monday 31 January) was solely in relation to 47 patient cases and focused on the following two questions: ‌​‌‌‌​‌‌‍‌​‌‌‌​‌​‍‌​‌‌‌​‌​ ‌​‌‌‌​‌‌‍‌​‌‌‌​‌​‍‌​‌‌‌​‌​
Whether the patient records contain the information expected for the patient episodes of care
Were the necessary and appropriate follow up and aftercare plans put in place
The panel found that there was "a lack of recorded evidence around the consistent application of effective clinical pathways, particularly querying as to how staff were engaging and/or understanding the process across the Multi-Disciplinary Team (MDT). " ‌​‌‌‌​‌‌‍‌​‌‌‌​‌​‍‌​‌‌‌​‌​ ‌​‌‌‌​‌‌‍‌​‌‌‌​‌​‍‌​‌‌‌​‌​
The report continues into state: "It was considered that this could potentially lead to a clinical service working to a model of care, which from both a patient and clinician perspective could be identified as sub-optimal. ‌​‌‌‌​‌‌‍‌​‌‌‌​‌​‍‌​‌‌‌​‌​ ‌​‌‌‌​‌‌‍‌​‌‌‌​‌​‍‌​‌‌‌​‌​
"The diabetic foot pathway was particularly identified as requiring clarity around structure and efficacy. ‌​‌‌‌​‌‌‍‌​‌‌‌​‌​‍‌​‌‌‌​‌​ ‌​‌‌‌​‌‌‍‌​‌‌‌​‌​‍‌​‌‌‌​‌​
"There were identified delays in the pathways of care, which might be due to the timing of certain cases during the Covid pandemic; however, it was also acknowledged that there was a risk that this might also be due to more established barriers to care." ‌​‌‌‌​‌‌‍‌​‌‌‌​‌​‍‌​‌‌‌​‌​ ‌​‌‌‌​‌‌‍‌​‌‌‌​‌​‍‌​‌‌‌​‌​
In terms of record keeping, the panel found: "It is fair to say that for practically every record reviewed within this piece of work, that the poor physical condition and arrangement of the paper records themselves caused significant challenges around ease of navigation and the ability to view the patients' care, present and past. ‌​‌‌‌​‌‌‍‌​‌‌‌​‌​‍‌​‌‌‌​‌​ ‌​‌‌‌​‌‌‍‌​‌‌‌​‌​‍‌​‌‌‌​‌​
"Consequently, as noted within all the case reports, judgment was made on the information available and conclusions drawn with appropriate caution and caveats aligned to this. ‌​‌‌‌​‌‌‍‌​‌‌‌​‌​‍‌​‌‌‌​‌​ ‌​‌‌‌​‌‌‍‌​‌‌‌​‌​‍‌​‌‌‌​‌​
"It is possible that further information existed in real time, or exists and cannot be found, that would alter some conclusions. ‌​‌‌‌​‌‌‍‌​‌‌‌​‌​‍‌​‌‌‌​‌​ ‌​‌‌‌​‌‌‍‌​‌‌‌​‌​‍‌​‌‌‌​‌​
"This poor record keeping and administration was a significant finding of the review, as there were often gaps in the records, and on several occasions further searches undertaken and additional clinical records than identified. ‌​‌‌‌​‌‌‍‌​‌‌‌​‌​‍‌​‌‌‌​‌​ ‌​‌‌‌​‌‌‍‌​‌‌‌​‌​‍‌​‌‌‌​‌​
"If this occurs during day-to-day clinical business then this could be a potential risk to patient care, not to mention a significant inconvenience and inefficiency, to be frequently searching for additional records ‌​‌‌‌​‌‌‍‌​‌‌‌​‌​‍‌​‌‌‌​‌​ ‌​‌‌‌​‌‌‍‌​‌‌‌​‌​‍‌​‌‌‌​‌​
27 recommendations have been out for the health board, including undertaking an ongoing review of consent processes within the organisation, ensuring that the diabetic foot pathway is fit for purpose and a comprehensive and holistic assessment of patients' medical problems is carried out. ‌​‌‌‌​‌‌‍‌​‌‌‌​‌​‍‌​‌‌‌​‌​ ‌​‌‌‌​‌‌‍‌​‌‌‌​‌​‍‌​‌‌‌​‌​
Other recommendations include: ‌​‌‌‌​‌‌‍‌​‌‌‌​‌​‍‌​‌‌‌​‌​ ‌​‌‌‌​‌‌‍‌​‌‌‌​‌​‍‌​‌‌‌​‌​
Clear arrangements to be in place to agree who has the overall accountability for a vascular patient
A requirement to ensure care is progressed rather than delayed to wait for a weekly MDT meeting
The use of an electronic health record across all health board sites
A need for a vascular pain management pathway to be implemented across the Health Board
Ensuring robust links between the palliative care team and the vascular service
The Health Board should source an experienced specialist aortic surgeon who is currently able to be present for aortic cases
Dr Nick Lyons, interim deputy CEO and executive medical director of Betsi Cadwaladr University Health Board, has given his sincere apologies to the patients who "did not receive the first class service they deserve." ‌​‌‌‌​‌‌‍‌​‌‌‌​‌​‍‌​‌‌‌​‌​ ‌​‌‌‌​‌‌‍‌​‌‌‌​‌​‍‌​‌‌‌​‌​
Dr Lyons said: "Following the Royal College of Surgeons' report into our vascular service published in January 2022, which crucially spanned records from as early as 2015 up to July 2021, we were honest and said we needed to do better. ‌​‌‌‌​‌‌‍‌​‌‌‌​‌​‍‌​‌‌‌​‌​ ‌​‌‌‌​‌‌‍‌​‌‌‌​‌​‍‌​‌‌‌​‌​
"I am satisfied the majority of the recommendations outlined in this review have already been completed and work continues on those outstanding. ‌​‌‌‌​‌‌‍‌​‌‌‌​‌​‍‌​‌‌‌​‌​ ‌​‌‌‌​‌‌‍‌​‌‌‌​‌​‍‌​‌‌‌​‌​
"The hard work of our staff has resulted in a service which I believe is now serving the people of North Wales. We know we have more work to do and there has been a tremendous amount of training done on things like record keeping. ‌​‌‌‌​‌‌‍‌​‌‌‌​‌​‍‌​‌‌‌​‌​ ‌​‌‌‌​‌‌‍‌​‌‌‌​‌​‍‌​‌‌‌​‌​
"Our partnerships with the Liverpool Vascular Network and the Royal Stoke University Hospital have given us vital cover for complex aortic cases and for those out of hours cases we infrequently require help with. ‌​‌‌‌​‌‌‍‌​‌‌‌​‌​‍‌​‌‌‌​‌​ ‌​‌‌‌​‌‌‍‌​‌‌‌​‌​‍‌​‌‌‌​‌​
"Regular meetings of our hub and spoke operational management teams have also led to greater assurance we are prepared, not only for our routine clinics and inpatient activity, but any issues regarding staffing and cover across our sites. ‌​‌‌‌​‌‌‍‌​‌‌‌​‌​‍‌​‌‌‌​‌​ ‌​‌‌‌​‌‌‍‌​‌‌‌​‌​‍‌​‌‌‌​‌​
"While I would be the first to acknowledge there is still much to do, I believe the vascular service across North Wales is in a far better place than it was prior to the invited RCS review and is providing good outcomes for our public. ‌​‌‌‌​‌‌‍‌​‌‌‌​‌​‍‌​‌‌‌​‌​ ‌​‌‌‌​‌‌‍‌​‌‌‌​‌​‍‌​‌‌‌​‌​
"I also remain convinced the hub and spoke model is the best way of serving those patients in our communities who require vascular treatment, not least because it allows our clinicians to retain their skills and, therefore, keep the vast majority of vascular services within the area we serve." ‌​‌‌‌​‌‌‍‌​‌‌‌​‌​‍‌​‌‌‌​‌​ ‌​‌‌‌​‌‌‍‌​‌‌‌​‌​‍‌​‌‌‌​‌​
Eluned Morgan MS, Minister for Health and Social Services, said: "The Panel was constructed to ensure a mixed membership of individuals both internal and external to BCUHB; with an independent Chair, an external vascular surgical expert, and an external vascular specialist nurse who has no previous affiliation to BCUHB and is not working within NHS Wales. ‌​‌‌‌​‌‌‍‌​‌‌‌​‌​‍‌​‌‌‌​‌​ ‌​‌‌‌​‌‌‍‌​‌‌‌​‌​‍‌​‌‌‌​‌​
"The findings of the Vascular Quality Review Panel are mainly consistent with the Royal College of Surgeons' review findings, although in some instances, the Panel was privy to further identified information, and members' local knowledge provided additional context. ‌​‌‌‌​‌‌‍‌​‌‌‌​‌​‍‌​‌‌‌​‌​ ‌​‌‌‌​‌‌‍‌​‌‌‌​‌​‍‌​‌‌‌​‌​
"The report makes 27 recommendations, in relation to effectiveness of clinical pathways; clinical governance, including consent and decision-making, accountability and professional practice; person-centred care; team working, including the multi-disciplinary team; complex pain management; palliative care; education and learning; discharge, and necessary and appropriate follow up and aftercare plans. ‌​‌‌‌​‌‌‍‌​‌‌‌​‌​‍‌​‌‌‌​‌​ ‌​‌‌‌​‌‌‍‌​‌‌‌​‌​‍‌​‌‌‌​‌​
"I do not underestimate how challenging it has been for the health board to address these issues, but they must provide assurance that they are addressing, or have already addressed, the recommendations within this report as a matter of urgency. ‌​‌‌‌​‌‌‍‌​‌‌‌​‌​‍‌​‌‌‌​‌​ ‌​‌‌‌​‌‌‍‌​‌‌‌​‌​‍‌​‌‌‌​‌​
"The people in North Wales must be assured that BCUHB have rectified the issues identified, improved pathways and outcomes." ‌​‌‌‌​‌‌‍‌​‌‌‌​‌​‍‌​‌‌‌​‌​ ‌​‌‌‌​‌‌‍‌​‌‌‌​‌​‍‌​‌‌‌​‌​
Spotted something? Got a story? Send a Facebook Message | A direct message on Twitter | Email: News@Deeside.com
---
Latest News
---