New national memorial honouring military dogs to be based in Flintshire.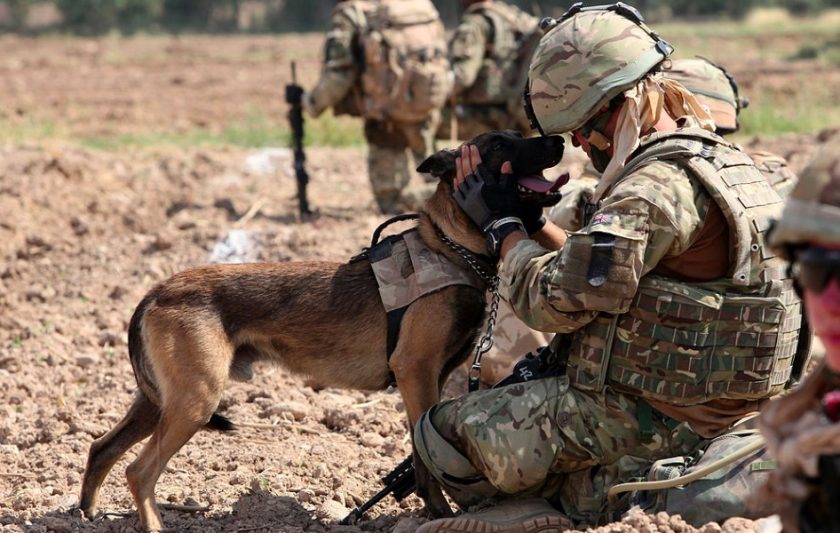 This article is old - Published: Thursday, Jun 14th, 2018
A new national memorial to honour military dogs that saved lives will be constructed in Flintshire. ‌​‌‌‌​‌‌‍‌​‌‌‌​‌​‍‌​‌‌‌​‌​
The National Military Working Dog Memorial will be based at the Pet Cemetery in Brynford. ‌​‌‌‌​‌‌‍‌​‌‌‌​‌​‍‌​‌‌‌​‌​
 This memorial will be constructed on site and has the support from members of the Army, Navy and Royal Air Force. ‌​‌‌‌​‌‌‍‌​‌‌‌​‌​‍‌​‌‌‌​‌​
The mausoleum will cost around £150,000 to build and will feature four bronze statues who will guard over the plaques commemorating the work of the Armed Forces service animals who have served with distinction. ‌​‌‌‌​‌‌‍‌​‌‌‌​‌​‍‌​‌‌‌​‌​
The four dogs guarding over the mausoleum will be based upon four dogs who served with distinction. ‌​‌‌‌​‌‌‍‌​‌‌‌​‌​‍‌​‌‌‌​‌​
The first will be of Buster who died in 2015 aged 13. He served in Afghanistan, Bosnia and Iraq – sniffing out ordnance and booby traps before they could kill British service personnel. ‌​‌‌‌​‌‌‍‌​‌‌‌​‌​‍‌​‌‌‌​‌​
On retirement Buster became the mascot of the RAF Police. ‌​‌‌‌​‌‌‍‌​‌‌‌​‌​‍‌​‌‌‌​‌​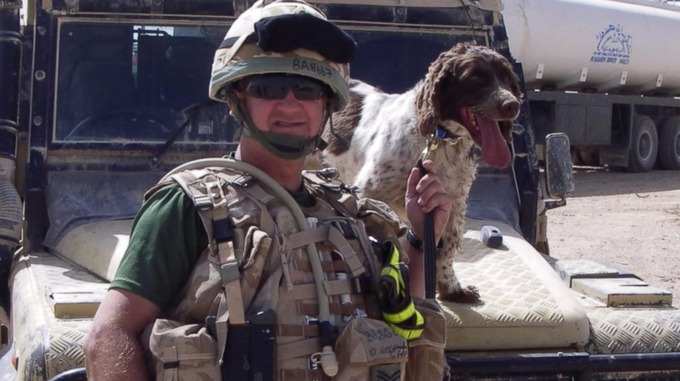 ‌​‌‌‌​‌‌‍‌​‌‌‌​‌​‍‌​‌‌‌​‌​
[Buster on active duty 📸 ITV] ‌​‌‌‌​‌‌‍‌​‌‌‌​‌​‍‌​‌‌‌​‌​
Another dog to be immortalised in bronze will be Theo, who died of a broken heart after his owner Lce Cpl Liam Tasker was shot dead in Afghanistan by the Taliban in 2011. ‌​‌‌‌​‌‌‍‌​‌‌‌​‌​‍‌​‌‌‌​‌​
Theo was only 22 months old, suffered a fatal seizure just hours after his master's death and was posthumously awarded the PDSA Dickin Medal for bravery – the animal equivalent of the Victoria Cross.  ‌​‌‌‌​‌‌‍‌​‌‌‌​‌​‍‌​‌‌‌​‌​
The other bronze will go to Judy. Judy served on the Yangtze River in World War Two and even survived a pirate attack before becoming a Japanese POW. ‌​‌‌‌​‌‌‍‌​‌‌‌​‌​‍‌​‌‌‌​‌​
The final plinth will be occupied by Air Dog Lucky, who tracked insurgents through the jungles of Malaya during Malayan Emergency. ‌​‌‌‌​‌‌‍‌​‌‌‌​‌​‍‌​‌‌‌​‌​
Both Lucky and Judy survived their service and were awarded the PDSA Dickin Medal for bravery. ‌​‌‌‌​‌‌‍‌​‌‌‌​‌​‍‌​‌‌‌​‌​
A fund-raising drive is now on to build the memorial following the granting of charity status to the National Military Working Dogs trust. ‌​‌‌‌​‌‌‍‌​‌‌‌​‌​‍‌​‌‌‌​‌​
The local Member of Parliament, Rt. Hon. David Hanson MP, is in full support of this campaign to see the new national memorial built. ‌​‌‌‌​‌‌‍‌​‌‌‌​‌​‍‌​‌‌‌​‌​
He is hosting an event in the Houses of Parliament on the 19 June 2018 to secure further support from the UK Government and other MPs and Peers. ‌​‌‌‌​‌‌‍‌​‌‌‌​‌​‍‌​‌‌‌​‌​
 Representative from NMWDM, Emma Ward, said: ‌​‌‌‌​‌‌‍‌​‌‌‌​‌​‍‌​‌‌‌​‌​
 "The new national memorial is well overdue and look forward to being able to commemorate the service dogs who protected our Armed Forces over many decades. ‌​‌‌‌​‌‌‍‌​‌‌‌​‌​‍‌​‌‌‌​‌​

The interest we have had from the local community has been extraordinary. But we have also seen a fantastic response from the Armed Forces who are on board with the project. ‌​‌‌‌​‌‌‍‌​‌‌‌​‌​‍‌​‌‌‌​‌​

We are now in the process of raising the funds needed to complete the construction of mausoleum and would be grateful for donations – no matter what their size – to help us in commemorating our service animals. ‌​‌‌‌​‌‌‍‌​‌‌‌​‌​‍‌​‌‌‌​‌​

The stories of Buster, Theo, Judy and Lucky demonstrate just why a national memorial is needed. These dogs were dedicated to their partners and would do anything to ensure that their Armed Forces partners were kept safe." ‌​‌‌‌​‌‌‍‌​‌‌‌​‌​‍‌​‌‌‌​‌​
Flight Sergeant Michael Barrow RAF Police said: ‌​‌‌‌​‌‌‍‌​‌‌‌​‌​‍‌​‌‌‌​‌​
"Many thousands of dogs have served with the Armed Forces throughout many conflicts. They are a great force multiplier and have saved lives in various guises. ‌​‌‌‌​‌‌‍‌​‌‌‌​‌​‍‌​‌‌‌​‌​

 To finally have them and their contribution recognised is superb. ‌​‌‌‌​‌‌‍‌​‌‌‌​‌​‍‌​‌‌‌​‌​

The design and location of the memorial are both stunning and it's unveiling will be a great spectacle. I am looking forward to seeing the completed design and being able to pay respect to all Military Working Dogs." ‌​‌‌‌​‌‌‍‌​‌‌‌​‌​‍‌​‌‌‌​‌​
David Hanson MP said: ‌​‌‌‌​‌‌‍‌​‌‌‌​‌​‍‌​‌‌‌​‌​
"When I first heard of this memorial I was struck that it has taken this long for someone with the dedication and passion to see it come into being. The work of all those making this national memorial become a reality is truly inspiring. ‌​‌‌‌​‌‌‍‌​‌‌‌​‌​‍‌​‌‌‌​‌​

I have arranged an event in Parliament and invited the Secretary of State for Defence to attend. I hope the Government will see what an excellent plan this is and support it to the fullest. ‌​‌‌‌​‌‌‍‌​‌‌‌​‌​‍‌​‌‌‌​‌​

Brynford is such a beautiful part of the country and I cannot think of a more fitting place for a new national monument to be built." ‌​‌‌‌​‌‌‍‌​‌‌‌​‌​‍‌​‌‌‌​‌​
‌​‌‌‌​‌‌‍‌​‌‌‌​‌​‍‌​‌‌‌​‌​
Spotted something? Got a story? Send a Facebook Message | A direct message on Twitter | Email: News@Deeside.com
---
Latest News
---