Moderna vaccine set to be used in Wales from April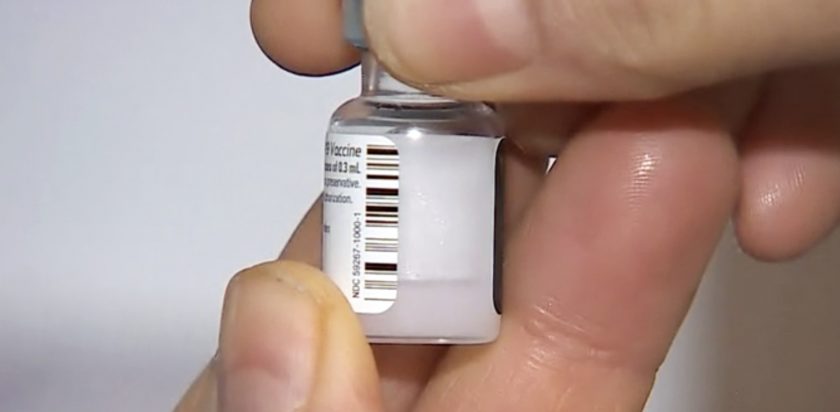 This article is old - Published: Friday, Mar 19th, 2021
First Minister Mark Drakeford has said the vaccine supply issue will impact Wales, with 250,000 doses delayed for four weeks. ‌​‌‌‌​‌‌‍‌​‌‌‌​‌​‍‌​‌‌‌​‌​
Mr Drakeford gave a wide ranging vaccination update today, noting that almost 40% of people in their 50s have now had their first dose of  coronavirus vaccine. ‌​‌‌‌​‌‌‍‌​‌‌‌​‌​‍‌​‌‌‌​‌​
Overall 318,000 people in Wales have had a full course – with 1% of the population being vaccinated every day. ‌​‌‌‌​‌‌‍‌​‌‌‌​‌​‍‌​‌‌‌​‌​
But the positives were balanced with an update on vaccine supply, with well documented supply issues over the last 48 hours being referenced. ‌​‌‌‌​‌‌‍‌​‌‌‌​‌​‍‌​‌‌‌​‌​
The first minister explained: "As we've always said, we could do even more if we had more vaccines. ‌​‌‌‌​‌‌‍‌​‌‌‌​‌​‍‌​‌‌‌​‌​
"Now unfortunately, we know that there's been a delay in the supply of vaccines coming into the United Kingdom, a four week hold up in a shipment of vaccines to the UK, from India. ‌​‌‌‌​‌‌‍‌​‌‌‌​‌​‍‌​‌‌‌​‌​
"Here in Wales, we are confident that no appointments for second doses will be canceled and all appointments for the rest of this month will be honoured. ‌​‌‌‌​‌‌‍‌​‌‌‌​‌​‍‌​‌‌‌​‌​
"We will then adjust our plans to make sure that we continue to invite as many people as possible for vaccination, using all the different sources of vaccine, that's Pfizer, AstraZeneca and from April supplies of the Moderna vaccine. ‌​‌‌‌​‌‌‍‌​‌‌‌​‌​‍‌​‌‌‌​‌​
"All of those that are available to us, we will be using every one of them to invite people for vaccination." ‌​‌‌‌​‌‌‍‌​‌‌‌​‌​‍‌​‌‌‌​‌​
‌​‌‌‌​‌‌‍‌​‌‌‌​‌​‍‌​‌‌‌​‌​
Later Mr Drakefordnadded: "I think if we lose a quarter of a million doses of vaccine, we can't pretend that it has no effect at all. ‌​‌‌‌​‌‌‍‌​‌‌‌​‌​‍‌​‌‌‌​‌​
"We are doing everything we can to mitigate the effect on appointments for people to get vaccinated. There are number of different ways in which we are looking to do that. ‌​‌‌‌​‌‌‍‌​‌‌‌​‌​‍‌​‌‌‌​‌​
"The fact that we are so advanced in our second doses will help us because we'll be able to use Pfizer vaccine for first doses. In April, we've got the first modest Moderna supply, we'll deploy that – every dose of vaccine that comes into Wales will go straight out to be used in the vaccination program. ‌​‌‌‌​‌‌‍‌​‌‌‌​‌​‍‌​‌‌‌​‌​
"So the very clever and successful people who have designed the program so far, and are looking at how we can continue to press ahead with a vaccination program, despite the fact that those quarter of a million doses are coming to us a month later than we had expected. ‌​‌‌‌​‌‌‍‌​‌‌‌​‌​‍‌​‌‌‌​‌​
"It's not that they're not coming at all, it's just that they're coming four weeks later than originally anticipated. ‌​‌‌‌​‌‌‍‌​‌‌‌​‌​‍‌​‌‌‌​‌​
"Of course, our ability to lift restrictions is linked to the success of our vaccination program. So we will have to take that into account during the three week reviews, but our hope must be that we continue to see the position in Wales stable and reducing and that we will continue to have the headroom to lift restrictions in the way that we hope." ‌​‌‌‌​‌‌‍‌​‌‌‌​‌​‍‌​‌‌‌​‌​
The local health board have issued an update today, saying: "Because of a lower supply of the Oxford-AstraZeneca vaccine across the UK, we expect that from the beginning of April we will receive less vaccine. ‌​‌‌‌​‌‌‍‌​‌‌‌​‌​‍‌​‌‌‌​‌​
"This will have an impact on our vaccination rate and on the dates that people will receive their vaccination appointments. ‌​‌‌‌​‌‌‍‌​‌‌‌​‌​‍‌​‌‌‌​‌​
"However, we remain confident that we are on track to vaccinate the North Wales population in line with the targets set by Welsh Government." ‌​‌‌‌​‌‌‍‌​‌‌‌​‌​‍‌​‌‌‌​‌​
You can view the full briefing from today on the below video: ‌​‌‌‌​‌‌‍‌​‌‌‌​‌​‍‌​‌‌‌​‌​
Cynhadledd i'r Wasg byw gyda'r Prif Weinidog | Live Press Conference with First Minister, Mark Drakeford https://t.co/cbQpaF2eF5 ‌​‌‌‌​‌‌‍‌​‌‌‌​‌​‍‌​‌‌‌​‌​

— Welsh Government #StayLocal (@WelshGovernment) March 19, 2021 ‌​‌‌‌​‌‌‍‌​‌‌‌​‌​‍‌​‌‌‌​‌​
‌​‌‌‌​‌‌‍‌​‌‌‌​‌​‍‌​‌‌‌​‌​
Spotted something? Got a story? Send a Facebook Message | A direct message on Twitter | Email: News@Deeside.com
---
Latest News
---