Minister slammed for refusing to reverse 'disastrous' cuts to Flintshire's bus services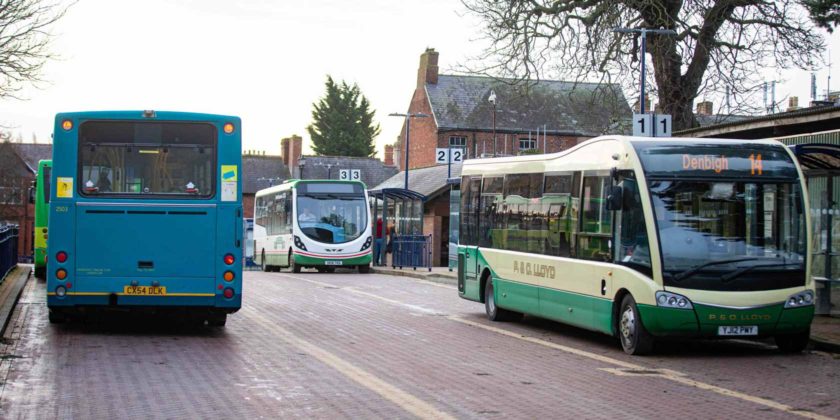 This article is old - Published: Friday, Mar 24th, 2023
A minister has been slammed for the decision to impose "disastrous" cuts to bus services in Flintshire. ‌​‌‌‌​‌‌‍‌​‌‌‌​‌​‍‌​‌‌‌​‌​
Llyr Gruffydd, who represents the region in the Senedd, took aim at Lee Waters after the Deputy Minister for Climate Change defended the move. ‌​‌‌‌​‌‌‍‌​‌‌‌​‌​‍‌​‌‌‌​‌​
Mr Gruffydd, of Plaid Cymru, has warned that the cuts will leave the poorest and most vulnerable people isolated after the Welsh Government confirmed its intention to scrap the Bus Emergency Scheme. ‌​‌‌‌​‌‌‍‌​‌‌‌​‌​‍‌​‌‌‌​‌​
The bus scheme was put in place during the pandemic when passenger numbers plummeted and was recently extended on a temporary basis until June 2023. ‌​‌‌‌​‌‌‍‌​‌‌‌​‌​‍‌​‌‌‌​‌​
Passenger numbers still haven't recovered to their pre-Covid levels, but the Welsh Government has decided to axe the scheme nonetheless. ‌​‌‌‌​‌‌‍‌​‌‌‌​‌​‍‌​‌‌‌​‌​
The move by the Welsh Government would see £2.2m cut from Arriva's bus services in North Wales and it has been estimated that it will put 330 jobs at risk. ‌​‌‌‌​‌‌‍‌​‌‌‌​‌​‍‌​‌‌‌​‌​
Mr Gruffydd said that pulling this "essential" funding would be "catastrophic" for people in North Wales who rely on bus services. ‌​‌‌‌​‌‌‍‌​‌‌‌​‌​‍‌​‌‌‌​‌​
He also argued that it "doesn't make sense" scrap road building projects and cut funding for bus services at the same time. ‌​‌‌‌​‌‌‍‌​‌‌‌​‌​‍‌​‌‌‌​‌​
The Plaid Cymru is calling on the Government to extend the emergency scheme for at least 18 months, to provide certainty and give providers the time to plan ahead. ‌​‌‌‌​‌‌‍‌​‌‌‌​‌​‍‌​‌‌‌​‌​
During a debate in the Senedd, Mr Waters defended the decision to axe the scheme, claiming that austerity "has really put the kibosh on the whole thing". ‌​‌‌‌​‌‌‍‌​‌‌‌​‌​‍‌​‌‌‌​‌​
He also suggested that "the list of challenges is clear" but that "the list of solutions is less clear". ‌​‌‌‌​‌‌‍‌​‌‌‌​‌​‍‌​‌‌‌​‌​
Speaking after the debate, Llyr Gruffydd MS said: "I am disappointed that the Welsh Government is refusing to reverse its decision to do away with the Bus Emergency Scheme. ‌​‌‌‌​‌‌‍‌​‌‌‌​‌​‍‌​‌‌‌​‌​
"This move is for bad the environment, bad for jobs and disastrous for public transport. ‌​‌‌‌​‌‌‍‌​‌‌‌​‌​‍‌​‌‌‌​‌​
"These catastrophic cuts to bus services will decimate what is, for many people, in North Wales, the only form of public transport they have. ‌​‌‌‌​‌‌‍‌​‌‌‌​‌​‍‌​‌‌‌​‌​
"Three quarters of all public transport journeys in Wales are made by bus, but buses get a fraction of the investment currently earmarked by the Government for rail. ‌​‌‌‌​‌‌‍‌​‌‌‌​‌​‍‌​‌‌‌​‌​
"Cutting that funding further at a time of falling passenger numbers and rising costs will decimate the bus network. ‌​‌‌‌​‌‌‍‌​‌‌‌​‌​‍‌​‌‌‌​‌​
"It will disproportionately disadvantage women, children and young people, the elderly, the disabled, workers on low incomes, and rural communities. ‌​‌‌‌​‌‌‍‌​‌‌‌​‌​‍‌​‌‌‌​‌​
"Cutting subsidy to bus transport in the middle of a full blown cost-of-living crisis is among the most regressive acts this Labour Welsh Government has ever proposed. ‌​‌‌‌​‌‌‍‌​‌‌‌​‌​‍‌​‌‌‌​‌​
"In its roads review, the Welsh Government announced that it was scrapping a number of road building projects, and apparently heralded its commitment to a historic shift in policy and priority from roads to public transport. ‌​‌‌‌​‌‌‍‌​‌‌‌​‌​‍‌​‌‌‌​‌​
"Therefore, it doesn't make sense for it to cut vital funding for bus services at this time. I urge them to protect the existing bus network while that better, fairer, greener transport network is built." ‌​‌‌‌​‌‌‍‌​‌‌‌​‌​‍‌​‌‌‌​‌​
Spotted something? Got a story? Send a Facebook Message | A direct message on Twitter | Email: News@Deeside.com
---
Latest News
---