Maximise Your Living Space: The Ultimate Guide to Crafting an Open-Plan Kitchen-Living Area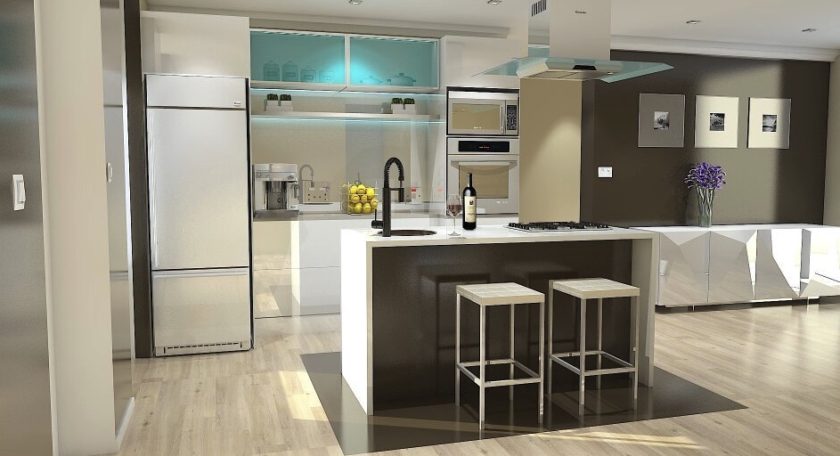 This article is old - Published: Monday, Mar 27th, 2023
Making An Open Plan Kitchen-Living Space: 9 Essential Steps To Take  
‌​‌‌‌​‌‌‍‌​‌‌‌​‌​‍‌​‌‌‌​‌​
Open-plan living spaces have been hugely popular for years, and the reason for this popularity is quite obvious; open-plan spaces create an airy, versatile living area that allows you to make the most of the space available. Well-designed open-plan kitchen-living spaces can lend an air of opulence to even the most modest of homes and are well-suited to the busy, active lifestyles that many people enjoy today.    ‌​‌‌‌​‌‌‍‌​‌‌‌​‌​‍‌​‌‌‌​‌​
Turning your kitchen and living room into an open-plan area can be a challenge – you'll need to ensure that any building work is completed professionally and adhere strictly to building regulations. You'll also have to think about the layout since an open plan space will be used for multiple things: eating, cooking, watching TV and more. Zoning is vital to ensure that you have appropriate space for each activity in your open-plan kitchen-living area.    ‌​‌‌‌​‌‌‍‌​‌‌‌​‌​‍‌​‌‌‌​‌​
Work Out Your Budget   ‌​‌‌‌​‌‌‍‌​‌‌‌​‌​‍‌​‌‌‌​‌​
Turning two or more rooms into a single space, particularly when one of these rooms is the kitchen, can be an extensive task. It is not something that can or should be done cheaply – you'll need the peace of mind of knowing that the building work and materials are of the highest possible quality. It may help to sit down with a builder and architect to work out how much it will cost. The overall cost can easily run into the thousands of pounds, and it is important with any construction work to allow for unexpected over-budget costs. You'll need to determine how much you can afford and consider financing options such as home loans or credit cards with interest-free periods to help you finance the project. However, you should avoid taking out too much debt that might be challenging to manage alongside your usual expenses.    ‌​‌‌‌​‌‌‍‌​‌‌‌​‌​‍‌​‌‌‌​‌​
Find An Architect   ‌​‌‌‌​‌‌‍‌​‌‌‌​‌​‍‌​‌‌‌​‌​
An architect is an invaluable investment for a project as significant as an open-plan living-kitchen space. An experienced and qualified architect will help you create the right design for your property, ensuring the space is well-utilised. They will be able to offer you a range of designs and ideas to help you bring your vision to life and ensure that the project is safe and effectively executed. You should look for architects who have designed plenty of open-plan home spaces and with a portfolio of works that suit your desired aesthetic.    ‌​‌‌‌​‌‌‍‌​‌‌‌​‌​‍‌​‌‌‌​‌​
Get Building Regulations Approval   ‌​‌‌‌​‌‌‍‌​‌‌‌​‌​‍‌​‌‌‌​‌​
while you might not need to get planning permission to turn several rooms into one open-plan area, you may need to gain building regulations approval. This type of approval is required when significant works are taking place on the interior of the home, including things like the knocking down and replacing of load-bearing walls, anything relating to plumbing, the reworking of electrical outlets and the installation of radiators. You should get in touch with your council to find out the right way to gain building regulations approval for your project.    ‌​‌‌‌​‌‌‍‌​‌‌‌​‌​‍‌​‌‌‌​‌​
Make A Cohesive Interior Design Plan   ‌​‌‌‌​‌‌‍‌​‌‌‌​‌​‍‌​‌‌‌​‌​
It is not just the construction side of things that needs to be extensively planned – you should also prepare for how you will decorate when the open-plan building is complete. Having a plan of what to do after construction is complete can help keep the project on track and avoid going over budget. You should decide on a colour scheme and theme early in the planning process, which will allow you to select the right additions, accessories and furnishing to complete the space. Choosing a theme is often the best way to start and building your overarching design around that theme. There are plenty of themes you could choose from, including:   ‌​‌‌‌​‌‌‍‌​‌‌‌​‌​‍‌​‌‌‌​‌​
Rustic   

Minimalist  

Retro  

Scandinavian   
Hire The Right Builder   ‌​‌‌‌​‌‌‍‌​‌‌‌​‌​‍‌​‌‌‌​‌​
Turning two or more rooms into an open-plan space will require the help of an experienced professional builder. This is particularly vital if the walls connecting the rooms are load-bearing – you'll have to ensure that there are appropriate structures put in place to support the weight the wall was bearing. A quality builder will know exactly what is needed and can give you expert advice on how to proceed with the construction. You can find local builders in the area surrounding your home using the excellent search function from MyBuilder, a directory of some of the best builders across the UK.    ‌​‌‌‌​‌‌‍‌​‌‌‌​‌​‍‌​‌‌‌​‌​
Install The Right Lighting   ‌​‌‌‌​‌‌‍‌​‌‌‌​‌​‍‌​‌‌‌​‌​
Lighting can be invaluable for helping you with zoning. Different areas of your open-plan space will require different types and levels of illumination. For instance, the kitchen will need bright overhead lights so you can safely prepare food, while the seating area requires muted mood lighting for when you're relaxing with loved ones. You should include a wide range of lighting styles in your open-plan space so that you can make the most of each zone. Overhead lights, dimmable lights, side lighting and lamplight, are all crucial for an effective and enjoyable space.    ‌​‌‌‌​‌‌‍‌​‌‌‌​‌​‍‌​‌‌‌​‌​
Consider A Sunken Seating Area   ‌​‌‌‌​‌‌‍‌​‌‌‌​‌​‍‌​‌‌‌​‌​
Creating different levels in your open-plan space can be an excellent way to zone the area. It can also create a unique look and feel to the space, not to mention being a very cosy way to set up the main living area. You can lower the floor and put in-built sofas in the sunken area to create a truly decadent and relaxing seating area. The cost of this type of work can be significant, but the resulting area, perfect for relaxing with family and friends, can be well worth the investment.    ‌​‌‌‌​‌‌‍‌​‌‌‌​‌​‍‌​‌‌‌​‌​
Utilise Rugs   ‌​‌‌‌​‌‌‍‌​‌‌‌​‌​‍‌​‌‌‌​‌​
An open-plan space that is fitted entirely with hard flooring can become echoey and loud if you're not careful. Rugs can be an excellent way to keep your open-plan living area from getting too noisy, as well as being another excellent way to create zones in your space. Rugs and carpeting of any type are typically best avoided in the kitchen, where there is a high probability of them becoming stained or damaged. It is best to use running carpets and rugs in the main living space, with a rug to denote the main gathering space and runners to protect the flooring in well-trafficked areas.    ‌​‌‌‌​‌‌‍‌​‌‌‌​‌​‍‌​‌‌‌​‌​
Find The Perfect Furniture   ‌​‌‌‌​‌‌‍‌​‌‌‌​‌​‍‌​‌‌‌​‌​
Furniture can be one of the best ways to help ensure that your open-plan space is zoned well. Things like tables, bookcases and sofas can be used to wall off areas for specific uses and create the appearance of privacy in an otherwise open area. For the living space, an L-shaped sofa can be an excellent way to show the boundaries of the area. To separate the kitchen from the rest of the living space, you could use an open back shelving unit that provides extra storage and a semi-opaque barrier between the kitchen and the rest of the living area. Make sure not to invest in too much furniture, as you don't want the space to end up looking cluttered or untidy.   ‌​‌‌‌​‌‌‍‌​‌‌‌​‌​‍‌​‌‌‌​‌​
Final Thoughts   ‌​‌‌‌​‌‌‍‌​‌‌‌​‌​‍‌​‌‌‌​‌​
An open-plan living space is a great option for individuals, couples and families alike. It can offer unique versatility and make a home feel more open and relaxing. It is vital to get the building and design right to make the most of the area you're working with and ensure that everything has its place. You might find that you have less storage space in an open-plan kitchen-living area, so you'll need to think about how to maximise the storage potential that you have. It is best to hire professionals to do any construction work, particularly if this involves knocking down walls. ‌​‌‌‌​‌‌‍‌​‌‌‌​‌​‍‌​‌‌‌​‌​
Spotted something? Got a story? Send a Facebook Message | A direct message on Twitter | Email: News@Deeside.com
---
Latest News
---