Local government settlement could shave nearly £20m off Flintshire Council's predicted budget shortfall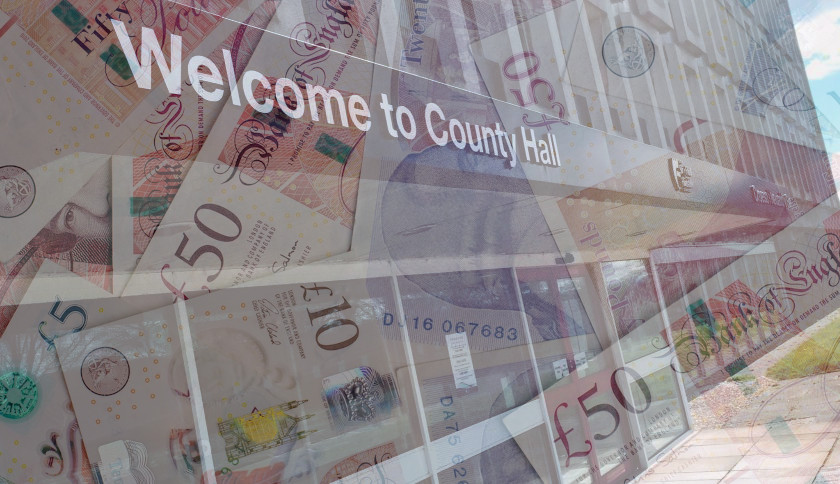 This article is old - Published: Wednesday, Dec 14th, 2022
The Welsh Government has published its provisional local government settlement for 2023 to 2024. ‌​‌‌‌​‌‌‍‌​‌‌‌​‌​‍‌​‌‌‌​‌​
Core revenue funding for local government will increase by 7.9% on a like-for-like basis, compared to the current year. ‌​‌‌‌​‌‌‍‌​‌‌‌​‌​‍‌​‌‌‌​‌​
With growing inflation, energy costs, pay awards and increased demand on social services for Flintshire council to deliver the same levels of service next year as it has this year, it predicted it would need millions more in funding. ‌​‌‌‌​‌‌‍‌​‌‌‌​‌​‍‌​‌‌‌​‌​
Today's provisional local government settlement for Flintshire shows an increase of 8.4%, a figure at the higher end of scale across the 22 councils in Wales. ‌​‌‌‌​‌‌‍‌​‌‌‌​‌​‍‌​‌‌‌​‌​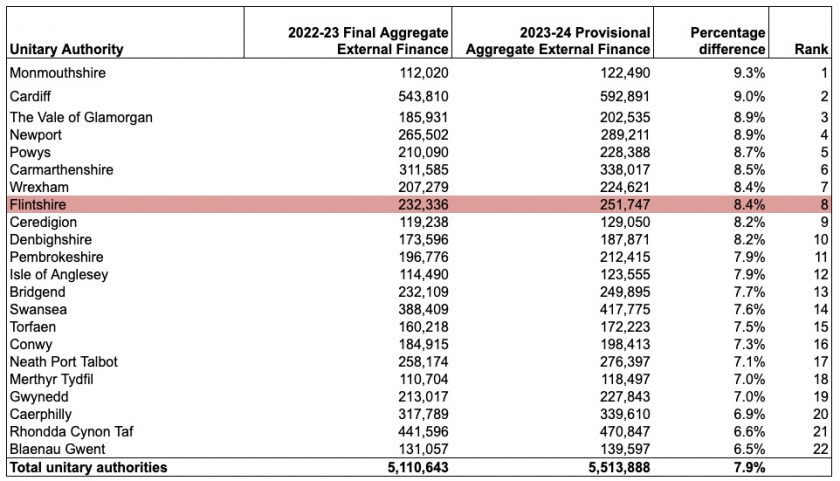 ‌​‌‌‌​‌‌‍‌​‌‌‌​‌​‍‌​‌‌‌​‌​
The 8.4% represents an additional £19.4m, but falls short of the council's predicted budget gap of £38m for next year, though the finer details will need to be worked out before firm figures are established. ‌​‌‌‌​‌‌‍‌​‌‌‌​‌​‍‌​‌‌‌​‌​
Prior to today's announcement, Flintshire Council said it is, "subject to a number of cost pressures, most of which are outside of its control." ‌​‌‌‌​‌‌‍‌​‌‌‌​‌​‍‌​‌‌‌​‌​
"Every year it needs to find ways to pay for these new pressures which create the funding gap." ‌​‌‌‌​‌‌‍‌​‌‌‌​‌​‍‌​‌‌‌​‌​
"All services have been tasked with drawing up options for budget reductions, increased income." ‌​‌‌‌​‌‌‍‌​‌‌‌​‌​‍‌​‌‌‌​‌​
"The Council has introduced measures to minimise expenditure in the current financial years including not filling vacancies for non-urgent posts." ‌​‌‌‌​‌‌‍‌​‌‌‌​‌​‍‌​‌‌‌​‌​
The Welsh Government said: "The settlement reflects the government's commitment to support key front-line services and protect the vulnerable and includes funding for the real Living Wage for care workers, the teachers' pay deal, and the Council Tax Reduction Scheme." ‌​‌‌‌​‌‌‍‌​‌‌‌​‌​‍‌​‌‌‌​‌​
"It also includes the support for businesses announced on Monday." ‌​‌‌‌​‌‌‍‌​‌‌‌​‌​‍‌​‌‌‌​‌​
Rebecca Evans, Minister for Finance and Local Government, said: ‌​‌‌‌​‌‌‍‌​‌‌‌​‌​‍‌​‌‌‌​‌​
"This settlement builds on improved allocations in recent years and provides local authorities with a stable platform on which to plan their budgets for the coming financial year and beyond. ‌​‌‌‌​‌‌‍‌​‌‌‌​‌​‍‌​‌‌‌​‌​
"When I announced our budget yesterday I prioritised the protection of frontline public services, and this increased funding to councils – who deliver so many of these services – is a vital part of that.' ‌​‌‌‌​‌‌‍‌​‌‌‌​‌​‍‌​‌‌‌​‌​
"I recognise however that inflationary pressures being faced by services mean that local authorities will still need to make difficult decisions in setting their budgets. ‌​‌‌‌​‌‌‍‌​‌‌‌​‌​‍‌​‌‌‌​‌​
"We will continue to work closely with local government to meet the shared challenges we face and deliver services to benefit the people of Wales." ‌​‌‌‌​‌‌‍‌​‌‌‌​‌​‍‌​‌‌‌​‌​
Flintshire Council funding comes from three core areas, 67% from the Welsh Government, 28% from Council Tax, and 5% from the fees it charges for some services such as planning fees and garden waste charges. ‌​‌‌‌​‌‌‍‌​‌‌‌​‌​‍‌​‌‌‌​‌​
Any council budget shortfall invariably means reducing services and jobs and a Council Tax hike for local residents. ‌​‌‌‌​‌‌‍‌​‌‌‌​‌​‍‌​‌‌‌​‌​
The Leader of the Council, Councillor Ian Roberts said he welcomed next year's local government funding settlement from Welsh Government, with Flintshire receiving an uplift of 8.4% in funding from Welsh Government. ‌​‌‌‌​‌‌‍‌​‌‌‌​‌​‍‌​‌‌‌​‌​
He said: "The settlement is positive news and I take this opportunity to thank Welsh Government for listening to the concerns expressed during the period up to the recent settlement announcement." ‌​‌‌‌​‌‌‍‌​‌‌‌​‌​‍‌​‌‌‌​‌​
"As a Council, our discussions are ongoing with the WLGA and Welsh Government over the funding formula." ‌​‌‌‌​‌‌‍‌​‌‌‌​‌​‍‌​‌‌‌​‌​
"The current economic conditions are creating significant challenges within our communities and this improved position of an uplift of 8.4% will assist greatly in working towards a balanced budget position. " ‌​‌‌‌​‌‌‍‌​‌‌‌​‌​‍‌​‌‌‌​‌​
"There remains considerable pressure in all of our Council Services with those in Social Services being particularly challenging and this situation is set to continue." ‌​‌‌‌​‌‌‍‌​‌‌‌​‌​‍‌​‌‌‌​‌​
"Overall the economic outlook remains very difficult and the additional funding will contribute to mitigating some of these pressures. " ‌​‌‌‌​‌‌‍‌​‌‌‌​‌​‍‌​‌‌‌​‌​
"We will now take time to work through the implications for the Council and its services and in the New Year present our understanding and the implications of the settlement for services." ‌​‌‌‌​‌‌‍‌​‌‌‌​‌​‍‌​‌‌‌​‌​
Commenting, Welsh Conservative Shadow Local Government Minister, Sam Rowlands MS said: ‌​‌‌‌​‌‌‍‌​‌‌‌​‌​‍‌​‌‌‌​‌​
 "I welcome the funding settlements for councils that bares a degree of reflection to the substantial usable reserves held by some councils. ‌​‌‌‌​‌‌‍‌​‌‌‌​‌​‍‌​‌‌‌​‌​
 "It is worth repeating these calls as the hundreds of millions of reserves could certainly be put to better use delivering frontline services to local people. ‌​‌‌‌​‌‌‍‌​‌‌‌​‌​‍‌​‌‌‌​‌​
 "We were also pleased to see that our calls for fair funding for rural communities being listened to, with North Wales councils finally finding themselves in the top half of the table." ‌​‌‌‌​‌‌‍‌​‌‌‌​‌​‍‌​‌‌‌​‌​
 10 of the 22 Welsh councils had usable reserves of over £100 million. Rhondda Cynon Taf council had been sitting on £207 million, according to the Labour Government's own figures. ‌​‌‌‌​‌‌‍‌​‌‌‌​‌​‍‌​‌‌‌​‌​
Councillor Andrew Morgan OBE Welsh Local Government Association Leader said: ‌​‌‌‌​‌‌‍‌​‌‌‌​‌​‍‌​‌‌‌​‌​
"Local services are the bedrock of our communities which are relied on by so many every day." ‌​‌‌‌​‌‌‍‌​‌‌‌​‌​‍‌​‌‌‌​‌​
"We are very grateful to the Minister for listening to our case for investment in social care, schools, and other key services provided by local authorities. " ‌​‌‌‌​‌‌‍‌​‌‌‌​‌​‍‌​‌‌‌​‌​
"We are pleased that our expectations of funding from the consequential were exceeded. However, the economic outlook remains bleak which means that councils will still have to take difficult decisions to meet spiralling budget gaps due to energy bills, inflation and pay costs." ‌​‌‌‌​‌‌‍‌​‌‌‌​‌​‍‌​‌‌‌​‌​
"This settlement covers just over half of the pressure we face in the next financial year. We will look forward to continuing the constructive engagement with Welsh Government so that we can work together to deliver for Wales." ‌​‌‌‌​‌‌‍‌​‌‌‌​‌​‍‌​‌‌‌​‌​
A 7-week consultation on the provisional settlement has opened today, which will end on 2 February 2023. ‌​‌‌‌​‌‌‍‌​‌‌‌​‌​‍‌​‌‌‌​‌​
Spotted something? Got a story? Send a Facebook Message | A direct message on Twitter | Email: News@Deeside.com
---
Latest News
Ysbyty Glan Clwyd A&E still requires 'significant improvement' amid high patient numbers and staff shortages
---