"Leaving your dog in a car, even cloudy day, can put your pet at huge risk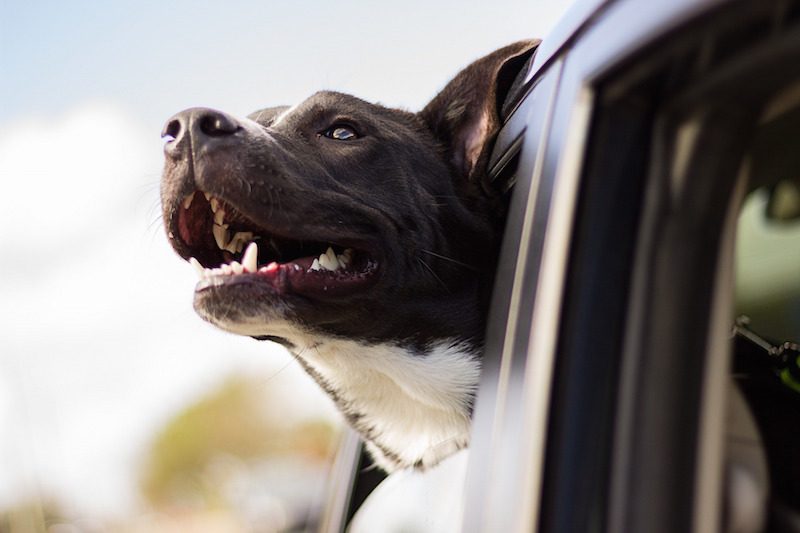 This article is old - Published: Thursday, May 24th, 2018
With temperatures set to soar over the next few days pet owners are being urged to keep their furry friends safe in the sun – with a particular reminder not to leave dogs in cars on hot days. ‌​‌‌‌​‌‌‍‌​‌‌‌​‌​‍‌​‌‌‌​‌​
The message from RSPCA Cymru comes as a result of series of phone calls from concerned members of the public over the bank holiday weekend at the start of May. ‌​‌‌‌​‌‌‍‌​‌‌‌​‌​‍‌​‌‌‌​‌​
Twenty-one calls from across Wales – one every four a half hours – were made to RSPCA's helpline expressing concern over the welfare of animals – mostly dogs (14 calls) in the heat. ‌​‌‌‌​‌‌‍‌​‌‌‌​‌​‍‌​‌‌‌​‌​
The other calls with concerns of heat exposure were about cats, horses and farm animals over the weekend. ‌​‌‌‌​‌‌‍‌​‌‌‌​‌​‍‌​‌‌‌​‌​
Although the animal welfare charity records these calls as 'heat exposure complaints' – which can include dogs outside who are suffering from the heat, or dogs in conservatories or caravans – the majority of these incidents are dogs in hot cars. ‌​‌‌‌​‌‌‍‌​‌‌‌​‌​‍‌​‌‌‌​‌​
RSPCA Cymru superintendent Martyn Hubbard said that despite plenty of warnings in the past, too many people don't appreciate how dangerous leaving a dog in a hot car can be. ‌​‌‌‌​‌‌‍‌​‌‌‌​‌​‍‌​‌‌‌​‌​
He continued: "A hot car can be a death trap for dogs, it is as simple as that. Leaving your dog in a car, even on an average warm, even cloudy day, can put your pet at huge risk of suffering and even death. ‌​‌‌‌​‌‌‍‌​‌‌‌​‌​‍‌​‌‌‌​‌​
"This is not a new warning, but sadly too many people still don't appreciate how dangerous it can be to leave a dog in a hot car, conservatory or caravan. ‌​‌‌‌​‌‌‍‌​‌‌‌​‌​‍‌​‌‌‌​‌​
"We would urge dog owners to consider whether it would be best for their pet to stay at home, or whether they are able to keep their dog with them while they are out and to make sure their pet has plenty of access to shade and fresh water throughout the day when they do. ‌​‌‌‌​‌‌‍‌​‌‌‌​‌​‍‌​‌‌‌​‌​
"It shocking that we received a call every four a half hours over the weekend, but it may also be that there were many more incidents as we recommend we call the police, who in an emergency should be the first point of contact." ‌​‌‌‌​‌‌‍‌​‌‌‌​‌​‍‌​‌‌‌​‌​
The temperature inside a car can soar to 47°C (117°F) within minutes, even when the outside temperature is just 22°C (72°F). Opening a window or leaving a bowl of water for your dog isn't enough and still leaves dogs in serious danger of suffering from heatstroke, which can be fatal. ‌​‌‌‌​‌‌‍‌​‌‌‌​‌​‍‌​‌‌‌​‌​
The most obvious sign of heat stroke in dogs is excessive panting and profuse salivation. Other signs include overly red or purple gums; a rapid pulse; lack of co-ordination; reluctance or inability to rise after collapsing, seizures, vomiting or diarrhoea and in extreme circumstances coma or death. ‌​‌‌‌​‌‌‍‌​‌‌‌​‌​‍‌​‌‌‌​‌​
Owners who fear their dog may be suffering from heat stroke should act with great urgency. Pets should be moved to a cooler spot straight away before ringing your vet for advice immediately. ‌​‌‌‌​‌‌‍‌​‌‌‌​‌​‍‌​‌‌‌​‌​
Under the Animal Welfare Act it is illegal to cause an animal unnecessary suffering. Penalties for doing so are an unlimited fine and/or a six-month custodial sentence. ‌​‌‌‌​‌‌‍‌​‌‌‌​‌​‍‌​‌‌‌​‌​
What to do if you see a dog in a car on a hot day? RSPCA Cymru have issued the following advice to members of the public: ‌​‌‌‌​‌‌‍‌​‌‌‌​‌​‍‌​‌‌‌​‌​
In an emergency, it is best to dial 999 and report a dog in a hot car to police. The RSPCA may not be able to attend quickly enough and, with no powers of entry, we'd need police assistance at such an incident.
If the animal is displaying any sign of heatstroke – such as panting heavily, drooling excessively, is lethargic or uncoordinated, or collapsed and vomiting – call 999 immediately.
If the situation becomes critical and police can't attend, many people's instinct is to break into the car to free the dog. But please be aware that, without proper justification, this could be classed as criminal damage. Make sure you tell the police of your intentions and take photos or footage of the dog as well as names and numbers of witnesses. The law states that you have a lawful excuse to commit damage if you believe that the owner of the property that you damage would consent to the damage if they knew the circumstances.
Once removed from the car, move the dog to a shaded/cool area and pour small amounts of room-temperature water over their body. Don't use cold water as this could put them into shock. Allow the dog to drink small amounts of cool water. Once the dog is cool take him to the nearest vet as a matter of urgency.
If the dog isn't displaying signs of heatstroke, establish how long the dog has been in the car and make a note of the registration. Ask a member of staff to make an announcement of the situation over the tannoy, if possible, and get someone to stay with the dog to monitor its condition.
You can call the RSPCA's 24-hour emergency cruelty line on 0300 1234 999 for advice but, if a dog is in danger, dialling 999 should always be the first step. ‌​‌‌‌​‌‌‍‌​‌‌‌​‌​‍‌​‌‌‌​‌​
Spotted something? Got a story? Send a Facebook Message | A direct message on Twitter | Email: News@Deeside.com
---
Latest News
---