Huge win for Nomads as they beat The New Saints 1-0 in Deeside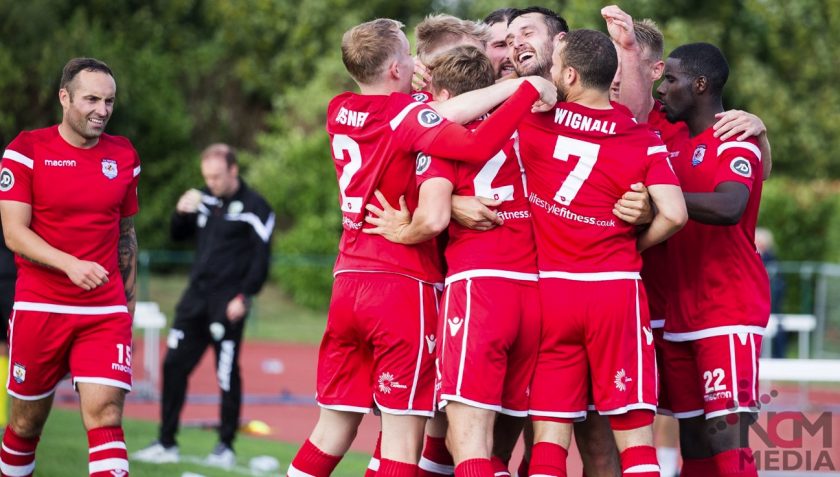 This article is old - Published: Monday, Aug 20th, 2018

An Andy Owens goal in the 46th minute was enough to give Connah's Quay all three points in the much anticipated fixture against The New Saints at the Deeside Stadium on Sunday. ‌​‌‌‌​‌‌‍‌​‌‌‌​‌​‍‌​‌‌‌​‌​
Connah's Quay came into the fixture full of confidence, having thrashed Llanelli Town 7-0 at Stebonheath Park last Sunday. Meanwhile, The New Saints were playing two days after their Europa League defeat to FC Midtyjlland in Denmark. ‌​‌‌‌​‌‌‍‌​‌‌‌​‌​‍‌​‌‌‌​‌​
Both sides started strong sides, with Andy Owens upfront for Nomads whilst captain George Horan and Jonny Spittle formed a vital part of their well-organised defensive set up. ‌​‌‌‌​‌‌‍‌​‌‌‌​‌​‍‌​‌‌‌​‌​
Jamie Mullan, Dean Ebbe and Swansea City-loanee Ben Cabango started for TNS who were looking to build on their 5-1 victory over Barry Town last week. ‌​‌‌‌​‌‌‍‌​‌‌‌​‌​‍‌​‌‌‌​‌​
The game started with Nomads on the front foot, with three corner kicks and three free kicks forced by the home side inside the opening 10 minutes. ‌​‌‌‌​‌‌‍‌​‌‌‌​‌​‍‌​‌‌‌​‌​
A corner kick created Nomads' first major chance in the sixth minute, with George Horan nearly connecting with Rob Hughes' delivery from six yards out. ‌​‌‌‌​‌‌‍‌​‌‌‌​‌​‍‌​‌‌‌​‌​
The Nomads 1-0 The New Saints – Andy Morrison reacts https://t.co/EbgjohQqvH via @Audioboom ‌​‌‌‌​‌‌‍‌​‌‌‌​‌​‍‌​‌‌‌​‌​

— Connah's Quay Nomads (@the_nomads) August 19, 2018 ‌​‌‌‌​‌‌‍‌​‌‌‌​‌​‍‌​‌‌‌​‌​
‌​‌‌‌​‌‌‍‌​‌‌‌​‌​‍‌​‌‌‌​‌​
The set pieces were coming thick and fast for Nomads, who so nearly took the lead in the 15th minute when Michael Bakare struck the post from a 20 yard free kick. ‌​‌‌‌​‌‌‍‌​‌‌‌​‌​‍‌​‌‌‌​‌​
TNS began to hit back, with Jamie Mullan breaking through on goal in the 18th minute only to be ruled out by the offside flag. ‌​‌‌‌​‌‌‍‌​‌‌‌​‌​‍‌​‌‌‌​‌​
Jonny Spittle was called into action a minute later, making a great tackle on Dean Ebbe to deny him sight on goal from 10 yards out. ‌​‌‌‌​‌‌‍‌​‌‌‌​‌​‍‌​‌‌‌​‌​
In the 31st minute Nomads again had to deal with TNS pressure, as Parker blocked a TNS effort from the edge of the area before a Jamie Mullan cross just evaded Dean Ebbe inside the six yard box. ‌​‌‌‌​‌‌‍‌​‌‌‌​‌​‍‌​‌‌‌​‌​
The encounter began to have an end to end feel to it, as Spittle halted a TNS move before Wignall found himself in the final third, sending an attempt on goal wide. ‌​‌‌‌​‌‌‍‌​‌‌‌​‌​‍‌​‌‌‌​‌​
Nomads' continued to create chances right up until the interval, with a free kick going wide from Rob Hughes from 25 yards out on 43 minutes. ‌​‌‌‌​‌‌‍‌​‌‌‌​‌​‍‌​‌‌‌​‌​
Michael Bakare then showed some great skill in the TNS area, beating defender Spender before sending a tight angled effort just wide. ‌​‌‌‌​‌‌‍‌​‌‌‌​‌​‍‌​‌‌‌​‌​
If Nomads felt hard done by to go in goalless at the interval, they almost immediately made amends in the second half when Andy Owens opened the scoring on 46 minutes. ‌​‌‌‌​‌‌‍‌​‌‌‌​‌​‍‌​‌‌‌​‌​
From a long, bounding ball via Danny Holmes, Andy Owens beat TNS' one remaining defender to go one on one with Paul Harrison to slot past him on an angle from around 12 yards. ‌​‌‌‌​‌‌‍‌​‌‌‌​‌​‍‌​‌‌‌​‌​
TNS went close in the 57th minute, with Adrian Cieslewicz getting to the edge of the six yard box only to send his effort over John Danby's goal. ‌​‌‌‌​‌‌‍‌​‌‌‌​‌​‍‌​‌‌‌​‌​
In the 59th minute the Saints again went close, with Aeron Edwards sending a chipped ball glancing across the face of goal only for the ball to go out for a goal kick. ‌​‌‌‌​‌‌‍‌​‌‌‌​‌​‍‌​‌‌‌​‌​
Nomads then made changes as they looked to consolidate their lead, as Rob Hughes and Jonny Spittle departed in place for the experienced Danny Harrison and Jay Owen. ‌​‌‌‌​‌‌‍‌​‌‌‌​‌​‍‌​‌‌‌​‌​
📸 PHOTO ALBUM 📸
Over 100 photos from The Nomads 1-0 victory over TNS now online on our Facebook page courtesy of @nikitasmesney https://t.co/1k6Tu0uOnW pic.twitter.com/53r5W5g5lR ‌​‌‌‌​‌‌‍‌​‌‌‌​‌​‍‌​‌‌‌​‌​

— Connah's Quay Nomads (@the_nomads) August 19, 2018 ‌​‌‌‌​‌‌‍‌​‌‌‌​‌​‍‌​‌‌‌​‌​
‌​‌‌‌​‌‌‍‌​‌‌‌​‌​‍‌​‌‌‌​‌​
The New Saints made an influential change of their own when they replaced Adrian Cieslewicz with current golden boot holder Greg Draper. ‌​‌‌‌​‌‌‍‌​‌‌‌​‌​‍‌​‌‌‌​‌​
The visitors were becoming frustrated as Nomads kept on blocking their offensive moves with time beginning to run out. With 13 minutes to play, Ben Cabango made a good diving header from a corner, but his header went wide of the Nomads' goal. ‌​‌‌‌​‌‌‍‌​‌‌‌​‌​‍‌​‌‌‌​‌​
Nomads were still looking for a second to seal the win in the 82nd minute, when Wignall ran into the area where he was beaten by Spender just before getting a shot away. ‌​‌‌‌​‌‌‍‌​‌‌‌​‌​‍‌​‌‌‌​‌​
TNS took a corner with just three minutes to play, but Nomads countered with Wignall, Poole and Bakare making a run down the pitch – their passes went astray and TNS regained possession, but Draper was caught offside. ‌​‌‌‌​‌‌‍‌​‌‌‌​‌​‍‌​‌‌‌​‌​
Four additional minutes were awarded by the fourth official, but the Nomads saw these through with professional vigour as John Danby repeatedly collected aerial attacks from TNS. ‌​‌‌‌​‌‌‍‌​‌‌‌​‌​‍‌​‌‌‌​‌​
Full time was confirmed by referee Lee Evans, with a crowd of 451 congratulating the Nomads for their efforts to secure the victory. ‌​‌‌‌​‌‌‍‌​‌‌‌​‌​‍‌​‌‌‌​‌​
Nomads remain top of the JD Welsh Premier League with two wins from two, eight goals scored and none conceded. ‌​‌‌‌​‌‌‍‌​‌‌‌​‌​‍‌​‌‌‌​‌​
Report by Will Catterall/www.the-nomads.co.uk ‌​‌‌‌​‌‌‍‌​‌‌‌​‌​‍‌​‌‌‌​‌​
Was great to see a good crowd along at @the_nomads today – hopefully more of the same for the game with @AberystwythTown on Friday night! pic.twitter.com/Im2icYivPE ‌​‌‌‌​‌‌‍‌​‌‌‌​‌​‍‌​‌‌‌​‌​

— Nikitas Mesney (@nikitasmesney) August 19, 2018 ‌​‌‌‌​‌‌‍‌​‌‌‌​‌​‍‌​‌‌‌​‌​
‌​‌‌‌​‌‌‍‌​‌‌‌​‌​‍‌​‌‌‌​‌​
Spotted something? Got a story? Send a Facebook Message | A direct message on Twitter | Email: News@Deeside.com
---
Latest News
---