Wales' health minister to hold fresh meetings with health unions in bid to stop "challenging" strike action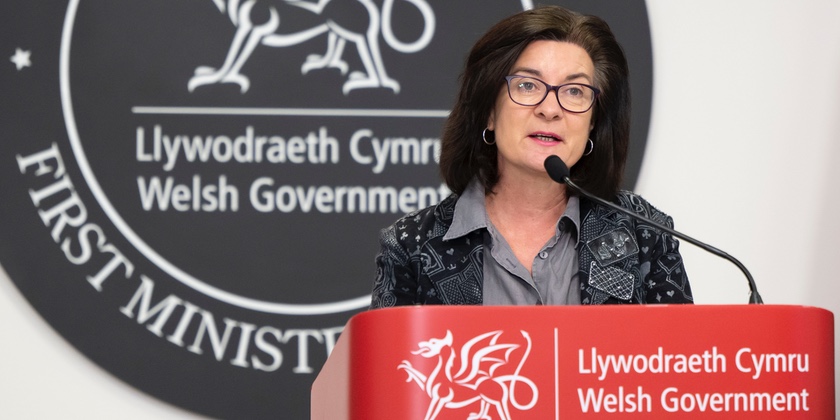 Wales' health minister is to meet with unions this week in a fresh bid to prevent looming industrial action. ‌​‌‌‌​‌‌‍‌​‌‌‌​‌​‍‌​‌‌‌​‌​ ‌​‌‌‌​‌‌‍‌​‌‌‌​‌​‍‌​‌‌‌​‌​
The Royal College of Nursing (RCN) and ambulance staff represented by GMB have announced strike plans for February 6 as part of the ongoing dispute over fair pay and improved working conditions for staff. ‌​‌‌‌​‌‌‍‌​‌‌‌​‌​‍‌​‌‌‌​‌​ ‌​‌‌‌​‌‌‍‌​‌‌‌​‌​‍‌​‌‌‌​‌​
Thousands of nurses will also take to the picket line for 12 hours of action 7 February. ‌​‌‌‌​‌‌‍‌​‌‌‌​‌​‍‌​‌‌‌​‌​ ‌​‌‌‌​‌‌‍‌​‌‌‌​‌​‍‌​‌‌‌​‌​
Health Minister Eluned Morgan has warned that the strike day will be one of the "most challenging in the history of the NHS", with many elective surgeries being cancelled. ‌​‌‌‌​‌‌‍‌​‌‌‌​‌​‍‌​‌‌‌​‌​ ‌​‌‌‌​‌‌‍‌​‌‌‌​‌​‍‌​‌‌‌​‌​
She also confirmed that fresh meetings will be held with health representatives this week in an attempt to stop the industrial action. ‌​‌‌‌​‌‌‍‌​‌‌‌​‌​‍‌​‌‌‌​‌​ ‌​‌‌‌​‌‌‍‌​‌‌‌​‌​‍‌​‌‌‌​‌​
So far unions have rejected the Welsh government's offer of a one off payment. ‌​‌‌‌​‌‌‍‌​‌‌‌​‌​‍‌​‌‌‌​‌​ ‌​‌‌‌​‌‌‍‌​‌‌‌​‌​‍‌​‌‌‌​‌​
Similar proposals have also been made to teaching unions which have also been refused. ‌​‌‌‌​‌‌‍‌​‌‌‌​‌​‍‌​‌‌‌​‌​ ‌​‌‌‌​‌‌‍‌​‌‌‌​‌​‍‌​‌‌‌​‌​
At a press conference this morning Ms Morgan was asked what offer is on the table and whether the Welsh government "have to admit there is nothing more you think you can do to avert strikes in the NHS." ‌​‌‌‌​‌‌‍‌​‌‌‌​‌​‍‌​‌‌‌​‌​ ‌​‌‌‌​‌‌‍‌​‌‌‌​‌​‍‌​‌‌‌​‌​
Ms Morgan wouldn't be drawn on the negotiations, but noted that discussions are taking place on how agency spend could be reduced and changes to the NHS pay body. ‌​‌‌‌​‌‌‍‌​‌‌‌​‌​‍‌​‌‌‌​‌​ ‌​‌‌‌​‌‌‍‌​‌‌‌​‌​‍‌​‌‌‌​‌​
She said: "I think it's important that we try and keep these discussions alive, that's certainly what our intention is. ‌​‌‌‌​‌‌‍‌​‌‌‌​‌​‍‌​‌‌‌​‌​ ‌​‌‌‌​‌‌‍‌​‌‌‌​‌​‍‌​‌‌‌​‌​
"We'll be working up until the very last moment to see if it is possible for us to avoid industrial action." ‌​‌‌‌​‌‌‍‌​‌‌‌​‌​‍‌​‌‌‌​‌​ ‌​‌‌‌​‌‌‍‌​‌‌‌​‌​‍‌​‌‌‌​‌​
The minister also placed the blame on UK Government stating that there has been a cut in wages over the last 10 years. ‌​‌‌‌​‌‌‍‌​‌‌‌​‌​‍‌​‌‌‌​‌​ ‌​‌‌‌​‌‌‍‌​‌‌‌​‌​‍‌​‌‌‌​‌​
She added that inflation was a contributing factor, which has led to higher than usual energy bills within the health service. ‌​‌‌‌​‌‌‍‌​‌‌‌​‌​‍‌​‌‌‌​‌​ ‌​‌‌‌​‌‌‍‌​‌‌‌​‌​‍‌​‌‌‌​‌​
Ms Morgan said: "Clearly, we're all under a lot of financial pressure, everybody is suffering with the cost of living crisis including our own services. ‌​‌‌‌​‌‌‍‌​‌‌‌​‌​‍‌​‌‌‌​‌​ ‌​‌‌‌​‌‌‍‌​‌‌‌​‌​‍‌​‌‌‌​‌​
"This financial year in the NHS, we were given a bill for £207 million for energy, that we weren't expecting. ‌​‌‌‌​‌‌‍‌​‌‌‌​‌​‍‌​‌‌‌​‌​ ‌​‌‌‌​‌‌‍‌​‌‌‌​‌​‍‌​‌‌‌​‌​
"We did get a certain amount of money from the UK government to help us with that, but nothing like what we needed to cover. And so we've had to find those savings from within the services were given. ‌​‌‌‌​‌‌‍‌​‌‌‌​‌​‍‌​‌‌‌​‌​ ‌​‌‌‌​‌‌‍‌​‌‌‌​‌​‍‌​‌‌‌​‌​
"That's true across the board and so those inflationary pressures have not led to an increase in money coming from the UK government, which is why we are in this difficult situation and why people are understandably frustrated when they're seeing inflation rates where they are. ‌​‌‌‌​‌‌‍‌​‌‌‌​‌​‍‌​‌‌‌​‌​ ‌​‌‌‌​‌‌‍‌​‌‌‌​‌​‍‌​‌‌‌​‌​
"it's we think it's really important for us to continue discussing with our public services to see if we can find a way through this." ‌​‌‌‌​‌‌‍‌​‌‌‌​‌​‍‌​‌‌‌​‌​ ‌​‌‌‌​‌‌‍‌​‌‌‌​‌​‍‌​‌‌‌​‌​
Spotted something? Got a story? Send a Facebook Message | A direct message on Twitter | Email: News@Deeside.com
---
Latest News
---