Four months to improve recycling levels in Flintshire to avoid three-weekly bin collections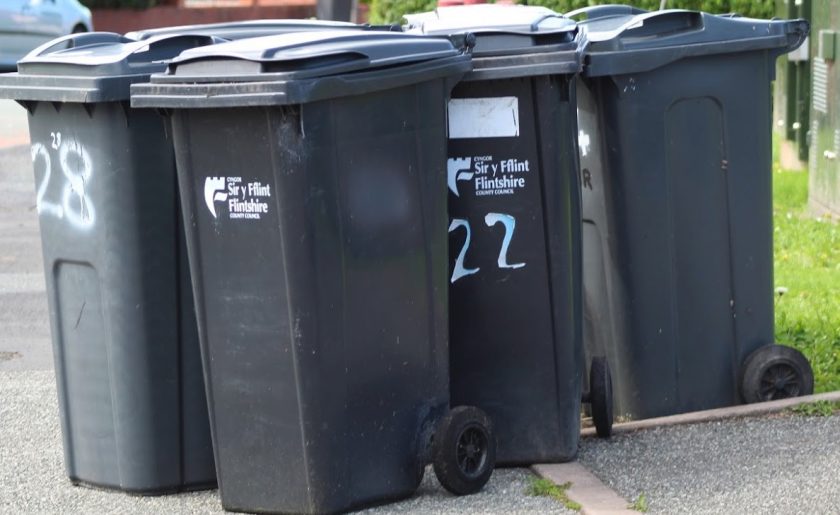 This article is old - Published: Tuesday, Mar 14th, 2023
Flintshire residents are being given four months to improve their recycling levels to avoid three-weekly bin collections. ‌​‌‌‌​‌‌‍‌​‌‌‌​‌​‍‌​‌‌‌​‌​
The authority's ruling Labour cabinet is taking a 'carrot and stick' approach with ratepayers, who earlier this year looked set to see black bin collections move from fortnightly to three-weekly in a bid to eventually meet Welsh Government's 70 per cent recycling target. Flintshire has slid back to 60 per cent since 2019. ‌​‌‌‌​‌‌‍‌​‌‌‌​‌​‍‌​‌‌‌​‌​
Council leaders are due to meet the Minister for Climate Change Julie James MS this week about missing last year's target with the threat of a £670,000 fine hanging over the authority. ‌​‌‌‌​‌‌‍‌​‌‌‌​‌​‍‌​‌‌‌​‌​
At this month's cabinet meeting leader of the council, Flint Castle Cllr Ian Roberts urged residents to "work with us" in a bid to avoid future six-figure infraction fines. ‌​‌‌‌​‌‌‍‌​‌‌‌​‌​‍‌​‌‌‌​‌​
Tonnage reports will be released on a monthly basis by the council to show how the county is performing. ‌​‌‌‌​‌‌‍‌​‌‌‌​‌​‍‌​‌‌‌​‌​
The partial climbdown comes after the original decision back in January to trial three-weekly bin collections in one part of the county was called-in by opposition councillors. ‌​‌‌‌​‌‌‍‌​‌‌‌​‌​‍‌​‌‌‌​‌​
They felt that as Flintshire had achieved targets a few used ago with the current rate of collection, they could do so again, and the decision was batted back to the cabinet at the call-in scrutiny meeting. ‌​‌‌‌​‌‌‍‌​‌‌‌​‌​‍‌​‌‌‌​‌​
Through the next few months the council is now giving residents the opportunity to prove they can improve their recycling performance. ‌​‌‌‌​‌‌‍‌​‌‌‌​‌​‍‌​‌‌‌​‌​
Cabinet member for Streetscene, Llanfynydd Cllr Dave Hughes said: "Should we see a significant drop in tonnages we will then consider whether we need to go to three-weekly, but at the moment for the next four months it will stay at two-weekly collections as is." ‌​‌‌‌​‌‌‍‌​‌‌‌​‌​‍‌​‌‌‌​‌​
Streetscene chief officer Katie Wilby added: "There has to be a significant improvement to recycling figures otherwise we will have no option but to restrict the amount of residual waste collected at the kerbside. ‌​‌‌‌​‌‌‍‌​‌‌‌​‌​‍‌​‌‌‌​‌​
"It is very much down to the residents of Flintshire to recycle as much as possible and achieve those targets." ‌​‌‌‌​‌‌‍‌​‌‌‌​‌​‍‌​‌‌‌​‌​
Council leader Cllr Roberts gave thanks to the people of Flintshire who do recycle, but warned others to do more. ‌​‌‌‌​‌‌‍‌​‌‌‌​‌​‍‌​‌‌‌​‌​
He said: "I do think we need a carrot and stick approach to this. The carrot is that if we can get back to where we where in the league table in Wales which was third at one point, then there is no desire by the cabinet or officers to go to a three-weekly black refuse collection. ‌​‌‌‌​‌‌‍‌​‌‌‌​‌​‍‌​‌‌‌​‌​
"This is what has to be understood. We will be meeting the Minister tomorrow (Wednesday, March 15) about the £670,000 infraction fine that may be put on Flintshire for the year. ‌​‌‌‌​‌‌‍‌​‌‌‌​‌​‍‌​‌‌‌​‌​
"We can blame all sorts of things, we can say Flintshire made the wrong decision in having all of those bags rather than having one bin which then has to be taken away and sorted manually into its various components but I believe we're following what Welsh Government wants which is kerbside sorting." ‌​‌‌‌​‌‌‍‌​‌‌‌​‌​‍‌​‌‌‌​‌​
He added: "I would urge the people of Flintshire to work with us please. Let's get back to where we were and then the three-weekly collection will hopefully be taken off the agenda. ‌​‌‌‌​‌‌‍‌​‌‌‌​‌​‍‌​‌‌‌​‌​
"We are all aware of the climate emergency we are in at the moment. If you are presenting your bin overflowing with the lid open, bags on top of it and there is no recycling at all with it – it is probably a fair indication there are recycling materials within, and in those cases the council needs to consider the enforcement action that we have to take. ‌​‌‌‌​‌‌‍‌​‌‌‌​‌​‍‌​‌‌‌​‌​
"My message is very clear as council leader. We are extremely grateful to those of you who follow the recycling and are meticulous, we're extremely grateful to you. ‌​‌‌‌​‌‌‍‌​‌‌‌​‌​‍‌​‌‌‌​‌​
"But there is a minority of people who do not follow it. We will monitor the tonnages of recycling that come in at the end of April, May, June, July and possibly August before any decision is made. ‌​‌‌‌​‌‌‍‌​‌‌‌​‌​‍‌​‌‌‌​‌​
"In council tax terms an infraction fine of £670,000 is probably 0.7 per cent of council tax. ‌​‌‌‌​‌‌‍‌​‌‌‌​‌​‍‌​‌‌‌​‌​
"We know there is a lot of work to be done but the council cannot do the work on its own without the support of the people of Flintshire. ‌​‌‌‌​‌‌‍‌​‌‌‌​‌​‍‌​‌‌‌​‌​
"Please recycle as much as you can, let's see those tonnages go up." ‌​‌‌‌​‌‌‍‌​‌‌‌​‌​‍‌​‌‌‌​‌​
By Rory Sheehan – Local Democracy Reporter (more here). ‌​‌‌‌​‌‌‍‌​‌‌‌​‌​‍‌​‌‌‌​‌​
Spotted something? Got a story? Send a Facebook Message | A direct message on Twitter | Email: News@Deeside.com
---
Latest News
---