Flintshire – Wrexham Council merger back on the table as Welsh Government launches Green Paper consultation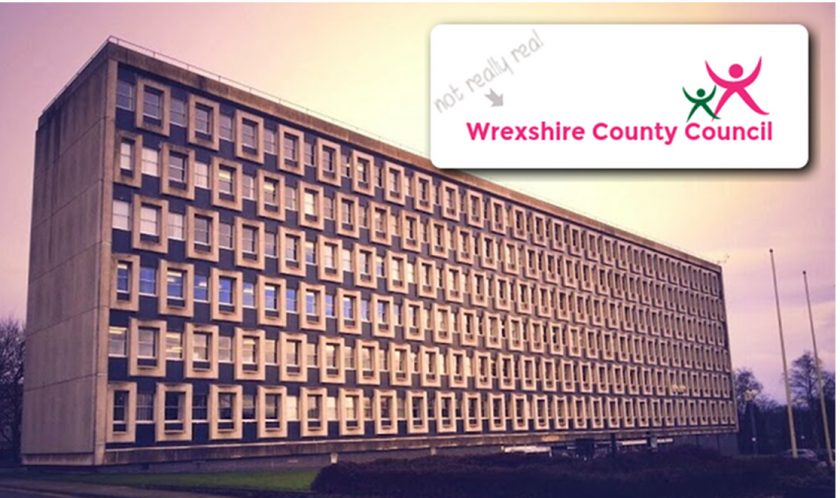 This article is old - Published: Tuesday, Mar 20th, 2018
Plans to to create larger, stronger local authorities in Wales have been published by the Welsh Government today.
The Green Paper consultation sets out proposals to explore the possibility of creating larger, stronger councils. ‌​‌‌‌​‌‌‍‌​‌‌‌​‌​‍‌​‌‌‌​‌​
Ministers are proposing to reduce the number of councils in Wales from 22 to ten – echoing a similar proposal just a couple of years ago. ‌​‌‌‌​‌‌‍‌​‌‌‌​‌​‍‌​‌‌‌​‌​
And once again merging Flintshire County Council with neighbouring Wrexham Borough Council, something which was met with a great deal of hostility within Wrexham Council last time around – is back on the table. ‌​‌‌‌​‌‌‍‌​‌‌‌​‌​‍‌​‌‌‌​‌​
The Green Paper sets out three options – voluntary mergers, a phased approach – which would allow early adopters to merge in 2022, and a single merger programme taking place in 2022. ‌​‌‌‌​‌‌‍‌​‌‌‌​‌​‍‌​‌‌‌​‌​
The government's intention is to include final proposals for mergers as part of a Local Government (Wales) Bill to be introduced into the National Assembly in the autumn of this year. ‌​‌‌‌​‌‌‍‌​‌‌‌​‌​‍‌​‌‌‌​‌​
A Welsh Government spokesperson said; ‌​‌‌‌​‌‌‍‌​‌‌‌​‌​‍‌​‌‌‌​‌​
"Cabinet Secretary for Local Government and Public Services Alun Davies has spent the past few months visiting local authority leaders across Wales to learn more about the unprecedented challenges they face and how these challenges are impacting on the future sustainability of services. ‌​‌‌‌​‌‌‍‌​‌‌‌​‌​‍‌​‌‌‌​‌​

The proposals aim to ensure councils are able to continue to provide excellent essential services by providing the support, recognition and reward for the crucial role they play in our democracy. ‌​‌‌‌​‌‌‍‌​‌‌‌​‌​‍‌​‌‌‌​‌​
The proposed new authority areas – they are aligned with the current health board boundaries, except in the case of Bridgend. ‌​‌‌‌​‌‌‍‌​‌‌‌​‌​‍‌​‌‌‌​‌​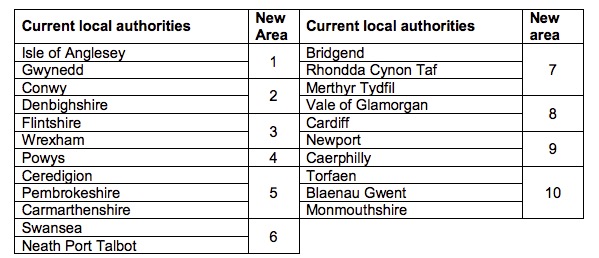 ‌​‌‌‌​‌‌‍‌​‌‌‌​‌​‍‌​‌‌‌​‌​
Alignment of proposed new local authority areas with regionalised public services. ‌​‌‌‌​‌‌‍‌​‌‌‌​‌​‍‌​‌‌‌​‌​

‌​‌‌‌​‌‌‍‌​‌‌‌​‌​‍‌​‌‌‌​‌​
Alun Davies said, ‌​‌‌‌​‌‌‍‌​‌‌‌​‌​‍‌​‌‌‌​‌​
"I believe in public service and the fundamental role local government plays in communities across Wales. ‌​‌‌‌​‌‌‍‌​‌‌‌​‌​‍‌​‌‌‌​‌​

"Wales needs strong, effective, empowered local authorities which can weather continued austerity and build local democratic structures fit for future generations. I do not believe that our local authorities, as currently constituted, can fully play this role; and I am not alone. ‌​‌‌‌​‌‌‍‌​‌‌‌​‌​‍‌​‌‌‌​‌​

"Councils have been clear that services are wearing down to the point of collapse and there is a general acceptance that things cannot carry on as they are and a general acknowledgement that more money, even if it were available, would not solve the problem. ‌​‌‌‌​‌‌‍‌​‌‌‌​‌​‍‌​‌‌‌​‌​

"I also know local government has made real efforts to change, adapt and invest for the future but I also understand that in the face of UK Government cuts, there are limited options to ensuring the future sustainability of local services. Unless we do something radical in response to these challenges we all recognise, the role of local government will increasingly be one of managed decline. ‌​‌‌‌​‌‌‍‌​‌‌‌​‌​‍‌​‌‌‌​‌​

"The next step must be game-changing. I believe there are many in local government who understand this and I am committed to working with them to secure change. I have already announced proposals to increase participation and improve the democratic process for everyone in Wales, today I am launching a consultation on further re-invigorating the local government landscape." ‌​‌‌‌​‌‌‍‌​‌‌‌​‌​‍‌​‌‌‌​‌​
The Cabinet Secretary said that it is important as part of this debate to have an agreed template for a future footprint for local government, which any merger must be consistent with. This would ensure that any changes are aligned with the boundaries other public services operate on. ‌​‌‌‌​‌‌‍‌​‌‌‌​‌​‍‌​‌‌‌​‌​
The Green Paper sets out an approach which reflects the thinking of the Williams Commission and feedback from previous consultations to stimulate discussion to arrive at an agreed approach. ‌​‌‌‌​‌‌‍‌​‌‌‌​‌​‍‌​‌‌‌​‌​
Alun Davies continued, ‌​‌‌‌​‌‌‍‌​‌‌‌​‌​‍‌​‌‌‌​‌​
"I recognise there are a number of challenges in creating larger, stronger authorities; but these challenges are not insurmountable. If we do proceed with one of the options for creating larger authorities in the future, we will provide early practical support to local authorities." ‌​‌‌‌​‌‌‍‌​‌‌‌​‌​‍‌​‌‌‌​‌​
Previous plans to slash the number of councils in Wales were formally scrapped in October 201r, those plans would have seen the 22 councils in Wales merging into 8 or 9 – these have now been sacked off. ‌​‌‌‌​‌‌‍‌​‌‌‌​‌​‍‌​‌‌‌​‌​
‌​‌‌‌​‌‌‍‌​‌‌‌​‌​‍‌​‌‌‌​‌​
Spotted something? Got a story? Send a Facebook Message | A direct message on Twitter | Email: News@Deeside.com
---
Latest News
---