Flintshire third best in Wales as report shows recycling is on the up despite a slight blip last year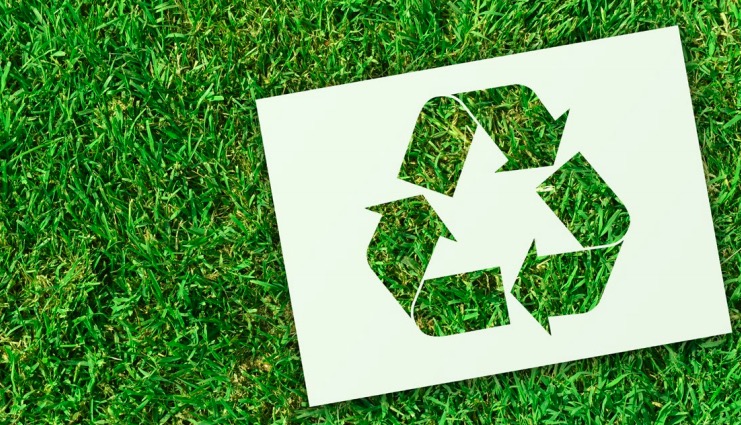 This article is old - Published: Thursday, Nov 15th, 2018

Greater collaboration between Welsh Government and councils at the heart of improvements, but costs and performance vary across Wales. ‌​‌‌‌​‌‌‍‌​‌‌‌​‌​‍‌​‌‌‌​‌​
The Welsh Government and councils in Wales are collaborating more, which is helping to make recycling methods in Wales more consistent and is encouraging more people to take part. ‌​‌‌‌​‌‌‍‌​‌‌‌​‌​‍‌​‌‌‌​‌​
That's the conclusion of a report, published today, by the Auditor General for Wales, which notes that the Welsh Government believes it has largely overcome a legacy of tensions and mistrust about its recommended approach to household recycling. ‌​‌‌‌​‌‌‍‌​‌‌‌​‌​‍‌​‌‌‌​‌​
Municipal waste recycling rates from 2003-04 to 2017-18. ‌​‌‌‌​‌‌‍‌​‌‌‌​‌​‍‌​‌‌‌​‌​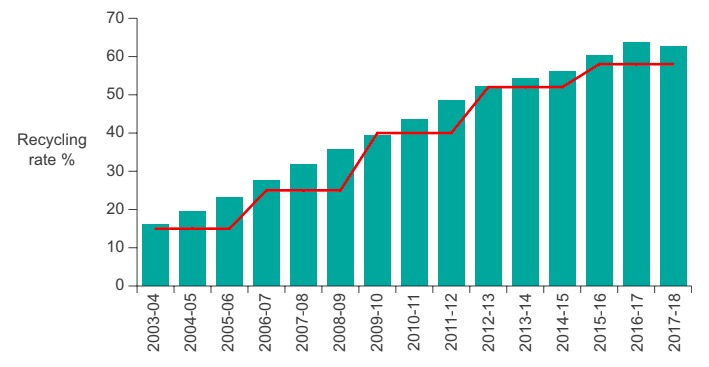 ‌​‌‌‌​‌‌‍‌​‌‌‌​‌​‍‌​‌‌‌​‌​
Today's report found that weight-based statutory targets has led to a much-improved recycling rate over time – to as high as 63.8% across Wales in 2016-17. ‌​‌‌‌​‌‌‍‌​‌‌‌​‌​‍‌​‌‌‌​‌​
But, the recycling rate decreased to 62.7% in 2017-18 due in part to better quality reporting. ‌​‌‌‌​‌‌‍‌​‌‌‌​‌​‍‌​‌‌‌​‌​
The latest recycling figures, published in October 2018, show that 20 of the 22 councils in Wales met or exceeded the statutory recycling target of 58% for 2017-18. ‌​‌‌‌​‌‌‍‌​‌‌‌​‌​‍‌​‌‌‌​‌​
Reported recycling rates in 2017-18 varied from 56.0% in Blaenau Gwent to 72.25 in the Isle of Anglesey. ‌​‌‌‌​‌‌‍‌​‌‌‌​‌​‍‌​‌‌‌​‌​
Flintshire recorded a rate of 67.6% for 2017-18, 0.6% down on the previous year. ‌​‌‌‌​‌‌‍‌​‌‌‌​‌​‍‌​‌‌‌​‌​
Recycling performance between 2012-13 and 2017-18 ‌​‌‌‌​‌‌‍‌​‌‌‌​‌​‍‌​‌‌‌​‌​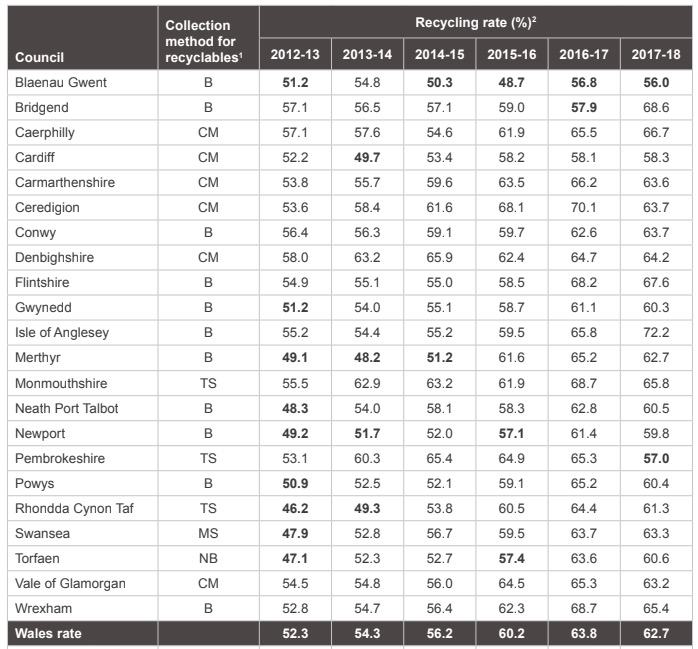 ‌​‌‌‌​‌‌‍‌​‌‌‌​‌​‍‌​‌‌‌​‌​
Comparing councils' recycling performance based on the impact on carbon reduction can show different results. ‌​‌‌‌​‌‌‍‌​‌‌‌​‌​‍‌​‌‌‌​‌​
Weight-based targets have encouraged councils to recycle wastes that have a relatively small carbon impact per tonne collected. ‌​‌‌‌​‌‌‍‌​‌‌‌​‌​‍‌​‌‌‌​‌​
The Welsh Government's recommended approach to municipal recycling is set out in its 'Collections Blueprint'. ‌​‌‌‌​‌‌‍‌​‌‌‌​‌​‍‌​‌‌‌​‌​
The number of councils conforming to this Blueprint increased from three in 2011-12 to 11 in 2016-17 – Flintshire follows the collections blueprint. ‌​‌‌‌​‌‌‍‌​‌‌‌​‌​‍‌​‌‌‌​‌​
The Welsh Government is expecting more councils to adopt this approach over the next few years, but some councils are still reluctant to change their kerbside collection method for recyclables. ‌​‌‌‌​‌‌‍‌​‌‌‌​‌​‍‌​‌‌‌​‌​
Benchmarking has found that the cost of certain waste management services show surprising variation across Wales. ‌​‌‌‌​‌‌‍‌​‌‌‌​‌​‍‌​‌‌‌​‌​
Cost per household for councils' household waste services in 2016-17 ‌​‌‌‌​‌‌‍‌​‌‌‌​‌​‍‌​‌‌‌​‌​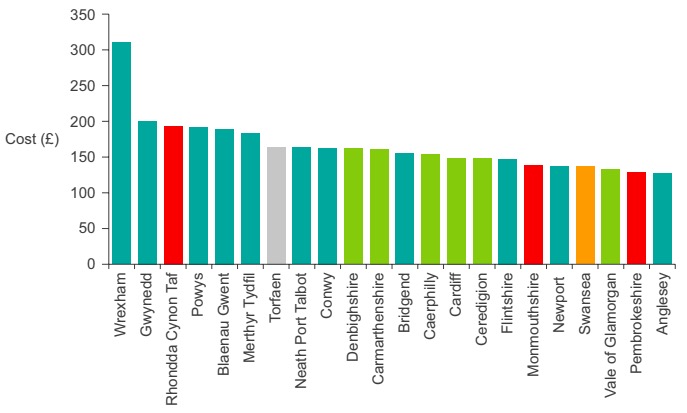 ‌​‌‌‌​‌‌‍‌​‌‌‌​‌​‍‌​‌‌‌​‌​
However, there are a wide range of factors that influence these costs. ‌​‌‌‌​‌‌‍‌​‌‌‌​‌​‍‌​‌‌‌​‌​
The Welsh Government believes that, if applied optimally, its Collections Blueprint offers the most cost-effective overall means of collecting waste from households. ‌​‌‌‌​‌‌‍‌​‌‌‌​‌​‍‌​‌‌‌​‌​
The report makes a number of recommendations to Welsh Government for improvement, including: ‌​‌‌‌​‌‌‍‌​‌‌‌​‌​‍‌​‌‌‌​‌​
-Working with councils to better understand the variations in spending on waste management services that are fundamentally the same ‌​‌‌‌​‌‌‍‌​‌‌‌​‌​‍‌​‌‌‌​‌​
-Replacing or complementing current recycling targets to refocus on the waste resources that have the largest impact on carbon reduction and/or are scarce ‌​‌‌‌​‌‌‍‌​‌‌‌​‌​‍‌​‌‌‌​‌​
-Demonstrating that the wider benefits of municipal recycling cannot be more readily attained in other ways. ‌​‌‌‌​‌‌‍‌​‌‌‌​‌​‍‌​‌‌‌​‌​
Auditor General, Adrian Crompton said today: "This report acknowledges the improved picture for municipal recycling across Wales, thanks to better collaboration between the Welsh Government and councils. ‌​‌‌‌​‌‌‍‌​‌‌‌​‌​‍‌​‌‌‌​‌​
But there still needs to be a better understanding of service cost differences across Wales, especially given the wider financial pressures on councils. ‌​‌‌‌​‌‌‍‌​‌‌‌​‌​‍‌​‌‌‌​‌​
And it is time for the Welsh Government to consider whether the way recycling performance is measured tells the full story, including in the context of wider carbon reduction goals." ‌​‌‌‌​‌‌‍‌​‌‌‌​‌​‍‌​‌‌‌​‌​
‌​‌‌‌​‌‌‍‌​‌‌‌​‌​‍‌​‌‌‌​‌​
‌​‌‌‌​‌‌‍‌​‌‌‌​‌​‍‌​‌‌‌​‌​
‌​‌‌‌​‌‌‍‌​‌‌‌​‌​‍‌​‌‌‌​‌​
‌​‌‌‌​‌‌‍‌​‌‌‌​‌​‍‌​‌‌‌​‌​
‌​‌‌‌​‌‌‍‌​‌‌‌​‌​‍‌​‌‌‌​‌​
‌​‌‌‌​‌‌‍‌​‌‌‌​‌​‍‌​‌‌‌​‌​
Spotted something? Got a story? Send a Facebook Message | A direct message on Twitter | Email: News@Deeside.com
---
Latest News
---