Flintshire councillor threatens 'name and shame' council officers who don't reply to his calls and e-mails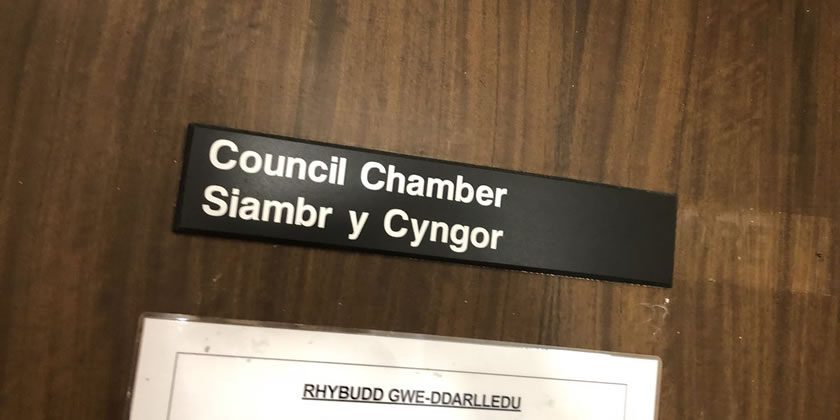 This article is old - Published: Monday, Sep 17th, 2018

A Flintshire councillor has threatened to 'name and shame' council officers who do not reply to his calls and e-mails.  ‌​‌‌‌​‌‌‍‌​‌‌‌​‌​‍‌​‌‌‌​‌​
Councillors have voted to take action over concerns about delayed responses to important issues in Flintshire. ‌​‌‌‌​‌‌‍‌​‌‌‌​‌​‍‌​‌‌‌​‌​
A motion was put forward asking Colin Everett, chief executive of Flintshire Council, to ensure officers respond to councillors' requests with 'courtesy and good manners', and without leaving them waiting unduly. ‌​‌‌‌​‌‌‍‌​‌‌‌​‌​‍‌​‌‌‌​‌​
It was raised by Cllr Tony Sharps, who represents Northop Hall, after he criticised the authority's response to an incident where school children were looked after by road workers when their bus failed to turn up. ‌​‌‌‌​‌‌‍‌​‌‌‌​‌​‍‌​‌‌‌​‌​
He said he was left embarrassed at being unable to answer residents' queries on several occasions, including when changes were made to local bus services. ‌​‌‌‌​‌‌‍‌​‌‌‌​‌​‍‌​‌‌‌​‌​
The leader of the independent group was backed by the majority of elected members, who also shared their own problems. ‌​‌‌‌​‌‌‍‌​‌‌‌​‌​‍‌​‌‌‌​‌​
Mr Everett has now pledged to tackle the issue by speaking to chief officers. ‌​‌‌‌​‌‌‍‌​‌‌‌​‌​‍‌​‌‌‌​‌​
Addressing a full council meeting in Mold this week, Cllr Sharps said: "We had the start of the new term for the little children going to the big schools in Hawarden, Mold and Flint. ‌​‌‌‌​‌‌‍‌​‌‌‌​‌​‍‌​‌‌‌​‌​
"Buses never turned up and these little children were left in the rain. ‌​‌‌‌​‌‌‍‌​‌‌‌​‌​‍‌​‌‌‌​‌​
"We had to send highway engineers to look after their safety until half past nine in the morning until transport was hurriedly arranged to convey them to the school they were attending. ‌​‌‌‌​‌‌‍‌​‌‌‌​‌​‍‌​‌‌‌​‌​
"That was the start of the rot that has sent in and the embarrassment that I have had to endure ever since. ‌​‌‌‌​‌‌‍‌​‌‌‌​‌​‍‌​‌‌‌​‌​
"It started again when the bus timetables were rearranged without consultation to anyone, in particular myself as the local member, we were told nothing. ‌​‌‌‌​‌‌‍‌​‌‌‌​‌​‍‌​‌‌‌​‌​
"I'm there being faced with questions from constituents and I didn't know a damn thing about it." ‌​‌‌‌​‌‌‍‌​‌‌‌​‌​‍‌​‌‌‌​‌​
The issue was previously raised by Cllr Sharps in May 2017, and guidance was created to improve response times, but he claimed it did not have an impact.
He said he would 'name and shame' officers who did not reply to calls and e-mails if further action was not taken. ‌​‌‌‌​‌‌‍‌​‌‌‌​‌​‍‌​‌‌‌​‌​
The motion was backed by Cllr Carol Ellis, who represents the Buckley Mountain ward, and currently receives three complaints a day about access issues at Hawkesbury Community Centre. ‌​‌‌‌​‌‌‍‌​‌‌‌​‌​‍‌​‌‌‌​‌​
But despite contacting officers, she said she received no response to help her resolve the problem. ‌​‌‌‌​‌‌‍‌​‌‌‌​‌​‍‌​‌‌‌​‌​
Cllr Ellis said: "Unfortunately I've got to agree with Cllr Sharps, I won't name names, but in my circumstances I've got residents coming back to me asking me to give them answers to questions that I've put forward to officers, and I've got to chase, and chase, and chase. ‌​‌‌‌​‌‌‍‌​‌‌‌​‌​‍‌​‌‌‌​‌​
"Sometimes, the only way I'll get an answer is to go to the chief executive. ‌​‌‌‌​‌‌‍‌​‌‌‌​‌​‍‌​‌‌‌​‌​
"In my book, the chief executive isn't there to answer my queries and questions, he's got better things to do. ‌​‌‌‌​‌‌‍‌​‌‌‌​‌​‍‌​‌‌‌​‌​
"But it's embarrassing when as a councillor you are called to your face or by e-mail 'ineffective'." ‌​‌‌‌​‌‌‍‌​‌‌‌​‌​‍‌​‌‌‌​‌​
In response to councillors' concerns, Mr Everett said he had no issue with the motion being raised and had spoken to chief officers calling for attitudes to change.
However, he added that members also needed to show courtesy to staff. ‌​‌‌‌​‌‌‍‌​‌‌‌​‌​‍‌​‌‌‌​‌​
He said: "I've spoken in some depth to all the chief officers collectively and in fact, I've completed three chief officer appraisals in the last week where we talked as part of that about attitude, culture and performance on this point. ‌​‌‌‌​‌‌‍‌​‌‌‌​‌​‍‌​‌‌‌​‌​
"Just to be clear, the standards are very clear, you're meant to get an acknowledgement with five days. ‌​‌‌‌​‌‌‍‌​‌‌‌​‌​‍‌​‌‌‌​‌​
"Unless there's a reason that something's complex, if it's relatively routine it is meant to be (deal with) within 10 days. ‌​‌‌‌​‌‌‍‌​‌‌‌​‌​‍‌​‌‌‌​‌​
"The reason I mentioned to Cllr Sharps about member conduct, this was not to move it away from officer responsibility. ‌​‌‌‌​‌‌‍‌​‌‌‌​‌​‍‌​‌‌‌​‌​
"I was particularly picking up the point where I've seen evidence that on occasions by a few members, there has been disrespect and discourtesy shown in behaviour to officers." ‌​‌‌‌​‌‌‍‌​‌‌‌​‌​‍‌​‌‌‌​‌​
By Liam Randall – Local Democracy Reporter. ‌​‌‌‌​‌‌‍‌​‌‌‌​‌​‍‌​‌‌‌​‌​
Spotted something? Got a story? Send a Facebook Message | A direct message on Twitter | Email: News@Deeside.com
---
Latest News
---