Flintshire Council looking to adopt memorial policy for open spaces, countryside and highways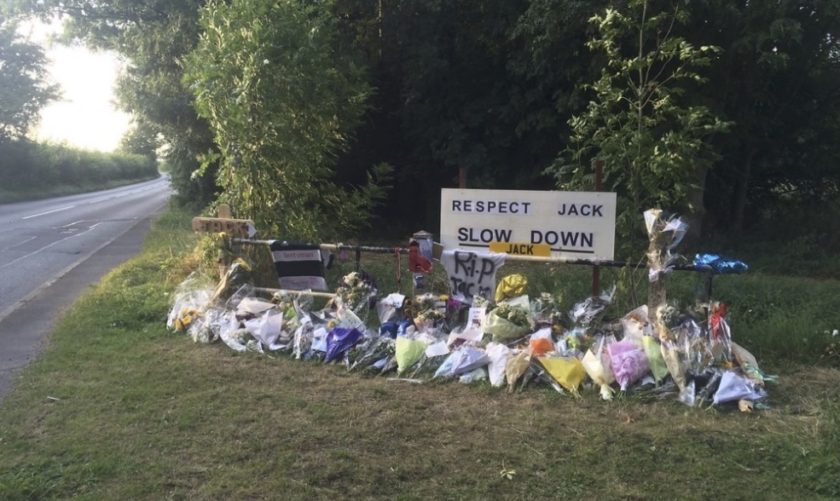 Flintshire Council is to look at putting a policy in place for memorials in open spaces, countryside and highways settings due to increasing demand. ‌​‌‌‌​‌‌‍‌​‌‌‌​‌​‍‌​‌‌‌​‌​
The council's environment and economy scrutiny committee will consider the policy which would ensure memorials are in keeping with location and surroundings. ‌​‌‌‌​‌‌‍‌​‌‌‌​‌​‍‌​‌‌‌​‌​
According to a report to be read by the committee there has been an increase in relatives and friends wishing to place flowers and other tributes at the scene of fatal road traffic accidents. ‌​‌‌‌​‌‌‍‌​‌‌‌​‌​‍‌​‌‌‌​‌​
There have also been requests made to the council for more permanent memorials. ‌​‌‌‌​‌‌‍‌​‌‌‌​‌​‍‌​‌‌‌​‌​
While there is no legal requirement for the council to do so, it has previously provided opportunities in the past on an ad-hoc basis for people to purchase trees or benches in memory of a loved one. ‌​‌‌‌​‌‌‍‌​‌‌‌​‌​‍‌​‌‌‌​‌​
The report to be read by councillors states: "Due to the increasing demand for memorials in an open space or a countryside setting, it is necessary to draw up a policy to ensure memorials, permanent or otherwise, are in keeping with the character of the local countryside and its many and varied uses and users. ‌​‌‌‌​‌‌‍‌​‌‌‌​‌​‍‌​‌‌‌​‌​
"A memorial site to one individual is a very different site to another, and these diverse interests should be respected. Additionally, there is no specified cut-off time for when grieving should end, and each individual case should be considered on its own unique merits. ‌​‌‌‌​‌‌‍‌​‌‌‌​‌​‍‌​‌‌‌​‌​
"Above all, the countryside should remain a place for all to enjoy, as well as a place of significance for those wishing to remember occasions and loved ones." ‌​‌‌‌​‌‌‍‌​‌‌‌​‌​‍‌​‌‌‌​‌​
The report adds: "This policy recognises the need for a consistent and sensitive approach to the provision of memorial requests and acknowledges that the demands for memorials may be far greater than some sites can accommodate. ‌​‌‌‌​‌‌‍‌​‌‌‌​‌​‍‌​‌‌‌​‌​
"It is recognised that this is a sensitive issue and the proposed policy seeks to balance concerns about safety, environmental sustainability and the wishes of those who may want to lay flowers or place memorials as a mark of respect." ‌​‌‌‌​‌‌‍‌​‌‌‌​‌​‍‌​‌‌‌​‌​
Examples of appropriate memorials could include: ‌​‌‌‌​‌‌‍‌​‌‌‌​‌​‍‌​‌‌‌​‌​
-Planting an un-marked tree
-Planting a hedge or small orchard
-Contributing to a woodland planting
-Benches
-Kissing Gate or small bridges
-Installing bird or bat boxes
-Conservation of a historic feature
-Wildflower planting
-Sponsoring an event ‌​‌‌‌​‌‌‍‌​‌‌‌​‌​‍‌​‌‌‌​‌​
The releasing of balloons and lanterns is prohibited due to the potential risks to the countryside of litter, fire, animal welfare and wildlife. ‌​‌‌‌​‌‌‍‌​‌‌‌​‌​‍‌​‌‌‌​‌​
According to the report, the council understands the sensitivity around memorials and requests under the policy will be welcomed and considered with care. ‌​‌‌‌​‌‌‍‌​‌‌‌​‌​‍‌​‌‌‌​‌​
The report adds: "Requests for memorials in open space, countryside or highway settings, whether physical structures or natural features, are welcomed. ‌​‌‌‌​‌‌‍‌​‌‌‌​‌​‍‌​‌‌‌​‌​
"They should be a feature that conserves or enhances the character of the setting and people's enjoyment of the outdoors as a recreational resource and place of quiet enjoyment. ‌​‌‌‌​‌‌‍‌​‌‌‌​‌​‍‌​‌‌‌​‌​
"There may be exceptions to this for reasons of road safety or if the memorial interferes with highway maintenance or causes a distraction or obstruction to other road users, such as pedestrians or cyclists. ‌​‌‌‌​‌‌‍‌​‌‌‌​‌​‍‌​‌‌‌​‌​
"In such cases, sensitive approaches should be made to those who have placed the memorials to explain the situation." ‌​‌‌‌​‌‌‍‌​‌‌‌​‌​‍‌​‌‌‌​‌​
When it meets on Tuesday (February 7) the scrutiny committee will be asked to recommend the council's ruling cabinet approves the policy. ‌​‌‌‌​‌‌‍‌​‌‌‌​‌​‍‌​‌‌‌​‌​
By Rory Sheehan – Local Democracy Reporter (more here). ‌​‌‌‌​‌‌‍‌​‌‌‌​‌​‍‌​‌‌‌​‌​
Photo: Licensed for reuse under this Creative Commons Licence ‌​‌‌‌​‌‌‍‌​‌‌‌​‌​‍‌​‌‌‌​‌​
Spotted something? Got a story? Send a Facebook Message | A direct message on Twitter | Email: News@Deeside.com
---
Latest News
---