Flintshire Council cock up as they publish video from Zoom meeting hacked with pornographic video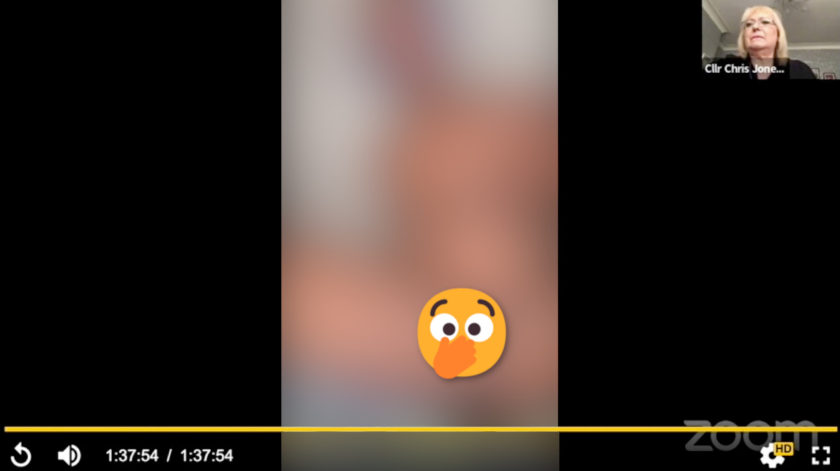 This article is old - Published: Wednesday, Jan 18th, 2023

A video from a Flintshire council meeting which was interrupted by a member of the public performing a sex act ‌​‌‌‌​‌‌‍‌​‌‌‌​‌​‍‌​‌‌‌​‌​has appeared on its own website. ‌​‌‌‌​‌‌‍‌​‌‌‌​‌​‍‌​‌‌‌​‌​
Videos of council meetings which have been webcast are usually archived and published on the council website usually a day or so later however where there has been issues previously with other councils in Wales videos have been edited before publication. ‌​‌‌‌​‌‌‍‌​‌‌‌​‌​‍‌​‌‌‌​‌​
This morning the video of the meeting which was held via Zoom and included the shocking footage of the lewd act was published in full on the Flintshire Council website. ‌​‌‌‌​‌‌‍‌​‌‌‌​‌​‍‌​‌‌‌​‌​
Deeside.com alerted the council to the issue who said in a brief statement: "The video has now been reloaded and no longer shows the incident." However the stream was still public around an hour later – it has since been removed. ‌​‌‌‌​‌‌‍‌​‌‌‌​‌​‍‌​‌‌‌​‌​


‌​‌‌‌​‌‌‍‌​‌‌‌​‌​‍‌​‌‌‌​‌​
Interruptions began during Tuesday's council cabinet meeting towards the end of a discussion on its Waste Strategy. ‌​‌‌‌​‌‌‍‌​‌‌‌​‌​‍‌​‌‌‌​‌​
A man with an American accent replied to a comment made by Council Leader Ian Roberts which brought stunned silence among those councillors on the Zoom meeting. ‌​‌‌‌​‌‌‍‌​‌‌‌​‌​‍‌​‌‌‌​‌​
Advice was sought from the legal officer who appeared to be content allow the person to remain on the Zoom meeting, as long as they were silent. ‌​‌‌‌​‌‌‍‌​‌‌‌​‌​‍‌​‌‌‌​‌​
Later in the meeting, Cllr Christine Jones said she "seemed to have been hacked and comments keep being made in my name, it is making me feel extremely uncomfortable." ‌​‌‌‌​‌‌‍‌​‌‌‌​‌​‍‌​‌‌‌​‌​
Seconds later the Zoom screen is taken over by a man who could be seen performing a solo sex act and making extremely inappropriate comments – and encouraged councillors to join in with his actions. ‌​‌‌‌​‌‌‍‌​‌‌‌​‌​‍‌​‌‌‌​‌​
Leader of the opposition, Cllr Bernie Attridge was one of those watching on the Zoom link he said he could not believe what he was seeing. ‌​‌‌‌​‌‌‍‌​‌‌‌​‌​‍‌​‌‌‌​‌​
"At that point in the meeting a councillor was saying they were concerned their account had been hacked as messages began appearing in the chat function", Cllr Attridge said. ‌​‌‌‌​‌‌‍‌​‌‌‌​‌​‍‌​‌‌‌​‌​ ‌​‌‌‌​‌‌‍‌​‌‌‌​‌​‍‌​‌‌‌​‌​
"Someone had joined the link which is strictly only available to elected members, not the public. ‌​‌‌‌​‌‌‍‌​‌‌‌​‌​‍‌​‌‌‌​‌​ ‌​‌‌‌​‌‌‍‌​‌‌‌​‌​‍‌​‌‌‌​‌​
"This chap who was on the link kept changing his name in the chat. I sent a message asking a question and the next thing I knew there was a chap pleasuring himself full screen on my iPad for a few seconds before the screen went completely black." ‌​‌‌‌​‌‌‍‌​‌‌‌​‌​‍‌​‌‌‌​‌​


‌​‌‌‌​‌‌‍‌​‌‌‌​‌​‍‌​‌‌‌​‌​
‌​‌‌‌​‌‌‍‌​‌‌‌​‌​‍‌​‌‌‌​A Flintshire Council spokesperson said on Tuesday: "A member of the public was given access to the link for this morning's Cabinet meeting on Zoom and shared some extremely inappropriate content. ‌​‌‌‌​‌‌‍‌​‌‌‌​‌​‍‌​‌‌‌​‌​ ‌​‌‌‌​‌‌‍‌​‌‌‌​‌​‍‌​‌‌‌​‌​
"We expect that only officers and councillors can join meetings as a participant.  As a result of this incident, we shall be reviewing the security settings in meetings so that only designated officers can share content. ‌​‌‌‌​‌‌‍‌​‌‌‌​‌​‍‌​‌‌‌​‌​ ‌​‌‌‌​‌‌‍‌​‌‌‌​‌​‍‌​‌‌‌​‌​
"We shall also be reminding all councillors that the links are for them only and that the public can view meetings via the livestream on our website." ‌​‌‌‌​‌‌‍‌​‌‌‌​‌​‍‌​‌‌‌​‌​


‌​‌‌‌​‌‌‍‌​‌‌‌​‌​‍‌​‌‌‌​‌​
Welsh Conservative Shadow Local Minister Sam Rowlands MS, said: ‌​‌‌‌​‌‌‍‌​‌‌‌​‌​‍‌​‌‌‌​‌​
"It was totally inappropriate for the member of the public to interrupt a meeting in this manner and has actually highlighted an issue about how local government operates and a concern I raised again with the minister only last week. ‌​‌‌‌​‌‌‍‌​‌‌‌​‌​‍‌​‌‌‌​‌​
"Whilst hybrid proceedings has its upsides, councillors should be meeting publicly whenever they can rather than finding any excuse not to, Zooming in from home all the time simply does not confer on councillors the same experience, skills, and achievement that working in-person would. ‌​‌‌‌​‌‌‍‌​‌‌‌​‌​‍‌​‌‌‌​‌​
"It just shows how hybrid meetings can be abused in a way that would not happen in county halls. So other than improving IT security, I think councils should primarily aim to have public meetings in person, with better guidance provided." ‌​‌‌‌​‌‌‍‌​‌‌‌​‌​‍‌​‌‌‌​‌​
Spotted something? Got a story? Send a Facebook Message | A direct message on Twitter | Email: News@Deeside.com
---
Latest News
---