Flintshire Council chiefs explain reasons for authority's spending on agency staff.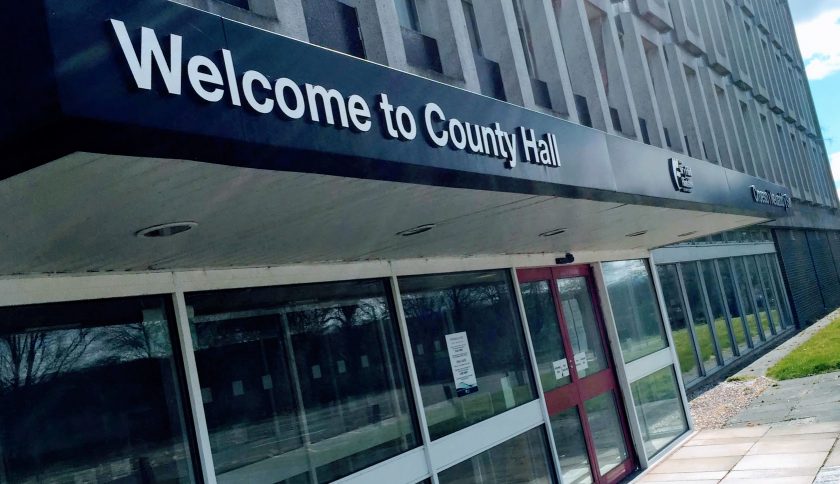 Flintshire Council chiefs have moved to explain the reasons for the authority's spending on agency staff. ‌​‌‌‌​‌‌‍‌​‌‌‌​‌​‍‌​‌‌‌​‌​
The council's corporate resources scrutiny committee met to discuss an update on the authority's workforce. ‌​‌‌‌​‌‌‍‌​‌‌‌​‌​‍‌​‌‌‌​‌​
A report presented to members outlined the council had exceeded its £1.7m target limit for this year, spending more than £3.5m on agency staff mainly within Streetscene and Social Services. ‌​‌‌‌​‌‌‍‌​‌‌‌​‌​‍‌​‌‌‌​‌​
Addressing councillors, senior HR manager Sharon Carney explained that although the target had been exceeded "significantly", posts left vacant throughout the year meant there was an underspend on permanent staff in those departments. ‌​‌‌‌​‌‌‍‌​‌‌‌​‌​‍‌​‌‌‌​‌​
She described the use of agency workers as "a legitimate recruitment pipeline for a number of services", meaning that staff often joined the council as a result of working for the authority through an agency first. ‌​‌‌‌​‌‌‍‌​‌‌‌​‌​‍‌​‌‌‌​‌​
"It enables employees to determine whether the role available is right for them, it also enables us to determine whether they are suitable for the role", she said. ‌​‌‌‌​‌‌‍‌​‌‌‌​‌​‍‌​‌‌‌​‌​
Only in exceptional cases are agency workers paid more than council staff in the same role. The intention is to fill as many vacancies as possible with people already working through agency. ‌​‌‌‌​‌‌‍‌​‌‌‌​‌​‍‌​‌‌‌​‌​
Connah's Quay Central Cllr Bernie Attridge said Streetscene had long been reliant on agency workers, but he was regularly being approached by people asking about jobs in the department only for them to be directed to agencies. ‌​‌‌‌​‌‌‍‌​‌‌‌​‌​‍‌​‌‌‌​‌​
Ms Carney said it was often a smoother transition for an employee to join through an agency first. ‌​‌‌‌​‌‌‍‌​‌‌‌​‌​‍‌​‌‌‌​‌​
She said: "We have historically recruited people into Streetscene and other areas and they've not understood the role so you onboard them, go through the process, train them and they leave very quickly. ‌​‌‌‌​‌‌‍‌​‌‌‌​‌​‍‌​‌‌‌​‌​
"Agency gives us an alternative method of doing that. We do advertise as well, there are live adverts going out at the moment and there has been talk of doing rolling adverts so they keep running so we don't have to rely on the agency as much. ‌​‌‌‌​‌‌‍‌​‌‌‌​‌​‍‌​‌‌‌​‌​
"Some people don't want to work for only us and commit to a contract, and they want to be selective about where they work. It's about having a mixed model." ‌​‌‌‌​‌‌‍‌​‌‌‌​‌​‍‌​‌‌‌​‌​
Chief executive Neal Cockerton added that agency staff were needed in Streetscene to ensure services such as bin collections could still go ahead when there are absences.
He said: "We have a frontline service that relies on the workforce arriving in the morning to undertake the tasks they do. ‌​‌‌‌​‌‌‍‌​‌‌‌​‌​‍‌​‌‌‌​‌​
"If those staff don't turn up the worst-case scenario is that a (bin) lorry doesn't go out and doesn't collect the refuse, so there is always an underlying baseload of agency workers required in the Streetscene service." ‌​‌‌‌​‌‌‍‌​‌‌‌​‌​‍‌​‌‌‌​‌​
He added that the council wanted to make it easier for agency workers in Streetscene to apply for permanent jobs with the council, making the forms less complicated in applying for a job they are already doing. ‌​‌‌‌​‌‌‍‌​‌‌‌​‌​‍‌​‌‌‌​‌​
Chairing the meeting, Buckley Bistre East Cllr Richard Jones (Ind) asked whether the spending target was too ambitious and should be revised. ‌​‌‌‌​‌‌‍‌​‌‌‌​‌​‍‌​‌‌‌​‌​
Ms Carney responded: "It's a stretched target I'd agree but I still think we should still strive to get there. ‌​‌‌‌​‌‌‍‌​‌‌‌​‌​‍‌​‌‌‌​‌​
"If we can't meet them then we have to explain why not, but I really do want to improve those figures across the piece and I know the rest of the organisation does too."
But Mr Cockerton said that some targets were set in a "different landscape", and he would be happy to review them. ‌​‌‌‌​‌‌‍‌​‌‌‌​‌​‍‌​‌‌‌​‌​
"I would personally see an opportunity to review those (targets)", he said. ‌​‌‌‌​‌‌‍‌​‌‌‌​‌​‍‌​‌‌‌​‌​
"We need to be working to something that is realistic and achievable and if those targets aren't then we ultimately set ourselves up as an organisation to fail every time. ‌​‌‌‌​‌‌‍‌​‌‌‌​‌​‍‌​‌‌‌​‌​
"That doesn't necessarily assist staff and staff morale as all you get is the press negativity that we've seen. ‌​‌‌‌​‌‌‍‌​‌‌‌​‌​‍‌​‌‌‌​‌​
"If you scratch below the surface in terms of our reporting you see the reasons behind it which are robust and are logical. ‌​‌‌‌​‌‌‍‌​‌‌‌​‌​‍‌​‌‌‌​‌​
"I will reflect on what you said around targets particularly as the landscape we're in is very different but with targets they also need to flex and be in constant review."
By Rory Sheehan – Local Democracy Reporter (more here). ‌​‌‌‌​‌‌‍‌​‌‌‌​‌​‍‌​‌‌‌​‌​
Spotted something? Got a story? Send a Facebook Message | A direct message on Twitter | Email: News@Deeside.com
---
Latest News
---