Firefighters 'damping down' after blaze destroys Gateway to Wales hotel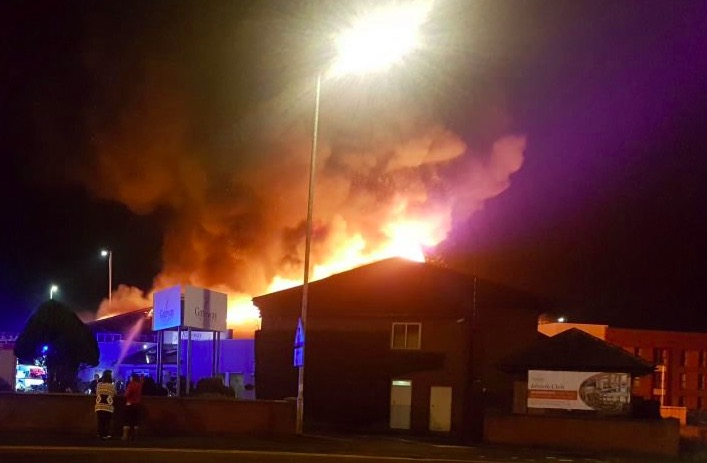 This article is old - Published: Monday, Dec 18th, 2017
[vc_row][vc_column][vc_column_text] ‌​‌‌‌​‌‌‍‌​‌‌‌​‌​‍‌​‌‌‌​‌​
Firefighters remain at the scene of a huge fire which ripped through the Gateway to Wales hotel early this morning.
The fire broke out just before 4.30am, seven fire appliances, one from Flint, Mold, Buckley, Wrexham and Chester, and two from Deeside, together with two aerial ladder platforms from Wrexham and Chester were sent to the fire. ‌​‌‌‌​‌‌‍‌​‌‌‌​‌​‍‌​‌‌‌​‌​
‌​‌‌‌​‌‌‍‌​‌‌‌​‌​‍‌​‌‌‌​‌​
Upwards of 60 firefighters brought the blaze under control, hotel guests were safely evacuated after the hotel's smoke alarms were activated. ‌​‌‌‌​‌‌‍‌​‌‌‌​‌​‍‌​‌‌‌​‌​
A joint fire service and police investigation will get underway to find out the cause of the fire which appears to have destroyed the roof of the 40 bedroom hotel on Welsh Road. ‌​‌‌‌​‌‌‍‌​‌‌‌​‌​‍‌​‌‌‌​‌​
Six ambulance crews in emergency ambulances, a paramedic in a rapid response vehicle were sent to the scene, fortunately nobody required hospital treatment. ‌​‌‌‌​‌‌‍‌​‌‌‌​‌​‍‌​‌‌‌​‌​
The fire service said all hotel guests and staff have been accounted, for they were evacuated along with residents of nearby homes to Deeside Leisure Centre. ‌​‌‌‌​‌‌‍‌​‌‌‌​‌​‍‌​‌‌‌​‌​
A Fire Service spokesman at the scene said;
"We have now down scaled the size of the incident, there approximately 14 firefighters left at the scene and they will be working throughout the day to damp down and turn over any hot spots in the building" ‌​‌‌‌​‌‌‍‌​‌‌‌​‌​‍‌​‌‌‌​‌​
The fire is in effect out now, there will be a thorough fire investigation which will begin and continue through out the day to understand how and why this fire occurred." ‌​‌‌‌​‌‌‍‌​‌‌‌​‌​‍‌​‌‌‌​‌​
Sealand Primary School is closed due to "All access to school currently closed. Due to staff unavailability we have no choice but to close the school for today". ‌​‌‌‌​‌‌‍‌​‌‌‌​‌​‍‌​‌‌‌​‌​
Welsh Road in Garden City has been closed as far back as the blue bridge to assist the Fire Service according to police. ‌​‌‌‌​‌‌‍‌​‌‌‌​‌​‍‌​‌‌‌​‌​
Hotel guest Barbara from Heywood in Greater Manchester praised the night manager for carrying her disabled brother-in-law out of hotel, she told BBC Wales ‌​‌‌‌​‌‌‍‌​‌‌‌​‌​‍‌​‌‌‌​‌​
"By the time we got outside the whole roof was alight, " she said. ‌​‌‌‌​‌‌‍‌​‌‌‌​‌​‍‌​‌‌‌​‌​
"We're very, very lucky and thankfully it wasn't full. It had a lot of people in but it wasn't full. So everyone got out." ‌​‌‌‌​‌‌‍‌​‌‌‌​‌​‍‌​‌‌‌​‌​
A spokesman for the Welsh Ambulance service said:
"We were called at approximately 4.35am this morning (Monday 18 December) to reports of a fire at the Gateway to Wales hotel in Garden City, Deeside. ‌​‌‌‌​‌‌‍‌​‌‌‌​‌​‍‌​‌‌‌​‌​
We sent six crews in emergency ambulances, a paramedic in a rapid response vehicle and an ambulance officer to the scene, however there were no patients present requiring hospital treatment." ‌​‌‌‌​‌‌‍‌​‌‌‌​‌​‍‌​‌‌‌​‌​
[/vc_column_text][mp_carousel_1 carousel_images="61788,61785,61784,61778,61774,61772,61767″][vc_column_text] ‌​‌‌‌​‌‌‍‌​‌‌‌​‌​‍‌​‌‌‌​‌​
Sealand Councillor Christine Jones said;
"A massive thank you to all emergency services and teams from Flintshire County Council, Social Services, Housing and Streetscene. ‌​‌‌‌​‌‌‍‌​‌‌‌​‌​‍‌​‌‌‌​‌​
Also Staff at Deeside Leisure Centre and ASDA Queensferry for looking after the families. ‌​‌‌‌​‌‌‍‌​‌‌‌​‌​‍‌​‌‌‌​‌​
The fire officers have been amazing as have the police. There have been many offers of help from within our community, which has been great. ‌​‌‌‌​‌‌‍‌​‌‌‌​‌​‍‌​‌‌‌​‌​
People have been so kind. Everyone involved in the tragic event has received help and support from Flintshire County Council staff. ‌​‌‌‌​‌‌‍‌​‌‌‌​‌​‍‌​‌‌‌​‌​
Most have been moved out of the Leisure Centre now to return home or found accommodation by our Housing team. ‌​‌‌‌​‌‌‍‌​‌‌‌​‌​‍‌​‌‌‌​‌​
Thank goodness everyone is safe. ‌​‌‌‌​‌‌‍‌​‌‌‌​‌​‍‌​‌‌‌​‌​
A massive thank you to the Night Porter at the Hotel who led the evacuation and got all the guests out safely. You are a Star!" ‌​‌‌‌​‌‌‍‌​‌‌‌​‌​‍‌​‌‌‌​‌​
There's been around 1.5 miles of queuing traffic on the A494 eastbound along Aston Hill into Queensferry due to lane closures following this morning's fire. ‌​‌‌‌​‌‌‍‌​‌‌‌​‌​‍‌​‌‌‌​‌​
Flintshire County Council say closures on the at Drome Corner Eastbound off-slip and the two lanes of the A494 eastbound dual carriageway will be removed by 1pm today. ‌​‌‌‌​‌‌‍‌​‌‌‌​‌​‍‌​‌‌‌​‌​
The B5441 Welsh Road will remain closed until further notice. ‌​‌‌‌​‌‌‍‌​‌‌‌​‌​‍‌​‌‌‌​‌​
Danny Lawton, lives in new flats next to the hotel with his girlfriend and baby, he was woken up by police banging on his door just before 5am. ‌​‌‌‌​‌‌‍‌​‌‌‌​‌​‍‌​‌‌‌​‌​
Danny said: ‌​‌‌‌​‌‌‍‌​‌‌‌​‌​‍‌​‌‌‌​‌​
"We grabbed the baby and her stuff and headed downstairs, and the car park was already full of people. The heat coming off the fire was immense. ‌​‌‌‌​‌‌‍‌​‌‌‌​‌​‍‌​‌‌‌​‌​
The whole roof and top floor was on fire and the surrounding area was just full of smoke and flashing blue lights. There was a dozen or more fire trucks and police cars. ‌​‌‌‌​‌‌‍‌​‌‌‌​‌​‍‌​‌‌‌​‌​
I was told to move my car as quick as I could as the heat would melt it – that's how close it was. ‌​‌‌‌​‌‌‍‌​‌‌‌​‌​‍‌​‌‌‌​‌​
As far as I'm aware the fire has been put out and the building has burnt down to just a shell." ‌​‌‌‌​‌‌‍‌​‌‌‌​‌​‍‌​‌‌‌​‌​
An earlier statement from North Wales Fire Service said; ‌​‌‌‌​‌‌‍‌​‌‌‌​‌​‍‌​‌‌‌​‌​
Firefighters are currently in attendance at a fire at a hotel on Welsh Road in Deeside. ‌​‌‌‌​‌‌‍‌​‌‌‌​‌​‍‌​‌‌‌​‌​
They were called to reports of the fire at 04.27hours this morning (Monday, 19th December). ‌​‌‌‌​‌‌‍‌​‌‌‌​‌​‍‌​‌‌‌​‌​
"Seven fire appliances, one from Flint, Mold, Buckley, Wrexham and Chester, and two from Deeside, together with two aerial ladder platforms from Wrexham and Chester are in attendance at the incident. ‌​‌‌‌​‌‌‍‌​‌‌‌​‌​‍‌​‌‌‌​‌​
On arrival, firefighters found the roof space of the building well alight and used four sets of breathing apparatus, two hose reel jets and two main jets to tackle the fire. ‌​‌‌‌​‌‌‍‌​‌‌‌​‌​‍‌​‌‌‌​‌​
All residents and staff at the hotel have been accounted for and have been evacuated to a safe area." ‌​‌‌‌​‌‌‍‌​‌‌‌​‌​‍‌​‌‌‌​‌​
‌​‌‌‌​‌‌‍‌​‌‌‌​‌​‍‌​‌‌‌​‌​
[/vc_column_text][/vc_column][/vc_row] ‌​‌‌‌​‌‌‍‌​‌‌‌​‌​‍‌​‌‌‌​‌​
Spotted something? Got a story? Send a Facebook Message | A direct message on Twitter | Email: News@Deeside.com
---
Latest News
Over 30,000 sought financial help over Christmas period from Welsh Government's Discretionary Assistance Fund
Prime Minister sacks Conservative Party Chairman Nadhim Zahawi for "serious breach" of ministerial code.
Record number of people supported at pharmacies and GP surgeries, with health services at 'breaking point'
---