Discarded vapes pose new litter threat to animals, warns RSPCA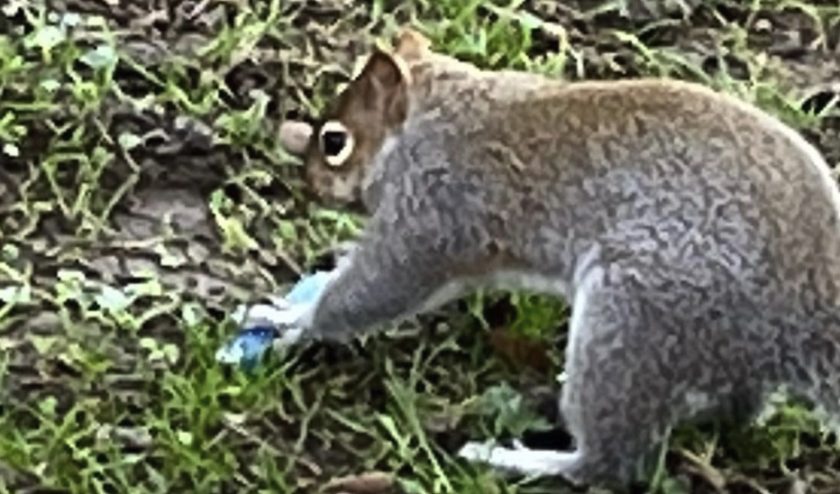 New data from the RSPCA reveals that more than 10,000 calls have been made in the past three years regarding animals affected by litter, prompting the charity to warn about the risks posed by discarded vapes. ‌​‌‌‌​‌‌‍‌​‌‌‌​‌​‍‌​‌‌‌​‌​
Over 2020, 2021, and 2022, the charity received 10,483 calls relating to animals impacted by litter. ‌​‌‌‌​‌‌‍‌​‌‌‌​‌​‍‌​‌‌‌​‌​
The RSPCA is now encouraging people to participate in Keep Britain Tidy's Great British Spring Clean's 'Big Bag Challenge' which starts on 17 March. ‌​‌‌‌​‌‌‍‌​‌‌‌​‌​‍‌​‌‌‌​‌​
Vapes present a particular hazard for animals when discarded as litter. 167.5 million single-use vapes are used every year in the UK. ‌​‌‌‌​‌‌‍‌​‌‌‌​‌​‍‌​‌‌‌​‌​
They contain various materials and poisonous substances, such as plastic, lithium, and nicotine, which can be harmful to animals. Used vapes are increasingly being mistaken for food by animals, resulting in ingestion and even death. ‌​‌‌‌​‌‌‍‌​‌‌‌​‌​‍‌​‌‌‌​‌​
During last year's Big Bag Challenge, almost half a million bags of all types of litter (449,406) were collected. ‌​‌‌‌​‌‌‍‌​‌‌‌​‌​‍‌​‌‌‌​‌​
The RSPCA expects that an increasing number of used vapes will feature in this year's challenge. ‌​‌‌‌​‌‌‍‌​‌‌‌​‌​‍‌​‌‌‌​‌​
The charity took 3,042 reports about litter-affected animals last year, including a fox in Willesden, which got his head stuck in a discarded plastic bottle, a swan in Lowestoft with a plastic bottle cap stuck around its lower beak, and a duck in Runcorn that became entangled in an old dog's toy. ‌​‌‌‌​‌‌‍‌​‌‌‌​‌​‍‌​‌‌‌​‌​
The UK Government warns that improper disposal of vapes can result in the release of plastic, electronic, and hazardous chemical waste into the environment. ‌​‌‌‌​‌‌‍‌​‌‌‌​‌​‍‌​‌‌‌​‌​
The government advises that used vapes should be disposed of appropriately at a household recycling centre or at the shop where the device was bought. ‌​‌‌‌​‌‌‍‌​‌‌‌​‌​‍‌​‌‌‌​‌​
Alongside everyday rubbish, the RSPCA also encounters many animals that have sustained terrible injuries caused by angling litter, such as discarded fishing line, hooks, and plastic netting. ‌​‌‌‌​‌‌‍‌​‌‌‌​‌​‍‌​‌‌‌​‌​
Nearly 50% of all litter-related calls to the RSPCA last year were about animals that had specifically become caught in fishing litter. ‌​‌‌‌​‌‌‍‌​‌‌‌​‌​‍‌​‌‌‌​‌​
This included a hedgehog in Nantwich that died after swallowing a fishing hook and becoming entangled in old fishing line, a goose in Stoke-on-Trent that was rescued after becoming caught up in discarded fishing line, and a gull that was left hanging upside down from a telegraph pole after his foot was pierced by a fishing lure and he became snagged on the wire. ‌​‌‌‌​‌‌‍‌​‌‌‌​‌​‍‌​‌‌‌​‌​
RSPCA scientific officer Evie Button urges people to participate in the Great British Spring Clean to help remove litter that may endanger animals. ‌​‌‌‌​‌‌‍‌​‌‌‌​‌​‍‌​‌‌‌​‌​
She said "When I litter-picked last year on the banks of the Thames, I was horrified at the amount of old vapes I was finding on the shoreline. Carelessly discarded used vapes seems to be a growing trend, and that's a real concern for us. ‌​‌‌‌​‌‌‍‌​‌‌‌​‌​‍‌​‌‌‌​‌​
"Litter is one of the biggest hazards our wildlife faces today, and new hazards such as these discarded vapes just add to the risk to animals. Litter is a problem on all of our doorsteps – from city centres to the countryside and beaches –  so all of us can do something to help by getting involved in the Great British Spring Clean and disposing of dangerous items such as vapes appropriately. ‌​‌‌‌​‌‌‍‌​‌‌‌​‌​‍‌​‌‌‌​‌​
"Our staff deal with thousands of incidents every year where animals have been impacted by litter – and what they are seeing is probably just the tip of the iceberg. Sadly, for every animal we're able to help there are probably many that go unseen, unreported and may even lose their lives. ‌​‌‌‌​‌‌‍‌​‌‌‌​‌​‍‌​‌‌‌​‌​
"Spring is an ideal time to go on a litter-pick because it's before the breeding season when young animals such as fox cubs start getting into trouble, and litter will be more visible in hedges before the vegetation really starts growing. That's why we're calling on the public to get involved in the Great British Spring Clean to help remove litter that may endanger animals." ‌​‌‌‌​‌‌‍‌​‌‌‌​‌​‍‌​‌‌‌​‌​
The RSPCA is encouraging anglers to follow the Angling Trust Anglers Against Litter campaign and make use of recycling schemes to dispose of their waste tackle. ‌​‌‌‌​‌‌‍‌​‌‌‌​‌​‍‌​‌‌‌​‌​
The RSPCA is asking members of the public to pick up litter safely and put it in the bin or recycle where appropriate. Their actions could help save an animal's life. ‌​‌‌‌​‌‌‍‌​‌‌‌​‌​‍‌​‌‌‌​‌​
Spotted something? Got a story? Send a Facebook Message | A direct message on Twitter | Email: News@Deeside.com
---
Latest News
Flintshire couple share heartbreaking story of losing newborn daughter to raise awareness for local children's hospices
---