Deestriders take on 144-Mile North Wales Pilgrims Way Ultra Marathon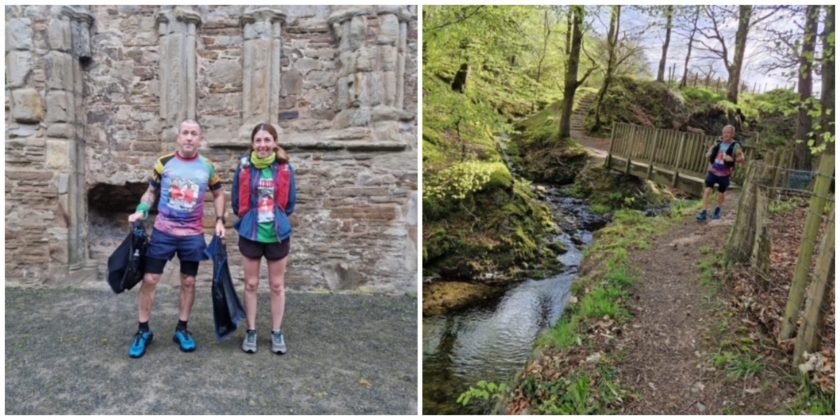 While the nation was captivated by the coronation of King Charles, a remarkable feat of endurance unfolded as two tenacious Deestriders runners embarked on the inaugural North Wales Pilgrims Way Ultra Marathon. ‌​‌‌‌​‌‌‍‌​‌‌‌​‌​‍‌​‌‌‌​‌​
Christine Cammillare and Nige Parr joined a select group of just six athletes to tackle the gruelling 144-mile course, organized by Pen Llyn Ultras, which incorporated a unique twist. ‌​‌‌‌​‌‌‍‌​‌‌‌​‌​‍‌​‌‌‌​‌​
Starting their arduous journey at Basingwerk Abbey in Greenfield, the self-navigated course led the runners along the North Wales Pilgrims Way, venturing westward towards Aberdaron. ‌​‌‌‌​‌‌‍‌​‌‌‌​‌​‍‌​‌‌‌​‌​
Along the way, they encountered picturesque ancient churches, traversed woodlands, crossed rivers, witnessed waterfalls, delved deep into valleys and mountains, followed the coastline, passed through villages, and ventured into the wilderness. ‌​‌‌‌​‌‌‍‌​‌‌‌​‌​‍‌​‌‌‌​‌​
The duo embarked on their epic journey early Friday morning, with a deadline of 18 hours to cover the initial 66 miles to their overnight destination, Llanfairfechan. ‌​‌‌‌​‌‌‍‌​‌‌‌​‌​‍‌​‌‌‌​‌​
Supporting them along the way were their partners, Paul Lewtey and Andrea Wadcock-Parr, accompanied by fellow club member Linda Turley and Christine's father. ‌​‌‌‌​‌‌‍‌​‌‌‌​‌​‍‌​‌‌‌​‌​
The dedicated support crew maneuvered the remote country lanes skillfully, appearing wherever needed with supplies and words of encouragement. ‌​‌‌‌​‌‌‍‌​‌‌‌​‌​‍‌​‌‌‌​‌​
Linda, one of the support crew members, exclaimed, "These guys were coming in strong at each stop on Friday. ‌​‌‌‌​‌‌‍‌​‌‌‌​‌​‍‌​‌‌‌​‌​
It was great to be part of the support crew – but I'm so glad I wasn't running it!" Paul, however, joined the runners for the final 20 miles of the route into Llan, which the determined athletes reached at 11 pm, just an hour before the midnight cutoff. ‌​‌‌‌​‌‌‍‌​‌‌‌​‌​‍‌​‌‌‌​‌​
With a mere 7 hours of rest at the modest Platt's Farm bunkhouse, Christine, who had achieved a personal best of 3.36 in the London Marathon two weeks prior, faced the challenge of blistered feet and difficulty in consuming proper nutrition. ‌​‌‌‌​‌‌‍‌​‌‌‌​‌​‍‌​‌‌‌​‌​
Despite her hardships, she admirably persevered, covering an astounding 94 miles before making the wise decision to conclude her journey at Llanberis. Christine, the only woman to undertake the full ultra, expressed her pride in what she had accomplished, stating, "I love to push myself to see what I can do… I'd hate to always think 'I wish I would have tried that.' ‌​‌‌‌​‌‌‍‌​‌‌‌​‌​‍‌​‌‌‌​‌​
This weekend was amazing – I loved it, even the sore feet, as it reminds me that I tried. What Nige did is truly inspiring, and to have been at his side for some of it was like being part of something epic." ‌​‌‌‌​‌‌‍‌​‌‌‌​‌​‍‌​‌‌‌​‌​
Indeed, Nige's efforts were nothing short of epic as he pushed his limits further, continuing onward for a total of over 24 hours. He trailed only a few miles behind the leader and eventual winner, Darren Bentley, persevering through the night until reaching the 78-mile mark at St Hywyn's Church in Aberdaron at 6:30 am on Sunday morning. ‌​‌‌‌​‌‌‍‌​‌‌‌​‌​‍‌​‌‌‌​‌​
As a seasoned participant in Pen Llyn events, Nige described this particular race as "beautifully brutal." ‌​‌‌‌​‌‌‍‌​‌‌‌​‌​‍‌​‌‌‌​‌​
Despite the challenges, he expressed admiration for the event, the scenic route, his fellow runners, and supporters. ‌​‌‌‌​‌‌‍‌​‌‌‌​‌​‍‌​‌‌‌​‌​
Nige's unwavering belief in his abilities was encapsulated by his mantra, "If my mind believes, my body will achieve." ‌​‌‌‌​‌‌‍‌​‌‌‌​‌​‍‌​‌‌‌​‌​
Remarkably, he revealed that he had even endured a fall near the finish line, yet emerged from the adventure with little more than (very) sore feet, jokingly remarking, " ‌​‌‌‌​‌‌‍‌​‌‌‌​‌​‍‌​‌‌‌​‌​
"There's still some miles in this old goat yet!" ‌​‌‌‌​‌‌‍‌​‌‌‌​‌​‍‌​‌‌‌​‌​
Meanwhile, in other running events over the weekend, Sue Bonney achieved a commendable personal best of 32.30 in the Liverpool Spring 5k race. ‌​‌‌‌​‌‌‍‌​‌‌‌​‌​‍‌​‌‌‌​‌​
Additionally, Steph Salusbury impressed with a fantastic 55.56 personal best in the Alderley Edge 10K, while her husband, Mike, finished with a strong time of 54.27. ‌​‌‌‌​‌‌‍‌​‌‌‌​‌​‍‌​‌‌‌​‌​
‌​‌‌‌​‌‌‍‌​‌‌‌​‌​‍‌​‌‌‌​‌​
Spotted something? Got a story? Send a Facebook Message | A direct message on Twitter | Email: News@Deeside.com
---
Latest News
---