Councillor shocked to learn of proposed 20-flat development 'above' Connah's Quay Town Council building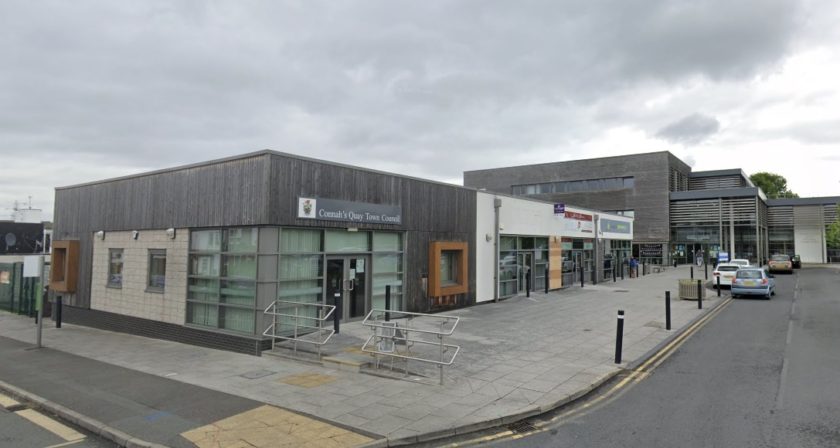 This article is old - Published: Tuesday, Dec 20th, 2022

A Councillor expressed shock at learning of the potential for a 20 flat development above the Connah's Quay Town Council building through meeting documents. ‌​‌‌‌​‌‌‍‌​‌‌‌​‌​‍‌​‌‌‌​‌​
Connah's Quay Central Cllr Bernie Attridge (Ind) felt he had been blindsided that the first he had known of a potential registered social landlord scheme near the Quay Building on Fron Road was via council scrutiny meeting papers. ‌​‌‌‌​‌‌‍‌​‌‌‌​‌​‍‌​‌‌‌​‌​
At this month's meeting of Flintshire Council's Community and Housing scrutiny committee, members were asked to look at a draft of the authority's 'Housing Need' prospectus. ‌​‌‌‌​‌‌‍‌​‌‌‌​‌​‍‌​‌‌‌​‌​
The document shows where there is a need across the county for social housing, specialist or supported accommodation, affordable housing and where the council can work with registered social landlords (RSL's) to provide solutions. ‌​‌‌‌​‌‌‍‌​‌‌‌​‌​‍‌​‌‌‌​‌​
There are more than 2,500 people on Flintshire's social housing waiting list, and many of them require one-bedroom accommodation. ‌​‌‌‌​‌‌‍‌​‌‌‌​‌​‍‌​‌‌‌​‌​
No firm decisions have been taken on where any developments would be, but Cllr Attridge also felt the press and public should have been excluded from the discussion about the prospectus, citing commercial sensitivity as a reason for closed debate. ‌​‌‌‌​‌‌‍‌​‌‌‌​‌​‍‌​‌‌‌​‌​
"I'm concerned that this agenda item should be highly confidential, but it's out now", Cllr Attridge said. ‌​‌‌‌​‌‌‍‌​‌‌‌​‌​‍‌​‌‌‌​‌​
"I'm just amazed that this has been put out in the public domain. ‌​‌‌‌​‌‌‍‌​‌‌‌​‌​‍‌​‌‌‌​‌​
"For my own town, the thought of 20 flats above a town council chamber horrifies me. I've spoken to the local member this morning to ask if they've been spoken to and they know absolutely nothing about it. ‌​‌‌‌​‌‌‍‌​‌‌‌​‌​‍‌​‌‌‌​‌​
"I had a phone call myself, although it wasn't my ward, to tell me about it. Surely it's highly commercially sensitive? ‌​‌‌‌​‌‌‍‌​‌‌‌​‌​‍‌​‌‌‌​‌​
"But it's out here now in front of elected members and is an absolute shock to some people. We're talking about highly political, commercially sensitive schemes in people's wards that they know absolutely nothing about." ‌​‌‌‌​‌‌‍‌​‌‌‌​‌​‍‌​‌‌‌​‌​
Hawarden Aston Cllr Helen Brown (Ind), chairing the meeting, agreed that she felt uneasy about the item being debated in public too. ‌​‌‌‌​‌‌‍‌​‌‌‌​‌​‍‌​‌‌‌​‌​
The meeting continued while advice was sought from the council's Chief Governance Officer Gareth Owens. ‌​‌‌‌​‌‌‍‌​‌‌‌​‌​‍‌​‌‌‌​‌​
He advised such details had previously been in the public domain, and there was no issue with this being discussed in the open meeting, adding that similar information used to be published in the authority's housing need survey. ‌​‌‌‌​‌‌‍‌​‌‌‌​‌​‍‌​‌‌‌​‌​
Cllr Attridge expressed his surprise. He said: "So we're saying the possible development on the top of Connah's Quay Town Council offices is in the public domain and should be in the public domain?" ‌​‌‌‌​‌‌‍‌​‌‌‌​‌​‍‌​‌‌‌​‌​
But the council's Chief Executive Neal Cockerton also advised that a report on the prospectus with similar information was discussed by the same scrutiny committee in 2021, and that was in the public domain too. ‌​‌‌‌​‌‌‍‌​‌‌‌​‌​‍‌​‌‌‌​‌​
Cllr Brown said she could not understand how one of the sites was earmarked for potential development when it is in the open countryside and outside the settlement boundary. ‌​‌‌‌​‌‌‍‌​‌‌‌​‌​‍‌​‌‌‌​‌​
It was explained that some registered social landlord partners to the council look at 'exception' housing, developments that are 100 per cent social housing and not for sale as a way to 'open the door' to further development, but that approval of the Local Development Plan will be a step towards stopping such speculative moves. ‌​‌‌‌​‌‌‍‌​‌‌‌​‌​‍‌​‌‌‌​‌​
Cllr Brown said: "We need to send a strong message. Partners do not take liberties with the council." ‌​‌‌‌​‌‌‍‌​‌‌‌​‌​‍‌​‌‌‌​‌​
And Cllr Attridge added: "We shouldn't be seeing speculative applications from housing partners, we should all be in this together. ‌​‌‌‌​‌‌‍‌​‌‌‌​‌​‍‌​‌‌‌​‌​
"The issue of the one above the shops came as a massive surprise this morning when I told the ward member to have a look at the papers. ‌​‌‌‌​‌‌‍‌​‌‌‌​‌​‍‌​‌‌‌​‌​
"I don't believe that until they are a 'goer' they should be on a public list." ‌​‌‌‌​‌‌‍‌​‌‌‌​‌​‍‌​‌‌‌​‌​
He also expressed concern at the amount of single person accommodation being placed along the main route through Connah's Quay. ‌​‌‌‌​‌‌‍‌​‌‌‌​‌​‍‌​‌‌‌​‌​
"I've got no issue with Connah's Quay having its fair share as long as there's equal distribution across the authority", Cllr Attridge said. ‌​‌‌‌​‌‌‍‌​‌‌‌​‌​‍‌​‌‌‌​‌​
"There's not many elected members who want single person flats in their patch. Our rural areas need to be taking some as well." ‌​‌‌‌​‌‌‍‌​‌‌‌​‌​‍‌​‌‌‌​‌​
He sought assurances that single person accommodation is spread across the wards. ‌​‌‌‌​‌‌‍‌​‌‌‌​‌​‍‌​‌‌‌​‌​
Shotton West Cllr Sean Bibby (Lab), lead member for housing and regeneration requested the opportunity to meet with registered social landlord partners. ‌​‌‌‌​‌‌‍‌​‌‌‌​‌​‍‌​‌‌‌​‌​
He said: "I think we need to make the message clear that ward members need to be consulted on these from the outset, that we're not getting any surprises and there is the ability to discuss any issues that arise from them. ‌​‌‌‌​‌‌‍‌​‌‌‌​‌​‍‌​‌‌‌​‌​
"I appreciate we don't control them, but I think it needs to be explained to our RSL's that if they are going to be developing within our communities I don't think it's a particularly unrealistic or unreasonable expectation that representatives of those communities should be involved in that from the outset." ‌​‌‌‌​‌‌‍‌​‌‌‌​‌​‍‌​‌‌‌​‌​
By Rory Sheehan – Local Democracy Reporter ‌​‌‌‌​‌‌‍‌​‌‌‌​‌​‍‌​‌‌‌​‌​
Spotted something? Got a story? Send a Facebook Message | A direct message on Twitter | Email: News@Deeside.com
---
Latest News
---