'Coming in fast and hot" – Bank of Dave drops into Hawarden Airport after helicopter runs short of fuel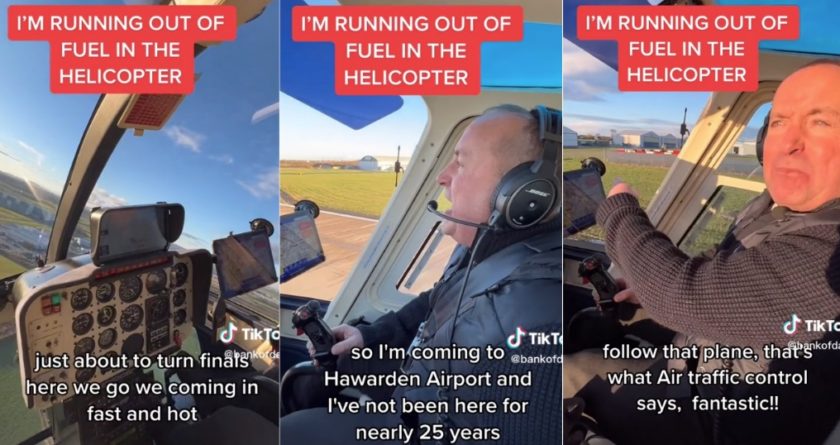 Lancashire businessman, Dave Fishwick, better known as the Bank of Dave, dropped into Hawarden Airport after his helicopter ran short of fuel. ‌​‌‌‌​‌‌‍‌​‌‌‌​‌​‍‌​‌‌‌​‌​
The self-made millionaire who has had his incredible life story told in a recent Netflix film has become a viral sensation on TikTok with his videos showing people how to fly a helicopter. ‌​‌‌‌​‌‌‍‌​‌‌‌​‌​‍‌​‌‌‌​‌​
His instructional TikTok videos have received millions of views on the social media platform. ‌​‌‌‌​‌‌‍‌​‌‌‌​‌​‍‌​‌‌‌​‌​
A video posted on Tik Tok earlier this week featuring Hawarden Airport has clocked up 2 million views in just a few days. ‌​‌‌‌​‌‌‍‌​‌‌‌​‌​‍‌​‌‌‌​‌​
It shows Fishwick in his Bell JetRanger helicopter describing his descent on to Hawarden airfield via runway 22. ‌​‌‌‌​‌‌‍‌​‌‌‌​‌​‍‌​‌‌‌​‌​
He said his helicopter drinks up around 25 gallons of fuel an hour and was down to his last ten gallons when asked Hawarden air traffic control if he could drop in "for a splash." ‌​‌‌‌​‌‌‍‌​‌‌‌​‌​‍‌​‌‌‌​‌​
"They said yes, which is wonderful," he says over the noise of the chopper's jet engine. ‌​‌‌‌​‌‌‍‌​‌‌‌​‌​‍‌​‌‌‌​‌​
Fishwick, who first made a name for himself selling minibuses said he has not flown into Hawarden in over 25 years. ‌​‌‌‌​‌‌‍‌​‌‌‌​‌​‍‌​‌‌‌​‌​
"I took my test at Hawarden, it's a fantastic airport." He said. ‌​‌‌‌​‌‌‍‌​‌‌‌​‌​‍‌​‌‌‌​‌​
< ‌​‌‌‌​‌‌‍‌​‌‌‌​‌​‍‌​‌‌‌​‌​
‌​‌‌‌​‌‌‍‌​‌‌‌​‌​‍‌​‌‌‌​‌​
Air traffic control then tells Fishwick to 'follow that plane" to the fuel pumps, which he enjoyed repeating a couple of times on the video. ‌​‌‌‌​‌‌‍‌​‌‌‌​‌​‍‌​‌‌‌​‌​
Another video posted by @specialgreg91 shows the millionaire businessman taking off from the airport after refuelling his helicopter. ‌​‌‌‌​‌‌‍‌​‌‌‌​‌​‍‌​‌‌‌​‌​
‌​‌‌‌​‌‌‍‌​‌‌‌​‌​‍‌​‌‌‌​‌​
Netflix film 'Bank of Dave' film follows the incredible journey of the self-made businessman who took on the finance industry after the 2007 financial crisis and set up his own community-based lender, Burnley Savings and Loans. ‌​‌‌‌​‌‌‍‌​‌‌‌​‌​‍‌​‌‌‌​‌​
From humble beginnings as a builder's labourer at age 15 with only three CSEs, Fishwick's passion for vehicles led him to the top as the country's largest supplier of minibuses. ‌​‌‌‌​‌‌‍‌​‌‌‌​‌​‍‌​‌‌‌​‌​
Despite his success, Fishwick never forgot his working-class roots and was "sickened" by the British banking system. ‌​‌‌‌​‌‌‍‌​‌‌‌​‌​‍‌​‌‌‌​‌​
In 2012, he spoke out against the banking industry, saying "it has to stop" and that "a lot of bank managers in the big banks today have never actually run a business." ‌​‌‌‌​‌‌‍‌​‌‌‌​‌​‍‌​‌‌‌​‌​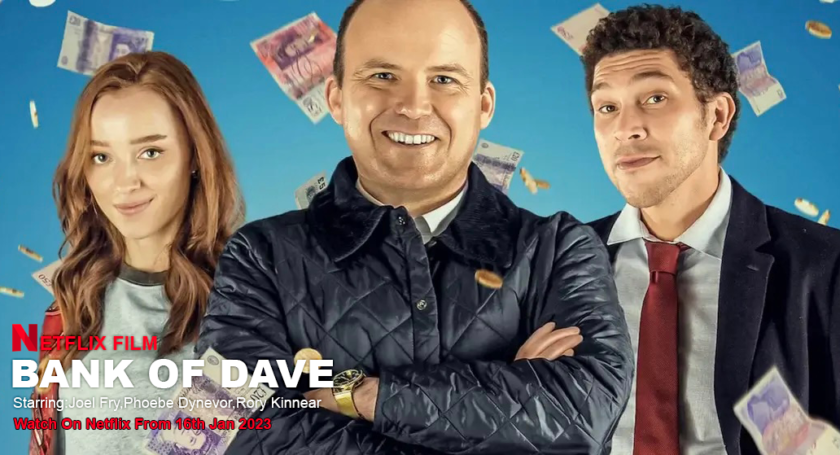 ‌​‌‌‌​‌‌‍‌​‌‌‌​‌​‍‌​‌‌‌​‌​
Fishwick took matters into his own hands and pledged to give 5% interest on savings and lend money to struggling businesses with decent interest rates. ‌​‌‌‌​‌‌‍‌​‌‌‌​‌​‍‌​‌‌‌​‌​
However, obtaining a license to run a bank proved to be a difficult and expensive task, with only one being granted in the past 100 years. ‌​‌‌‌​‌‌‍‌​‌‌‌​‌​‍‌​‌‌‌​‌​
Fishwick's inspiring rags-to-riches story was made into a two-hour-long film and beat Oscar nominee All Quiet on the Western Front as Netflix's number one film in January. ‌​‌‌‌​‌‌‍‌​‌‌‌​‌​‍‌​‌‌‌​‌​
The film stars James Bond actor Rory Kinnear as Fishwick, Phoebe Dynevor as local doctor Alexandra, and Joel Fry as a lawyer hired by Fishwick to fight the British banking system. ‌​‌‌‌​‌‌‍‌​‌‌‌​‌​‍‌​‌‌‌​‌​
The film is written by Piers Ashworth, who also wrote the first draft script of Mission Impossible for Tom Cruise. ‌​‌‌‌​‌‌‍‌​‌‌‌​‌​‍‌​‌‌‌​‌​
Spotted something? Got a story? Send a Facebook Message | A direct message on Twitter | Email: News@Deeside.com
---
Latest News
Children and young people in Wales face 'eye watering' wait for ADHD and Autism assessments, says commissioner
"This could be good news for Northop Hall," UK Government plans to relocate migrants away from hotels
---