Buckley parents pay tribute to their 'brave boy' who died of a brain tumour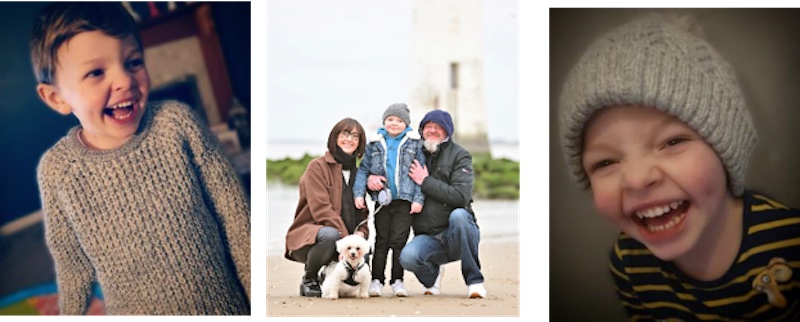 The parents of a seven-year-old boy who died after battling a brain tumour have vowed to "keep his memory alive". ‌​‌‌‌​‌‌‍‌​‌‌‌​‌​‍‌​‌‌‌​‌​ ‌​‌‌‌​‌‌‍‌​‌‌‌​‌​‍‌​‌‌‌​‌​
Aaron Wharton died at Hope House Hospice in Tŷ Gobaith, on Sunday 9 April, with parents Nicola and Lee by his side. ‌​‌‌‌​‌‌‍‌​‌‌‌​‌​‍‌​‌‌‌​‌​ ‌​‌‌‌​‌‌‍‌​‌‌‌​‌​‍‌​‌‌‌​‌​
Nicola, 39, and Lee Wharton, 52, of Buckley, promised they will do "everything we can" to raise awareness of the disease that cruelly seized their only child. ‌​‌‌‌​‌‌‍‌​‌‌‌​‌​‍‌​‌‌‌​‌​ ‌​‌‌‌​‌‌‍‌​‌‌‌​‌​‍‌​‌‌‌​‌​
Aaron was diagnosed with a rare and aggressive anaplastic ependymoma in April 2020. ‌​‌‌‌​‌‌‍‌​‌‌‌​‌​‍‌​‌‌‌​‌​ ‌​‌‌‌​‌‌‍‌​‌‌‌​‌​‍‌​‌‌‌​‌​
In September 2022 the doting parents found out that the cancer had spread. ‌​‌‌‌​‌‌‍‌​‌‌‌​‌​‍‌​‌‌‌​‌​ ‌​‌‌‌​‌‌‍‌​‌‌‌​‌​‍‌​‌‌‌​‌​
Two months later he had an operation to relieve the pressure, caused by the tumour which had spread to the top part of his brain. Tragically the cancer was too aggressive and a scan in January confirmed a re-growth of his tumour and all treatment ceased. ‌​‌‌‌​‌‌‍‌​‌‌‌​‌​‍‌​‌‌‌​‌​ ‌​‌‌‌​‌‌‍‌​‌‌‌​‌​‍‌​‌‌‌​‌​
"We're both completely broken, trying to put one foot in front of the other," said Nicola. ‌​‌‌‌​‌‌‍‌​‌‌‌​‌​‍‌​‌‌‌​‌​ ‌​‌‌‌​‌‌‍‌​‌‌‌​‌​‍‌​‌‌‌​‌​
"I desperately want to do everything I can to keep his memory alive and we can only do this by talking about the disease and putting it in front of people. ‌​‌‌‌​‌‌‍‌​‌‌‌​‌​‍‌​‌‌‌​‌​ ‌​‌‌‌​‌‌‍‌​‌‌‌​‌​‍‌​‌‌‌​‌​
"We always knew that when Aaron deteriorated, everything would happen quickly. ‌​‌‌‌​‌‌‍‌​‌‌‌​‌​‍‌​‌‌‌​‌​ ‌​‌‌‌​‌‌‍‌​‌‌‌​‌​‍‌​‌‌‌​‌​
However, I think even the doctors were surprised that he survived for seven months after finding out the cancer had spread." ‌​‌‌‌​‌‌‍‌​‌‌‌​‌​‍‌​‌‌‌​‌​ ‌​‌‌‌​‌‌‍‌​‌‌‌​‌​‍‌​‌‌‌​‌​
In the three years he was living with the disease, Aaron and his family saw milestones that many parents assume are promised. ‌​‌‌‌​‌‌‍‌​‌‌‌​‌​‍‌​‌‌‌​‌​ ‌​‌‌‌​‌‌‍‌​‌‌‌​‌​‍‌​‌‌‌​‌​
In 2020 Aaron, who was known for his infectious smile, started primary school which he attended right up until a few weeks before he died. ‌​‌‌‌​‌‌‍‌​‌‌‌​‌​‍‌​‌‌‌​‌​ ‌​‌‌‌​‌‌‍‌​‌‌‌​‌​‍‌​‌‌‌​‌​
His mum added: "We kept life as conventional as possible for Aaron, encouraging him to live the life a 'normal' little boy should. ‌​‌‌‌​‌‌‍‌​‌‌‌​‌​‍‌​‌‌‌​‌​ ‌​‌‌‌​‌‌‍‌​‌‌‌​‌​‍‌​‌‌‌​‌​
"I think it was this attitude which saw him not only survive, but thrive. It allowed us to make memories including Aaron walking out with Wrexham FC as a mascot in October 2022. ‌​‌‌‌​‌‌‍‌​‌‌‌​‌​‍‌​‌‌‌​‌​ ‌​‌‌‌​‌‌‍‌​‌‌‌​‌​‍‌​‌‌‌​‌​
"One I think of most fondly are the caravan holidays we had in Porthmadog." ‌​‌‌‌​‌‌‍‌​‌‌‌​‌​‍‌​‌‌‌​‌​ ‌​‌‌‌​‌‌‍‌​‌‌‌​‌​‍‌​‌‌‌​‌​
Throughout their son's diagnosis, Nicola and Lee have worked tirelessly with the charity Brain Tumour Research lending their support to the landmark debate which took place on Thursday 9 March in the House of Commons at Westminster, calling for more funding into brain tumour research. ‌​‌‌‌​‌‌‍‌​‌‌‌​‌​‍‌​‌‌‌​‌​ ‌​‌‌‌​‌‌‍‌​‌‌‌​‌​‍‌​‌‌‌​‌​
Yesterday Brain Tumour Research representatives visited the Senedd for a drop-in event to meet with Members and increase the charity's profile in Wales. ‌​‌‌‌​‌‌‍‌​‌‌‌​‌​‍‌​‌‌‌​‌​ ‌​‌‌‌​‌‌‍‌​‌‌‌​‌​‍‌​‌‌‌​‌​
Nicola had intended to join, however Aaron's funeral was held at Flintshire Memorial Park and Crematorium the same day. ‌​‌‌‌​‌‌‍‌​‌‌‌​‌​‍‌​‌‌‌​‌​ ‌​‌‌‌​‌‌‍‌​‌‌‌​‌​‍‌​‌‌‌​‌​
Now Nicola is looking to organise a firewalk to raise money for Brain Tumour Research, in Aaron's name. ‌​‌‌‌​‌‌‍‌​‌‌‌​‌​‍‌​‌‌‌​‌​ ‌​‌‌‌​‌‌‍‌​‌‌‌​‌​‍‌​‌‌‌​‌​
She said: "I hope this and future events will contribute, one-day, to life-saving research. That would be an incredible legacy of a little boy." ‌​‌‌‌​‌‌‍‌​‌‌‌​‌​‍‌​‌‌‌​‌​ ‌​‌‌‌​‌‌‍‌​‌‌‌​‌​‍‌​‌‌‌​‌​
Nicola added: "We would like to pass on our heartfelt thanks and appreciation for the beautiful messages, flowers and cards we have received over the last week. ‌​‌‌‌​‌‌‍‌​‌‌‌​‌​‍‌​‌‌‌​‌​ ‌​‌‌‌​‌‌‍‌​‌‌‌​‌​‍‌​‌‌‌​‌​
"The love for Aaron is incredible, and the impact that he has made, not just on our lives, is a true legacy that will live on forever. ‌​‌‌‌​‌‌‍‌​‌‌‌​‌​‍‌​‌‌‌​‌​ ‌​‌‌‌​‌‌‍‌​‌‌‌​‌​‍‌​‌‌‌​‌​
"We desperately want to host a firewalk to generate money which can be used to find vital research which could eventually find a cure so no other family have to experience to loss of a child." ‌​‌‌‌​‌‌‍‌​‌‌‌​‌​‍‌​‌‌‌​‌​ ‌​‌‌‌​‌‌‍‌​‌‌‌​‌​‍‌​‌‌‌​‌​
One in three people knows someone affected by a brain tumour. They kill more children than leukaemia, yet historically just 1% of the national spend on cancer research has been allocated to brain tumours. ‌​‌‌‌​‌‌‍‌​‌‌‌​‌​‍‌​‌‌‌​‌​ ‌​‌‌‌​‌‌‍‌​‌‌‌​‌​‍‌​‌‌‌​‌​
Mel Tiley, community development manager at Brain Tumour Research, said: "We're so sorry at the loss of Aaron to this cruel disease. Nicola and Lee have been generous in sharing their time, and Aaron's story, with us over the last three years. ‌​‌‌‌​‌‌‍‌​‌‌‌​‌​‍‌​‌‌‌​‌​ ‌​‌‌‌​‌‌‍‌​‌‌‌​‌​‍‌​‌‌‌​‌​
"Aaron had the most infectious smile and it's one that many of the team at Brain Tumour Research will remember. ‌​‌‌‌​‌‌‍‌​‌‌‌​‌​‍‌​‌‌‌​‌​ ‌​‌‌‌​‌‌‍‌​‌‌‌​‌​‍‌​‌‌‌​‌​
"We are thankful to his parents for continuing their support at what must be the most challenging time." ‌​‌‌‌​‌‌‍‌​‌‌‌​‌​‍‌​‌‌‌​‌​ ‌​‌‌‌​‌‌‍‌​‌‌‌​‌​‍‌​‌‌‌​‌​
Brain Tumour Research funds sustainable research at dedicated centres in the UK. It also campaigns for the Government and larger cancer charities to invest more in research into brain tumours in order to speed up new treatments for patients and, ultimately, to find a cure. ‌​‌‌‌​‌‌‍‌​‌‌‌​‌​‍‌​‌‌‌​‌​ ‌​‌‌‌​‌‌‍‌​‌‌‌​‌​‍‌​‌‌‌​‌​
The charity is the driving force behind the call for a national annual spend of £35 million in order to improve survival rates and patient outcomes in line with other cancers such as breast cancer and leukaemia. ‌​‌‌‌​‌‌‍‌​‌‌‌​‌​‍‌​‌‌‌​‌​ ‌​‌‌‌​‌‌‍‌​‌‌‌​‌​‍‌​‌‌‌​‌​
You can donate to Brain Tumour Research in Aaron's memory, here, using Aaron Wharton as a reference:  ‌​‌‌‌​‌‌‍‌​‌‌‌​‌​‍‌​‌‌‌​‌​ ‌​‌‌‌​‌‌‍‌​‌‌‌​‌​‍‌​‌‌‌​‌​
Spotted something? Got a story? Send a Facebook Message | A direct message on Twitter | Email: News@Deeside.com
---
Latest News
---