Bid to have Flintshire housing register policy re-examined is rejected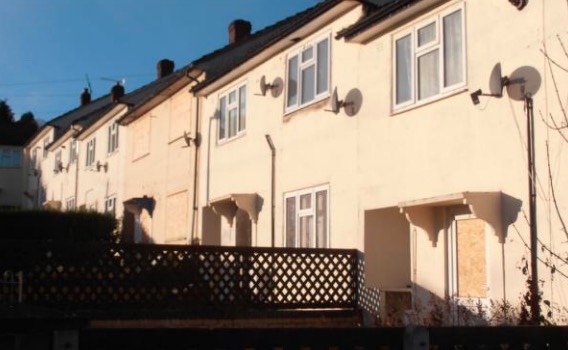 This article is old - Published: Saturday, Oct 13th, 2018
A bid to have the way social housing is allocated in Flintshire re-examined has been rejected. ‌​‌‌‌​‌‌‍‌​‌‌‌​‌​‍‌​‌‌‌​‌​
It comes despite concerns that couples and single parents are being left waiting too long to be rehomed under Flintshire Council's Single Access Route to Housing policy. ‌​‌‌‌​‌‌‍‌​‌‌‌​‌​‍‌​‌‌‌​‌​
Opposition councillors decided to call in the Labour-led cabinet's decision to approve the latest version of the policy, with about 1,600 people currently sitting on the waiting list in the county. ‌​‌‌‌​‌‌‍‌​‌‌‌​‌​‍‌​‌‌‌​‌​
A special meeting was held, where several independent councillors outlined their issues, including claims that some residents were being homed too far away from their families. ‌​‌‌‌​‌‌‍‌​‌‌‌​‌​‍‌​‌‌‌​‌​
However, members of the community and enterprise scrutiny committee said they were satisfied with the current arrangements, despite their objections. ‌​‌‌‌​‌‌‍‌​‌‌‌​‌​‍‌​‌‌‌​‌​
Outlining the problems at the meeting at County Hall in Mold, Mostyn councillor Patrick Heesom said: "People are coming in and the numbers escalate, it's going to be much bigger next year. ‌​‌‌‌​‌‌‍‌​‌‌‌​‌​‍‌​‌‌‌​‌​
"We're going to go through a bigger liability of putting people in temporary accommodation.
"The local need is being compromised here. ‌​‌‌‌​‌‌‍‌​‌‌‌​‌​‍‌​‌‌‌​‌​
"The evidence is there is a pressure point here about people needing council housing that we're not meeting. ‌​‌‌‌​‌‌‍‌​‌‌‌​‌​‍‌​‌‌‌​‌​
"What we are sure about is the current system with all the best intentions and cares of the officers is not working, it's blocked." ‌​‌‌‌​‌‌‍‌​‌‌‌​‌​‍‌​‌‌‌​‌​
Applications are currently banded into four different categories based on factors such as need and whether they have a local connection. ‌​‌‌‌​‌‌‍‌​‌‌‌​‌​‍‌​‌‌‌​‌​
But Cllr Haydn Bateman said he knew of some cases where families were being housed away from their communities, either in distant parts of Flintshire or other counties. ‌​‌‌‌​‌‌‍‌​‌‌‌​‌​‍‌​‌‌‌​‌​
He said: "In the past 12 months I have noticed a lot of stress and anxiety as a result of this policy. ‌​‌‌‌​‌‌‍‌​‌‌‌​‌​‍‌​‌‌‌​‌​
"In some cases its' taking grandparents away from their family support system. ‌​‌‌‌​‌‌‍‌​‌‌‌​‌​‍‌​‌‌‌​‌​
"We should all be working together to strengthen community cohesion." ‌​‌‌‌​‌‌‍‌​‌‌‌​‌​‍‌​‌‌‌​‌​
Meanwhile, Cllr Helen Brown, whose signature was top of the call in notice, said she feared the policy was being led by the UK government's bedroom tax.
She also said she felt people were waiting for long periods of time for two-bedroom properties. ‌​‌‌‌​‌‌‍‌​‌‌‌​‌​‍‌​‌‌‌​‌​
In response Flintshire Council officer Katie Clubb said the current average wait for two-bedroom houses was 15 months, compared to 16 and a half for one-bedroom properties and 13 and a half for three-bedrooms. ‌​‌‌‌​‌‌‍‌​‌‌‌​‌​‍‌​‌‌‌​‌​
She said: "We are bound by housing legislation in terms of the preference given. ‌​‌‌‌​‌‌‍‌​‌‌‌​‌​‍‌​‌‌‌​‌​
"High priority is given for people with a connection in Flintshire to be housed in Flintshire. ‌​‌‌‌​‌‌‍‌​‌‌‌​‌​‍‌​‌‌‌​‌​
"In terms of the bedroom type and matching properties to bedroom type that is housing benefit regulations which dictate that.
"We have included lots of flexibility in the policy with sensible arrangements. ‌​‌‌‌​‌‌‍‌​‌‌‌​‌​‍‌​‌‌‌​‌​
"We are very open and there is concern about the supply of housing, and it's an issue wider than Flintshire." ‌​‌‌‌​‌‌‍‌​‌‌‌​‌​‍‌​‌‌‌​‌​
Bernie Attridge, cabinet member for housing, highlighted both the authority's housing management company NEW Homes and affordable house building programme, known as SHARP, as proof the authority was looking to meet the demand for one and two bedroom houses. ‌​‌‌‌​‌‌‍‌​‌‌‌​‌​‍‌​‌‌‌​‌​
He was supported by his Labour colleague Paul Shotton, who said that the answers provided by council staff had satisfied any issues he had with the policy. ‌​‌‌‌​‌‌‍‌​‌‌‌​‌​‍‌​‌‌‌​‌​
He said: "We know the affordability issue is because of the bedroom tax, but we're now hearing there is flexibility on issues where pregnancy occurs. ‌​‌‌‌​‌‌‍‌​‌‌‌​‌​‍‌​‌‌‌​‌​
"With the waiting issue, I was interested to hear that there is no real great difference from 13 months to 16 and a half months so really there isn't the issue there. ‌​‌‌‌​‌‌‍‌​‌‌‌​‌​‍‌​‌‌‌​‌​
"The argument is that it's really down to the Thatcher era when they brought about the selling of houses.
"No wonder we're in the situation we are." ‌​‌‌‌​‌‌‍‌​‌‌‌​‌​‍‌​‌‌‌​‌​
The committee voted ten to one against the policy being referred back to cabinet members. ‌​‌‌‌​‌‌‍‌​‌‌‌​‌​‍‌​‌‌‌​‌​
By Liam Randall – Local Democracy Reporter. ‌​‌‌‌​‌‌‍‌​‌‌‌​‌​‍‌​‌‌‌​‌​
Spotted something? Got a story? Send a Facebook Message | A direct message on Twitter | Email: News@Deeside.com
---
Latest News
Deeside politician joins campaigners calling for full contents of 1983 inquiry into sinking of Sir Galahad to be published
---