Betsi: Health Minister under fire following dismissal of independent board members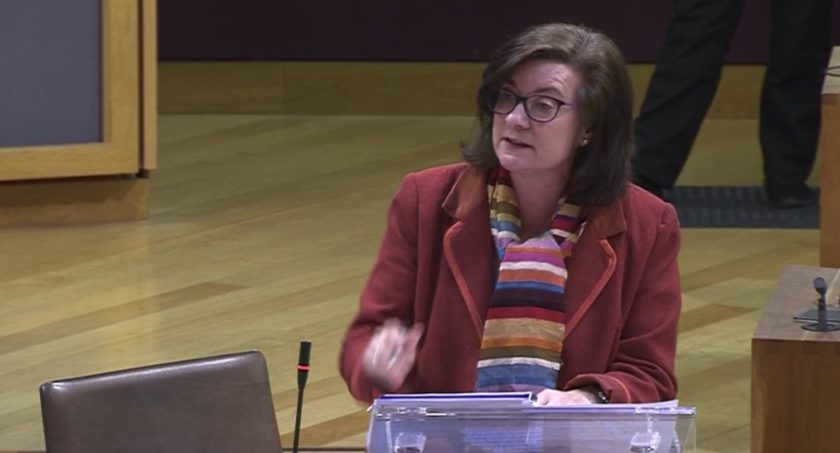 Welsh Health Minister Eluned Morgan faced tough questions in the Senedd Chamber on Tuesday regarding her decision to force the independent members of Betsi Cadwaladr University Health Board (BCUHB) to resign. ‌​‌‌‌​‌‌‍‌​‌‌‌​‌​‍‌​‌‌‌​‌​
Allegations were made that the Health Minister told independent Board members "they had 50 minutes to resign or she'd sack them, and in so doing bar them from other public appointments for two years." ‌​‌‌‌​‌‌‍‌​‌‌‌​‌​‍‌​‌‌‌​‌​
On Monday the Betsi Cadwaladr Health Board – the North Wales health board – headed back into Special Measures with eleven independent members of the Board resigning saying "We have no confidence in the Welsh Government's grasp of the situation" – full story here.​‌​‌​​​‍‌​‌​​‌‌‌‍‌​‌‌​​‌​‍‌​‌‌‌​‌‌‍‌​‌‌‌‌​​ ‌​‌​‌​​​‍‌​‌​​‌‌‌‍‌​‌‌​​‌​‍‌​‌‌‌​‌‌‍‌​‌‌‌‌​​ ‌​‌​‌​​​‍‌​‌​​‌‌‌‍‌​‌‌​​‌​‍‌​‌‌‌​‌‌‍‌​‌‌‌‌​​ ‌​‌‌‌​‌‌‍‌​‌‌‌​‌​‍‌​‌‌‌​‌​
Yesterday saw questions being taken by the Health Minister Eluned Morgan in the Senedd after she gave a statement to the chamber. ‌​‌​‌​​​‍‌​‌​​‌‌‌‍‌​‌‌​​‌​‍‌​‌‌‌​‌‌‍‌​‌‌‌‌​​ ‌​‌‌‌​‌‌‍‌​‌‌‌​‌​‍‌​‌‌‌​‌​
Darren Millar MS opened the questions to the Health Minister with a wide ranging speech, "It should never have been taken out of special measures; I still believe that that decision was political, no matter what you have said today, and it should never have happened. We called in this Chamber last June for the organisation to go back into special measures, and you refused to listen to our calls. It wasn't just the calls of these benches; it was the calls of every single person representing a constituency in north Wales and every single person representing that region. We know what goes on in that health board. We see the letters that come in from constituents, and we see the whistleblowing letters that come in from staff as well. And frankly, your response to date is woefully inadequate" ‌​‌​‌​​​‍‌​‌​​‌‌‌‍‌​‌‌​​‌​‍‌​‌‌‌​‌‌‍‌​‌‌‌‌​​ ‌​‌‌‌​‌‌‍‌​‌‌‌​‌​‍‌​‌‌‌​‌​
"It's within the executive team that this report points to these problems, not with the independent board members, who you forced to resign yesterday, instead of the very people who are responsible for the failures on the ground—that executive team, not one of whom have held themselves accountable and offered their resignation to you. I find that appalling, and I think it's about time that we had mechanisms in Wales to remove people like that who do not accept their responsibility for failures when things go wrong. We have a situation in north Wales where patients have died, where patients have come to harm, as a result of the failings that have taken place, and frankly, people are owed an apology. We've got problems in our vascular services, our emergency departments, our urology services, our ophthalmology services, our mental health services, and our cancer services too—people waiting too long for treatment, and the situation under the watch of various health Ministers in this Government has gotten worse, not better, during periods of targeted intervention." ‌​‌​‌​​​‍‌​‌​​‌‌‌‍‌​‌‌​​‌​‍‌​‌‌‌​‌‌‍‌​‌‌‌‌​​ ‌​‌‌‌​‌‌‍‌​‌‌‌​‌​‍‌​‌‌‌​‌​
The Health Minister responded, "I'm just going to give you a quick lesson in how the system works, because I think it's really important that people understand how the system works. ‌​‌​‌​​​‍‌​‌​​‌‌‌‍‌​‌‌​​‌​‍‌​‌‌‌​‌‌‍‌​‌‌‌‌​​ ‌​‌‌‌​‌‌‍‌​‌‌‌​‌​‍‌​‌‌‌​‌​
"So, I am responsible for the NHS, but I delegate that responsibility to independent boards. I set them parameters, I set them goals, I set them targets. But then I appoint people to those boards to oversee independent organisations, and their job is to run the organisation. It's their job to hold the executive to account. It's not my job. That is why I appoint them. When they fail to do the job that we've asked them to do, holding the executives to account—because it's their job to do that—then I have to step in". ‌​‌​‌​​​‍‌​‌​​‌‌‌‍‌​‌‌​​‌​‍‌​‌‌‌​‌‌‍‌​‌‌‌‌​​ ‌​‌‌‌​‌‌‍‌​‌‌‌​‌​‍‌​‌‌‌​‌​
Darren Millar MS retorted, "You sacked them for doing that." ‌​‌​‌​​​‍‌​‌​​‌‌‌‍‌​‌‌​​‌​‍‌​‌‌‌​‌‌‍‌​‌‌‌‌​​ ‌​‌‌‌​‌‌‍‌​‌‌‌​‌​‍‌​‌‌‌​‌​
The Health Minister replied, "The executives are still there. The executives are still there, and the whole point is and I think what's important is that we do listen and read carefully the Audit Wales report, which does talk about deep-seated fractures in the executive team, but it also says that there was a deeply worrying degree of dysfunctionality within the board and senior leadership in Betsi. ‌​‌​‌​​​‍‌​‌​​‌‌‌‍‌​‌‌​​‌​‍‌​‌‌‌​‌‌‍‌​‌‌‌‌​​ ‌​‌‌‌​‌‌‍‌​‌‌‌​‌​‍‌​‌‌‌​‌​
"I think what's important is that people understand that the step I took yesterday was simply the first step, the first step in a process where I am sure the new chair will want to read very carefully that Audit Wales report, and I'm sure and I hope will take action in relation to that. And I can assure you that I very much read the riot act to some of those executives ‌​‌​‌​​​‍‌​‌​​‌‌‌‍‌​‌‌​​‌​‍‌​‌‌‌​‌‌‍‌​‌‌‌‌​​ ‌​‌‌‌​‌‌‍‌​‌‌‌​‌​‍‌​‌‌‌​‌​
"I do not have the power to require executives to step down. I do not employ these people." ‌​‌​‌​​​‍‌​‌​​‌‌‌‍‌​‌‌​​‌​‍‌​‌‌‌​‌‌‍‌​‌‌‌‌​​ ‌​‌‌‌​‌‌‍‌​‌‌‌​‌​‍‌​‌‌‌​‌​
Rhun ap Iorwerth MS also spoke at lenght, "Now, we have a sugar-coated description, don't we, of what happened in the Minister's statement—'spoken with the non-executive members. As a result, they've decided to step aside.' Let's be a little bit more direct, shall we, for anybody else who may be considering taking up an appointment by this Government and considering what kind of backing they can expect. ‌​‌​‌​​​‍‌​‌​​‌‌‌‍‌​‌‌​​‌​‍‌​‌‌‌​‌‌‍‌​‌‌‌‌​​ ‌​‌‌‌​‌‌‍‌​‌‌‌​‌​‍‌​‌‌‌​‌​
"The Minister may want to confirm that, having summoned them to the meeting, she told them they had 50 minutes to resign or she'd sack them, and in so doing bar them from other public appointments for two years, and that, even before the 50-minute deadline was up, a draft letter of termination had been handed to them, just to press the matter home. How could they not resign? But their dignified response will have resonated with many. ‌​‌​‌​​​‍‌​‌​​‌‌‌‍‌​‌‌​​‌​‍‌​‌‌‌​‌‌‍‌​‌‌‌‌​​ ‌​‌‌‌​‌‌‍‌​‌‌‌​‌​‍‌​‌‌‌​‌​
"In a damning public letter to the First Minister, they said, 'We have no confidence in the Welsh Government's grasp of the situation.' Now, that was put to the Minister this morning, and let me tell you what she said: 'It's not my job to have a grasp'. This is the health Minister. 'It's not my job to have a grasp, they're in charge', she said. Responsibility and accountability ends with the Minister." ‌​‌​‌​​​‍‌​‌​​‌‌‌‍‌​‌‌​​‌​‍‌​‌‌‌​‌‌‍‌​‌‌‌‌​​ ‌​‌‌‌​‌‌‍‌​‌‌‌​‌​‍‌​‌‌‌​‌​
The Minister responded, "I think it's important that people understand that I have the power to dismiss the board; I do not have the power to dismiss executives. They have rights; they have employment rights. I do not employ them; I cannot dismiss them. That is the reality of the situation. So, I'm not sure what exactly you want me to do. Do you want me to directly employ all 105,000 people who work—[Interruption.] No, I do not have the powers, even under special measures, to sack people who work directly for the health boards. [Interruption.] No, I don't, and I think it's really important that people understand that I do not have those powers" ‌​‌​‌​​​‍‌​‌​​‌‌‌‍‌​‌‌​​‌​‍‌​‌‌‌​‌‌‍‌​‌‌‌‌​​ ‌​‌‌‌​‌‌‍‌​‌‌‌​‌​‍‌​‌‌‌​‌​
Clwyd South MS Ken Skates asked, "Minister, you've also been very clear on your position concerning structural change, but in order to realise cultural change within the organisation, will you commit to an extensive and genuine exercise in engaging with the citizens of north Wales to ascertain what the people of region want from any future arrangements? Will you also examine the possibility of allowing the people in north Wales to directly elect board members, in order to make independent members fully accountable to the region's citizens? " ‌​‌​‌​​​‍‌​‌​​‌‌‌‍‌​‌‌​​‌​‍‌​‌‌‌​‌‌‍‌​‌‌‌‌​​ ‌​‌‌‌​‌‌‍‌​‌‌‌​‌​‍‌​‌‌‌​‌​
The Minister replied, "I think it's really important that we engage, as you say, with the citizens of north Wales. We do need to, first of all, give confidence to them that, actually, these services, the day-to-day work, will be carrying on. And it was really interesting, actually, yesterday in Glan Clwyd Hospital, just speaking to some of the members of staff there about what's happened and what difference this will make, and they were saying, well, actually, they're just getting on with their jobs. This is just a big organisational structural thing at the top. The problem is that, sometimes, you need a little bit more assertiveness at the top in terms of changing the culture that will then filter down. And I guess the fact that they did see that disconnection also suggested that there's a problem there as well. " ‌​‌​‌​​​‍‌​‌​​‌‌‌‍‌​‌‌​​‌​‍‌​‌‌‌​‌‌‍‌​‌‌‌‌​​ ‌​‌‌‌​‌‌‍‌​‌‌‌​‌​‍‌​‌‌‌​‌​
"I think making sure we do not lose focus on those front-line services, but I think it's really important also that we recognise that, actually, the grip that the board have, and the executives more than anyone else, is quite shocking. I did an unannounced visit to a facility in north Wales and I was stunned by the lack of activity going on there. What was upsetting was the fact that, actually, nobody was monitoring that. That is an executive failure. It's an executive failure, and what's important is why was it, not just that there was an executive failure, but, actually, how come the board wasn't aware that the kind of activity that should have been going on wasn't going on? So, I think that's important." ‌​‌​‌​​​‍‌​‌​​‌‌‌‍‌​‌‌​​‌​‍‌​‌‌‌​‌‌‍‌​‌‌‌‌​​ ‌​‌‌‌​‌‌‍‌​‌‌‌​‌​‍‌​‌‌‌​‌​
"I think your idea of electing board members directly—. Well, look, I'm interested in accountability, because at the moment I feel like every single thing that happens in relation to health falls on my head and my head alone, and I'm not sure if that's a fair system. I think it's important that we understand that there needs to be a different system. And you're quite right: in England, that doesn't happen. So, there are 500 hospitals in England, and I can tell you that the Secretary of State there doesn't get anything like the kind of scrutiny that I get here on the 20 hospitals we have here. So, I think it's really important that we start to understand, right, where is accountability? I think that conversation needs to happen." ‌​‌​‌​​​‍‌​‌​​‌‌‌‍‌​‌‌​​‌​‍‌​‌‌‌​‌‌‍‌​‌‌‌‌​​ ‌​‌‌‌​‌‌‍‌​‌‌‌​‌​‍‌​‌‌‌​‌​
"If we go down the directly elected route, I think there are issues that we need to consider there because we do need people who understand governance and accountability and whatever, and they're not necessarily the people who can win elections, so I think we've just got to do some thinking around that. But I am very interested in looking again at the accountability within the system, because at the moment I'm prepared to take accountability, but I do think that at the moment it all falls on my desk time after time, and obviously, in terms of holding to account people when I've already delegated responsibility, I think we need the public to understand that that is the mechanism that we use." ‌​‌​‌​​​‍‌​‌​​‌‌‌‍‌​‌‌​​‌​‍‌​‌‌‌​‌‌‍‌​‌‌‌‌​​ ‌​‌‌‌​‌‌‍‌​‌‌‌​‌​‍‌​‌‌‌​‌​
The issue was also raised during First Minister Questions where Andrew Davies MS asked the First Minister, "…the comments from the health Minister, stating that these independent members had to resign, do not bear fruit with the evidence that the auditor general had in his report. The point I am making to you is that, throughout that report, the executive members were held to be deficient in their work and their responsibilities, and, actually, the arguments and discussions that were held within the board, very often, were at the feet of those executive members being poorly informed, not across the issues that they had executive responsibility for, and yet each and every one of those individuals is still in place. So, can you not see where the ability to understand the logic of demanding the independent members resign—? But executive members, who are criticised right the way through this report—right the way through this report—are still in post?" ‌​‌​‌​​​‍‌​‌​​‌‌‌‍‌​‌‌​​‌​‍‌​‌‌‌​‌‌‍‌​‌‌‌‌​​ ‌​‌‌‌​‌‌‍‌​‌‌‌​‌​‍‌​‌‌‌​‌​
The First Minister replied, hinting at further action, "I understand a number of the points that the Member makes, and what I think he needs to do is to allow the story to continue to unfold. What you saw yesterday was the first set of measures that the Minister has taken. ‌​‌​‌​​​‍‌​‌​​‌‌‌‍‌​‌‌​​‌​‍‌​‌‌‌​‌‌‍‌​‌‌‌‌​​ ‌​‌‌‌​‌‌‍‌​‌‌‌​‌​‍‌​‌‌‌​‌​
"There are very real criticisms of executive members and those, too, will need to be attended to. The fact that those actions were not taken yesterday should not be taken as meaning that no action will be taken at all. It's just that things have to be done in a way that respects people's legal rights and in a way that would stand up to external scrutiny. ‌​‌​‌​​​‍‌​‌​​‌‌‌‍‌​‌‌​​‌​‍‌​‌‌‌​‌‌‍‌​‌‌‌‌​​ ‌​‌‌‌​‌‌‍‌​‌‌‌​‌​‍‌​‌‌‌​‌​
"The board, however, has to operate as a coherent whole, and you cannot, I think, sensibly separate the responsibilities of the executive and the independent members. When you have reports of a breakdown in those relationships, when you read of the way in which the conduct and behaviour of the board has itself become part of the problem of providing health services in north Wales, then actions to deal with the whole of the board, including its independent members, who are not exonerated in any way by the auditor general's report, nor by other information from north Wales—. What you saw yesterday was a starting point. ‌​‌​‌​​​‍‌​‌​​‌‌‌‍‌​‌‌​​‌​‍‌​‌‌‌​‌‌‍‌​‌‌‌‌​​ ‌​‌‌‌​‌‌‍‌​‌‌‌​‌​‍‌​‌‌‌​‌​
"There is a good deal more to do." ‌​‌​‌​​​‍‌​‌​​‌‌‌‍‌​‌‌​​‌​‍‌​‌‌‌​‌‌‍‌​‌‌‌‌​​ ‌​‌‌‌​‌‌‍‌​‌‌‌​‌​‍‌​‌‌‌​‌​
‌​‌‌‌​‌‌‍‌​‌‌‌​‌​‍‌​‌‌‌​‌​
Spotted something? Got a story? Send a Facebook Message | A direct message on Twitter | Email: News@Deeside.com
---
Latest News
---