Award-winning project at Glyndwr University digitally adapted to boost social element during pandemic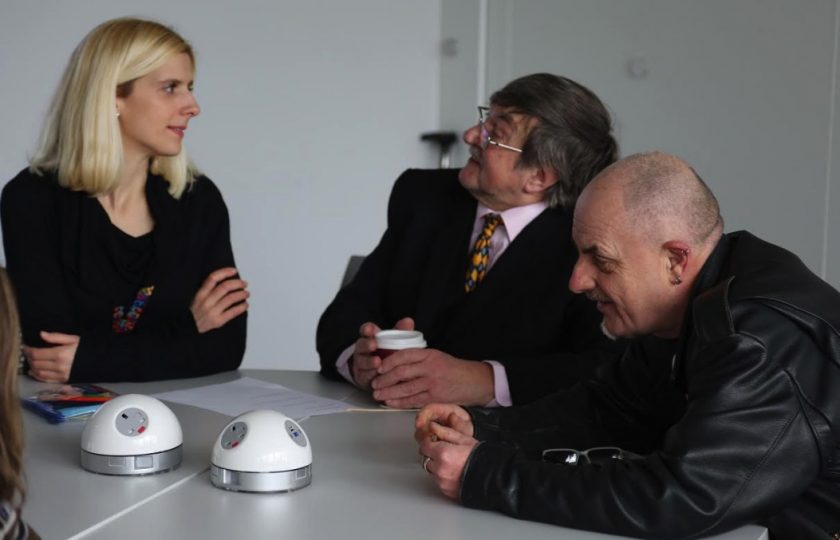 This article is old - Published: Saturday, Feb 20th, 2021
A multi-award winning project where Social Work students hear first-hand from individuals about their experiences of social care and health practice has been adapted to keep running during the coronavirus pandemic. ‌​‌‌‌​‌‌‍‌​‌‌‌​‌​‍‌​‌‌‌​‌​
The Outside In programme is now engaging with students across virtual platforms – with an Open Mic night, online role play and assessment, and much more taking place – keeping both students and Outside In members safe and in touch. ‌​‌‌‌​‌‌‍‌​‌‌‌​‌​‍‌​‌‌‌​‌​
The success of the Outside In programme has seen it widened across a range of other courses at Glyndwr – as well as winning multiple awards. ‌​‌‌‌​‌‌‍‌​‌‌‌​‌​‍‌​‌‌‌​‌​
In 2020, Outside In won both an award from Social Care Wales, in the category Developing and Inspiring the Workforce of Tomorrow at the Wales-wide Social Care Accolades, and an Above and Beyond Award at Wrexham Glyndwr University, for the Working in Partnership  category. ‌​‌‌‌​‌‌‍‌​‌‌‌​‌​‍‌​‌‌‌​‌​
Among the students who are currently taking part in Outside In are Lisa Nicholson, from Wrexham and Erin Jones, from Denbighshire who are both studying for a BA (Hons) in Social Work at Glyndwr. ‌​‌‌‌​‌‌‍‌​‌‌‌​‌​‍‌​‌‌‌​‌​
Lisa said: "To hear Outside In members' experiences, both positive and negative, and to be willing to give up their time to educate us as social work students has been inspirational. ‌​‌‌‌​‌‌‍‌​‌‌‌​‌​‍‌​‌‌‌​‌​
"Working in partnership with members of Outside In has been the highlight of the social work degree for me. The insights of members' own experiences has given us, as students, invaluable knowledge that we can take through on our journey into practising social work. ‌​‌‌‌​‌‌‍‌​‌‌‌​‌​‍‌​‌‌‌​‌​
"We have formed friendships that will be cherished." ‌​‌‌‌​‌‌‍‌​‌‌‌​‌​‍‌​‌‌‌​‌​
Students at Glyndwr were able to watch online as Outside In secured its first award in 2020 at the Social Care Wales Accolades – with Outside In's Jenny Burgess collecting the award on behalf of the programme. ‌​‌‌‌​‌‌‍‌​‌‌‌​‌​‍‌​‌‌‌​‌​
Erin added: "I was watching online from home when Jenny collected one of the awards virtually on behalf of all the members, and Helen surprised us during a lecture and informed us of the second award win – and how she  had to keep it under her hat after attending a ceremony on campus to collect the other award. ‌​‌‌‌​‌‌‍‌​‌‌‌​‌​‍‌​‌‌‌​‌​
"It was fantastic to hear that Outside In have won two awards, it is definitely well-deserved, all the members who have been part of our year 3 cohort have been assets to the class and really informed our learning and knowledge." ‌​‌‌‌​‌‌‍‌​‌‌‌​‌​‍‌​‌‌‌​‌​
The active participation between the individuals who take part in Outside In and students on Wrexham Glyndwr University's Social Work degree – as well as a wide variety of other courses such as Nursing and Physiotherapy – ensures those who join the programme through Glyndwr are kept in touch with a diverse range of people who have received social care, social work or health services, allowing them to understand how their work is experienced in the community. ‌​‌‌‌​‌‌‍‌​‌‌‌​‌​‍‌​‌‌‌​‌​
Lisa added: "Members of Outside In give us, as social work students, an insight into their own personal experiences of life and of using a service. ‌​‌‌‌​‌‌‍‌​‌‌‌​‌​‍‌​‌‌‌​‌​
"They bring a vast wealth of knowledge and expertise which takes our academic learning to the next level.  We gain another perspective, that of an individual receiving a service, which is the most important perspective – and also allows us to see that every one of us could possibly be an individual receiving a service at some point in our lives. ‌​‌‌‌​‌‌‍‌​‌‌‌​‌​‍‌​‌‌‌​‌​
"We have explored with members of Outside In what good and bad social work looks like and what it feels like to be receiving a service. I feel that Outside In and the partnership with social work students is an extremely valuable aspect of the degree." ‌​‌‌‌​‌‌‍‌​‌‌‌​‌​‍‌​‌‌‌​‌​
As a result of the coronavirus pandemic, students at Glyndwr are now being taught through the university's Active Learning Framework – which combines digitally-enhanced opportunities with the safe use of on-campus spaces. Erin believes these changes have helped students adapt to the challenges of the pandemic well, and has kept them in touch with some of the wider Outside In programme too. ‌​‌‌‌​‌‌‍‌​‌‌‌​‌​‍‌​‌‌‌​‌​
She said: "From the onset of the pandemic last March the programme quickly changed to lectures online via Microsoft Teams, with minimal disruption to students, ensuring that they continued to receive lectures which mirrored that of the timetable. ‌​‌‌‌​‌‌‍‌​‌‌‌​‌​‍‌​‌‌‌​‌​
"Lecturers have been excellent in ensuring that students feel comfortable using online platforms and keeping student updated and lectures varied. ‌​‌‌‌​‌‌‍‌​‌‌‌​‌​‍‌​‌‌‌​‌​
"The programme has had to be more creative in the way the modules have been delivered and ensuring that the participatory element of the course is maintained by ensuring that as many members of Outside In as possible are able to access the online platforms." ‌​‌‌‌​‌‌‍‌​‌‌‌​‌​‍‌​‌‌‌​‌​
And Lisa added: "It has been different working online – however we have the opportunity to break off into smaller groups which gives us all the chance to engage on a more personal level. ‌​‌‌‌​‌‌‍‌​‌‌‌​‌​‍‌​‌‌‌​‌​
"I am hoping that when the pandemic is over, we will have the opportunity to meet up again as a group – and celebrate our achievements together." ‌​‌‌‌​‌‌‍‌​‌‌‌​‌​‍‌​‌‌‌​‌​
Senior lecturer in Social Work, Liz Lefroy, said: "Outside In brings together our students with individuals who are experts through experience, but, as Lisa notes, the social aspects are important too. ‌​‌‌‌​‌‌‍‌​‌‌‌​‌​‍‌​‌‌‌​‌​
"That is why we were determined to ensure the participation of Outside In continued, and that maintained that contact despite all the barriers created by not being able to meet in physical space. Many individuals who are members of Outside In have been shielding, and the on-line platforms have been the best way of staying in touch. ‌​‌‌‌​‌‌‍‌​‌‌‌​‌​‍‌​‌‌‌​‌​
"With a monthly Open Mic night as well as online role play and assessment, Outside In has adapted to keep our students learning – but to also keep a vital social element too." ‌​‌‌‌​‌‌‍‌​‌‌‌​‌​‍‌​‌‌‌​‌​
To find out more about Glyndwr's BA (Hons) in Social Work, click here: https://www.glyndwr.ac.uk/en/Undergraduatecourses/SocialWork/ ‌​‌‌‌​‌‌‍‌​‌‌‌​‌​‍‌​‌‌‌​‌​
Spotted something? Got a story? Send a Facebook Message | A direct message on Twitter | Email: News@Deeside.com
---
Latest News
---