Average speed cameras set for A494 as Government looks to make 50mph limit permanent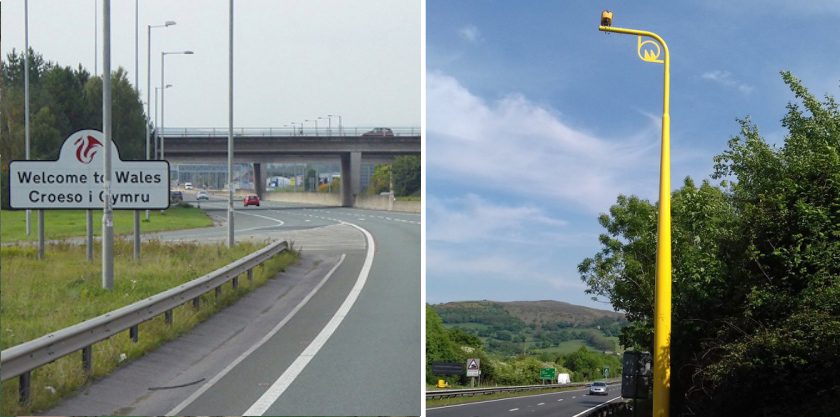 This article is old - Published: Sunday, Sep 23rd, 2018

Average speed cameras could be installed on the A494 in Deeside as the Welsh Government looks set to make a recently introduced temporary 50mph speed limit permanent. ‌​‌‌‌​‌‌‍‌​‌‌‌​‌​‍‌​‌‌‌​‌​
The cameras are part of a package of "likely measures" the government wants to adopt along the A494 Deeside corridor in a bid to reduce levels of nitrogen dioxide (NO2) pollution. ‌​‌‌‌​‌‌‍‌​‌‌‌​‌​‍‌​‌‌‌​‌​
A report published by the Welsh Government says there has been "large beneficial" benefits to air quality from the temporary speed limit reduction between St David's Park and Deeside Industrial Park Interchanges. ‌​‌‌‌​‌‌‍‌​‌‌‌​‌​‍‌​‌‌‌​‌​
Implementing a permanent 50mph speed limit would cost in the region of £400,000 "this would include average speed enforcement cameras and equipment, traffic signs and ongoing maintenance" the report states. ‌​‌‌‌​‌‌‍‌​‌‌‌​‌​‍‌​‌‌‌​‌​
The reports goes onto to say: "The 50 mph speed limit measure, is, in part, installed on the A494. ‌​‌‌‌​‌‌‍‌​‌‌‌​‌​‍‌​‌‌‌​‌​
The realisation of the benefits of the measure are, however, dependent on the enforcement of the measure. ‌​‌‌‌​‌‌‍‌​‌‌‌​‌​‍‌​‌‌‌​‌​
Work is currently ongoing to install the infrastructure and procedures for the speed limit to be enforced effectively." ‌​‌‌‌​‌‌‍‌​‌‌‌​‌​‍‌​‌‌‌​‌​
The 50mph speed limit was introduced in the summer to "safeguard public health" but regular A494 users say the road has now become dangerous with many drivers choosing to ignore it on what was a 70mph stretch of road. ‌​‌‌‌​‌‌‍‌​‌‌‌​‌​‍‌​‌‌‌​‌​
So the new "50mph zone" isn't working along the A494 in #deeside. Mix of speeds, poor lane discipline and it's dangerous. Needs reversing before accidents happen! ‌​‌‌‌​‌‌‍‌​‌‌‌​‌​‍‌​‌‌‌​‌​

— Graham Maloney (@gcmallers) 23 August 2018 ‌​‌‌‌​‌‌‍‌​‌‌‌​‌​‍‌​‌‌‌​‌​
‌​‌‌‌​‌‌‍‌​‌‌‌​‌​‍‌​‌‌‌​‌​
Average speed cameras were installed on a notorious stretch of the A55 in Rhuallt Hill in the summer, they handed out fines worth around £123,000 as over 1200 people were caught speeding within a two week period. ‌​‌‌‌​‌‌‍‌​‌‌‌​‌​‍‌​‌‌‌​‌​
A range of "soft measures" aimed at influencing driver behaviour are also "likely" to be introduced, these include; ‌​‌‌‌​‌‌‍‌​‌‌‌​‌​‍‌​‌‌‌​‌​
Behaviour Change: implement a package of several measures aimed at changing travel behaviour, encouraging mode shift away from private car use.
Intelligent Traffic Management: linking real-time emissions / air quality data with traffic management, and / or remote monitoring through use of Intelligent Transport Systems and other innovative technological systems.
Signage: implement signage on the A494 to encourage improved driving behaviour, reminding drivers to turn off their engine when stationary and emphasise awareness of other measures and/or awareness of entering an area of any special measures.
Air Quality Areas: use publicity campaigns and branding of areas to raise awareness of poor air quality within the area.
Air Quality Communications: implement a package of measures to generally raise awareness of air quality
In January the Welsh Government admitted in court its failure to bring forward proposals to address air pollution exceedances that fell short of legal requirements. ‌​‌‌‌​‌‌‍‌​‌‌‌​‌​‍‌​‌‌‌​‌​
EU legalisation establishes health-based standards for a number of pollutants present in the air, it states that nitrogen dioxide (NO2) levels should not exceed 40µg/m3 (micrograms per cubic meter air) over a 12 month period. ‌​‌‌‌​‌‌‍‌​‌‌‌​‌​‍‌​‌‌‌​‌​
Data published by a Welsh Government shows in 2016, over a four-month period –NO2 levels along the A494 at Aston Hill reached 51.6 µg/m3. ‌​‌‌‌​‌‌‍‌​‌‌‌​‌​‍‌​‌‌‌​‌​
A Welsh Government spokesperson said: ‌​‌‌‌​‌‌‍‌​‌‌‌​‌​‍‌​‌‌‌​‌​
"Where sections of the trunk road network currently exceed Ambient Air Quality Directive and Welsh Regulation limit values for NO2 concentrations, we acted to safeguard public health by the immediate implementation of temporary 50mph speed limits. ‌​‌‌‌​‌‌‍‌​‌‌‌​‌​‍‌​‌‌‌​‌​
This speed limit was shown to improve the limit values based on the work that had taken place." ‌​‌‌‌​‌‌‍‌​‌‌‌​‌​‍‌​‌‌‌​‌​
A consultation on the final package of air quality improvement measures, including average speed cameras and 'soft measures' published in the WelTAG Stage Three report, has now been launched. ‌​‌‌‌​‌‌‍‌​‌‌‌​‌​‍‌​‌‌‌​‌​
Delyn AM Hannah Blythyn, the Minister for Environment, said: ‌​‌‌‌​‌‌‍‌​‌‌‌​‌​‍‌​‌‌‌​‌​
"I welcome people's views on these proposed measures, which aim to reduce nitrogen dioxide levels to within legal limits in the shortest possible time. ‌​‌‌‌​‌‌‍‌​‌‌‌​‌​‍‌​‌‌‌​‌​

It's important to remember the main reason for taking this action, which is to improve air quality and reduce the harmful effect vehicle emissions can have on people's health and well-being." ‌​‌‌‌​‌‌‍‌​‌‌‌​‌​‍‌​‌‌‌​‌​
You can have your say here: https://beta.gov.wales/tackling-roadside-nitrogen-dioxide-concentrations-wales-weltag-stage-3. ‌​‌‌‌​‌‌‍‌​‌‌‌​‌​‍‌​‌‌‌​‌​

‌​‌‌‌​‌‌‍‌​‌‌‌​‌​‍‌​‌‌‌​‌​
Spotted something? Got a story? Send a Facebook Message | A direct message on Twitter | Email: News@Deeside.com
---
Latest News
Flintshire couple share heartbreaking story of losing newborn daughter to raise awareness for local children's hospices
---