Sarah Atherton – Welsh Conservatives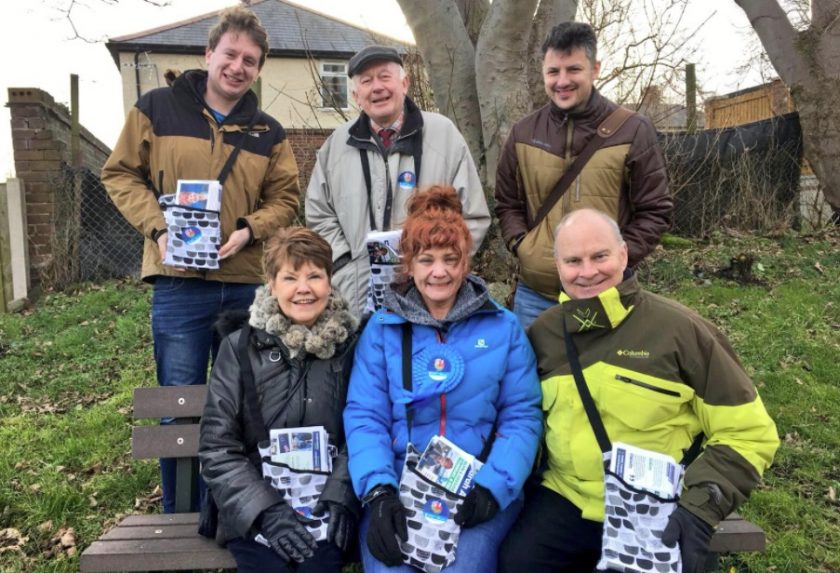 [vc_row][vc_column offset="vc_hidden-lg vc_hidden-md vc_hidden-sm"][vc_wp_custommenu nav_menu="3276″][/vc_column][/vc_row][vc_row][vc_column][vc_column_text] ‌​‌‌‌​‌‌‍‌​‌‌‌​‌​‍‌​‌‌‌​‌​
Are you able to tell us a little about who you are, any political history and about your political leanings? ‌​‌‌‌​‌‌‍‌​‌‌‌​‌​‍‌​‌‌‌​‌​
I am Sarah Atherton, the Welsh Conservative Candidate for the Alyn & Deeside Assembly by-election. I have a background in the military, nursing and social work. I have spent the past 27 years training and working in the public sector, with the last 11 years working as a hospital social worker and older people's social worker with Flintshire County Council.  I believe everybody has the right to live their lives as they wish but must take responsibility for their actions and be accountable to others. I believe 'work should pay' and when people need support there are services in place to give a 'hand-up' not a hand-out'. I am a community councillor and a trustee of my local memorial hall and facilities.  ‌​‌‌‌​‌‌‍‌​‌‌‌​‌​‍‌​‌‌‌​‌​
What do you feel the top 3 local issues are which affect Alyn and Deeside community specifically and what is your policy on it? ‌​‌‌‌​‌‌‍‌​‌‌‌​‌​‍‌​‌‌‌​‌​
The Welsh Labour Government's mismanagement of our local health board, Betsi Cadwaladr. People tell me about their poor experiences with the Welsh NHS. I have first-hand experience of what is good and where it is failing, failings, which are in the news daily. Carwyn Jones and his Welsh Labour Government have shown they cannot manage our health service and are letting the people down. The service is underfunded by Welsh Labour, who has failed to tackle the main problems. Money is not the only answer, there needs to be a root and branch review of the NHS and social services in North Wales in order to challenge the leadership and make the administration more cost effective, patient-led and efficient.  ‌​‌‌‌​‌‌‍‌​‌‌‌​‌​‍‌​‌‌‌​‌​
Devolution should have brought decision-making closer to the heart of our communities but people feel they are overlooked in Cardiff. Many people believe public services in North Wales are run by Westminster. This is simply not true. These services are run and financed by the Welsh Labour Government in Cardiff, who has, for the past 19 years, ignored residents of North Wales and run our services into the ground. People want change and they want a strong, capable and competent voice to represent them and Alyn & Deeside.  ‌​‌‌‌​‌‌‍‌​‌‌‌​‌​‍‌​‌‌‌​‌​
Welsh Labour has failed to build enough houses over the past two decades, denying young people the opportunity to get on the housing ladder. Welsh Conservatives are the party of aspiration and we will do all we can to ensure people can aspire to own a home. It's imperative that house building is undertaken in a planned, considered manner, in conjunction with genuine public consultation. I also want to see developers put a lot more back into our local communities so we can ensure our schools and infrastructure receive the investment they deserve. ‌​‌‌‌​‌‌‍‌​‌‌‌​‌​‍‌​‌‌‌​‌​
What arguments can you put forward to ensure that there is a fairer funding formula for Local & Welsh government? ‌​‌‌‌​‌‌‍‌​‌‌‌​‌​‍‌​‌‌‌​‌​
In 2016, the UK Conservative Government struck an historic funding agreement with the Welsh Labour Government, which ensured for every £1 spend on public services in England, Wales then received £1.20. Sadly, this money is not making its way to North Wales or to the frontline of our key public services such as the NHS or our schools. Scandalously, the recent Local Government Settlement for 2018-19 has seen the Welsh Government allocate Flintshire £368 less per person than the best funded authority. Labour AMs voted to give Flintshire the 19th lowest revenue per head out of 22 local authorities. This is not a fair deal for the people of Alyn and Deeside! Labour policy on funding does not support economically productive counties like Flintshire, it holds them back. ‌​‌‌‌​‌‌‍‌​‌‌‌​‌​‍‌​‌‌‌​‌​
What relevant experience do you have for the job of Alyn and Deeside AM? ‌​‌‌‌​‌‌‍‌​‌‌‌​‌​‍‌​‌‌‌​‌​
I have lived and worked in the local area for nearly all my life. I know the people, I know the geography and I know what a great community spirit there is in Alyn & Deeside. I have worked for the local authority in Flintshire, the NHS in North Wales and I am a community councillor. I have life skills that will bring real value to the role, unlike many of our politicians today.    ‌​‌‌‌​‌‌‍‌​‌‌‌​‌​‍‌​‌‌‌​‌​
What is the biggest differentiator between yourself and your fellow candidates?  ‌​‌‌‌​‌‌‍‌​‌‌‌​‌​‍‌​‌‌‌​‌​
 I have real world, practical experience in the Army, NHS and Local Authority. Unlike some, I am not a career politician and for the past few decades I have made a real difference to people's lives and I will continue to do so.  ‌​‌‌‌​‌‌‍‌​‌‌‌​‌​‍‌​‌‌‌​‌​
Tweets by AthertonNWales ‌​‌‌‌​‌‌‍‌​‌‌‌​‌​‍‌​‌‌‌​‌​
[/vc_column_text][/vc_column][vc_column][/vc_column][/vc_row] ‌​‌‌‌​‌‌‍‌​‌‌‌​‌​‍‌​‌‌‌​‌​