Twin Sumatran tiger cubs emerge from their den at Chester Zoo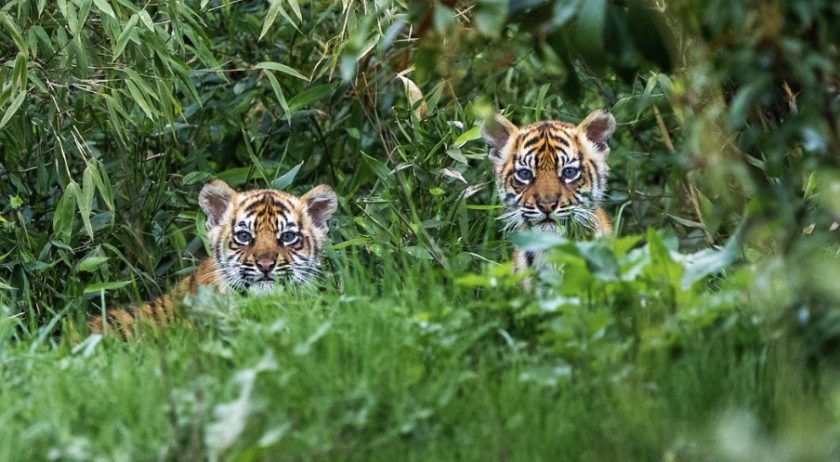 This article is old - Published: Tuesday, Apr 4th, 2023
Chester Zoo has released footage of two Sumatran tiger cubs, Alif and Raya, emerging from their den for the first time. ‌​‌‌‌​‌‌‍‌​‌‌‌​‌​‍‌​‌‌‌​‌​
The cubs were born in January but have only recently started to explore the outside world. ‌​‌‌‌​‌‌‍‌​‌‌‌​‌​‍‌​‌‌‌​‌​
Experts at the zoo have identified both cubs as female and have named them after popular Indonesian culture and Mount Raya in Sumatra, respectively. ‌​‌‌‌​‌‌‍‌​‌‌‌​‌​‍‌​‌‌‌​‌​
Sumatran tigers are critically endangered with just 350 remaining in the wild on the Indonesian island of Sumatra, where they are found only in patches of forest. ‌​‌‌‌​‌‌‍‌​‌‌‌​‌​‍‌​‌‌‌​‌​
Chester Zoo has released footage of two Sumatran tiger cubs, Alif and Raya, emerging from their den for the first time. ‌​‌‌‌​‌‌‍‌​‌‌‌​‌​‍‌​‌‌‌​‌​https://t.co/Vq6oRTbbnO pic.twitter.com/88DITR4zbJ ‌​‌‌‌​‌‌‍‌​‌‌‌​‌​‍‌​‌‌‌​‌​

— DEESIDE.com (@DeesideDotCom) April 4, 2023 ‌​‌‌‌​‌‌‍‌​‌‌‌​‌​‍‌​‌‌‌​‌​
‌​‌‌‌​‌‌‍‌​‌‌‌​‌​‍‌​‌‌‌​‌​
Habitat loss, hunting, and human-wildlife conflict are pushing the big cats closer to extinction. ‌​‌‌‌​‌‌‍‌​‌‌‌​‌​‍‌​‌‌‌​‌​
Chester Zoo is part of an international conservation breeding programme to protect the species and boost its numbers. ‌​‌‌‌​‌‌‍‌​‌‌‌​‌​‍‌​‌‌‌​‌​
Dayna Thain, a Carnivore Keeper at Chester Zoo, said: "With so few Sumatran tigers left on the planet, Kasarna's girls are vitally important additions to the conservation breeding programme which is working tirelessly to prevent the species from becoming extinct." ‌​‌‌‌​‌‌‍‌​‌‌‌​‌​‍‌​‌‌‌​‌​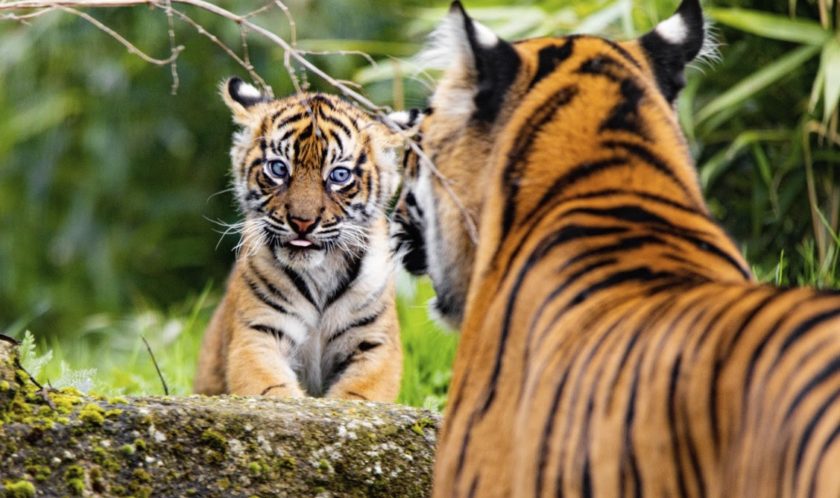 ‌​‌‌‌​‌‌‍‌​‌‌‌​‌​‍‌​‌‌‌​‌​
The zoo's conservationists are also fighting illegal poaching and helping to mitigate conflict between humans and tigers in India and Nepal to improve the future for another tiger subspecies, the Bengal tiger. ‌​‌‌‌​‌‌‍‌​‌‌‌​‌​‍‌​‌‌‌​‌​
Sumatran tigers are the smallest of all tiger subspecies and have webbed paws, which make them excellent swimmers. ‌​‌‌‌​‌‌‍‌​‌‌‌​‌​‍‌​‌‌‌​‌​
Their stripes are closer together than other tigers, and they have white spots on their ears, which act as false eyes and make them appear alert from behind. Tigers are the largest of the big cats and the largest carnivorous land mammal on Earth. ‌​‌‌‌​‌‌‍‌​‌‌‌​‌​‍‌​‌‌‌​‌​
The Chester zoo Sumatran Tiger cubs play fighting @chestertweetsuk @chesterzoo @DeesideDotCom @ChronSallie @zoosmedia @LivingInChester @chesterzoofans @ScienceatCZ #Tigers #babyanimals pic.twitter.com/Fm22ZJCZQ2 ‌​‌‌‌​‌‌‍‌​‌‌‌​‌​‍‌​‌‌‌​‌​

— Welshie (@welshiedale2022) April 4, 2023 ‌​‌‌‌​‌‌‍‌​‌‌‌​‌​‍‌​‌‌‌​‌​
‌​‌‌‌​‌‌‍‌​‌‌‌​‌​‍‌​‌‌‌​‌​
The Sumatran tigers' birth is welcome news for conservationists and the zoo's visitors. ‌​‌‌‌​‌‌‍‌​‌‌‌​‌​‍‌​‌‌‌​‌​
Dayna Thain added: "It's a real joy to get a glimpse of the cubs exploring and enjoying some playful rough and tumble together. The cubs are still a little shy and pop in and out of the den with mum Kasarna, but it's going to be a real privilege to watch as they grow in confidence and their feisty personalities really start to show through." ‌​‌‌‌​‌‌‍‌​‌‌‌​‌​‍‌​‌‌‌​‌​
Chester Zoo's conservation breeding programme hopes to continue to protect and conserve the Sumatran tiger population and its habitat. ‌​‌‌‌​‌‌‍‌​‌‌‌​‌​‍‌​‌‌‌​‌​
Spotted something? Got a story? Send a Facebook Message | A direct message on Twitter | Email: News@Deeside.com
---
Latest News
---