The first meeting of the newly created Victims' Panel for North Wales takes place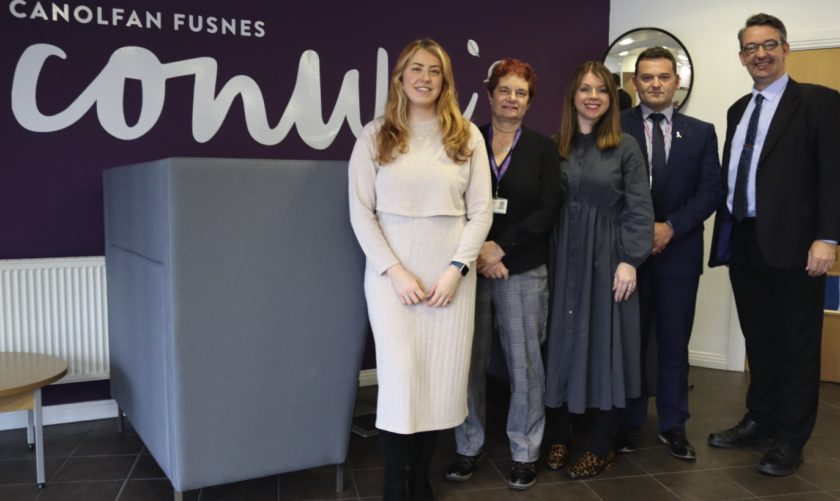 The first meeting of the newly created Victims' Panel for North Wales was held recently. ‌​‌‌‌​‌‌‍‌​‌‌‌​‌​‍‌​‌‌‌​‌​
The panel met at Conwy Business Centre in Llandudno Junction to hear from victims of crime about their experience of policing and the criminal justice system. ‌​‌‌‌​‌‌‍‌​‌‌‌​‌​‍‌​‌‌‌​‌​
The aim of the panel is to ensure the voice of victims influences service provision and to ensure that Criminal Justice Agencies collectively deliver an outstanding service for victims. ‌​‌‌‌​‌‌‍‌​‌‌‌​‌​‍‌​‌‌‌​‌​
The panel is chaired by the Deputy Police and Crime Commissioner, Wayne Jones, and is attended by staff from the Office of the Police and Crime Commissioner (OPCC) and the Victim Help Centre (VHC). ‌​‌‌‌​‌‌‍‌​‌‌‌​‌​‍‌​‌‌‌​‌​
The VHC is a service commissioned by the PCC to offer advice and support to victims of crime and is helping to administer the running of the panel and working with victims to share their thoughts. ‌​‌‌‌​‌‌‍‌​‌‌‌​‌​‍‌​‌‌‌​‌​
Eight victims gave their feedback on the day covering a variety of different types of crime and experiences of the criminal justice system. ‌​‌‌‌​‌‌‍‌​‌‌‌​‌​‍‌​‌‌‌​‌​
The themes discussed at the panel are flexible and can be a specific offence type or more general victim issues they have experienced within the criminal justice process. When specific themes are discussed, additional panel members may be added to lend their expertise in dealing with victims of sensitive matters, for example domestic abuse or sexual violence. ‌​‌‌‌​‌‌‍‌​‌‌‌​‌​‍‌​‌‌‌​‌​
All of this is being carried out confidentially, ensuring that the victim's privacy is protected when feedback is given. ‌​‌‌‌​‌‌‍‌​‌‌‌​‌​‍‌​‌‌‌​‌​
The aim going forward is that the panel will meet quarterly and provide feedback to the Local Criminal Justice Board (LCJB) via the OPCC. ‌​‌‌‌​‌‌‍‌​‌‌‌​‌​‍‌​‌‌‌​‌​
The OPCC will prepare reports for LCJB, with actions being agreed on the back of the feedback provided. ‌​‌‌‌​‌‌‍‌​‌‌‌​‌​‍‌​‌‌‌​‌​
Within a set timeframe, the LCJB should ask the partner agency to provide updates on action taken, recommendations put in place, and improvements made to victim services as a direct result of the victim engagement. ‌​‌‌‌​‌‌‍‌​‌‌‌​‌​‍‌​‌‌‌​‌​
The Victim Help Centre will work with the victims to update them on any service improvement. ‌​‌‌‌​‌‌‍‌​‌‌‌​‌​‍‌​‌‌‌​‌​
Commenting on the first meeting, Mr. Dunbobbin said, "The purpose of the Panel is to ensure the voice of victims influences service provision and to ensure that Criminal Justice Agencies collectively deliver an outstanding service for victims. The ethos of the panel is intended to be a listening one, allowing victims to speak freely, so that we can understand how to make their experience, and that of other victims, better." ‌​‌‌‌​‌‌‍‌​‌‌‌​‌​‍‌​‌‌‌​‌​
Deputy Police and Crime Commissioner for North Wales, Wayne Jones, added, "It is important that we hear people's experiences of the criminal justice system and how, as victims, they have found the service provided to them. It is important that we identify where improvements can be made and can ensure that people receive the best and most effective service possible, often at some of the most vulnerable moments in their life." ‌​‌‌‌​‌‌‍‌​‌‌‌​‌​‍‌​‌‌‌​‌​
Area Manager for Victim Support, Jess Rees, said, "We know that when victims come forward and report a crime to the police, they want to be listened to and taken seriously. It is essential that local police forces understand wholeheartedly the specific needs of the community in which they work. We therefore welcome the creation of the Victims' Panel for North Wales, and we hope that their voices and experiences can help strengthen the service North Wales Police provide to victims of crime." ‌​‌‌‌​‌‌‍‌​‌‌‌​‌​‍‌​‌‌‌​‌​
Spotted something? Got a story? Send a Facebook Message | A direct message on Twitter | Email: News@Deeside.com
---
Latest News
---