Scammers on the prowl as UK gears up for first ever nationwide public alert system test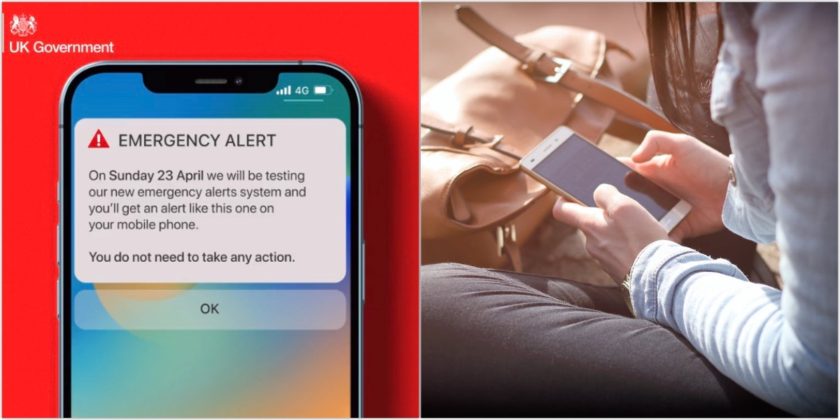 People are advised to be vigilant for scams as the UK prepares for its first-ever nationwide public alert system test scheduled for next Sunday. ‌​‌‌‌​‌‌‍‌​‌‌‌​‌​‍‌​‌‌‌​‌​
The UK government is set to test its new Emergency Alerts system on Sunday, 23 April, at 3 pm. ‌​‌‌‌​‌‌‍‌​‌‌‌​‌​‍‌​‌‌‌​‌​
People across the country will receive a message on their mobile phones, accompanied by a sound and vibration for up to ten seconds. ‌​‌‌‌​‌‌‍‌​‌‌‌​‌​‍‌​‌‌‌​‌​
The message will inform recipients that this is only a test and no action is required. ‌​‌‌‌​‌‌‍‌​‌‌‌​‌​‍‌​‌‌‌​‌​
The Emergency Alerts system is designed to notify the public of emergencies, such as severe weather or public health risks, through text messages. ‌​‌‌‌​‌‌‍‌​‌‌‌​‌​‍‌​‌‌‌​‌​
Experts have expressed concern over the potential for scams during the upcoming nationwide test on Sunday. ‌​‌‌‌​‌‌‍‌​‌‌‌​‌​‍‌​‌‌‌​‌​
They have advised the public that no action is required in response to the test alert. ‌​‌‌‌​‌‌‍‌​‌‌‌​‌​‍‌​‌‌‌​‌​
Lisa Webb, a scams expert at consumer watchdog Which?, warned that scammers could exploit the test to steal money and personal information from unsuspecting victims. ‌​‌‌‌​‌‌‍‌​‌‌‌​‌​‍‌​‌‌‌​‌​
She emphasised that those who receive the official test alert should not take any action, and they should ignore any requests to download an app or provide information, as these are likely fraudulent attempts. ‌​‌‌‌​‌‌‍‌​‌‌‌​‌​‍‌​‌‌‌​‌​
Webb advised recipients of the test alert to look up more information about the Emergency Alerts system separately through the official government website, rather than clicking on links included in the message. ‌​‌‌‌​‌‌‍‌​‌‌‌​‌​‍‌​‌‌‌​‌​
She also urged people to report any scam calls or texts they receive to 7726, and to contact their bank and Action Fraud if they fall victim to a scam. ‌​‌‌‌​‌‌‍‌​‌‌‌​‌​‍‌​‌‌‌​‌​
The Emergency Alerts system will be tested on 4G and 5G mobile phones, producing a sound and vibration lasting up to 10 seconds, even on devices set to silent mode. ‌​‌‌‌​‌‌‍‌​‌‌‌​‌​‍‌​‌‌‌​‌​
The test message will read: "This is a test of Emergency Alerts, a new UK government service that will warn you if there's a life-threatening emergency nearby. In a real emergency, follow the instructions in the alert to keep yourself and others safe. This is a test. You do not need to take any action." ‌​‌‌‌​‌‌‍‌​‌‌‌​‌​‍‌​‌‌‌​‌​
Recipients can clear the alert by swiping away the message or clicking "OK" on their home screen. Drivers are advised to refrain from checking their phones until it is safe to do so, as with any call or message. ‌​‌‌‌​‌‌‍‌​‌‌‌​‌​‍‌​‌‌‌​‌​
Chancellor of the Duchy of Lancaster, Oliver Dowden MP, stated that getting this system operational means the government will have a vital tool to keep the public safe in life-threatening emergencies. Emergency Alerts have already been used successfully in other countries, including the US, Canada, the Netherlands, and Japan, where they have been widely credited with saving lives during severe weather events. ‌​‌‌‌​‌‌‍‌​‌‌‌​‌​‍‌​‌‌‌​‌​
In the UK, alerts could be used to warn residents of villages being encroached by wildfires or of severe flooding. ‌​‌‌‌​‌‌‍‌​‌‌‌​‌​‍‌​‌‌‌​‌​
Spotted something? Got a story? Send a Facebook Message | A direct message on Twitter | Email: News@Deeside.com
---
Latest News
---