Police to get additional powers to clamp down on protests before they cause serious disruption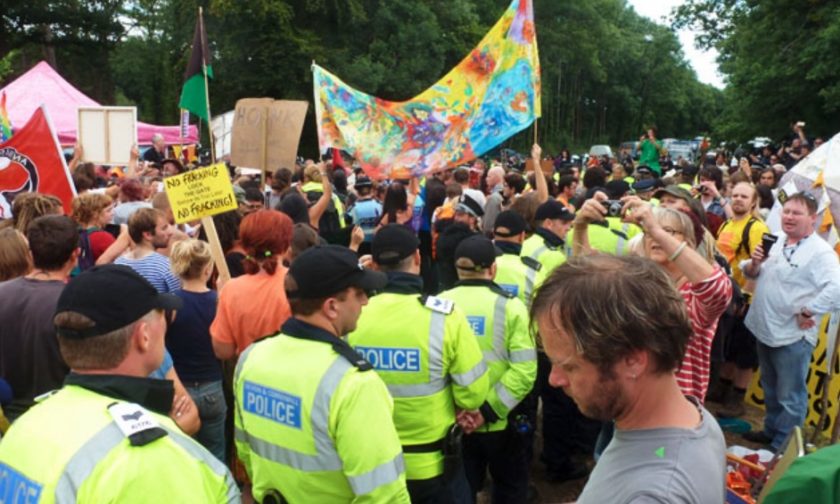 This article is old - Published: Monday, Jan 16th, 2023

Police look set to get additional powers to clamp down on protests before they cause serious disruption, under plans announced today. ‌​‌‌‌​‌‌‍‌​‌‌‌​‌​‍‌​‌‌‌​‌​
Through an amendment tabled to the Public Order Bill, the UK government will broaden the legal definition of 'serious disruption', giving police greater flexibility and clarity over when to intervene to stop the disruptive minority who use tactics such as blocking roads and slow marching to inflict misery on the public. ‌​‌‌‌​‌‌‍‌​‌‌‌​‌​‍‌​‌‌‌​‌​
While the UK Government has already given police additional powers to prevent protestors using 'guerrilla tactics', police chiefs have told the Prime Minister that there is some uncertainty over what reaches the threshold of 'serious disruption'. ‌​‌‌‌​‌‌‍‌​‌‌‌​‌​‍‌​‌‌‌​‌​
The changes introduced today will give police officers 'absolute clarity' over when they should step in. ‌​‌‌‌​‌‌‍‌​‌‌‌​‌​‍‌​‌‌‌​‌​
In practice, this will mean police will not need to wait for disruption to take place and can shut protests down before chaos erupts. ‌​‌‌‌​‌‌‍‌​‌‌‌​‌​‍‌​‌‌‌​‌​
Police will not need to treat a series of protests by the same group as standalone incidents but will be able to consider their total impact. ‌​‌‌‌​‌‌‍‌​‌‌‌​‌​‍‌​‌‌‌​‌​
Police will also be able to consider long-running campaigns designed to cause repeat disruption over a period of days or weeks. ‌​‌‌‌​‌‌‍‌​‌‌‌​‌​‍‌​‌‌‌​‌​
Prime Minister Rishi Sunak said: "The right to protest is a fundamental principle of our democracy, but this is not absolute. A balance must be struck between the rights of individuals and the rights of the hard-working majority to go about their day-to-day business. ‌​‌‌‌​‌‌‍‌​‌‌‌​‌​‍‌​‌‌‌​‌​
"We cannot have protests conducted by a small minority disrupting the lives of the ordinary public. It's not acceptable and we're going to bring it to an end. ‌​‌‌‌​‌‌‍‌​‌‌‌​‌​‍‌​‌‌‌​‌​
"The police asked us for more clarity to crack down on these guerrilla tactics, and we have listened." ‌​‌‌‌​‌‌‍‌​‌‌‌​‌​‍‌​‌‌‌​‌​
Commissioner of the Metropolitan Police Service, Sir Mark Rowley said: "The Met has a long history of policing protests, responding quickly and effectively to incidents involving crime and where serious disruption is caused, often in challenging situations." ‌​‌‌‌​‌‌‍‌​‌‌‌​‌​‍‌​‌‌‌​‌​
"We have specialist officers trained to deal with a range of tactics, but this is complex, time-consuming work." ‌​‌‌‌​‌‌‍‌​‌‌‌​‌​‍‌​‌‌‌​‌​
"It is clearly understood that everybody has the right to protest. Increasingly however police are getting drawn into complex legal arguments about the balance between that right to protest and the rights of others to go about their daily lives free from serious disruption." ‌​‌‌‌​‌‌‍‌​‌‌‌​‌​‍‌​‌‌‌​‌​
"The lack of clarity in the legislation and the increasing complexity of the case law is making this more difficult and more contested." ‌​‌‌‌​‌‌‍‌​‌‌‌​‌​‍‌​‌‌‌​‌​
"It is for Parliament to decide the law, and along with other police chiefs, I made the case for a clearer legal framework in relation to protest, obstruction and public nuisance laws." ‌​‌‌‌​‌‌‍‌​‌‌‌​‌​‍‌​‌‌‌​‌​
"We have not sought any new powers to curtail or constrain protest, but have asked for legal clarity about where the balance of rights should be struck." ‌​‌‌‌​‌‌‍‌​‌‌‌​‌​‍‌​‌‌‌​‌​
"I welcome the government's proposal to introduce a legal definition of "serious disruption" and "reasonable excuse". ‌​‌‌‌​‌‌‍‌​‌‌‌​‌​‍‌​‌‌‌​‌​
Tirana Hassan, acting HRW executive director, said the government had a "very short window" to reverse some of its decisions, before it joins "the countries listed as human rights abusers rather than human rights protectors". ‌​‌‌‌​‌‌‍‌​‌‌‌​‌​‍‌​‌‌‌​‌​
"A slew of legislation was passed last year where fundamental human rights are being challenged. The protest law is something we are deeply concerned about." ‌​‌‌‌​‌‌‍‌​‌‌‌​‌​‍‌​‌‌‌​‌​
"When you talk about civic space and about people's right to participate in a democratic society, the right to peaceful assembly and the right to protest are key pillars of that. We've seen an outright assault from this government on that." ‌​‌‌‌​‌‌‍‌​‌‌‌​‌​‍‌​‌‌‌​‌​
Spotted something? Got a story? Send a Facebook Message | A direct message on Twitter | Email: News@Deeside.com
---
Latest News
Deeside based Redrow signs pact with Welsh Government to address fire safety concerns in high-rise buildings
---