New national fraud squad to combat UK's £7bn a year scam epidemic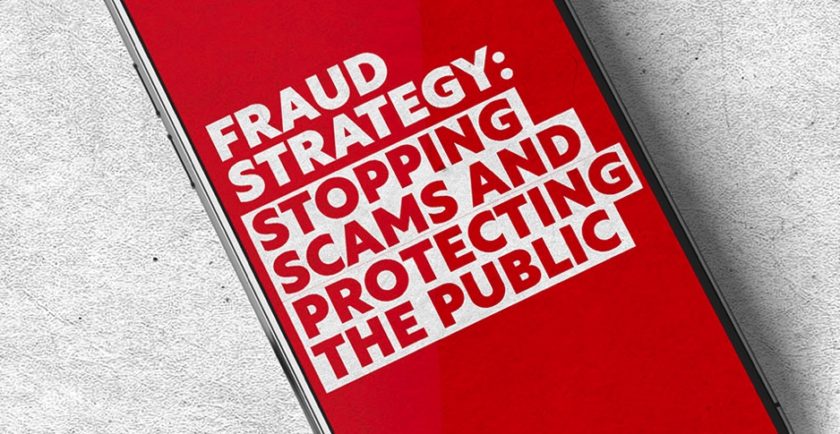 The UK government has unveiled its new Fraud Strategy to tackle the growing problem of fraud, which currently costs the nation nearly £7 billion a year. ‌​‌‌‌​‌‌‍‌​‌‌‌​‌​‍‌​‌‌‌​‌​
As part of the strategy, a new elite team of specialist investigators, the National Fraud Squad, will take a proactive, intelligence-led approach in collaboration with local forces, international partners, and the UK intelligence community to shut down callous fraud cells targeting millions of Brits daily. ‌​‌‌‌​‌‌‍‌​‌‌‌​‌​‍‌​‌‌‌​‌​
Fraud is now the most common crime in the UK, with 1 in 15 people falling victim. ‌​‌‌‌​‌‌‍‌​‌‌‌​‌​‍‌​‌‌‌​‌​
Developments in modern technology have opened new avenues for criminals, with 9 in 10 internet users encountering online scams. ‌​‌‌‌​‌‌‍‌​‌‌‌​‌​‍‌​‌‌‌​‌​
The new Fraud Strategy marks a significant step forward in the government's fight against scammers. ‌​‌‌‌​‌‌‍‌​‌‌‌​‌​‍‌​‌‌‌​‌​
The strategy includes measures to close routes used by scammers, such as banning cold calls on all financial products, working with Ofcom to clamp down on number 'spoofing,' and banning devices or methods like 'SIM farms' that scammers use to reach thousands of people at once. ‌​‌‌‌​‌‌‍‌​‌‌‌​‌​‍‌​‌‌‌​‌​
The government will also review the use of mass texting services to keep these technologies out of criminals' hands. ‌​‌‌‌​‌‌‍‌​‌‌‌​‌​‍‌​‌‌‌​‌​
A new system, backed by a £30 million investment, will replace the current Action Fraud service within the year, making it easier for victims to report fraud and rebuild confidence in case handling. ‌​‌‌‌​‌‌‍‌​‌‌‌​‌​‍‌​‌‌‌​‌​
This improved service will ensure victims' reports are acted upon more effectively and use data to build intelligence as criminals find new ways to target victims. ‌​‌‌‌​‌‌‍‌​‌‌‌​‌​‍‌​‌‌‌​‌​
The government will also work bilaterally to raise fraud as a key priority and host the first global fraud summit in the UK to guarantee international collaboration. ‌​‌‌‌​‌‌‍‌​‌‌‌​‌​‍‌​‌‌‌​‌​
Prime Minister Rishi Sunak expressed determination to fight fraudsters, stating that the new strategy will "block scams at the source, boost protections for people and bolster enforcement." ‌​‌‌‌​‌‌‍‌​‌‌‌​‌​‍‌​‌‌‌​‌​
Home Secretary Suella Braverman called fraud "a blight on our country" and emphasized the importance of a new approach to this threat. ‌​‌‌‌​‌‌‍‌​‌‌‌​‌​‍‌​‌‌‌​‌​
New Anti-Fraud Champion Anthony Browne MP has been appointed to drive collaboration with industry and represent the UK internationally. Other plans include allowing banks to delay payments for longer to investigate suspicious transactions and working with major tech companies to simplify online fraud reporting. ‌​‌‌‌​‌‌‍‌​‌‌‌​‌​‍‌​‌‌‌​‌​
Rocio Concha, Which? Director of Policy and Advocacy, at consumer watchdog Which? said: ‌​‌‌‌​‌‌‍‌​‌‌‌​‌​‍‌​‌‌‌​‌​
"The fight against fraud has progressed far too slowly in recent years and in particular more action is needed to guarantee that big tech platforms take serious action against fraud." ‌​‌‌‌​‌‌‍‌​‌‌‌​‌​‍‌​‌‌‌​‌​
"The government must ensure that the Online Safety Bill delivers meaningful protections for consumers against a flood of online fraud infiltrating the world's biggest search engines and social media sites." ‌​‌‌‌​‌‌‍‌​‌‌‌​‌​‍‌​‌‌‌​‌​
"It's positive to see the government at last producing a strategy that recognises a joined-up approach with the ambition that data is shared between industry and law enforcement is needed to tackle the UK's fraud epidemic." ‌​‌‌‌​‌‌‍‌​‌‌‌​‌​‍‌​‌‌‌​‌​
"Ultimately, consumers will judge the success of this strategy by whether they end up with better fraud detection, prevention, support and redress." ‌​‌‌‌​‌‌‍‌​‌‌‌​‌​‍‌​‌‌‌​‌​
Spotted something? Got a story? Send a Facebook Message | A direct message on Twitter | Email: News@Deeside.com
---
Latest News
---