Nearly three-quarters of teachers in Wales have contemplated leaving within the past year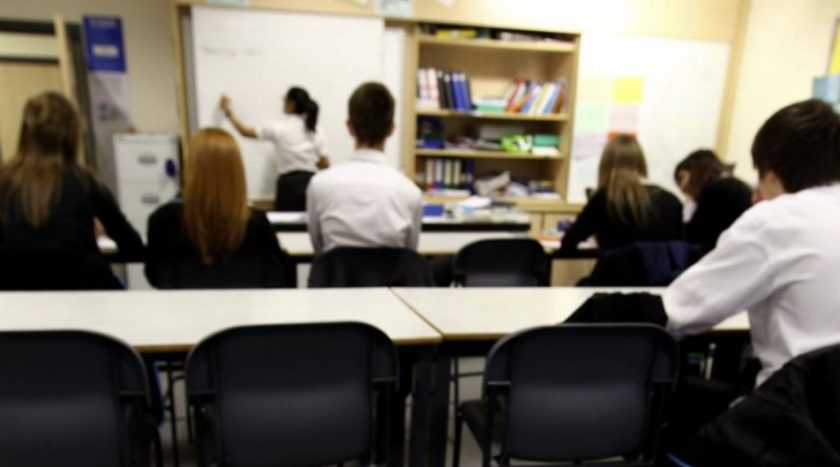 Nearly three-quarters of teachers in Wales have contemplated leaving their profession within the past year, according to a survey conducted by the NASUWT-The Teachers' Union. ‌​‌‌‌​‌‌‍‌​‌‌‌​‌​‍‌​‌‌‌​‌​
The union's Big Question survey comes amid an escalating teacher recruitment and retention crisis in Wales, impacting schools across the country. ‌​‌‌‌​‌‌‍‌​‌‌‌​‌​‍‌​‌‌‌​‌​
Initial results from the survey, which has received over 600 responses to date, highlighted the detrimental effects of pay erosion and poor working conditions on the education sector. ‌​‌‌‌​‌‌‍‌​‌‌‌​‌​‍‌​‌‌‌​‌​
A staggering 78% of Welsh teachers believe that low pay levels deter individuals from pursuing a career in teaching. ‌​‌‌‌​‌‌‍‌​‌‌‌​‌​‍‌​‌‌‌​‌​
Additionally, 83% of respondents felt that teaching salaries were not competitive with those of other occupations. ‌​‌‌‌​‌‌‍‌​‌‌‌​‌​‍‌​‌‌‌​‌​
In a clear sign of discontent, 78% of surveyed teachers said they would not recommend teaching as a career to friends or family. ‌​‌‌‌​‌‌‍‌​‌‌‌​‌​‍‌​‌‌‌​‌​
Underfunding, uncompetitive pay, increasing workloads, and worsening pupil behaviour were cited as key factors hampering teacher recruitment and retention. ‌​‌‌‌​‌‌‍‌​‌‌‌​‌​‍‌​‌‌‌​‌​
These concerns were echoed by Welsh representatives at the NASUWT's Annual Conference in Glasgow. ‌​‌‌‌​‌‌‍‌​‌‌‌​‌​‍‌​‌‌‌​‌​
The union has pledged to lobby the Welsh Government to address the teacher recruitment and retention crisis. ‌​‌‌‌​‌‌‍‌​‌‌‌​‌​‍‌​‌‌‌​‌​
NASUWT General Secretary Dr. Patrick Roach called on the government to act swiftly to avoid "lasting damage" to the education system. ‌​‌‌‌​‌‌‍‌​‌‌‌​‌​‍‌​‌‌‌​‌​
He said: "Teachers' pay in Wales is languishing well below inflation, yet workloads and job pressures continue to surge." ‌​‌‌‌​‌‌‍‌​‌‌‌​‌​‍‌​‌‌‌​‌​
"The insidious expectation that teachers should 'work more, but for less' is squeezing highly qualified educators out of their profession, whilst simultaneously putting off the candidates we need from ever applying." ‌​‌‌‌​‌‌‍‌​‌‌‌​‌​‍‌​‌‌‌​‌​
"It's a perfect storm, and make no mistake, that storm is well underway in schools across Wales. ‌​‌‌‌​‌‌‍‌​‌‌‌​‌​‍‌​‌‌‌​‌​
"To prevent lasting damage to our education system, the Welsh Government must act fast to recruit and retain teachers." ‌​‌‌‌​‌‌‍‌​‌‌‌​‌​‍‌​‌‌‌​‌​
"NASUWT members need an end to pay erosion, excessive workloads, poor pupil behaviour and unacceptable and experimental initiatives." ‌​‌‌‌​‌‌‍‌​‌‌‌​‌​‍‌​‌‌‌​‌​
"Teachers and their pupils are depending on the Welsh Government to rise to the challenge at this critical juncture for education." ‌​‌‌‌​‌‌‍‌​‌‌‌​‌​‍‌​‌‌‌​‌​
Neil Butler, NASUWT National Official Wales, accused the Welsh Government of failing pupils by not attracting and retaining talented teachers. ‌​‌‌‌​‌‌‍‌​‌‌‌​‌​‍‌​‌‌‌​‌​
Uncompetitive pay, unsustainable workloads, and insufficient resources have led to a rise in vacancies, forcing many teachers to leave the profession prematurely. ‌​‌‌‌​‌‌‍‌​‌‌‌​‌​‍‌​‌‌‌​‌​
Mr. Butler said the NASUWT would not hesitate to lobby the government to make teaching "an attractive and valued profession" once again. ‌​‌‌‌​‌‌‍‌​‌‌‌​‌​‍‌​‌‌‌​‌​
Spotted something? Got a story? Send a Facebook Message | A direct message on Twitter | Email: News@Deeside.com
---
Latest News
---