Minister who gave Flintshire biggest budget cut in Wales slammed for comparing councillors to 'Oliver Twist'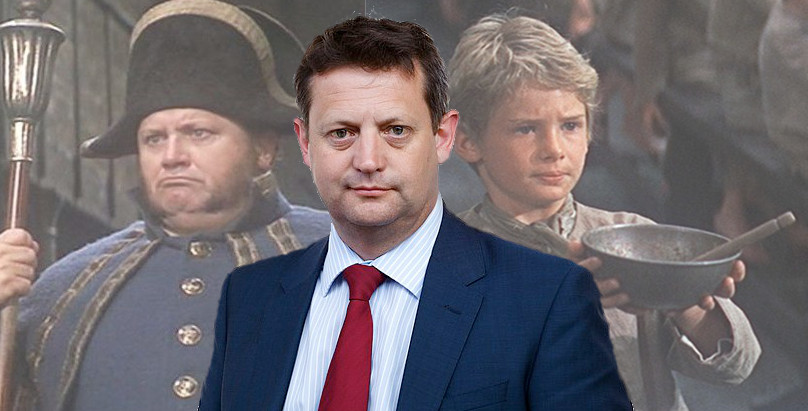 This article is old - Published: Thursday, Oct 25th, 2018

A Welsh government minister has been slammed for comparing councillors from cash-strapped local authorities in Wales to 'Oliver Twists' as they ask for more funds following the budget settlement published recently. ‌​‌‌‌​‌‌‍‌​‌‌‌​‌​‍‌​‌‌‌​‌​
Alun Davies AM said "I've had a lot of councillors coming to me like Oliver Twists over the past few weeks" – "Can we have some more" – in reference to the classic Charles Dickens story about an orphan boy born in a workhouse. ‌​‌‌‌​‌‌‍‌​‌‌‌​‌​‍‌​‌‌‌​‌​
Speaking on BBC Radio Cymru's Hawl i Holi, Mr Davies said councillors had agreed in private that the current system of 22 local authorities was unsustainable but were "unwilling to say that publicly". ‌​‌‌‌​‌‌‍‌​‌‌‌​‌​‍‌​‌‌‌​‌​
"Wales doesn't need 22 local authorities. I want to see change and I want this change to come from councils." ‌​‌‌‌​‌‌‍‌​‌‌‌​‌​‍‌​‌‌‌​‌​
I've spoken to them privately many times where they've agreed that the current system is unsustainable, yet they're unwilling to say that publicly. " ‌​‌‌‌​‌‌‍‌​‌‌‌​‌​‍‌​‌‌‌​‌​
"I've had enough of that and it has to change, so what I want to hear from councillors is no complaining." He added. ‌​‌‌‌​‌‌‍‌​‌‌‌​‌​‍‌​‌‌‌​‌​
As anticipated Flintshire was one of the hardest hit councils in Wales, the planned budget unveiled by the Welsh Government shows the council will receive £187 million a decrease of between 1.0% on the previous year. ‌​‌‌‌​‌‌‍‌​‌‌‌​‌​‍‌​‌‌‌​‌​
The Welsh Local Government Association (WLGA) the body which represents the interests of local government called for Mr Davies to step down, its Deputy Leader, Cllr Rob Stewart said: ‌​‌‌‌​‌‌‍‌​‌‌‌​‌​‍‌​‌‌‌​‌​
"The remarks from the Cabinet Secretary are deeply unfortunate and inappropriate particularly bearing in mind that he is supposed to be the 'voice' of local government around the Welsh Government Cabinet table. ‌​‌‌‌​‌‌‍‌​‌‌‌​‌​‍‌​‌‌‌​‌​
Last week he spoke to BBC Wales and recognised that as a result of the Welsh Government Draft budget "People are going to find local services diminishing as a consequence of the austerity ….and that is going to have consequences in communities up and down Wales." ‌​‌‌‌​‌‌‍‌​‌‌‌​‌​‍‌​‌‌‌​‌​
This week, he is belittling those who are arguing for proper levels of funding to support those treasured services such as education, social care, housing and transport for the most vulnerable communities across Wales. ‌​‌‌‌​‌‌‍‌​‌‌‌​‌​‍‌​‌‌‌​‌​
"We call on the First Minister to distance himself from the comments of the Cabinet Secretary and consider whether or not it is appropriate for him to remain in the Cabinet in his current position. ‌​‌‌‌​‌‌‍‌​‌‌‌​‌​‍‌​‌‌‌​‌​
The Cabinet Secretary's reference to Oliver Twist reflects a lack of understanding of both English literature and local government. ‌​‌‌‌​‌‌‍‌​‌‌‌​‌​‍‌​‌‌‌​‌​
Is he seriously characterising himself as the 'Mr Bumble' of Welsh Government the cruel overseer of the poorhouse?  ‌​‌‌‌​‌‌‍‌​‌‌‌​‌​‍‌​‌‌‌​‌​
We make no apologies for asking for more resources from Welsh Government to save those services provided by hardworking teachers, youth workers, librarians and care workers that protect the communities of Wales." ‌​‌‌‌​‌‌‍‌​‌‌‌​‌​‍‌​‌‌‌​‌​
In a series of tweets to Debbie Wilcox Chair of the WLGA – Flintshire County Council Chief Executive Officer Colin Everett said: "one or more councils might shortly be making the case that they cannot safely balance their budgets next year with this Settlement." ‌​‌‌‌​‌‌‍‌​‌‌‌​‌​‍‌​‌‌‌​‌​
Mr Everett also said: "Is it a 'creeping policy' or a 'conscious policy' of Welsh Government that the Council Tax payer is to pay for an increasing share of local services – through larger annual Council Tax rises – to meet national funding shortfalls? A point to test out." ‌​‌‌‌​‌‌‍‌​‌‌‌​‌​‍‌​‌‌‌​‌​
Spotted something? Got a story? Send a Facebook Message | A direct message on Twitter | Email: News@Deeside.com
---
Latest News
---