Foundation phase children to return to the classroom after February half term – no decision on older pupils as yet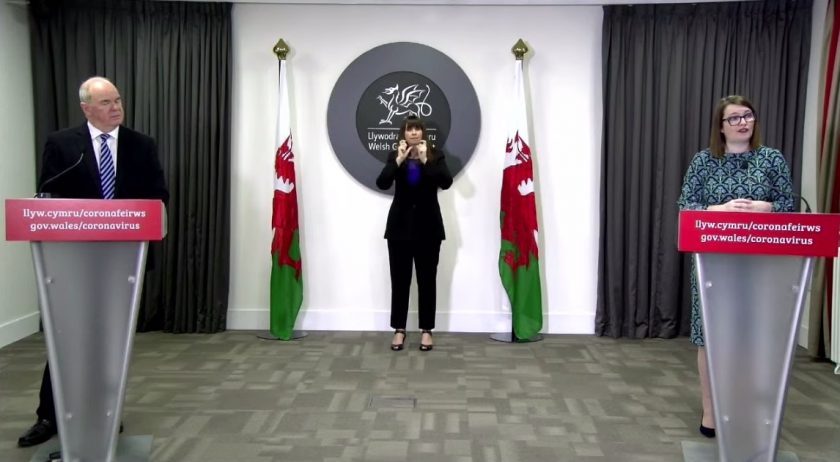 This article is old - Published: Friday, Feb 5th, 2021
Primary school children aged between three and seven will begin a phased return to schools across Wales following half-term, education minister Kirsty Williams confirmed today. ‌​‌‌‌​‌‌‍‌​‌‌‌​‌​‍‌​‌‌‌​‌​
As part of their return twice weekly testing of staff will be carried out and additional funding will be made available for 'face coverings' and implementing further yet not detailed safety measures. ‌​‌‌‌​‌‌‍‌​‌‌‌​‌​‍‌​‌‌‌​‌​
A decision on when older pupil's can return to classrooms will not be made for another two weeks. ‌​‌‌‌​‌‌‍‌​‌‌‌​‌​‍‌​‌‌‌​‌​
During this afternoon's Welsh government press conference, the minister said: "Sadly we are not yet in a position to be able to see a full return to school every learner." ‌​‌‌‌​‌‌‍‌​‌‌‌​‌​‍‌​‌‌‌​‌​
"However, thanks to people following our national guidance, there is sufficient headroom for us to bring some of our learners in a phased flexible, progressive way back into the classroom." ‌​‌‌‌​‌‌‍‌​‌‌‌​‌​‍‌​‌‌‌​‌​
"After half term from the 22nd of February our foundation phase learners will start to return to school during that week." ‌​‌‌‌​‌‌‍‌​‌‌‌​‌​‍‌​‌‌‌​‌​
"Children of critical workers, and vulnerable learners, as well as those taking exams or assessments, and learners in special schools will continue to be able to attend as they have done throughout the pandemic." ‌​‌‌‌​‌‌‍‌​‌‌‌​‌​‍‌​‌‌‌​‌​
Kirsty Williams said: "We have prioritised our youngest learners because of the favorable evidence on transmission and younger children and also because we know they find it the most difficult to to learn remotely." ‌​‌‌‌​‌‌‍‌​‌‌‌​‌​‍‌​‌‌‌​‌​
"Following productive discussions with our union colleagues and local authorities and further education partners, we are introducing a number of additional measures to provide staff with an added level of assurance for their safe return to face to face teaching." ‌​‌‌‌​‌‌‍‌​‌‌‌​‌​‍‌​‌‌‌​‌​
"This includes the introduction of twice weekly testing for staff members, as well as increased financial support for new face coverings." ‌​‌‌‌​‌‌‍‌​‌‌‌​‌​‍‌​‌‌‌​‌​
"We are providing an additional £5 million to support schools, colleges and local authorities to invest further in items that they need to keep their premises safe." ‌​‌‌‌​‌‌‍‌​‌‌‌​‌​‍‌​‌‌‌​‌​
Infections rates still high in north east Wales ‌​‌‌‌​‌‌‍‌​‌‌‌​‌​‍‌​‌‌‌​‌​
Infections rates have fallen significantly in many parts of Wales and the R number is now below one the rates remain stubbornly high in Flintshire and neighbouring Wrexham. ‌​‌‌‌​‌‌‍‌​‌‌‌​‌​‍‌​‌‌‌​‌​
The rolling seven day infection rate in Flintshire – a key benchmark – up to January 31, stands at 249 per 100,000 population, nearly double that of the overall rate in Wales of 129 per 100,000. ‌​‌‌‌​‌‌‍‌​‌‌‌​‌​‍‌​‌‌‌​‌​
The education minister said: "I recognise that rates in Flintshire and Wrexham are higher, but I have to make a national all Wales decision and it is our expectation is that all foundation phase learners will return from the 22nd February." ‌​‌‌‌​‌‌‍‌​‌‌‌​‌​‍‌​‌‌‌​‌​
"We also understand that schools may want to have some flexibility in organising their timetable for learners and we'll be consulting with parents about the best way to do that, that's why we have built in some flexibility for local head teachers and local authorities to reflect on how best to do it." ‌​‌‌‌​‌‌‍‌​‌‌‌​‌​‍‌​‌‌‌​‌​
Deputy Chief Medical Officer Dr. Chris Jones added: "The rates in north Wales were for a period of time high, we think because the new variant became the dominant variant." ‌​‌‌‌​‌‌‍‌​‌‌‌​‌​‍‌​‌‌‌​‌​
"The pleasing thing since the restrictions have been in place over the last seven weeks is that even with the new variant being dominant the rates have come down considerably and the difference between the worst and the best now is much much less." ‌​‌‌‌​‌‌‍‌​‌‌‌​‌​‍‌​‌‌‌​‌​
Older pupils ‌​‌‌‌​‌‌‍‌​‌‌‌​‌​‍‌​‌‌‌​‌​
With regards to older children returning to school, Kirsty Williams said: "The next period of review will be announced on February 19, we will hope to be able to give an indication then. ‌​‌‌‌​‌‌‍‌​‌‌‌​‌​‍‌​‌‌‌​‌​
Asked about what criteria the government will use to decide on older children returning to classrooms, Dr Jones said: "It is not possible for all children to go back to school now, we do not have enough headroom for that." ‌​‌‌‌​‌‌‍‌​‌‌‌​‌​‍‌​‌‌‌​‌​
"At times during the pandemic it's been quite difficult to understand the impact of opening schools because it's happened at a time when lots of other changes have happened." ‌​‌‌‌​‌‌‍‌​‌‌‌​‌​‍‌​‌‌‌​‌​
"But this is (foundation phase children return) the most important change that's likely to happen over the next two or three weeks in Wales, so we will be able to evaluate it quite clearly." ‌​‌‌‌​‌‌‍‌​‌‌‌​‌​‍‌​‌‌‌​‌​
"It'll take two or three weeks before its impact on numbers come through but we will be looking at the figures." ‌​‌‌‌​‌‌‍‌​‌‌‌​‌​‍‌​‌‌‌​‌​
"We will be looking at the overall case rates because a lot of other restrictions are going to be in place still exerting downward pressure on the R value." ‌​‌‌‌​‌‌‍‌​‌‌‌​‌​‍‌​‌‌‌​‌​
"We'll be looking at test positivity rates, we'll be looking at the pressure on the NHS and if we can see that the situation is still." ‌​‌‌‌​‌‌‍‌​‌‌‌​‌​‍‌​‌‌‌​‌​
"Those are the sorts of measures that we will be looking at and it's also not just the absolute values, it's also the direction of travel, are things improving and on improving trajectory." ‌​‌‌‌​‌‌‍‌​‌‌‌​‌​‍‌​‌‌‌​‌​
Plea to all learners to parents and carers ‌​‌‌‌​‌‌‍‌​‌‌‌​‌​‍‌​‌‌‌​‌​
Kirsty Williams said there is optimism that things will improve soon but pleaded for people to stick with restrictions put in place to reduce the spread of the virus. ‌​‌‌‌​‌‌‍‌​‌‌‌​‌​‍‌​‌‌‌​‌​
She said: "I must make a plea to all learners to parents and carers, please continue to follow the guidelines." ‌​‌‌‌​‌‌‍‌​‌‌‌​‌​‍‌​‌‌‌​‌​
"By following the guidance restricting contact with others, we are able to ensure that our children and young people are able to do what we all want, which is to be back learning alongside their friends." ‌​‌‌‌​‌‌‍‌​‌‌‌​‌​‍‌​‌‌‌​‌​
The Minister added, "We really need parents and carers to follow the guidance and to take real care, especially at the school gates, wearing masks at the school gates, socially distancing from other parents when you drop off or collect your children." ‌​‌‌‌​‌‌‍‌​‌‌‌​‌​‍‌​‌‌‌​‌​
"Also a reminder that because your children are back in school, unfortunately, we're not in a position to allow them to mix outside of school, so that is no playdates, no sleepovers, no birthday parties." ‌​‌‌‌​‌‌‍‌​‌‌‌​‌​‍‌​‌‌‌​‌​
"It is by following these rules and these regulations and this advice that we can minimise the disruption to education for those children that are able to go back, but also put us in a position to allow more children back for face to face learning." She said. ‌​‌‌‌​‌‌‍‌​‌‌‌​‌​‍‌​‌‌‌​‌​
Dr Jones added: "I think we've learned a lot throughout the pandemic about to what happens around schools and through contact tracing." ‌​‌‌‌​‌‌‍‌​‌‌‌​‌​‍‌​‌‌‌​‌​
"There's transmission within schools, there's no doubt that that does happen. Most of the evidence seems to be that it's about the social contacts that schools create outside the school." ‌​‌‌‌​‌‌‍‌​‌‌‌​‌​‍‌​‌‌‌​‌​
"So it's all the associated activities, largely the dropping off of children and picking up children outside the school gate and after school activities and sports activities." ‌​‌‌‌​‌‌‍‌​‌‌‌​‌​‍‌​‌‌‌​‌​
"These are all activities around the school that bring families together in a way that helps the virus spread." ‌​‌‌‌​‌‌‍‌​‌‌‌​‌​‍‌​‌‌‌​‌​
"We want to get children back to school but we don't want all of those other contacts to happen." ‌​‌‌‌​‌‌‍‌​‌‌‌​‌​‍‌​‌‌‌​‌​
"So there is a messaging issue here, it's about children getting back into school safely but it's not about everybody else mixing more." ‌​‌‌‌​‌‌‍‌​‌‌‌​‌​‍‌​‌‌‌​‌​
The Welsh Government has published their Technical Advisory Group advice document that has been used to come to their decision (PDF here), ‌​‌‌‌​‌‌‍‌​‌‌‌​‌​‍‌​‌‌‌​‌​
Dilwyn Roberts-Young, UCAC General Secretary said "The fact that Welsh Government has shared the latest scientific and medical evidence has helped to understand the basis of its decision to allow Foundation Phase children to return to face-to-face teaching." ‌​‌‌‌​‌‌‍‌​‌‌‌​‌​‍‌​‌‌‌​‌​
"We welcome the announcement of mitigating measures to further reduce risks, including regular testing for staff and investment in equipment and modifications." ‌​‌‌‌​‌‌‍‌​‌‌‌​‌​‍‌​‌‌‌​‌​
"However, the genuine concerns of teachers in the Foundation Phase about this return must be acknowledged. We urge local authorities and schools to take the local context into account in making their plans, and encourage all concerned to consider a gradual, flexible return." ‌​‌‌‌​‌‌‍‌​‌‌‌​‌​‍‌​‌‌‌​‌​
"We will continue to discuss the details with Welsh Government, local government and Further Education colleges over the next week, and we'll support members as they get to grips with the challenging logistics in their schools and colleges." ‌​‌‌‌​‌‌‍‌​‌‌‌​‌​‍‌​‌‌‌​‌​
"We continue to call for the governments in Westminster and Wales to state when and how they intend to prioritise school staff for vaccination in order to ensure the continuity of our pupils' education." ‌​‌‌‌​‌‌‍‌​‌‌‌​‌​‍‌​‌‌‌​‌​
Chief Medical Officer for Wales Dr Frank Atherton has issued the statement below: ‌​‌‌‌​‌‌‍‌​‌‌‌​‌​‍‌​‌‌‌​‌​
The impacts of COVID-19 have been significant on health, the economy and society. For many children and young people there have been negative impacts on both their physical and mental health, due to the restrictions brought in to reduce transmission. These restrictions have also had a major impact on the education of children. ‌​‌‌‌​‌‌‍‌​‌‌‌​‌​‍‌​‌‌‌​‌​

Moving to on-line learning for school children (except vulnerable children and children of critical workers) was a difficult decision which Ministers made in order to reduce community transmission of COVID-19 including the associated risks of travel to and from school and social mixing outside of the classroom environment. Protecting essential health and social care services continues to be a priority, especially in response to the increased threat posed by more infectious variants and has led to on-going restrictions on face to face education and the closure of other sectors. ‌​‌‌‌​‌‌‍‌​‌‌‌​‌​‍‌​‌‌‌​‌​

The potential to relax restrictions remains limited by the new variant, which is more transmissible. However, with Rt currently below 1, any headroom should be dedicated to a phased return of primary school children for example, starting with children in the foundation phase, who have a lower risk of infection, and secondary school children, in small cohorts and employing a blended learning approach. ‌​‌‌‌​‌‌‍‌​‌‌‌​‌​‍‌​‌‌‌​‌​

Evidence suggests that schools have been successful in providing safe environments for children and teachers. Effective mitigations are more important than ever with a more transmissible variant and these should continue and be strengthened where possible. These mitigations include reducing the numbers mixing at any one time and in any one place; maintaining secure contact groups; vigilant social distancing; hand hygiene and the use of face coverings as set out in the guidance. ‌​‌‌‌​‌‌‍‌​‌‌‌​‌​‍‌​‌‌‌​‌​

Based on our understanding of where transmission risk is greatest, out of school restrictions identical to those 'Stay at Home' requirements imposed on the general population, must be applied rigorously. There must be a clear understanding that contact groups ('school bubbles') only apply within the school setting. The importance of avoiding transmission between teachers, as well as between staff and pupils should be emphasised. ‌​‌‌‌​‌‌‍‌​‌‌‌​‌​‍‌​‌‌‌​‌​

Dr Frank Atherton
Chief Medical Officer
5th February 2021 ‌​‌‌‌​‌‌‍‌​‌‌‌​‌​‍‌​‌‌‌​‌​
You can view the full briefing on the below video: ‌​‌‌‌​‌‌‍‌​‌‌‌​‌​‍‌​‌‌‌​‌​

‌​‌‌‌​‌‌‍‌​‌‌‌​‌​‍‌​‌‌‌​‌​ Spotted something? Got a story? Send a Facebook Message | A direct message on Twitter | Email: News@Deeside.com
---
Latest News
Detailed plans for brand new £110m Women and Children's building at the Countess of Chester Hospital to be unveiled
---