Deeside incinerator – council accused of 'betraying' local workforce.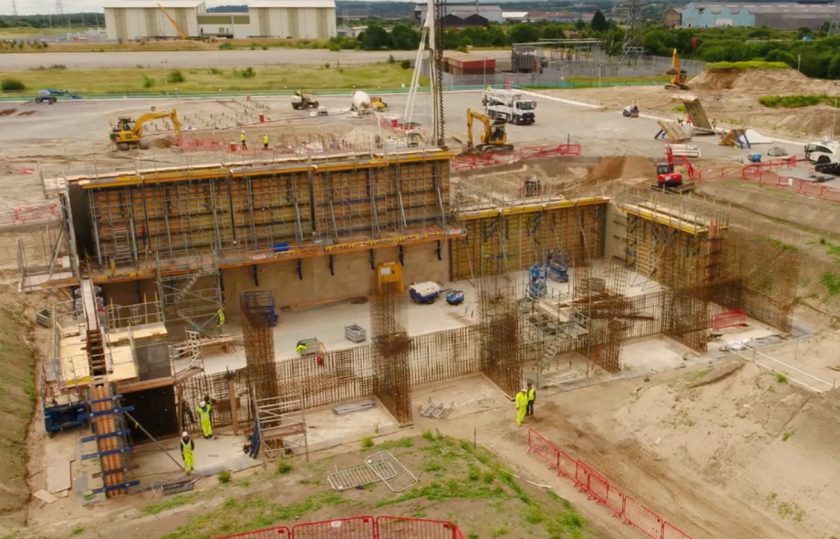 This article is old - Published: Thursday, Nov 16th, 2017
Trade Unions have slammed Flintshire County Council and four other councils who make up the North Wales Residual Waste Treatment Partnership [NWRWTP] over Deeside Incinerator construction workers pay and conditions.
NWRTWP are responsible for building the £800 million Parc Adfer waste facility on Deeside Industrial Estate they awarded the lucrative contract to French firm CNIM to undertake the building project. ‌​‌‌‌​‌‌‍‌​‌‌‌​‌​‍‌​‌‌‌​‌​
Unite and the GMB have accused the group of council's of 'betraying' the local workforce, they say CNIM, has a history of poor relationships with trade unions in the UK, and has refused to allow unions access to the site. ‌​‌‌‌​‌‌‍‌​‌‌‌​‌​‍‌​‌‌‌​‌​
CNIM and its supply chain are accused of failing to engage local workers on the project and some of the work is expected to be given to overseas contractors. ‌​‌‌‌​‌‌‍‌​‌‌‌​‌​‍‌​‌‌‌​‌​
Unions say the company is also refusing to abide by the National Agreement for the Engineering Construction Industry (NAECI), which means that the workers employed on the site are not receiving the correct pay and conditions for the work they are conducting. ‌​‌‌‌​‌‌‍‌​‌‌‌​‌​‍‌​‌‌‌​‌​
"If workers are brought in from overseas then legally the company only has to pay the national minimum wage which is a 63.5 per cent cut in wages compared to the NAECI agreement." A joint GMB and Unite statement says. ‌​‌‌‌​‌‌‍‌​‌‌‌​‌​‍‌​‌‌‌​‌​
The unions have written to the local authorities involved in the project about their concerns but have not received a response. ‌​‌‌‌​‌‌‍‌​‌‌‌​‌​‍‌​‌‌‌​‌​
The two unions say they will now be stepping up the pressure on CNIM and local councils to ensure "workers are paid the appropriate rates for the work undertaken and also skilled local workers are fully given opportunities to work on the project." ‌​‌‌‌​‌‌‍‌​‌‌‌​‌​‍‌​‌‌‌​‌​
Two protests have already taken at the site in recent months, they brought early morning traffic on the industrial estate to a standstill and closed Flintshire Bridge, the latest protest was November 7. ‌​‌‌‌​‌‌‍‌​‌‌‌​‌​‍‌​‌‌‌​‌​
CNIM said they condemned the unofficial and unwarranted action, a spokesperson said:
"Despite various claims being made by these people we have not received any evidence, and we reiterate that CNIM's record in the UK and Europe is one of good practice and an excellent health and safety record. ‌​‌‌‌​‌‌‍‌​‌‌‌​‌​‍‌​‌‌‌​‌​
We continue to be in dialogue with the trade unions. The project is still in its early stages and we are still recruiting for contracts across the site." ‌​‌‌‌​‌‌‍‌​‌‌‌​‌​‍‌​‌‌‌​‌​
Unite national officer for construction Bernard McAulay said:
"Our joint talks with CNIM failed to achieve a way forward but we are not going to stand idly by and allow workers to be mistreated and exploited. ‌​‌‌‌​‌‌‍‌​‌‌‌​‌​‍‌​‌‌‌​‌​
Trade unions feel the North Wales councils have betrayed the local community – and spend more time on box-ticking exercises rather than promoting job opportunities in the surrounding communities. ‌​‌‌‌​‌‌‍‌​‌‌‌​‌​‍‌​‌‌‌​‌​
It is essential that local people realise what is being done in their name and clearly say that what is happening on Deeside is not acceptable. It is totally immoral that these practices are being conducted on a public sector contract. ‌​‌‌‌​‌‌‍‌​‌‌‌​‌​‍‌​‌‌‌​‌​
There has already been local protests about the way this project is being conducted and without an agreement similar disruptive activity could re-occur." ‌​‌‌‌​‌‌‍‌​‌‌‌​‌​‍‌​‌‌‌​‌​
GMB National Officer for Construction Phil Whitehurst, said: ‌​‌‌‌​‌‌‍‌​‌‌‌​‌​‍‌​‌‌‌​‌​
"From past experience, CNIM do not seem to want to engage with trade unions. ‌​‌‌‌​‌‌‍‌​‌‌‌​‌​‍‌​‌‌‌​‌​
We are seen as a necessary evil who they won't embrace in a harmonious partnership. ‌​‌‌‌​‌‌‍‌​‌‌‌​‌​‍‌​‌‌‌​‌​
The Park Adfor [sic] Deeside area workforce has been sadly let down by a union-hating company and an uncaring, incompetent local authority conglomerate who are just interested in saving money and not the wider local economy." ‌​‌‌‌​‌‌‍‌​‌‌‌​‌​‍‌​‌‌‌​‌​
Deeside.com has approached Flintshire County Council for a comment.
Image: James Ford Design Ltd ‌​‌‌‌​‌‌‍‌​‌‌‌​‌​‍‌​‌‌‌​‌​
Spotted something? Got a story? Send a Facebook Message | A direct message on Twitter | Email: News@Deeside.com
---
Latest News
---