County Lines: Police in Flintshire give insight on ever changing dynamic of tackling drugs gangs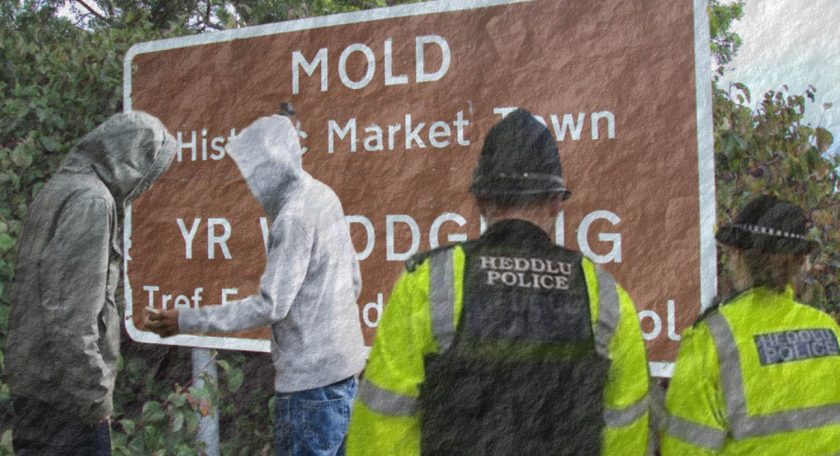 This article is old - Published: Monday, Dec 31st, 2018

‌​‌‌‌​‌‌‍‌​‌‌‌​‌​‍‌​‌‌‌​‌​
A 'Section 8' misuse of drugs act warning was served on house in Mold earlier this week as police in Flintshire continue to target 'County Lines' drugs gangs in the region.     ‌​‌‌‌​‌‌‍‌​‌‌‌​‌​‍‌​‌‌‌​‌​
The warning now makes it a criminal liability for occupiers to allow the house to be used for drug-related activities. ‌​‌‌‌​‌‌‍‌​‌‌‌​‌​‍‌​‌‌‌​‌​
"County Lines" and "Cuckooing" are two police terms which have now become mainstream and ever present in Flintshire in 2018. ‌​‌‌‌​‌‌‍‌​‌‌‌​‌​‍‌​‌‌‌​‌​
They describe the practice by organised criminal gangs from major cities such as Liverpool and Manchester of targeting more rural and coastal locations in search of new markets ‌​‌‌‌​‌‌‍‌​‌‌‌​‌​‍‌​‌‌‌​‌​
Gangs enter into smaller, satellite areas where demand for Class A drugs is high, profit margins are good and police presence is lower than large cities. ‌​‌‌‌​‌‌‍‌​‌‌‌​‌​‍‌​‌‌‌​‌​
Historically Class A drugs such as heroin and crack cocaine were typically supplied in towns like Connah's Quay and Mold by user-dealers who would sell to locals from their own supply. ‌​‌‌‌​‌‌‍‌​‌‌‌​‌​‍‌​‌‌‌​‌​
Competition was low, and violence minimal however in the past few years, organised crime gangs (OCG's) have infiltrated many towns across North Wales, 43 OCGs are now understood to be active in the region. ‌​‌‌‌​‌‌‍‌​‌‌‌​‌​‍‌​‌‌‌​‌​
Gangs deliberately target vulnerable youngsters, some as young as 12, they are hired as "runners" to transport via road or rail mainly Class A drugs into the region. ‌​‌‌‌​‌‌‍‌​‌‌‌​‌​‍‌​‌‌‌​‌​
Tackling county lines has now become now a national priority: the UK government launched a new £3.6m National County Lines Coordination Centre led by experts from the National Crime Agency. ‌​‌‌‌​‌‌‍‌​‌‌‌​‌​‍‌​‌‌‌​‌​
The centre is working to develop the national intelligence picture of the complexity and scale of the threat and prioritise action against the most serious offenders. ‌​‌‌‌​‌‌‍‌​‌‌‌​‌​‍‌​‌‌‌​‌​
Cuckooing
A feature of the county lines model is "Cuckooing" this is where the homes of vulnerable adults are occupied without permission to create a base to sell crack cocaine and heroin from. ‌​‌‌‌​‌‌‍‌​‌‌‌​‌​‍‌​‌‌‌​‌​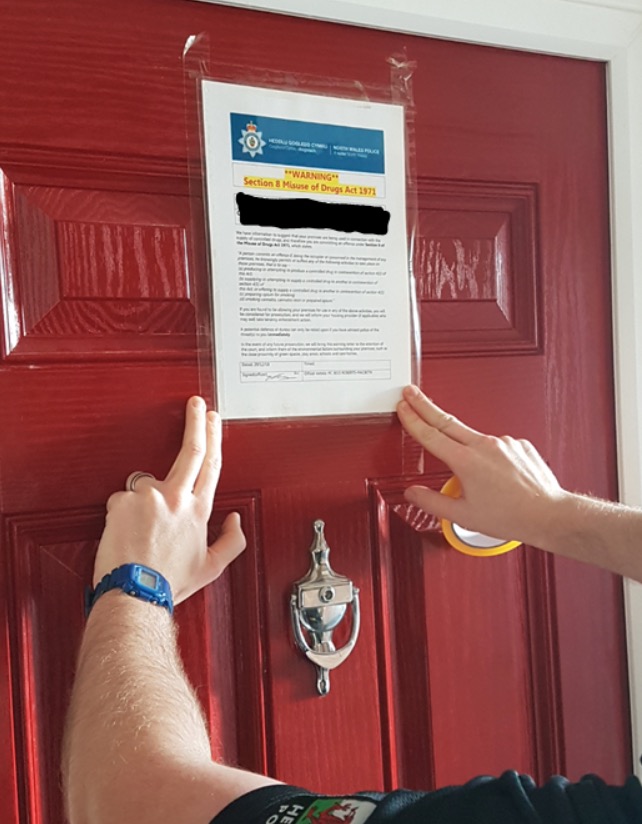 ‌​‌‌‌​‌‌‍‌​‌‌‌​‌​‍‌​‌‌‌​‌​
  ‌​‌‌‌​‌‌‍‌​‌‌‌​‌​‍‌​‌‌‌​‌​
The image above shows the 'Section 8' warning notice which was served on the Mold property this week, police say they were acting on information given to them by the public. ‌​‌‌‌​‌‌‍‌​‌‌‌​‌​‍‌​‌‌‌​‌​
"Without your information positive action like this will never happen and drug gangs will continue to exploit our towns and villages." Police said. ‌​‌‌‌​‌‌‍‌​‌‌‌​‌​‍‌​‌‌‌​‌​
Responding to questions on their Facebook page South Flintshire police gave some insight into the challenges officers face in tackling county lines drug gangs.  ‌​‌‌‌​‌‌‍‌​‌‌‌​‌​‍‌​‌‌‌​‌​
A spokesperson for the South Flintshire team said. ‌​‌‌‌​‌‌‍‌​‌‌‌​‌​‍‌​‌‌‌​‌​
"Dealers may have just one or more commonly several cuckooed addresses in an area. ‌​‌‌‌​‌‌‍‌​‌‌‌​‌​‍‌​‌‌‌​‌​
They may bag up in one address. They may stay overnight in another. They may have another as a 'bolt hole' if they have problems. ‌​‌‌‌​‌‌‍‌​‌‌‌​‌​‍‌​‌‌‌​‌​
Transport
"The County Lines model changes depending on which organised crime group is involved. ‌​‌‌‌​‌‌‍‌​‌‌‌​‌​‍‌​‌‌‌​‌​
Sometimes the model changes when they know that the police have sussed how they work. A good example is transport. 
 
In the "old days" the crime groups would use taty old bangers to drive around in but we got wise to this and could monitor their movement. 
 
They then started using locals to travel to Merseyside and return with the drugs – again this was soon sussed out. 
 
Then they moved to using hire cars and sometimes hotel rooms to hide their movements. ‌​‌‌‌​‌‌‍‌​‌‌‌​‌​‍‌​‌‌‌​‌​
Again, we got a handle on this, and the government are being pressurised to change the law to prevent crime groups using this method." ‌​‌‌‌​‌‌‍‌​‌‌‌​‌​‍‌​‌‌‌​‌​
Clean Skins
"The groups now revert to using 'clean skins' – people unknown to the police who look and act responsibly but are actually working to bring misery here. ‌​‌‌‌​‌‌‍‌​‌‌‌​‌​‍‌​‌‌‌​‌​
You have probably driven past a 'clean skin' today. 
 
The County Lines crime groups tend to target vulnerable people – those with mental health or substance abuse problems and will often ingratiate themselves with the householder – supplying them with food/drink/drugs. ‌​‌‌‌​‌‌‍‌​‌‌‌​‌​‍‌​‌‌‌​‌​
Then they invade the address and will then, often, use and abuse the resident." ‌​‌‌‌​‌‌‍‌​‌‌‌​‌​‍‌​‌‌‌​‌​
Crack House
"The Closure Notice (sometimes called "crack house closure" allows the police to apply to the courts to close that address down and only allow the resident to be present. ‌​‌‌‌​‌‌‍‌​‌‌‌​‌​‍‌​‌‌‌​‌​
It also give the police powers to enter to check that the resident is not being cuckooed. 
 
The approach usually taken is to treat the resident as a victim of the dealers and intervene to make life hard for the dealers and safeguard the resident. ‌​‌‌‌​‌‌‍‌​‌‌‌​‌​‍‌​‌‌‌​‌​
The police will bring in housing providers, mental health/health services etc, to support the resident.
 
Sometimes it doesn't work; sometimes the resident doesn't want our help. in those cases we can go for full closures, but these are very rare." ‌​‌‌‌​‌‌‍‌​‌‌‌​‌​‍‌​‌‌‌​‌​
Community Intelligence  ‌​‌‌‌​‌‌‍‌​‌‌‌​‌​‍‌​‌‌‌​‌​
Joint working between North Wales Police, councils and housing associations is critical in tackling the issue of cuckooing. ‌​‌‌‌​‌‌‍‌​‌‌‌​‌​‍‌​‌‌‌​‌​
However police depend heavily on 'community intelligence' and need information from local residents, friends and neighbours of those who may be being preyed on by criminal gangs.  ‌​‌‌‌​‌‌‍‌​‌‌‌​‌​‍‌​‌‌‌​‌​
Cuckooing often, but not always, takes place in a multi-occupancy or social housing property ‌​‌‌‌​‌‌‍‌​‌‌‌​‌​‍‌​‌‌‌​‌​
There may be an increase in the number of comings and goings, including people haven't been seen in that location before. ‌​‌‌‌​‌‌‍‌​‌‌‌​‌​‍‌​‌‌‌​‌​
There might be new vehicles outside the property. ‌​‌‌‌​‌‌‍‌​‌‌‌​‌​‍‌​‌‌‌​‌​
There could also be a possible increase in anti-social behaviour in and around the property ‌​‌‌‌​‌‌‍‌​‌‌‌​‌​‍‌​‌‌‌​‌​
If you have information about any suspected criminal or suspicious activity in your area, you can report it to police by calling the 101 number or reporting it via the force website follow this link. ‌​‌‌‌​‌‌‍‌​‌‌‌​‌​‍‌​‌‌‌​‌​
  ‌​‌‌‌​‌‌‍‌​‌‌‌​‌​‍‌​‌‌‌​‌​
---
  ‌​‌‌‌​‌‌‍‌​‌‌‌​‌​‍‌​‌‌‌​‌​
Spotted something? Got a story? Send a Facebook Message | A direct message on Twitter | Email: News@Deeside.com
---
Latest News
Children and young people in Wales face 'eye watering' wait for ADHD and Autism assessments, says commissioner
"This could be good news for Northop Hall," UK Government plans to relocate migrants away from hotels
---