All primary and some secondary school pupils could be back in 3 weeks "provided all goes well"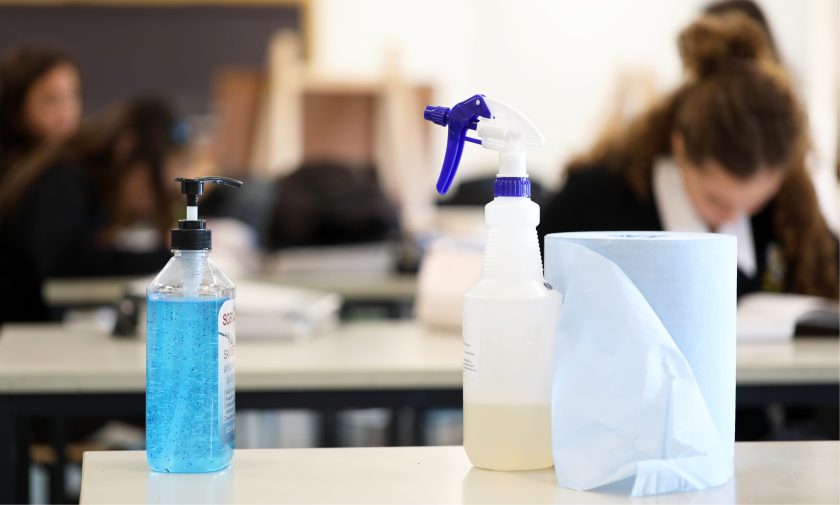 This article is old - Published: Friday, Feb 19th, 2021
All primary school children and some secondary school pupils could be back in the classroom from March 15 if Covid cases continue to fall. ‌​‌‌‌​‌‌‍‌​‌‌‌​‌​‍‌​‌‌‌​‌​
As it stands Foundation Phase children, those aged between three and seven will began to return to face to face learning from Monday. ‌​‌‌‌​‌‌‍‌​‌‌‌​‌​‍‌​‌‌‌​‌​
Wales' first minister will announce more details around the return of pupils to face to face learning during today's Welsh government press conference. ‌​‌‌‌​‌‌‍‌​‌‌‌​‌​‍‌​‌‌‌​‌​
Mark Drakeford is expected to confirm that stay home rules will remain in place for another three weeks but changes for shops and hairdressers could be on the cards in another three weeks time. ‌​‌‌‌​‌‌‍‌​‌‌‌​‌​‍‌​‌‌‌​‌​
Speaking to BBC Breakfast this morning Mr Drakeford said: "I'll be confirming today that children aged between three and seven will be back in school in Wales as of Monday of next week." ‌​‌‌‌​‌‌‍‌​‌‌‌​‌​‍‌​‌‌‌​‌​
"Provided all goes well, our aim will be to have all of primary aged children, and examination age students in secondary school back in the classroom from the 15th of March." ‌​‌‌‌​‌‌‍‌​‌‌‌​‌​‍‌​‌‌‌​‌​
Asked what the government will be looking for in terms of data to assess whether more children can go back to school, Mr Drakeford said: ‌​‌‌‌​‌‌‍‌​‌‌‌​‌​‍‌​‌‌‌​‌​
"We'll be looking for the number of people falling ill with coronavirus in Wales to continue to fall, we'll be looking at positivity rates continuing to fall, the R rate in Wales is below one, that will need to continue." ‌​‌‌‌​‌‌‍‌​‌‌‌​‌​‍‌​‌‌‌​‌​
He said. "we'll look at our hospital sector to make sure that the number of people in hospital beds continues to decline, all of those things are currently going in the right direction here in Wales." ‌​‌‌‌​‌‌‍‌​‌‌‌​‌​‍‌​‌‌‌​‌​
"We will need to see whether bringing some children back into school has any impact on that provided things continue to go in the right direction, then the whole of primary age children, plus examination students at secondary school back in the classroom from March 15." ‌​‌‌‌​‌‌‍‌​‌‌‌​‌​‍‌​‌‌‌​‌​
Asked if the Welsh government will be able to give clear timelines to students "particularly examination students" who maybe concerned about their assessments about how they are being graded. ‌​‌‌‌​‌‌‍‌​‌‌‌​‌​‍‌​‌‌‌​‌​
Mark Drakeford said: "All of that in Wales he's already agreed, we were the first part of the UK to say that there would be no conventional examinations in the summer of this year." ‌​‌‌‌​‌‌‍‌​‌‌‌​‌​‍‌​‌‌‌​‌​
"We have had a group, headed by teachers themselves, drawing together an alternative assessment method for us in Wales, that's already known in schools, teachers know what what they will have to do." ‌​‌‌‌​‌‌‍‌​‌‌‌​‌​‍‌​‌‌‌​‌​
"Students will be able to be informed of that so if I hope that it will be a real assistance to people in the classroom." ‌​‌‌‌​‌‌‍‌​‌‌‌​‌​‍‌​‌‌‌​‌​
"The greater clarity [teachers] have, the better they will be able to do their job, and I'm glad we've been able to give them that clarity already in Wales." ‌​‌‌‌​‌‌‍‌​‌‌‌​‌​‍‌​‌‌‌​‌​
He said: "Our teachers have faced a really, really tough time, as have our young people, an enormous amount of work has gone on to provide online learning of blended learning and now in Wales, we hope, a great deal more face to face learning." ‌​‌‌‌​‌‌‍‌​‌‌‌​‌​‍‌​‌‌‌​‌​
"These have been very very challenging times, and I think our teachers have done an extraordinary job in trying to overcome the difficulties that teaching in different ways and in different circumstances have posed for them." ‌​‌‌‌​‌‌‍‌​‌‌‌​‌​‍‌​‌‌‌​‌​
Flintshire council has said that primary schools will open on Monday and start to "phase in Foundation Phase learners until all have returned by Friday 26th February." ‌​‌‌‌​‌‌‍‌​‌‌‌​‌​‍‌​‌‌‌​‌​
"Individual schools have confirmed their local opening arrangements to parents.  All transport and catering services will be fully available to support the return to school." ‌​‌‌‌​‌‌‍‌​‌‌‌​‌​‍‌​‌‌‌​‌​
"Families entitled to free school meals will receive their payment for the week of 22nd February to cover days when their Foundation Phase children may not have fully returned." ‌​‌‌‌​‌‌‍‌​‌‌‌​‌​‍‌​‌‌‌​‌​
"However, NEWydd Catering services will be providing a full meal service to all pupils including those entitled to free school meals so there is no need for these families to provide their children with packed lunch during that week. A Flintshire council spokesperson said. ‌​‌‌‌​‌‌‍‌​‌‌‌​‌​‍‌​‌‌‌​‌​
Claire Homard, Chief Officer Education said; "The Council is confident that the robust risk assessments and covid-secure measures in place within its schools make them safe places for children and staff to return to." ‌​‌‌‌​‌‌‍‌​‌‌‌​‌​‍‌​‌‌‌​‌​
"Schools are very experienced in managing the safe delivery of face to face learning and are keen to welcome their Foundation Phase pupils back, acknowledging the impact that long periods of absence from direct teaching and from their friends is now posing a greater risk to their long term academic progress and their emotional well-being than the potential impact of the virus." ‌​‌‌‌​‌‌‍‌​‌‌‌​‌​‍‌​‌‌‌​‌​
Cllr. Ian Roberts, Leader of the Council and Cabinet Member for Education said; "The Council is very grateful for all the hard work undertaken by its schools to prepare for the return of learners next week." ‌​‌‌‌​‌‌‍‌​‌‌‌​‌​‍‌​‌‌‌​‌​
"It would also like to remind parents and carers that continuing to comply with lockdown restrictions when schools reopen is an essential part of the arrangements for the safe return of pupils and that following guidance on social distancing and the wearing of face coverings at school drop off and collection points should be strictly followed." ‌​‌‌‌​‌‌‍‌​‌‌‌​‌​‍‌​‌‌‌​‌​
‌​‌‌‌​‌‌‍‌​‌‌‌​‌​‍‌​‌‌‌​‌​
Spotted something? Got a story? Send a Facebook Message | A direct message on Twitter | Email: News@Deeside.com
---
Latest News
Detailed plans for brand new £110m Women and Children's building at the Countess of Chester Hospital to be unveiled
---