NOTE: This content is old - Published: Wednesday, Jul 11th, 2018.
JetBlue became the first customer to sign a deal for the newly-rebranded Airbus A220 aircraft which was unveiled at a ceremony in Toulouse on Tuesday.
The signing a Memorandum of Understanding will see Jet Blue commit to a firm order of 60 A220-300 passenger planes.
In addition, the airline converted 25 of its current orders for Airbus A320neo aircraft into orders for the larger A321neo.
JetBlue's A321neos and A220s will be powered by Pratt & Whitney GTF engines.
The deal is reported to be worth over £4bn at Airbus list price though discounts will be applied.
Eric Schulz, Chief Commercial Officer for Airbus said:
"JetBlue's selection of the A220 aircraft as a complement to its growing A320 Family fleet is a tremendous endorsement – both of the A220 itself and of the way these two aircraft can work together to provide airline network flexibility and a great passenger experience.

JetBlue will be able to leverage the unbeatable efficiency of both the A321neo and the A220-300, as well as taking advantage of the roomiest and most passenger-pleasing cabins of any aircraft in their size categories."
Robin Hayes, the Jet Blue chief executive officer said:
"We are evolving our fleet for the future of JetBlue, and the A220-300's impressive range and economics offer us flexibility and support our key financial and operating priorities.

As JetBlue approaches our 20th anniversary, the A220, combined with our A321 and restyled A320 fleet, will help ensure we deliver the best onboard experience to customers and meet our long-term financial targets as we continue disciplined growth into the future."
The Big Reveal
Airbus revealed the A220 at a ceremony held at its Henri-Ziegler Delivery Centre, near Toulouse on Tuesday morning.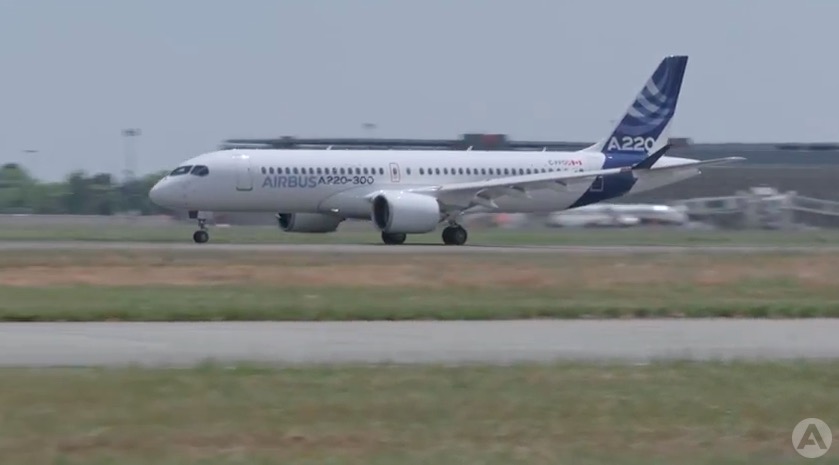 The event was witnessed by Airbus employees and members of the media, the A220-300 landed at 11.25 wearing its new Airbus name and colours which had been freshly painted at a UK paint shop.
The A220 family comprises two models, the A220-100 and A220-300, formerly Bombardier Inc.'s C Series (CS100 and CS300). The aircraft are fully optimised for the 100 to 150 seat market and "perfectly complement Airbus' existing best-selling A320neo family" The planemaker said.
The wings for the A220 are made at the Bombardier factory in Belfast, the deal struck with Airbus will safeguard around 1000 jobs there.