NOTE: This content is old - Published: Thursday, Oct 11th, 2018.
The world's longest commercial non-stop flight will take off from Singapore Changi Airport at 4.45pm UK time today.
The Singapore Airlines flight will take nearly 19 hours and cover 9000 nautical miles, it'll land at Newark Liberty International around 11am on Friday.
The flight will use an Airbus ultra long range (ULR) A350-900 the latest variant of the A350 XWB jet which is capable of flying for over 20 hours non stop.
Airbus says the A350-900ULR offers the longest range of any commercial airliner in service today.
The wings which were built at Broughton have a number of aerodynamic enhancements including extended winglets and modified fairings to reduce drag and improve performance.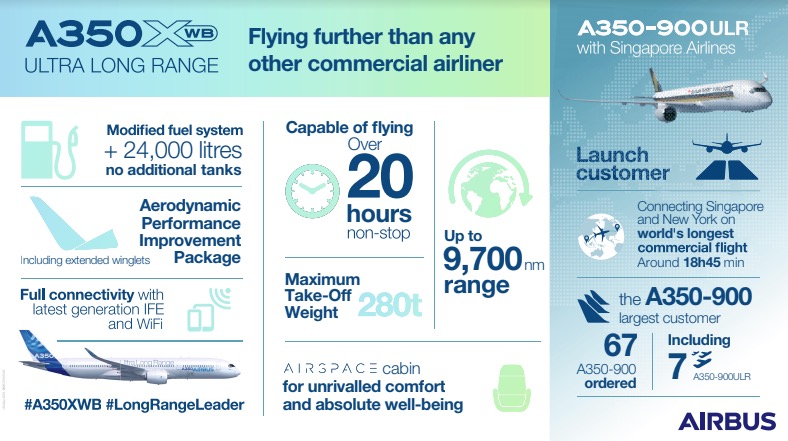 Engineers at Airbus Filton were involved in the modification of the fuel tank which have given the ULR the capacity to fly farther.
Modification of the fuel system has seen the aircraft's fuel carrying capacity increased by 24,000 litres to 165,000 litres, without the need for additional tanks.
The aircraft is configured in a two-class layout, with 67 Business Class seats and 94 Premium Economy Class seats.
The A350-900ULR is designed for a more comfortable travelling experience with features such as higher ceilings, larger windows, an extra wide body, quieter cabins and lighting designed to reduce jetlag.
Its carbon composite airframe also allows for improved air quality due to a more optimised cabin altitude and humidity levels.
Singapore Airlines now has 22 A350-900 aircraft in its fleet, with 45 more on order including the six additional ULR variants.