Work from home policy set to change in England – First Minister 'no change in Wales'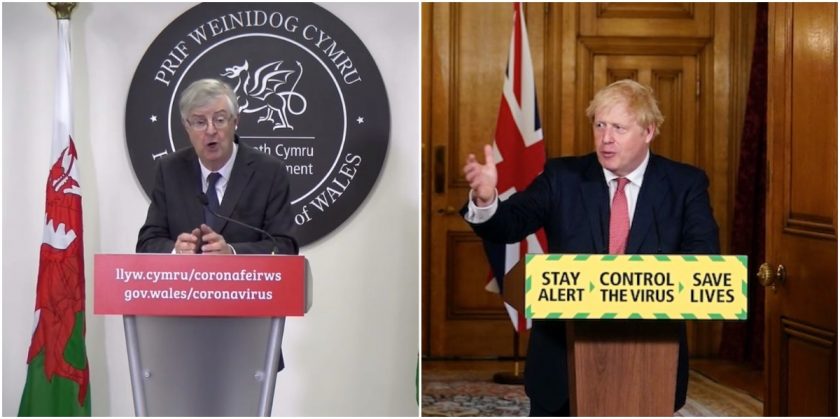 This article is old - Published: Friday, Jul 17th, 2020
Boris Johnson has said that from the beginning of next month the work from home policy will change in England. ‌​‌‌‌​‌‌‍‌​‌‌‌​‌​‍‌​‌‌‌​‌​
The work from home policy was introduced across the UK as parts of lockdown measures introduced in March to stop the spread of coronavirus. ‌​‌‌‌​‌‌‍‌​‌‌‌​‌​‍‌​‌‌‌​‌​
Current guidance in Wales is that "workers are only allowed to return to the workplace if it is not reasonably practicable for them to work from home," ‌​‌‌‌​‌‌‍‌​‌‌‌​‌​‍‌​‌‌‌​‌​
First Minister Mark Drakeford said today he 'positivity does not want people to return to offices in the way that we did before Coronavirus happened." ‌​‌‌‌​‌‌‍‌​‌‌‌​‌​‍‌​‌‌‌​‌​
During a Downing Street press conference today Mr Johnson said: "Instead of government telling people to work from home, we are going to give employers more discretion, and ask them to make decisions about how their staff can work safely." ‌​‌‌‌​‌‌‍‌​‌‌‌​‌​‍‌​‌‌‌​‌​
"That could mean of course continuing to work from home, which is one way of working safely and which has worked for many employers and employees." ‌​‌‌‌​‌‌‍‌​‌‌‌​‌​‍‌​‌‌‌​‌​
"Or it could mean making workplaces safe by following Covid Secure guidelines. ‌​‌‌‌​‌‌‍‌​‌‌‌​‌​‍‌​‌‌‌​‌​
Whatever employers decide, they should consult closely with their employees, and only ask people to return to their place of work if it is safe." ‌​‌‌‌​‌‌‍‌​‌‌‌​‌​‍‌​‌‌‌​‌​
"As we reopen our society and economy, it's right that we give employers more discretion while continuing to ensure employees are kept safe." ‌​‌‌‌​‌‌‍‌​‌‌‌​‌​‍‌​‌‌‌​‌​
With lockdown measures easing and more parts of the economy opening up, a large proportion of the population is now back at work. ‌​‌‌‌​‌‌‍‌​‌‌‌​‌​‍‌​‌‌‌​‌​
In the case of our front line key workers, they haven't stopped working throughout the crises. ‌​‌‌‌​‌‌‍‌​‌‌‌​‌​‍‌​‌‌‌​‌​
But, there are hundreds of people employed over the border in England who have been working from their homes in Flintshire for the past four months, they could be asked to go back to workplaces from August 1. ‌​‌‌‌​‌‌‍‌​‌‌‌​‌​‍‌​‌‌‌​‌​
First Minister Mark Drakeford said: "Our advice is that you should stay at home and work at home if you are able to do so? ‌​‌‌‌​‌‌‍‌​‌‌‌​‌​‍‌​‌‌‌​‌​
I positively don't want people to be returning to offices in the way that we did before Coronavirus happened Coronavirus has been an awful experience. ‌​‌‌‌​‌‌‍‌​‌‌‌​‌​‍‌​‌‌‌​‌​
But one of the positive things we have learned is just how possible it is for people to work very effectively from home without the need for large numbers of people to be traveling at peak times of the day to office location. ‌​‌‌‌​‌‌‍‌​‌‌‌​‌​‍‌​‌‌‌​‌​
We have managed extraordinarily well, by working differently, I think that's been a positive lesson that we can draw from Coronavirus, and I will not be doing things to undermine our ability to learn those lessons here in Wales." ‌​‌‌‌​‌‌‍‌​‌‌‌​‌​‍‌​‌‌‌​‌​
Wales' Chief Medical Officer Dr Frank Atherton said yesterday: "Our position is that if you can work at home, then it's better to work at home and many of us are able to do that. ‌​‌‌‌​‌‌‍‌​‌‌‌​‌​‍‌​‌‌‌​‌​
We recognise of course that that's not possible for everybody and we do expect to see some increase in opening of workplaces. ‌​‌‌‌​‌‌‍‌​‌‌‌​‌​‍‌​‌‌‌​‌​
Shops, for example, are already starting to have and people have to travel for that." ‌​‌‌‌​‌‌‍‌​‌‌‌​‌​‍‌​‌‌‌​‌​
Dr Atherton said: "People will need to travel to work, we have to look at both the economic consequences of the pandemic, as well as the health consequences and ministers are very conscious of that. ‌​‌‌‌​‌‌‍‌​‌‌‌​‌​‍‌​‌‌‌​‌​
I think the art of this is that as we reopen the economy, we need to do it in such a way that we don't lead back to square one." ‌​‌‌‌​‌‌‍‌​‌‌‌​‌​‍‌​‌‌‌​‌​
The CMO warned that hospitals must not get back to the situation they were in April when many were 'overloaded, he said: ‌​‌‌‌​‌‌‍‌​‌‌‌​‌​‍‌​‌‌‌​‌​
The worst thing would be to get back to the exponential growth of viral transmission. ‌​‌‌‌​‌‌‍‌​‌‌‌​‌​‍‌​‌‌‌​‌​
We mustn't forget what a difficult time it was for everybody (at the peak of the crisis) and how close the NHS came to being overloaded, we can't go back, we can't afford to go back to that. ‌​‌‌‌​‌‌‍‌​‌‌‌​‌​‍‌​‌‌‌​‌​
So a cautious opening and movement across the boundaries England, Wales border is perfectly open so it is reasonable for people to travel for work." ‌​‌‌‌​‌‌‍‌​‌‌‌​‌​‍‌​‌‌‌​‌​
Optimism from the PM. ‌​‌‌‌​‌‌‍‌​‌‌‌​‌​‍‌​‌‌‌​‌​
Boris Johnson also said today: "From October, we intend to bring back audiences in stadia and to allow conferences and other business events to recommence – again, these changes must be done in a Covid Secure way, subject to the successful outcome of pilots." ‌​‌‌‌​‌‌‍‌​‌‌‌​‌​‍‌​‌‌‌​‌​
He said: "It is my strong and sincere hope that we will be able to review the outstanding restrictions and allow a more significant return to normality from November at the earliest – possibly in time for Christmas. ‌​‌‌‌​‌‌‍‌​‌‌‌​‌​‍‌​‌‌‌​‌​
At all times, we will continue to work with the devolved administrations in Scotland, Wales and Northern Ireland to support and care for those at risk, wherever they live in the UK." ‌​‌‌‌​‌‌‍‌​‌‌‌​‌​‍‌​‌‌‌​‌​
In response, the First Minister said Boris Johnson was being rather optimistic, "the Prime Minister's view that everything might be back to normal by Christmas. I must say you have to take a pretty sunny view of circumstances to think that that might be true." Mark Drakeford said. ‌​‌‌‌​‌‌‍‌​‌‌‌​‌​‍‌​‌‌‌​‌​
"We've just been talking about the Academy of Royal Medical Colleges report that says we could be in for a worse experience in the winter than we had in the spring because of the way that this virus circulates and operates. ‌​‌‌‌​‌‌‍‌​‌‌‌​‌​‍‌​‌‌‌​‌​
While we are able to, we will go on unlocking lockdown measures in Wales and return us to something that looks a bit more like things were before the virus hit. ‌​‌‌‌​‌‌‍‌​‌‌‌​‌​‍‌​‌‌‌​‌​
Can we be confident that in the depths of winter we will still be in a position to go on doing that? Well, as I say, I think you have to take a pretty optimistic view of the advice we have had, to think that that is a realistic proposition." The First Minister added. ‌​‌‌‌​‌‌‍‌​‌‌‌​‌​‍‌​‌‌‌​‌​
Todays Welsh Government press conference was the 97th since the pandemic began, Mr Drakeford said: "We'll continue to work throughout the summer to make sure that we go on keeping Wales safe. But we will be moving to a weekly press conference now that the Senedd (Welsh Parliament) term is at an end. We'll be holding that on a Tuesday. ‌​‌‌‌​‌‌‍‌​‌‌‌​‌​‍‌​‌‌‌​‌​
The total number of death since the start of the crises now stands at 1,546 with one more registered in the last 24 hours. ‌​‌‌‌​‌‌‍‌​‌‌‌​‌​‍‌​‌‌‌​‌​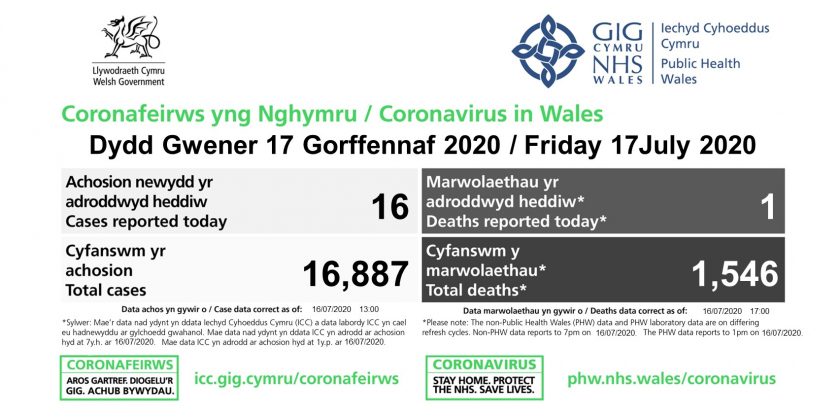 ‌​‌‌‌​‌‌‍‌​‌‌‌​‌​‍‌​‌‌‌​‌​
‌​‌‌‌​‌‌‍‌​‌‌‌​‌​‍‌​‌‌‌​‌​
‌​‌‌‌​‌‌‍‌​‌‌‌​‌​‍‌​‌‌‌​‌​
‌​‌‌‌​‌‌‍‌​‌‌‌​‌​‍‌​‌‌‌​‌​
‌​‌‌‌​‌‌‍‌​‌‌‌​‌​‍‌​‌‌‌​‌​
Spotted something? Got a story? Send a Facebook Message | A direct message on Twitter | Email: News@Deeside.com
---
Latest News
---