NOTE: This content is old - Published: Friday, Jan 12th, 2018.
This first group of Airbus 'industry-ready' engineers graduate this from Swansea University after achieving their BEng in Aeronautical and Manufacturing Engineering.
Three years since its launch, Peter Ford, Tony Rooke and Kim Shallcross from Early Careers at Airbus were able to attend the graduation ceremony at the University's Bay campus earlier this week, where the 14 students collected their degree certificates, nine of them achieving firsts.
The academic element of the undergraduate programme is delivered by Swansea University at their Colleg Cambria facility in Wrexham.  All 14 apprentices are now employed at Airbus Broughton.
Peter Ford, Early Careers Manager at the Broughton plant, said:
This is a very exciting milestone for the project, and it's proven to be an efficient and effective way for students to get a good degree and follow a clearly-defined pathway into employment.

It's effectively a faculty on the factory floor, where apprentices are sponsored by Airbus and earn a salary at the same time, so their tuition fees are covered and there is no huge debt for them at the end.

Swansea has an excellent reputation for engineering, in terms of the course content and delivery.  In addition, we find that working in industry whilst studying for a degree prepares students very well for a career in Airbus, producing well-qualified and very capable engineers who understand the ethos of working at Airbus.

Linking industry and academia in this way exposes our apprentices to real-life industry experience and the latest aircraft technology.
Under the guidance of Gavin Jones, Head of Early Careers at Broughton, the team is responsible for all the graduates, apprentices and interns who work across the site.
High flyer Mike is a first class apprentice
23-year-old Airbus Design Engineer Mike Mosley saved so enough money by avoiding tuition fees, to pay for flying lessons and qualify as a pilot.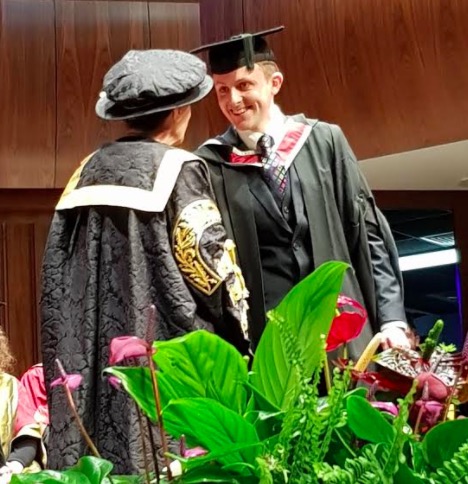 Mike has been working at Broughton throughout his studies and graduated this week with first class honours.
Mike, from Crewe, who works in the Single Aisle Design Office, said: "It was brilliant, my friends and family came along to share the day with me and it was lovely to get the recognition for three years hard work."
He spent just one day a week in the lecture theatre, but had to spend many more hours burning the midnight oil to tackle revision, assignments and exam preparation, whilst juggling a full-time job.
Mike, who previously studied at South Cheshire College, had been offered places at several prestigious UK universities but opted to apply for the Airbus apprenticeship instead. He said: "I wanted something more career-aligned, gaining industrial experience, which seemed a better route for me.
"I'm also mega-interested in aircraft, so Airbus was the perfect fit.  I used the money I saved to get my PPL at Liverpool Airport.
"There were no tuition fees to pay, thanks to Airbus, and I've also earned a salary throughout the course. I've obviously missed out on student life and the whole student experience, but I was able to contact my tutors at Swansea at any time throughout the degree course.
"I feel better-prepared for working life and I'm more confident in terms of presentations and speaking to people. I've built up a network of industry people which put me in a better position to hit the ground running at Airbus.
"I've also got a good blend of academic knowledge and industry skills, which has given me a great platform for my future career."