No direct trains running between Flintshire and the Wirral on Grand National Day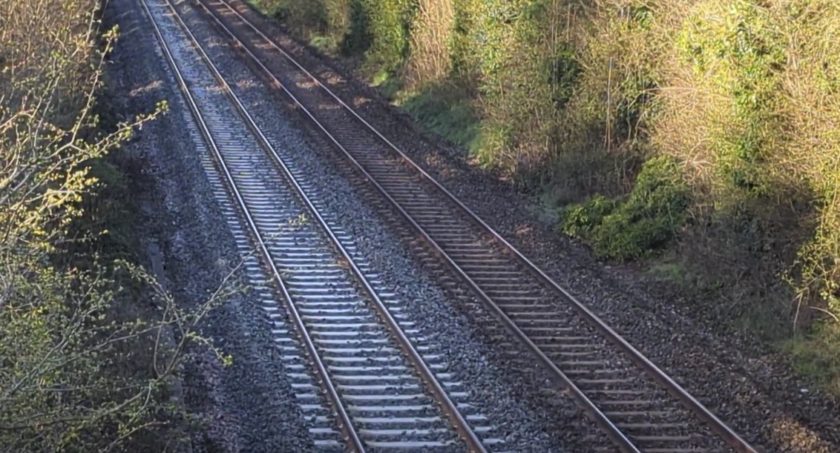 Transport for Wales (TfW) has replaced all direct train services between Wrexham and Bidston with a bus today, despite one of the UK's major sporting events taking place in Liverpool. ‌​‌‌‌​‌‌‍‌​‌‌‌​‌​‍‌​‌‌‌​‌​
People in Flintshire looking to take the train to the Grand National and connect with Merseyrail trains at Bidston will have had to endure an inconvenient and slow bus replacement service that takes twice as long as the train. ‌​‌‌‌​‌‌‍‌​‌‌‌​‌​‍‌​‌‌‌​‌​
During the Grand National Festival, Merseyrail is operating a special timetable which includes a seven-and-a-half minute service between Liverpool and Aintree station. There are four trains per hour from Bidston to the city centre. ‌​‌‌‌​‌‌‍‌​‌‌‌​‌​‍‌​‌‌‌​‌​
Transport for Wales' email alert system sent a message at midnight Saturday declaring, "Great news! There are currently no reported disruptions affecting services between Wrexham General and Bidston." ‌​‌‌‌​‌‌‍‌​‌‌‌​‌​‍‌​‌‌‌​‌​
A second message was sent at 5 am on Saturday morning indicating that "There are no scheduled Transport for Wales trains today to run directly from Wrexham Central to Bidston between 05:00 BST and 23:59 BST, as per your selected times." ‌​‌‌‌​‌‌‍‌​‌‌‌​‌​‍‌​‌‌‌​‌​
Transport for Wales (TfW) has not given any reason for the absence of trains today. However, on its "live route status" web page, it claims that there is a "good service" on the Wrexham to Bidston line today. ‌​‌‌‌​‌‌‍‌​‌‌‌​‌​‍‌​‌‌‌​‌​
The Journey Check section of the website states there are 'No Problems' however it also says: "There are no direct services to Bidston departing from Shotton within the next hour" a message which has been displayed since early this morning. ‌​‌‌‌​‌‌‍‌​‌‌‌​‌​‍‌​‌‌‌​‌​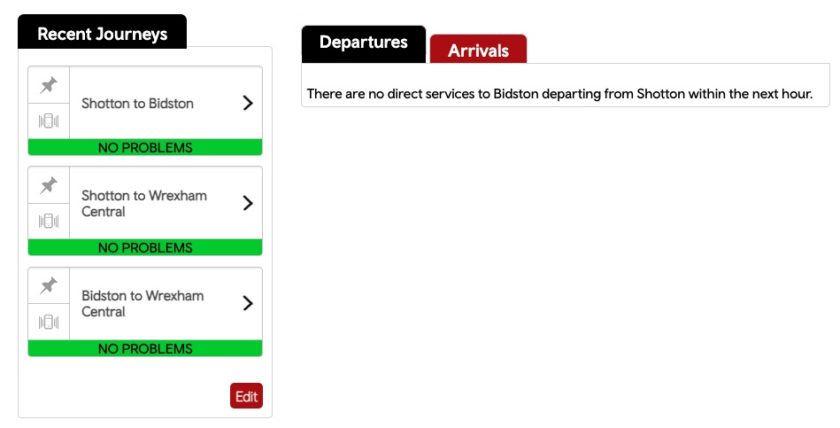 ‌​‌‌‌​‌‌‍‌​‌‌‌​‌​‍‌​‌‌‌​‌​
During the Easter weekend, trains on the Wrexham to Bidston line were withdrawn due to 'minor technical difficulties with the newly introduced Class 230 trains. ‌​‌‌‌​‌‌‍‌​‌‌‌​‌​‍‌​‌‌‌​‌​
Over the past few weeks, rail commuters in Flintshire who wish to travel to either Wrexham or the Wirral have had to endure a rail replacement bus service, as trains that typically operate on the line have been removed and redeployed to serve other lines outside the region. ‌​‌‌‌​‌‌‍‌​‌‌‌​‌​‍‌​‌‌‌​‌​
This is because TfW has removed a large number of its Class 175 trains, which serve primarily as express services across the Wales and Borders network, for additional maintenance checks after a series of fires. ‌​‌‌‌​‌‌‍‌​‌‌‌​‌​‍‌​‌‌‌​‌​
The withdrawal of the 175s resulted in the operator facing a "shortage of rolling stock", which affected the Wrexham to Bidston service. ‌​‌‌‌​‌‌‍‌​‌‌‌​‌​‍‌​‌‌‌​‌​
A build-up of "debris, leaf litter, and other contaminants" in the units' under-floor engine bays has been attributed to three fires on the 175s. ‌​‌‌‌​‌‌‍‌​‌‌‌​‌​‍‌​‌‌‌​‌​
Last week, in a bid to get some sort of train service running again on the Wrexham to Bidston line, TfW introduced its long-awaited Class 230 trains. ‌​‌‌‌​‌‌‍‌​‌‌‌​‌​‍‌​‌‌‌​‌​
TfW described the move as a 'soft launch', providing the rail operator with "the flexibility to monitor the trains and make any alterations or changes if needed." ‌​‌‌‌​‌‌‍‌​‌‌‌​‌​‍‌​‌‌‌​‌​
Alexia Course, Transport for Wales' Chief Commercial Officer, stated: "We've experienced some minor technical issues that impacted services over the Easter weekend, and we're now working to get these resolved, as well as introducing another Class 230 train next week." ‌​‌‌‌​‌‌‍‌​‌‌‌​‌​‍‌​‌‌‌​‌​
Regular weekend commuters using the Wrexham to Bidston line will be familiar with service disruptions during large sporting events, though in slightly different circumstances. ‌​‌‌‌​‌‌‍‌​‌‌‌​‌​‍‌​‌‌‌​‌​
Trains have been regularly pulled from service and deployed to South Wales during Six Nations Rugby internationals in Cardiff. ‌​‌‌‌​‌‌‍‌​‌‌‌​‌​‍‌​‌‌‌​‌​
Last month, the Wrexham Bidston Rail User Association (WBRUA) expressed significant concerns regarding the management and operation of the Wrexham-Bidston line by TfW and urged the Welsh Government to initiate an independent review. ‌​‌‌‌​‌‌‍‌​‌‌‌​‌​‍‌​‌‌‌​‌​
The WBRUA held a committee meeting on 24th March and unanimously agreed that TfW is incapable of delivering an acceptable service on the line. ‌​‌‌‌​‌‌‍‌​‌‌‌​‌​‍‌​‌‌‌​‌​
They believe Merseyrail would be better placed to provide a reliable service than TfW, which is "both South Wales based and focussed." ‌​‌‌‌​‌‌‍‌​‌‌‌​‌​‍‌​‌‌‌​‌​
‌​‌‌‌​‌‌‍‌​‌‌‌​‌​‍‌​‌‌‌​‌​
‌​‌‌‌​‌‌‍‌​‌‌‌​‌​‍‌​‌‌‌​‌​
‌​‌‌‌​‌‌‍‌​‌‌‌​‌​‍‌​‌‌‌​‌​
Spotted something? Got a story? Send a Facebook Message | A direct message on Twitter | Email: News@Deeside.com
---
Latest News
---